Latest posts by Cody Perez
(see all)
Part of the appeal of Fortnite battle royale is the ability to turn your character into literally anything you want it to be. You could be Iron Man in one match, then Sakura from Naruto in the next match, Peely the banana peel in the next, and so on. There is an endless assortment of characters to become. But you can do the same in real life, turning yourself into one of the Fortnite skins with these best Fortnite costume ideas.
Ever since I started playing Fortnite when it launched in 2017, I've seen the battle royale game become one of the most popular Halloween and general costume-centric games in the world. There are countless kids and even adults who dress up as various Fortnite characters every year. With so many ideas for who you can dress up as I decided to narrow it down for you with only the best Fortnite costume ideas, you need to know about.
Bottom Line Up Front
The best Fortnite costumes take the idea of the characters and mold them into an outfit that works in the real world. The best idea is to simply find the characters you like the most and turn them into a costume idea you can use. That said, there are premade costumes you can buy online, too, that let you dress up for Halloween, birthday parties, cosplay at conventions, and other special occasions that might go on. Or you could even dress up with a Fortnite costume for fun because you like the character.
Tips
Before we go any further, there are some essential tips you need to know about when it comes to buying Fortnite costumes and wearing them:
Don't settle for an outfit that is only somewhat pleasing to you. Feel free to take an idea or character to a custom cosplay shop and have them make a costume for you or design your own
Also, don't let a tight budget deter you from dressing up. It is always possible to come up with some easy homemade ideas for a Fortnite costume that won't break the bank
Make the most out of your time dressing up as a Fortnite character. Go to a special event, like a convention, have a party, walk around town, go shopping, and feel free to strut yourself and feel great about yourself
if you're buying a costume for a kid or someone else, be sure to inquire about the types of characters they like. Don't just buy the first Fortnite costume you see and assume they like that character
Put your spin on characters if you want. Let's say that you like a character whose outfit is orange, but you think it would look better in pink, go ahead and show off your twist with your unique costume version
Selection Criteria
When coming up with the list of the best Fortnite costume ideas, I had a few different criteria in mind you should know about:
Attractiveness: A costume should look great, or else you won't feel great while wearing it.
Quality: Though I can't physically test every costume on this list, the images we see should at least provide an idea of a high enough level of quality in the design and materials.
Fortnite Representation: It's okay for a costume to take some liberties with Fortnite characters, but the point is to show off your love for Fortnite, so that representation needs to be there.
Budget: I know that not everyone works with the same financial situation, so I tried to include some costume ideas for a large enough group of players.
Worth It: Is the costume worth the purchase and your time wearing it? If I wouldn't take the time to buy and wear the outfit or purchase it for a family member, I wouldn't dare recommend it to someone else.
Best Fortnite Costume Ideas List
These are the best Fortnite costumes that you could ever find online. Some of them are costumes you can buy right now, while others are from professional cosplayers you can learn from to make your outfit.
I'll help you by breaking down the items you'll need for the cosplay, how hard it is to make or buy it, and the general budget you should keep in mind for the costume. Let's get started!
Cosplay Cost: $30-50 (depends on if you make it yourself or not)
Cosplay Difficulty: 3/10
Given how popular Drift is as a character, this is one costume I know many fans want to make. It takes the outfit from the battle pass skin and nicely recreates the maroon-ish hoodie, long sleeves, and dark pants. But the crowning jewel of this premade costume is the fox mask, which is heavily detailed and accurate to the fan-favorite mask that Drift himself wears in the game.
What You'll Need
Here's what you'll need to make a Drift costume happen, with or without a premade version like this one:
Red or maroon hoodie, preferably with a zipper pocket for accuracy purposes
Long-sleeve black shirt to go under
Black pants
Black shoes
Fox mask (you can custom make your own or buy one online)
Cosplay Cost: $40-60
Cosplay Difficulty: 4/10
This kids costume for Omega brings the beloved Chapter 1 battle pass skin to life in a tremendous way. We can see a jumpsuit-style onesie that the person is wearing with intricate details and patterns to match the suit Omega wears. Like Drift, the mask is the focal point, though, and it looks made of hard material that is a close approximation to the in-game version with its sharp edges and futuristic visor.
What You'll Need
Full jumpsuit with glowing patterns if possible (could alternatively be separate pants and top)
Plain dark shoes
Omega mask (the most important part, can be premade or homemade)
Cosplay Cost: $30-100
Cosplay Difficulty: 3/10
Marshmello is one of the most famous people to ever show up in Fortnite, and his legendary concert remains one of the best live events. This costume recreates his Fortnite icon skin with a matching white hoodie and pants that show just enough patterns throughout to look like what the actual DJ wears onstage. The Marshmello helmet mask is the star here, with its cube-style shape and the signature smiley face.
What You'll Need
White pants (preferably with some lovely patterns throughout)
White hoodie (also with its own detail)
Marshmello helmet (optionally with LED lights for that extra touch but it will cost a lot more this way)
Cosplay Cost: $10-40
Cosplay Difficulty: 2/10
One of the first Fortnite skins came out at Halloween and perfectly fits the role of a Halloween battle royale costume. It is a costume within a skin already, so it helps that it is easy to recreate with the spray paint-style skeleton frame on a dark top and pants. You can optionally wear a mask in the shape of a skull or try out your own makeup for an attempt at this classic spooky season costume.
What You'll Need
Dark pants
Dark top
White spray paint to create the skeleton pattern
Face makeup or mask to look like a skull
White hood (optional, depends on what you do with the face)
Cosplay Cost: $30-50
Cosplay Difficulty: 5/10
A lot is going on with the Tomatohead costume, which is why some fans may want to opt for a premade costume you can buy like this one. The Pizza Pit mascot is recreated in all of his terrifying humanoid tomato goodness here. The green pants and top are below an orange and white vest that is the uniform for the restaurant. The star is the titular tomato helmet, complete with a disturbing smile and mustache.
What You'll Need
Orange and green pants
Green long-sleeve shirt
Orange and white vest with Pizza Pit logo
Tomato head helmet
Cosplay Cost: $30-70
Cosplay Difficulty: 5/10
The goofy Fishstick costume features blue overalls that the humanoid fish wears alongside the trickier part of leggings and a long-sleeve shirt or paint that shows the fish's scales as skin. That is all before considering the Fishstick face, which features his bulging eyes and puffy yellow lips. The painting part alone might make this better to buy a premade costume online.
What You'll Need
Blue work overalls
Utility belt
Either orange and yellow paint for the scales or adequate leggings and long-sleeves
Fish mask
Brown hat if it doesn't come with the mask
Cosplay Cost: $40-70
Cosplay Difficulty: 3/10
One classic Chapter 1 Halloween-style skins features the character wearing a Halloween costume in the game itself. You know those hilarious costumes that look like the person is riding a dinosaur? This is the same idea but with the beloved blue and purple loot llama. The character themselves are wearing a no-sleeve soldier uniform with an orange scarf.
What You'll Need
Brown pants
Green no-sleeve vest or military uniform
Orange scarf
Suspenders
Loot llama inflatable
Cosplay Cost: $40-80
Cosplay Difficulty: 3/10
Cuddle Team Leader is one of the most popular Fortnite Halloween costumes, and there are plenty of premade ones out there. Alternatively, you can make your own using the pink onesie or pajamas with the broken heart in the middle. There is also the pink bear head that you'll need, hopefully, with her signature scar to match the original character. There are other versions you can buy or make, like Metal Team Leader and more.
What You'll Need
Pink onesie or pajamas with a broken heart in the middle
Pink bear head to wear
Cosplay Cost: $30-60
Cosplay Difficulty: 3/10
My boy Meowscles is one of the best Fortnite characters of all time, for good reason. He makes a lot of sense as a Halloween costume and is relatively easy to make or come up with. He only has blue jeans, some suspenders, and his cat body. The cat part is difficult as you'll need fake muscles (or real ones if you have them) and gray, orange, and white body paint.
What You'll Need
Blue jean pants
Suspenders
Either a Meowscles costume or fake muscles and gray, white, and orange body paint
Meowscles helmet that looks like the lovable cat man
Cosplay Cost: $40-60
Cosplay Difficulty: 3/10
8-Ball is one of the more underrated Fortnite characters, and, thankfully, his costume is rather easy to make or buy. You need a Snake Eyes-style outfit that is dark gray or black and features various armor plates and details throughout. The main part of this costume is the magic 8-ball helmet that the character wears with a black, almost see-through visor that has a massive number 8 plastered on it.
What You'll Need
GI Joe Snake Eyes-style soldier outfit that is dark gray or black with various armor plates throughout
Magic 8-ball helmet
Cosplay Cost: $10-40
Cosplay Difficulty: 1/10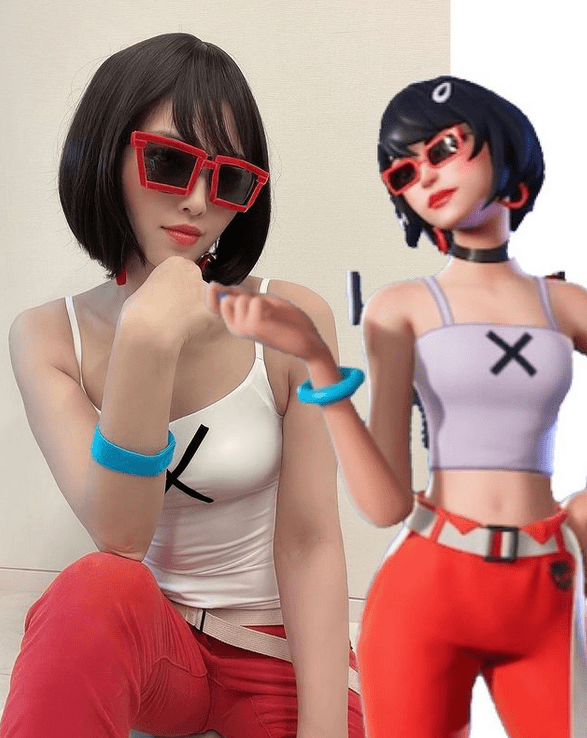 Moving more to some of the homemade cosplay ideas that some fans came up with, this Evie cosplay is one of the easiest to do in Fortnite. She just wears some scarlet orange tight pants with a white tank top with an X and some simple orange sunglasses. The main issue here is the bob haircut or wig to match her iconic hairstyle, like this cosplayer on Instagram did nearly perfectly.
What You'll Need
Orange or red tight jeans
White or gray tank top with black X painted on it
Orange and black sunglasses
Either a wig or bob hairstyle
Cosplay Cost: $30-60
Cosplay Difficulty: 4/10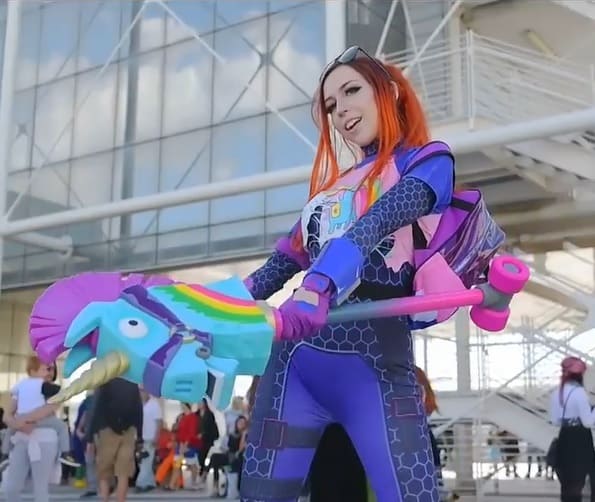 The only issue with the Brite Bomber cosplay here is that there is so much going on, even if each part is relatively easy to nail down. You have the matching purple top and pants with its futuristic hexagon pattern, plus the cut-up loot llama t-shirt and the optional unicorn pickaxe accessory. Though there are Brite Bomber costumes you can already buy, I generally find that they aren't the best, making excellent homemade cosplays like this one necessary.
What You'll Need
 Either matching purple top and pants or onesie with a hexagon pattern
A pink and purple rainbow loot unicorn shirt that is cropped
Optional loot unicorn pickaxe prop
Cosplay Cost: $20-100
Cosplay Difficulty: 2/10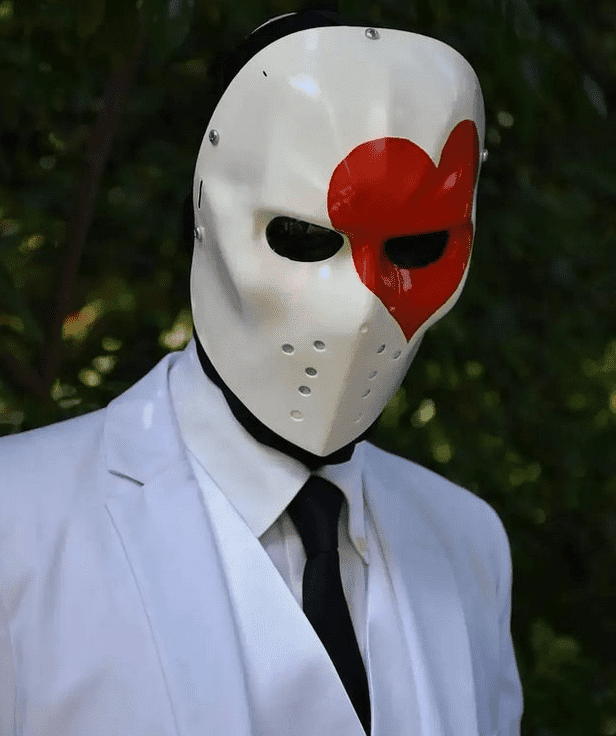 The costs for this homemade Wild Card cosplay will vary wildly depending on your method of choice. All you need is a plain white tuxedo with a black tie for the outfit. The only significant part of this cosplay is the white hockey-style mask with the red heart or any of the other card symbols on it. You can use a Jason Voorhees-style mask for that to save money.
What You'll Need
Full white tuxedo set
Black tie
White hockey mask with your card symbol of choice painted on it
Cosplay Cost: $20-50
Cosplay Difficulty: 3/10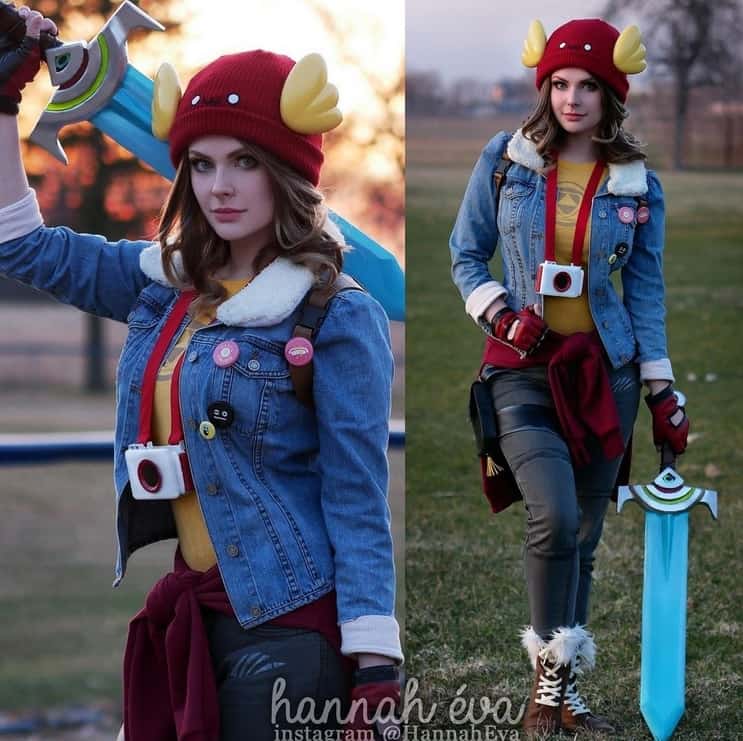 Skye is an underrated Chapter 2, Season 2 spy character with a, thankfully, easy-to-make outfit. She only has a blue jean jacket, a yellow shirt, and some jeans on the bottom. Players have to worry about the most, as you can see in this nearly perfect recreation cosplay is the red beanie with wings on her head and the shiny blue sword pickaxe item she is known for.
What You'll Need
Jeans
Yellow undershirt
Blue jean jacket
Red beanie to go on the head with eyes and little wing ears
Glowing blue sword pickaxe prop
Cosplay Cost: $100-10000 (this is the most expensive possible cosplay, especially if you go with a custom company, as it can cost a lot)
Cosplay Difficulty: 10/10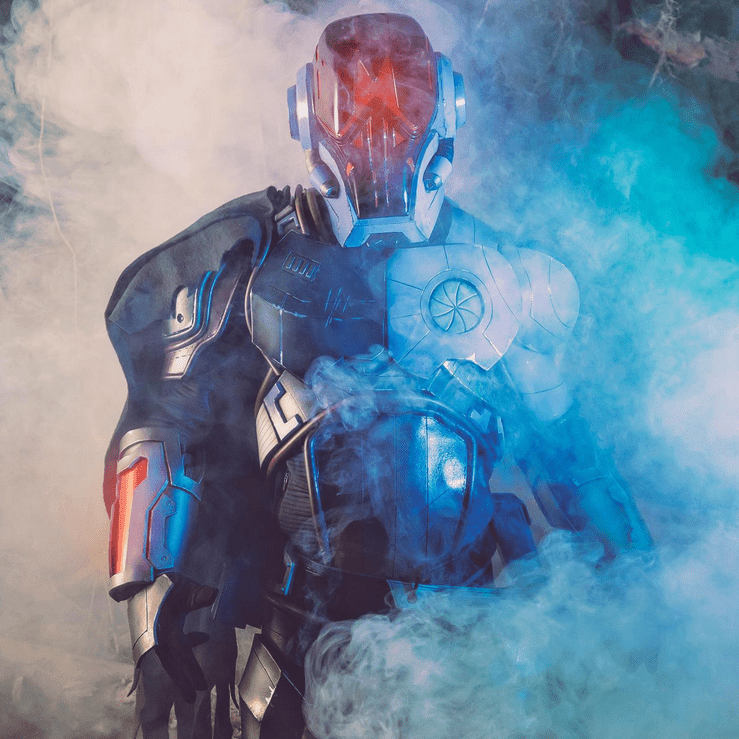 The Foundation is one of the greatest original characters in Fortnite's history. The Rock in Fortnite form is extravagant with such an intricately designed suit of armor with various patterns and different areas of color. This is all before including the heavily stylized The Seven mask that he wears with its black visor that is in stark contrast to the red glowing symbol that it displays. This cosplay is absolutely brilliant and will be hard to follow up on without a load of time and money.
What You'll Need
Probably lots of time and money
A full suit of armor with all of the necessary plating, patterns, and details (could be made of plastic or foam to save costs)
Cape
Metal black visor helmet with red glowing symbols painted on
Cosplay Cost: $20-70
Cosplay Difficulty: 2/10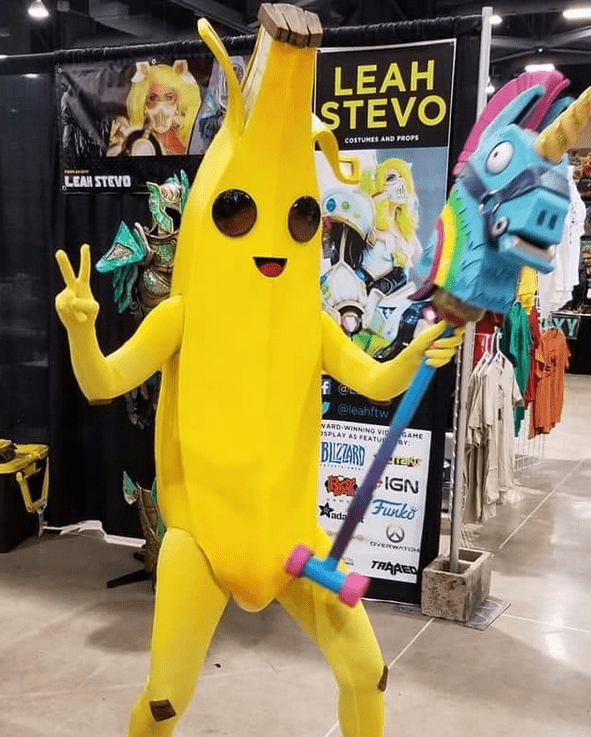 Though it is relatively easy to make, Peely is one of the best characters you could dress up as for Halloween from Fortnite. For all intents and purposes, he is just a living banana man. All you need to do is get yourself a classic banana suit, some yellow shirts, and leggings or paint to cover your exposed sections, and a face to complete this beloved character, and you'll be a fan favorite at Halloween parties.
What You'll Need
Base banana suit costume
Either yellow leggings and a long-sleeve shirt or paint to cover your arms and legs to make it more believable
Eyes and mouth to put on the face of the costume and let you see through it.
Cosplay Cost: $30-60
Cosplay Difficulty: 6/10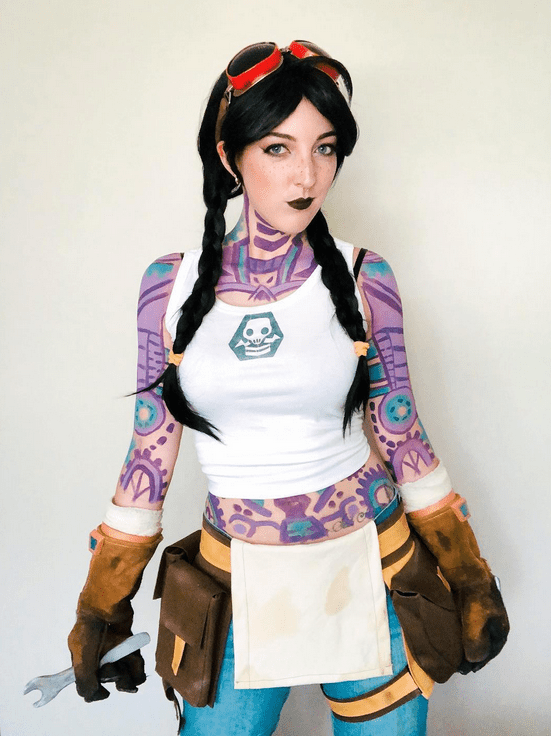 Jules, the daughter of the fan-favorite Midas, is a vibe. There are people out there who already look like Jules, with her tatted-up body and full sleeves of tattoos throughout her shoulders, arms, and torso. Ignoring that problematic part, this is relatively easy to make with the white tank top, blue jeans, and utility belt. There are only a few accessories you need, like the welding helmet or goggles and gloves.
What You'll Need
White tank top with the symbol
Blue jeans
Gloves
Welding helmet or goggles
Full tattoo sleeves (fake or real) or paint to make up for the lack of this.
Cosplay Cost: $40-100
Cosplay Difficulty: 8/10
Sorry to the Plague cosplayer in this Instagram post (the cosplay and skin itself are just fine), but the Hollowhead Fortnite cosplay is the one I want to focus on here. The creepy jack-o-lantern skin is just suitable for Halloween, and you're in the right place to pick this one for your cosplay needs.
The tattered black outfit is relatively simple, almost reminding me of what the ninja in Naruto might wear. But the challenging part about this cosplay is the jack-o-lantern titular Hollowhead. Making this pumpkin head with glowing green eyes and mouth is difficult.
What You'll Need
Black tattered pants and matching top (could use something like a ninja outfit or armor from another costume)
Belt
Orange and black details throughout
Pumpkin helmet complete with green glowing eyes and mouth
Cosplay Cost: $20-60
Cosplay Difficulty: 3/10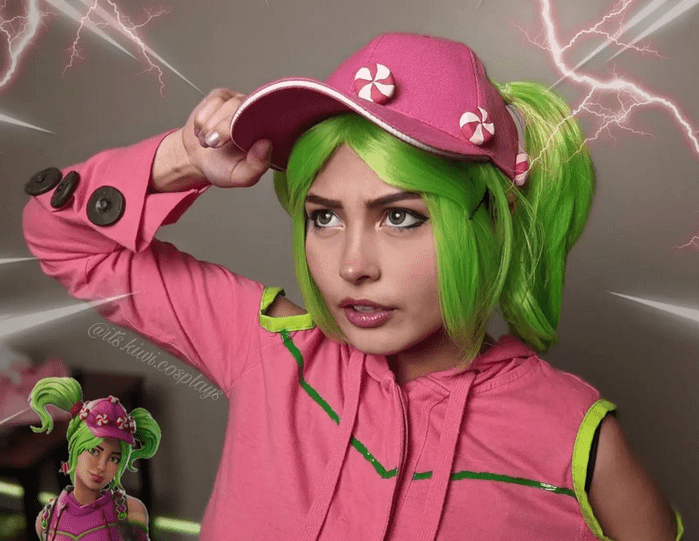 Zoey is like a bubblegum cotton candy wonderland character in Fortnite, and she is brought to the real world in this accurate cosplay. Overall, this is one of the easier cosplays out there with just the pink sweater and matching pants. The only real customization you have to worry about is with the pastel pink hat that Zoey wears with its glued-on peppermint candies. Of course, you'll have to wear the classic lime green hair color or wig for this cosplay.
What You'll Need
Pink sweater (sleeveless is more accurate but having sleeves works, too)
Matching shorts or pants
Pink hat with glued-on mint candies
Twintail hairstyle with temporary green color or a wig
Cosplay Cost: $30-80
Cosplay Difficulty: 5/10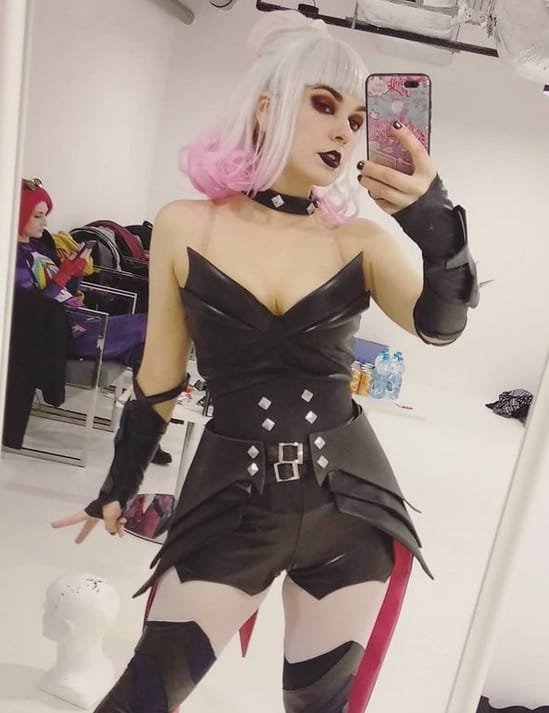 This Dusk cosplay takes the gorgeous vampire character from Fortnite, puts a personal twist on her, and creates a well-done cosplay. This is an example of putting your own spin on the character, as the person lacks the ashen skin of the vampire Fortnite character but retains a mostly accurate outfit. You have the black pointy top with matching shorts, a belt, and long boots. The hair is on point, too, offering that pink and white style.
What You'll Need
Black pointy top
Matching black shorts
Large belt (possibly multiple belts)
Long black boots
Pink and white hair color or wig
Optional white makeup to match Dusk's vampire skin
FAQs
Question: Does Fortnite have cosplay?
Answer: Yes, there is a seemingly endless amount of cosplay that you can do for Fortnite battle royale. With hundreds of unique characters, it is possible to take whatever skin or person you like from the game and create your own cosplay out of it. There are premade costumes you can buy, or you can make them yourself.
Question: How do you dress up as Drift Fortnite?
Answer: For Drift, there are two ways to do this: buy one of the already existing costumes or make your own. If you go the latter route, make sure to get a red or maroon vest with a hoodie, some black pants, and the iconic fox mask.
Question: How do you make a Midas costume?
Answer: Midas requires you to have a business suit minus the overall jacket, with just the undershirt, vest, and pants. You'll possibly want hair gel to match his style and a golden arm sleeve for your right arm to show off the Midas touch.
Show Some Love for Fortnite Every Day
When it comes to showing your love for a game like Fortnite battle royale, few ways of doing so are better than cosplaying or throwing on a costume at Halloween and the like. That is why it is highly recommended for you to share your love for certain Fortnite characters and skins that way. However, let's face it: costumes are for a special time mainly.
You won't necessarily find the ability to cosplay as your favorite Fortnite characters every single day since I'm not sure most jobs and schools would appreciate that. That said, there are still some ways to represent Fortnite in your everyday attire without needing to resort to a full-on costume. One way to do this is by wearing some epic Fortnite-themed shirts. This lets you show your Fortnite fan status in a safer, generally more appropriate manner.
For more interesting readings check out: