Latest posts by Cody Perez
(see all)
Part of getting ready for school or work (especially if you have a long commute) is to pack the best backpack possible to look your best and feel your best every day. For Fortnite fans, the best thing you can do is wear a themed backpack that shows everyone your love for the battle royale game. To help with this, here are the best Fortnite themed backpacks you could ever find.
The best Fortnite themed backpacks include ones that show the diversity and personality of the game itself. Fortnite has so many different skins and characters that you can choose from, and the best backpacks take full advantage of that. Some show off a single character, while others are more simplistic in representation. Others still are as flashy and dramatic as it gets. Here are all the backpacks I would gladly buy for myself or a loved one.
Bottom Line
The best Fortnite-themed backpacks are the ones that I would gladly wear myself or purchase for a family member or friend to wear. If it doesn't fit into those categories, it isn't here. Some of the most impressive backpacks focus well on a single character or skin from the game, while others include a selection of fan-favorite characters. There are many places on this list for you to buy from, including Amazon, Walmart, and Target.
My Top Picks at a Glance
If you are in a hurry and want to know what my absolute favorite backpacks are, you're in the right place. These are the best of the best that you will find when it comes to Fortnite-related bags. These are the top five that I would recommend the most to anyone looking to get one of these backpacks for themselves or as a gift for someone else:
Tips
There are a few tips that I'd like to offer you before you even add a single Fortnite backpack to your cart online or head out to visit your local brick-and-mortar retailer:
Please make sure to look around for the best prices. Some of these backpacks are offered at multiple retailers, so there could be a sale on one of them when you're ready to purchase.
Custom creations are always available to you. Some sites and companies will gladly take an idea you have, like a specific character you love, and can turn it into a personalized backpack. Don't feel restricted to only what's officially available online.
If you're buying for someone else, try to slyly find out more about what and who they like in Fortnite. Ask about their favorite skins, characters, and seasons of the battle royale game. That can narrow down your search.
Selection Criteria
When it came to creating this list of the very best Fortnite backpacks you can find online, there were a few criteria that I kept in mind that you should know about. Of course, please remember that these are my personal picks based on my preferences and those around me.
The design had to catch my attention and stand out in some way due to the background, some visual twist, or a sharply designed character.
I attempted to keep this list pretty varied, both in terms of the designs and prices, while not losing the quality I expect. Hopefully, this means there is something for everyone here.
The designs need to make sense to me, too, having some sort of overall theme. For instance, I saw some weird backpacks that mixed together the key art from a couple of different seasons. Not only did it look messy, but it just felt thrown together in all the wrong ways. That wouldn't work here.
Lastly, I have to feel comfortable either wearing the backpack myself or allowing someone I care about to wear it.
Best Fortnite Themed Backpacks List
Without further ado, let's dive right in and take a look at the just over 20 best Fortnite backpacks.
Starting off this list, we have one for the camo fans out there. I have some loved ones who adore camo-themed stuff as outdoorsy people, and this one is for all of you. Instead of solely going for a camo style here, the backpack took a nice twist in mixing two styles: a camo and a checkered pattern.
This leads to some white squares with Fortnite characters doing random emotes in between dark brown camo sections. It creates this exciting mix of two different styles that somehow work in this controlled manner. The more reserved approach to camo could make it appeal to more players than usual.
Pros
The mix of camo and checkered patterns works when it probably shouldn't
The dancing Fortnite characters add a nice touch for the emote fans out there
Cons
I wish there were other color options, as the traditional brown camo is a bit boring. Give me a blue or gray-style camo
Fortnite Chapter 2, Season 4, was one of the best seasons in the game's history. The Marvel-themed season brought us so many powers and weapons from superheroes and villains alike to use online all season long. This particular backpack pays homage to that beloved time of Fortnite in terrific fashion.
What it simply does is take some of the key art from that time and apply it directly into a backpack format. The art translates well to the backpack shape while featuring fan-favorite characters like Brite Bomber wielding Captain America's shield and much more. This backpack can appeal to Fortnite and Marvel fans alike out there.
Pros
It has a design that caters to both Marvel and Fortnite fans
The clean key art from the game looks excellent in backpack form
Cons
The actual Fortnite skins for Captain America, Iron Man, and the like would have been preferred
Still to this day, Black Knight is one of the best Fortnite skins just for how it showed that an original character could take the idea of a known quantity (in this case, a knight) and turn it into something special with its Fortnite uniqueness. That same Black Knight skin is on full display as the star of this backpack.
That alone is worthy of being on this list, but I like the twist that the backpack creator threw in here. In the background, you can see a bright orange sunset. Playing on the Fortnite island when the sun is going down, or it's nighttime is the best, so that nabs this one some bonus points.
Pros
Black Knight is a welcome throwback for the veteran players out there like myself
The added sunset setting elevates this backpack beyond just a simple character-focused one
Cons
As great as this backpack is, they definitely did the Fortnite logo dirty with its placement
The loot llama is a staple for the Fortnite scene. Since the beginning, this bizarre take on a piñata has been a fan favorite in the community. So, you already have my attention when you make a backpack almost entirely featuring the head of a loot llama.
But let's be real: there are a lot of backpacks that already do that. Where this one stands out for me is in the blue background that matches well with the llama. We can see various Fortnite characters dancing about and having a good time, which contrasts nicely with the always shocked facial expression of the loot llama.
Pros
The color pattern of the loot llama pairs nicely with the blue background
The loot llama head is recreated perfectly and massively
Cons
It isn't the easiest to see what dance emotes the characters in the background are doing
You might remember the popular game show that used to be around known as 1 vs. 100. It almost feels like someone took the idea of that show with the people in their little individual squares and threw some Fortnite skins in there (but nowhere near 100, sadly). This is a compilation of various famous characters, such as Drift, Black Knight in his second appearance in this list, DJ Yonder, and even the loot llama again.
The fact that you have so many excellent skins represented in this backpack alone makes it a favorite of mine, but I appreciate the organization that it has as well. They are all in their own little squares, giving this a clean but still varied look.
Pros
It has tons of Fortnite characters without getting too messy
The character selections are solid, with many favorites
Cons
I'd like to see a couple more skins than these since many of them are repeating throughout the backpack
It's like someone knew my exact tastes and made this backpack just for me. Chapter 1, Season 7 will always hold a special place in my heart as the best season out of the original ten and it was in no small part due to its excellent battle pass skins. Well, it just so happens that someone noticed that and slapped three of those characters onto a backpack.
Two of them, the Ice King and Lynx, are two skins that I still go back to even today and often use. Lynx was my go-to character for a very long time until around when The Mandalorian came out in Fortnite Chapter 2, Season 5. The battle pass characters are recreated well, making this a perfect pick for winter-loving fans like myself.
Pros
It's like this backpack was made for me as a Fortnite Season 7 fan
Two of the three skins are among the all-time greatest there's ever been
Cons
The Fortnite logo is unnecessary and was honestly left out in the cold with the cutoff ends
I don't know what it is about the checkered look, but it is quite common for Fortnite backpacks, and it looks pretty darn good, too. In this case, it has close to 100 different squares across the bag from top to bottom. Only a few of them show off some Fortnite characters in various emote poses, and that's about it.
The real draw here is in the rainbow nature of the squares with a seemingly arbitrary designation of where each color goes. There will be yellow and red next to each other, but then a massive chunk of four red squares. It's a bit chaotic, but I like the understated nature for those who don't want it to be too apparent that they have a Fortnite backpack.
Pros
The rainbow coloration is bliss
The occasional square with a dancing Fortnite character is welcome
Nice backpack for those who don't want it to be too apparent they love Fortnite
Cons
While the rainbow pattern is lovely, it's a little bit too chaotic and random.
My pal, Marshmello, is always a fine choice for a Fortnite backpack. Sure, you could argue that this might not technically be a Fortnite-themed backpack, but I'd differ since the DJ, and the battle royale game are now synonymous with one another.
The background on its own is this futuristic style with lots of triangles with gray, black, and light blue throughout. That alone interests me, but then you have the terrific glowing blue smile of the classic Marshmello face. I can't confirm if this is glow-in-the-dark or not, but even if it isn't, this is a backpack I might buy after finishing this list.
Pros
Marshmello is one of the faces of Fortnite, so a fantastic choice for a backpack.
The triangular cyberpunk-esque pattern is amazing.
The glowing blue smile of Marshmello is a nice twist on his facial expression
Cons
Nothing in the official listing says this glows in the dark, so don't go gambling on that possibility
Moving back to the battle passes of Fortnite, there is the stunning key art for Chapter 1's Season X for this next backpack. Season X was divisive, but if there's one thing I can say about it, it's that the characters and this gorgeous artwork are some of the very best that Fortnite ever created.
While I don't love Season X, it doesn't matter here, as this design with the three characters in the middle and the glowing cyberpunk X behind them is my style. It works even though it doesn't say Fortnite anywhere on the backpack, making for a bag that will make people not just jealous but wonder what exactly these characters are from.
Pros
The Season X key art for this backpack is dripping with style and substance
No actual word or sign of Fortnite on here, so this could be a nice backpack for those who don't want everyone to know that they're representing the game
Cons
We don't get to see the whole gorgeous key art for Season X
The end of Chapter 2 saw a surprising eighth and final season that included some worthy skins of its own. They are paid homage in this backpack that features three of them. Setting aside the weird monkey astronaut dude, Carnage and the Elsa-like Torin are some of the best Fortnite characters to come out of that chapter.
Plus, unlike the Season 4 backpack, you get a true Marvel character on this one with Carnage. You kind of get a Disney princess or at least a knockoff one with Torin. Add in the creepy Cube monster wasteland background, and you have one of the best backpacks when it comes to star power. But I must ask: what the heck is that meteor hitting the logo?
Pros
Two of the best battle pass characters from Chapter 2, Season 8
Carnage gets you some Fortnite and Marvel love at the same time
Cons
Why, oh why, is there a random meteor hitting the Fortnite logo?
When it comes to the top favorite skins in the history of Fortnite, Drift is near the top for many players. The skin showed the possibilities for a transforming character with multiple styles. Of course, in the end, everyone just loves the final version with the stylish outfit and fox mask.
That version of Drift is on full display here in this backpack. Instead of simply copying and pasting the Drift from the game onto this backpack design, the artist went for their take on the character. This leads to a heavily stylized version glowing with power, almost like he is about to go Super Saiyan over here. The Victory Royale symbol is a little unnecessary for me but not the worst addition I've seen.
Pros
This artist's take on Drift is the best version of the character I've ever seen
The tremendous detail, like the swirling power around him, is terrific
Cons
I wouldn't have gone with the random Victory Royale logo; it's unnecessary
Speaking of memorable Fortnite characters from Chapter 1, we have another one of the best from that time: Raven. Like the Drift backpack, this one has an artist who takes the original idea of the character and puts a unique spin on it, which I love.
In this case, a lot is happening not just with Raven but in the background, too. The character looks far more sinister and villainous in this version, with the horrifying imagery of the dying planet behind him only enhancing this design. Once again, though, there is a random logo on the side that distracts more than helps.
Pros
The Raven is one of the best Fortnite skins of all time, and this is the best version of him to date
The dying planet background adds to the mystery and creepy vibes that Raven gives off
Cons
The unnecessary logos strike again
Sometimes in life, you stand outside, stare at the sun, and question your every decision up until that point. This type of backpack will cause that reaction in anyone who sees it. The black base backpack has several repeating views of a brilliant sunset and a character looking out into the horizon with the other players dropping on the island.
This alone gives a unique reflective and somewhat relaxing feel to this backpack, but each repeating view is in the shape of a loot llama head. So, just when you get a little too deep in your feelings, you can never forget the loot llama head, and it will pull you right back out of the darkness. this is undoubtedly the backpack for the sophisticated players out there.
Pros
The pairing of the sunset and the loot llama head is a surprising choice that worked out well
This backpack gives off such chill vibes
Cons
Sadly, we know how this scenery ends, and it's not too peaceful
Moving back to the backpack that was seemingly made for me, we have this Fortnite galaxy one. Galaxy-themed items pair so well with Fortnite, and the array of colors that we can see here, ranging from pinks to blues to purples, is a technicolor wonderland. But the artist didn't stop there, adding a beautiful glowing blue Fortnite logo as the icing on top of this cake.
Pros
The galaxy background alone is worthy of making this your backpack
The glowing blue Fortnite logo is one of the best bonuses on this list
Cons
It would be nice to see some other versions with different galaxy colors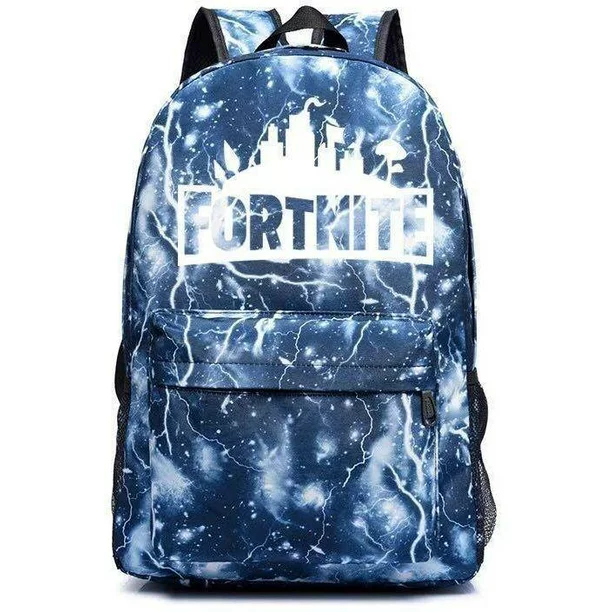 If the standard galaxy of the last backpack wasn't enough for you and you want something wilder, there is always the chance to have this backpack that takes the night sky and adds a storm to it. There are lightning bolts all over the design, including its electrifying Fortnite logo.
I appreciate this design, but it is a little over the top for me. That said, I think there are a lot of kids who'd love it.
Pros
The electrifying design is exhilarating
Some kids will love it
Cons
This might be a little too much for some players
This is one of the most surprising designs on this list. Tie-dye isn't usually a professional design, but I love this take on it. Instead of the messy amateur tie dye that I've made before, this is a dazzling splash of various colors in such a uniformly disorderly manner that impresses me. Couple this with the three colorful loot llamas at the bottom; this is a wonderful addition.
Pros
The professional-level tie dye design is spectacular
The loot llamas add a splash of Fortnite
Cons
Not for fans of too many colors
Thus far, I've only focused on everyday backpacks but smaller bags also exist. This drawstring bag is the answer for the simple players out there who just want to rep Fortnite with a smaller bag they can tote around. There's nothing fancy or too special about it, but there doesn't have to be.
Pros
Perfect for those wanting a smaller bag
It still shows its love for Fortnite
Cons
It might be too simple for some
This backpack gives me some slight vibes of the neon lights in the middle of the city. You have the neon blue border and Fortnite logo mixed in with the black background. But what sticks out to me is the little Meowscles symbol of him eating some ramen in the corner. This is a backpack to take with you to Japan.
Pros
Meowscles and ramen is a combination for the ages
The neon blue accents give off those late-night city vibes
Cons
There could be a little bit more going on with the neon style
This backpack is the Brady Bunch of the Fortnite world, with nine different colored squares featuring nine totally different characters. John Wick, Raven, Cuddle Team Leader, and so many more favorites are here in this strange family photo. Then you have the interesting choice of the triangular futuristic background for those who like both.
Pros
The collage of some of the best Fortnite characters of all time
The triangular cyberpunk blue background is sure to be a hit
Cons
While I like both the collage of characters and the blue base design, I'm not sure the two go together.
Black Knight returns once more on this list for one of the most random backpacks of all time. He is showing that he's apparently a soldier for the USA with the patriotic flag in the background. His black and white colors creates this gorgeous red, white, blue, and black aesthetic that I am here for. I just recommend not putting your child's name in large letters here for safety reasons.
Pros
The patriotic take on Black Knight is gorgeous
Customizable to an extent
Cons
Don't fall into the trap of putting your child's name out there, but you could customize this with another word
This list just wouldn't be the same without my favorite original Fortnite character, Meowscles, front and center. This backpack does him justice, showing him off with his son as they have some excellent bonding time. But the greatest twist is that this is just the top half. The bottom features the skins from Chapter 2, Season 3, so you get the best of both worlds here.
Pros
Meowscles and his son spending quality time together is a real treat
The addition of more characters on the bottom half gives this some surprising value
Cons
I think I wish this was a celebration of the different Meowscles skins and his family, instead.
FAQs
Question: What is the best backpack in Fortnite?
Answer: The best backpack back bling in Fortnite, to me has to be either the Baby Yoda one or the Holo-Back.
Question: What are the backpacks in Fortnite called?
Answer: The backpacks in Fortnite are officially called back blings and encompass so much more than just bags.
Question: Do backpacks do anything in Fortnite?
Answer: No, the backpacks don't typically do anything in Fortnite besides adding some cosmetic flair. Except for pets that will occasionally move around and animate.
What Fortnite Merch You Need Next
Picking out the best Fortnite backpack for you or your family is a tough decision to make. If I had to pick a single item to recommend to just about everyone, it would be the Galaxy Fortnite backpack. You can't go wrong with the fantastic colors of the background and logo. Once you're done picking out a Fortnite backpack, I recommend taking a look at some of the best Fortnite hats to go along with it.
For more interesting readings check out: