Latest posts by Cody Perez
(see all)
Fortnite is known for many features and elements that are either created or popularized in the online multiplayer space, but perhaps none is greater than the outfits and skins that Epic Games has released. With so many to date, it makes deciding the best Fortnite outfits and skins guide a challenging task.
With my time spent with the game over the past nearly 20 seasons so far and three chapters, I think I have determined the best Fortnite outfits and skins guide that best represents what has happened for the game over the course of the last few years since the game's release. Here are the skins and outfits that you need to know about.
Bottom Line Up Front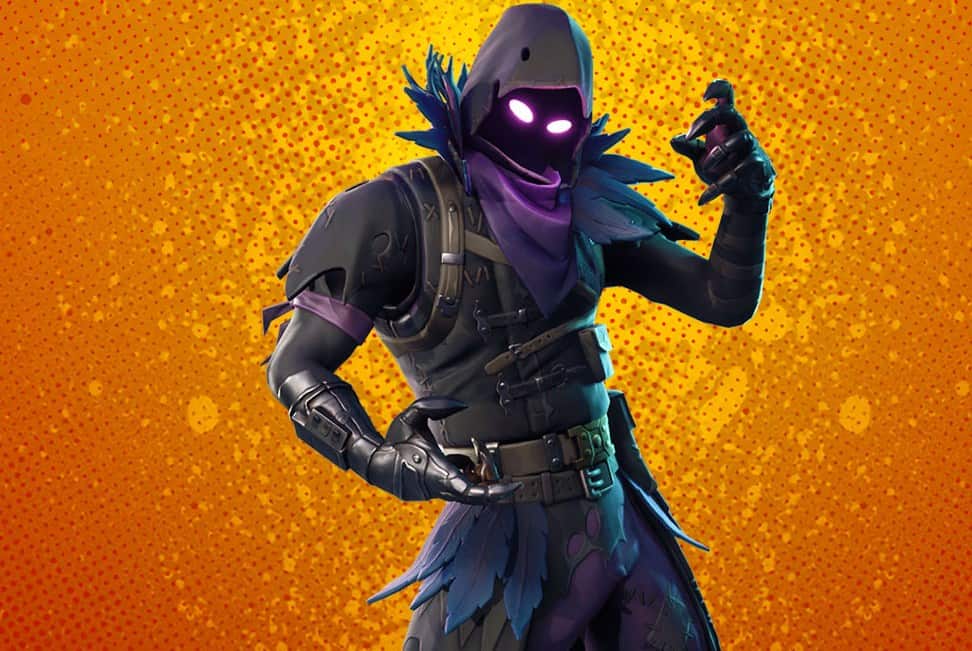 Fortnite has released countless skins and outfits over the course of its three chapters. These skins are varying looks that the player is able to wear in the battle to show off. Some of them are released as part of the battle pass, others are rewards in events, while still, more are available in the item shop for purchase with real money. Many of them are crossover items, too, representing popular characters from across movies, games, TV, and more. Here are the 20 best Fortnite outfits and skins that we picked in no particular order:
Ace/Wild Card
Peely
Raven
Overtaker
Dusk
Ice King
John Wick
Lynx
Galaxy
The Mandalorian
Master Chief
Neymar Jr.
Carnage
Maya
The Foundation
Tony Stark/Iron Man
Lexa
Jonesy
Spider-Man
Ariana Grande
What Are Fortnite Skins and Outfits?
When Fortnite first began as a battle royale title in early access, it was competing against the likes of PUBG that many considered it to be copying. What helped to set Epic Games' Fortnite apart from that title was the elaborate focus on the cosmetics and battle pass system that it created.
When players went into battle in Fortnite, they had the opportunity early on in the game's life to choose what they looked like. Sure, it would cost real-world money to own these outfits and skins in the game, but it would allow some players to customize their look and show off in battle.
This was helpful since the beginning of Fortnite saw everyone looking exactly the same. There were a few different skins of different genders and races that would cycle through, with players having their look randomly chosen for them before each match.
While a novel way of handling it, this was too random, and these initial skins were just too simple and uninteresting. That is why Fortnite's popularity skyrocketed once paid skins were introduced, with some fascinating designs and outfits becoming available, some of which were very hard to get.
There were a few different ways that a player could get skins in Fortnite, starting with the tried-and-true item shop. In the item shop that rotates every single day, Epic releases new and old skins for players to purchase using V-Bucks, which is the virtual currency for the game.
The second method through which players are able to get new skins is through the battle pass that refreshes every season. So long as players spend the right amount of V-Bucks to purchase the paid version of the battle pass, they will be able to unlock various new skins as they level up in that season. Once the season is up, though, all of those skins are gone for good.
The final main method that players are able to unlock skins is through events and their respective challenges. Certain limited-time events will happen in Fortnite and offer players the chance to collect some new skins in the process. Some of these event skins will be totally free, while others will require the player to own the premium battle pass already.
Crossover Fortnite Skins Explained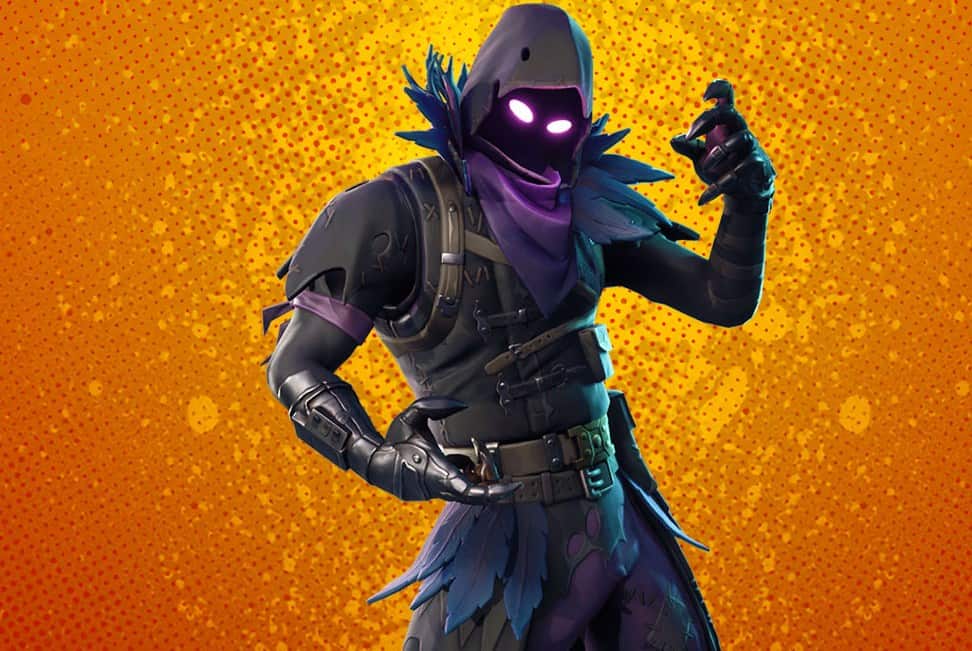 For a long time, at the beginning of the Fortnite battle royale life, Epic Games was only releasing original skins that it came up with. Some of the skins would reference pop culture or even books, but they would never go so far as to enter that illegal territory of stealing designs.
That said, we eventually received the first crossover skin, which was an officially licensed version of an existing person or character from another property in media or the real world. These crossover skins helped to popularize the game, and it has since become a meme to see what new character or celebrity will pop up in Fortnite next.
Some of the various characters that have appeared in the game as crossovers include ones from movies, TV, other video games, comics, anime, real celebrity figures, and more. These crossover characters are also some of the best skins in the game, as you will see in our list below.
Best Fortnite Skins Ever Released
Let's be real: there are literally hundreds of different skins that have been released in Fortnite battle royale. There are just too many these days for anyone to spend their hard-earned money on or scour through threads for days to see each of them that have been released.
That is where we come in as I have compiled together a list of the 20 best Fortnite outfits and skins that have ever been released in the game. There are a number of criteria that went into making this list, beginning with the overall look of the skin itself. Is it unique in design? Does it have certain special qualities to it? How appealing is it to the overall community and me?
Then there is the comparison of that particular skin against the other ones that have been released in the game. Does it stand out in the crowd? Would I be proud to wear this skin in battle? And even for some of them, the legacy of the skin plays into its appearance on this list, with some not only looking great but being extremely rare at the same time. Without further ado, here are the 20 best Fortnite outfits and skins ever released in no particular order.
1. Ace/Wild Card Skin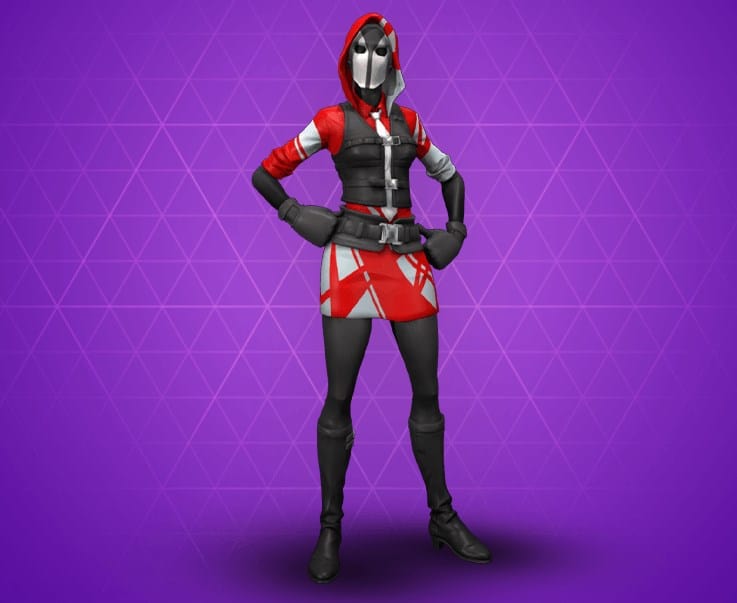 To kick off this list, we have a couple of skins that are, technically, different from each other but barely. Ace and Wild Card are two skins that I basically consider to be the male and female versions of each other, though there are some key differences in how they work.
In the case of Ace, she is a skin that I would equip many times in Chapter 1 of Fortnite. The red and white color scheme was great, with the mask and overall card theme looking great at a time when skins were a little bit less interesting than they are now.
In the case of Wild Card, it takes the same card idea and applies to a male skin that has a suit and a mask that can be customized to change to the various suits of cards. It was a novel idea at the time and one of the few early skins to really stand the test of time in Fortnite.
2. Peely
When it comes to Fortnite's original characters, there are few, if any, that are more iconic than Peely. Peely is literally a walking, talking banana man, and that is it. This character is not a person wearing a banana suit, as you might guess, but a sentient banana living being and is one of the coolest skins because of it.
Peely has a lot of love in the Fortnite community, and for a good reason. It is the perfect example of a simple design going a long way for this cute character. And to make it even better, there are different variations of Peely, like Agent Pee, ly that throw a secret agent suit on the guy.
3. Raven
One of the most confusing skins these days in Fortnite is the Raven skin, but not THAT Raven skin you probably automatically thought of. Before Raven the Teen Titans DC Comics character would arrive in Fortnite, there was a different Raven that appeared in the battle royale title.
One of the most expensive early skins in the game, it took the idea of the popular Edgar Allan Poe book and turned it into an edgy, gothic character. With a hidden face under its sinister hood and the signature glowing purple eyes, Raven was quite detailed for a Fortnite skin at the time and an instant favorite.
4. Overtaker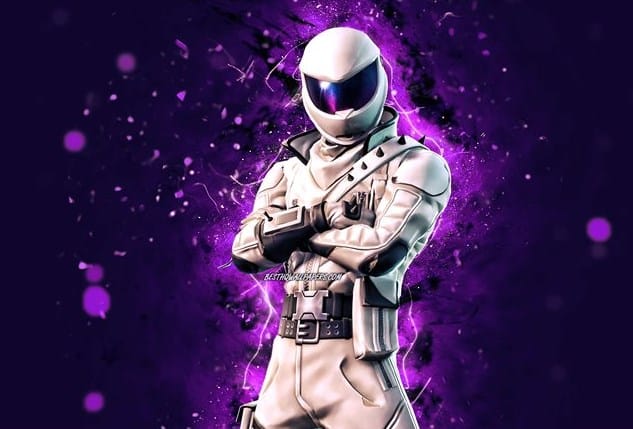 Overtaker is one of the mashup original skins in Fortnite that take two ideas that would normally have nothing to do with one another and then brings them together. In this case, Overtaker is a character that seems to be a mix between a slick biker and a ninja.
The all-white suit is fashionable, with a helmet that is oozing cool. Little touches here and there like the spikes on the shoulder add to this Neo ninja-turned-race car driver outfit. Better yet, it was one of the cheaper skins at the time when it came out, which gave a nice bargain for a great outfit.
5. Dusk
Epic Games has always nailed its Halloween-themed skins, and Dusk is one of the best examples of this. She is basically a vampire of the night and a gorgeous one at that. She is both beautiful and terrifying at the same time, featuring a nicely designed dress, hairstyle, and makeup.
Dusk is one of the greatest female skins that we have seen in the game to date and my pick for the best Halloween one as well. If this older skin ever comes back into the item shop, be sure to pick it up if you like what you see.
6. Ice King
Lore is something that has been building over time in the Fortnite universe, and the Ice King is one of the first examples of that lore pouring into one of the skins. The Ice King is a beloved outfit that was part of Chapter 1, Season 7 battle pass, as the last reward at tier 100.
If players were able to unlock the Ice King, they would get access to this undead king of the frost, who would definitely fit in well with Game of Thrones. It helps, too, that he is also an important character as the cause of much of the snow-covered mess that happened in Season 7.
7. John Wick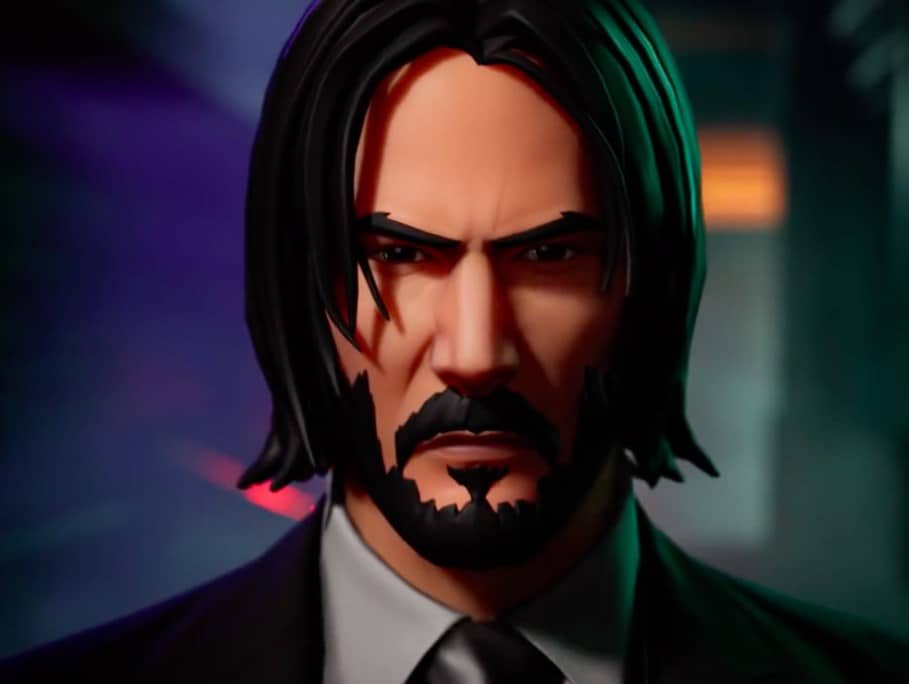 John Wick was unofficially in Fortnite for a very long time with the Reaper, who was clearly modeled after Keanu Reeves' John Wick movie character but without entering the illegal realm. Because of this, it was perhaps the most popular and famous skin in all of Fortnite Chapter 1.
That said, Reaper is not a skin that I would put on this list as that honor goes to the official John Wick skin that outdid Reaper in every way. As an official crossover finally with the action-packed movie series, we get to see Keanu Reeves in all his glory in Fortnite, and this is one of the best celebrity recreations to date.
8. Lynx
Omega was one of the first tier 100 battle pass rewards in Fortnite and still one of the best to this day. That said, it was outclassed in every way by the female version, similar to it known as Lynx. A futuristic Catwoman, this original Fortnite character is both dangerous and stunning.
With a metal catsuit that makes her look like a devious anti-hero, the default skin is great enough on its own. However, what really makes Lynx stand out are the customization options that allow you to make her different colors and look more to your liking.
9. Galaxy
One of the greatest skins to ever release in Fortnite is also one of the most elusive in the battle royale title's history. Galaxy came out of nowhere in Fortnite and dominated the search bar on Google for the game for a very long time as players wanted to know how to get it.
The character features a literal flowing galaxy that swarms all across this celestial being with glowing eyes, hands, and a beautiful array of colors. It was unlike anything we had seen before then, and its future incarnations could never reach its height. Too bad the only way to get it was buying a very expensive Samsung Galaxy device at that particular time.
10. The Mandalorian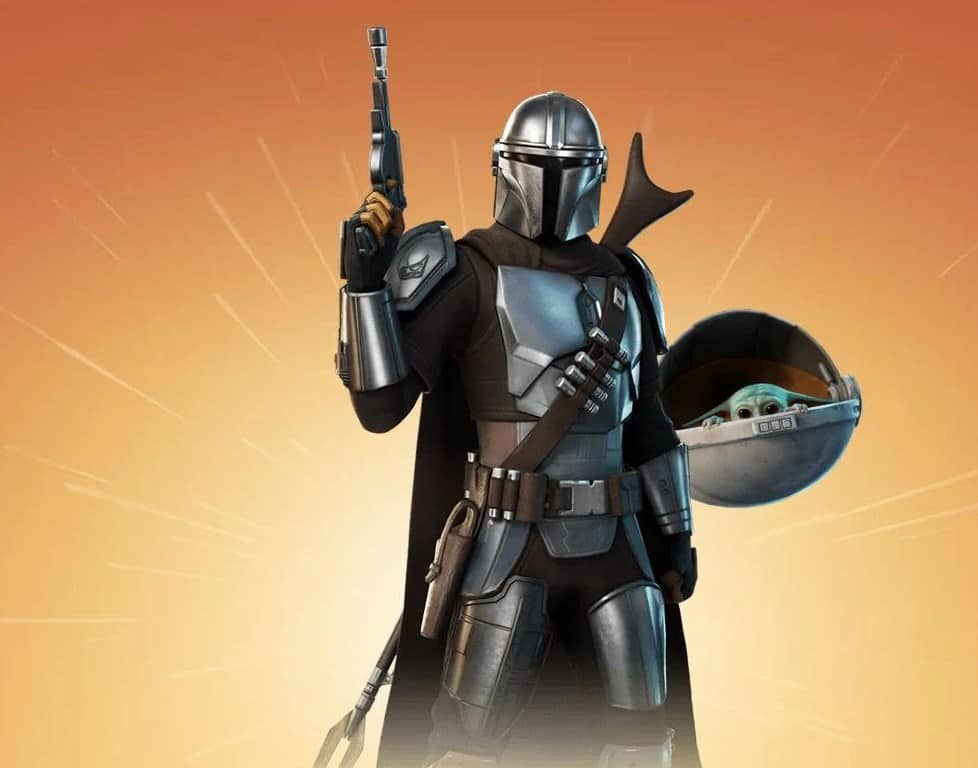 For me, personally, one of the greatest crossover characters to be offered in Fortnite is The Mandalorian. Talk about impeccable timing, too, as Epic released the star of the titular Disney+ Star Wars show at just the right time as it dominated social media.
The Mandalorian looks just like the character, which is already awesome, but there is an added bonus in the fact that the skin is the first one in its season's battle pass with a dingy default look. Like The Mandalorian in the show, you have to earn the signature armor plates, which only makes the process a whole lot sweeter.
11. Master Chief
The power and reach of Fortnite are seen in the Master Chief crossover skin. Hailing from the Halo video game series owned by Microsoft and exclusive to Xbox, Master Chief was not nearly as exclusive as his games. So not only is this a highly intricate version of Spartan 117 worth your time and money but the ability to use him on any platform, including rival PlayStation, was unheard of at the time.
12. Neymar Jr.
Like a certain other celebrity skin later on this list, Neymar Jr. is the best of both worlds. You can have the recreation of the soccer/football star alongside a more Fortnite-like version. The default Neymar Jr. skin is the regular player, but a special emote turns on a mech suit version of him that is so unique and anime-like.
13. Carnage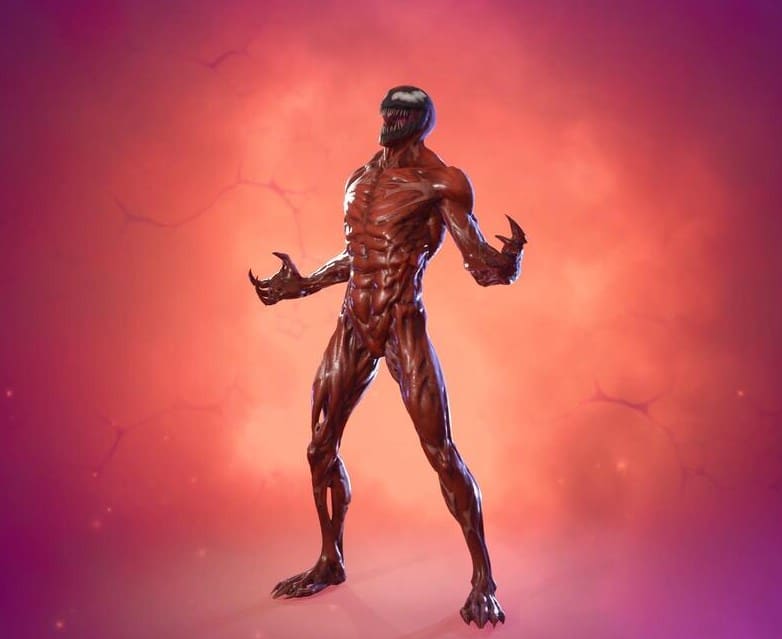 While no Spider-Man, the release of Carnage as the tier 100 skin in Chapter 2, Season 8 was still welcome. The unmatched comic book killer of Spider-Man was a surprise release in Fortnite, despite being in collaboration with the Venom: Let There Be Carnage film. This is in part because Carnage is absolutely horror-worthy in the game, looking vicious and evil in a way that we were not used to in this kid-friendly experience. It's also honestly better than the Venom counterpart.
14. Maya
Maya was a huge step in a new direction for skins when it was released. The first skin in the battle pass at its time was notable for the seemingly limitless possibilities of customization. Special seasonal challenges unlocked new options for making your Maya wholly your own. From hair to hair color to outfit to style and more, Epic said there were one million possible combinations and was not kidding, either.
15. The Foundation
Of the Fortnite original characters, the most anticipated skin was The Foundation. Revealed in a live event, fans thought it was a matter of time until this bulky tech hero leader of The Seven, but that was not so. It would take a couple of seasons for this character to arrive finally, but it was well worth the wait for The Rock to join Fortnite as The Foundation.
16. Tony Stark/Iron Man
Fortnite Chapter 2, Season 4, was jam-packed with Marvel heroes and villains, but none were as wonderful as Tony Stark/Iron Man. Epic rightfully spared no expense on the Iron Man suit skin, and it worked wonders, looking to be the best version of this Avenger in any video game ever.
17. Lexa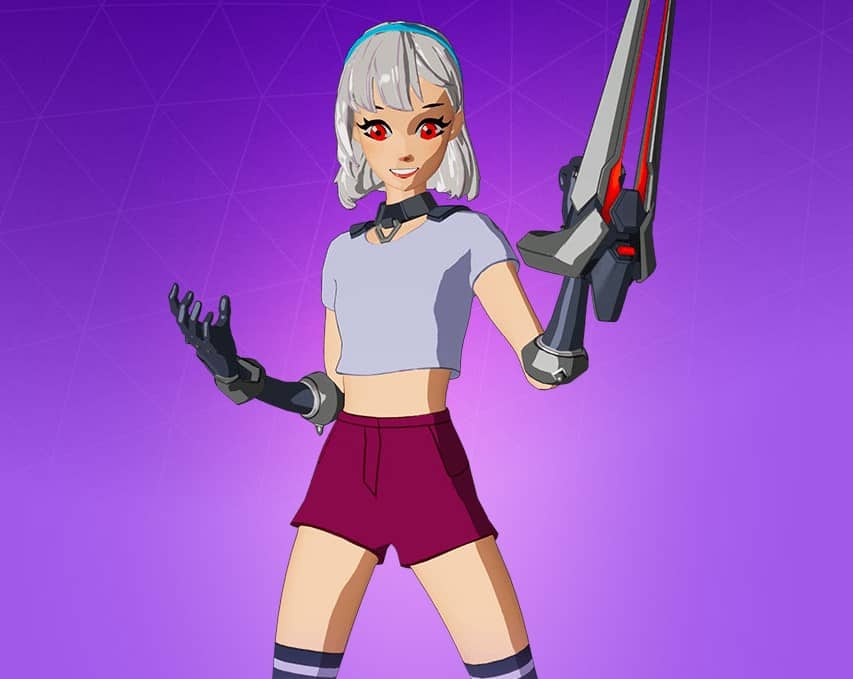 Introduced in Fortnite Chapter 2, Season 5, Lexa showed that we could still be surprised by skins in the game. This original character was noteworthy for hosting a completely different artstyle than any skin up until that point. Lexa has an incredible anime-like cel-shaded style that is terrific and something we didn't think possible in this way in Fortnite.
18. Jonesy
Of the Fortnite characters, Jonesy is essentially the hero. One of the default skins at first, Epic bought into the community's love for Jonesy and made him the central star of the game. The lore we know and many events have centered around Jonesy, who now has seemingly countless different skins, most of which are all pretty great.
19. Spider-Man
While I did say that this list was in no particular order (which is mostly true) besides chronological in some parts, I did save the best for last. If I did have to rank the best skins, I would put these last two in the top two spots. Starting with Spider-Man, we have the most desired crossover skin in Fortnite's history.
When the Marvel season first happened, many fans were surprised by the fact that Peter Parker and his alter ego Spider-Man were not included. To rub salt in the wound, Venom and Carnage came out later, and no Spidey was in sight.
Finally, that all changed with Fortnite Chapter 3, Season 1, as the season began with a bang. Spider-Man is the most important skin in the battle pass and the best one to boot. It helps, too, that the Tom Holland version of the character came out in the item shop in the same season. Take your pick for your favorite version, and you still have the second-best skin in Fortnite history. The sleek nature of the suit and faithful creation is darn near perfect.
20. Ariana Grande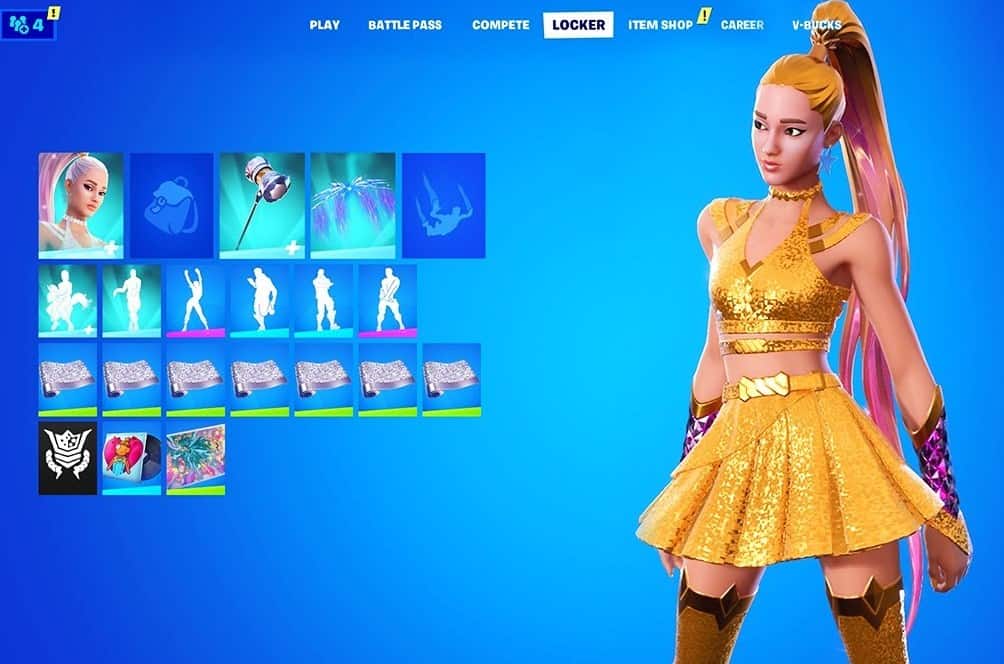 If I had to pick one skin that ranks above the best as the greatest of all time, it would be the Ariana Grande skin. When celebrities like Travis Scott started to receive their skins, many artists in the community began dreaming up a Fortnite version of the biggest pop idol on Earth right now.
In the end, Epic released the Ariana Grande skin alongside her Rift Tour live event appearance, and it was better than any of us could have ever imagined. Not only is the face and hair true to the singer herself, but the outfit choice is phenomenal and something she might actually wear.
But it does not stop there, as the second version of the skin included in the same package is a more fantastical take that elevates this skin to even higher proportions. No matter which version you like, the Ariana Grande is not only the best possible representation of her in Fortnite but the best skin to ever release in the game.
FAQs
Question: What is the most popular Fortnite outfit?
Answer: Picking the most popular Fortnite skin of all time is going to be one of the hardest tasks to accomplish. In fact, without data directly from Epic Games, there is no way to know for sure outside of the default skins themselves. Unfortunately, the Fortnite developer has not revealed this information.
That said, there are some cues to some of the most popular skins in the game to date. For one, there is the fact that the most popular skin will change from season to season. In most seasons, the most popular skin will be one of two options: the first skin you unlock in the battle pass or the "secret" skin like The Foundation that comes later on in the season.
These are the skins that most people will be using, so, as such, we have come up with a few possible options for some of the most popular skins to ever release in the game. When it comes to the initial battle pass skins in a season, two of the most popular ones have to be Maya, The Mandalorian, and Thor.
For Maya, there is the fact that it was the first skin ever to let players fully customize it in such an outstanding way, as we mentioned in our list. Plus, it was released early on in Chapter 2. Finally, for The Mandalorian, the show was at its height of popularity when Season 5 came out, likely resulting in a lot more players purchasing the battle pass and using this skin than usual.
And then there is Thor in Chapter 2, Season 4. Not only is Thor massively popular on his own, but that particular season was one of the biggest, if not the biggest ever, for Fortnite's history. Having an entire Marvel-themed season was an outstanding moment unlike anything ever before its time and since then. The amount of players with Thor in their collection has to be astronomical.
Question: What is the best customizable skin in Fortnite?
Answer: You likely already know the answer to this question if you read our list above. Maya is the original customizable skin released in Fortnite, where you could select how she looks from top to bottom. At the time, Epic revealed more than a million possible combinations to make Maya your own, which was unparalleled.
That said, another honorable mention should be considered one of the best customizable skins in Fortnite. In Fortnite Chapter 2, Season 8 Cubed, one of the first skins that you could unlock in the battle pass was the Toona Fish skin.
While it is not the most attractive skin to ever release in the game, it is one of the most customizable and interesting skins. Similar to Maya, you could customize Toona Fish, but the crux was based around the default version that was black and white to start with.
You could then paint the skin with whatever colors you wanted, but the catch was that you had to collect the paint buckets from locations around the island. This added an extra layer to the gameplay, making unlocking the new skin colors for Toona Fish fun and rewarding.
It also helped that these colors could help this skin look more vibrant and interesting. Better yet, there were better skin color options that you could unlock later down the road that made it look like some of the most famous skins to ever release in Fortnite history.
And if that was not enough, there was hilarious back bling that you could attach to Toona Fish that was fully customizable in exactly the same way. So while I would still give it to Maya in the end, I think that Toona Fish is a close second in this category.
Question: What is the OG skin in Fortnite?
Answer: When it comes to the original skins in Fortnite, there are, of course, the default ones. But ignoring those for a minute since players could not own or pick them, the first skins to ever release in the game for purchase were the Skull Trooper and Ghoul Trooper skins.
These two skins were launched in the item shop in Fortnite Chapter 1, Season 1, as the first skins that players could purchase. Skull Trooper was based on the Jonesy skin and was male, while the Ghoul Trooper had a much different design and was female.
These two skins launched in Fortnite before even a battle pass system was available in the game, making them extremely unique and rare. If you were one of the lucky few ever to own these skins when they were available the few times they were in the item shop, you have one valuable Fortnite account.
After all, the two skins launched in the first season of the game's early access period when it was not even close to being as popular as it is today. So they are the original Fortnite skins and outfits besides the default ones.
Conclusion
Picking up any one of the 20 best Fortnite outfits and skins that we selected on this list will help you to appear the very best that you can on the battlefield. However, you do not want to just look good in Fortnite though, as you need to make sure that you play just as well as you look.
That is where our other Fortnite guides come into play. We recommend checking out our general Fortnite gameplay guide if you haven't already. That guide goes over everything you need to know about the gameplay in this battle royale title, from items to weapons to how to win and the basic tips for building for newcomers. This is the first step towards playing as well as you look in the game.
For more interesting readings check out: