Latest posts by Cody Perez
(see all)
One of the crowning jewels of any bedroom is the decorations you put on the walls. Even more than the bedding you have or how clean it is, your posters and other wall items instantly show everyone who walks in so much information about you. For Fortnite fans, this means that putting up themed posters can immediately clue anyone to walk in about your passion for the game. To help you find some to stick on your walls, here are the best, most iconic Fortnite posters you need to know about.
I envy the kids who grow up today with Fortnite as I was an adult when the game came out, even if only barely out of my teenage years. If I was a kid growing up with Fortnite, I know that my walls would be covered in some of my favorite Fortnite posters. As such, you can let me live vicariously through you and this post with the most iconic Fortnite posters I've assembled for you here.
Bottom Line Up Front
The most iconic Fortnite posters are the centerpieces that they need to be for any bedroom or house. They steal the spotlight as soon as you see them with flashy designs or unique art styles that you won't find anywhere else. They also have a core Fortnite theme to the iconic posters prevalent throughout it, focusing on a location, character, logo, or mechanic that fans will easily recognize and appreciate. These are also among the best Fortnite posters you'll ever find.
My Top Picks at a Glance
I get that some of you might be in a hurry to decorate your new living room, bedroom, dorm room, etc., so I listed the top five picks that I think are the best of the best below. These are not only iconic, but they rank far above the others that are on the complete list.
Tips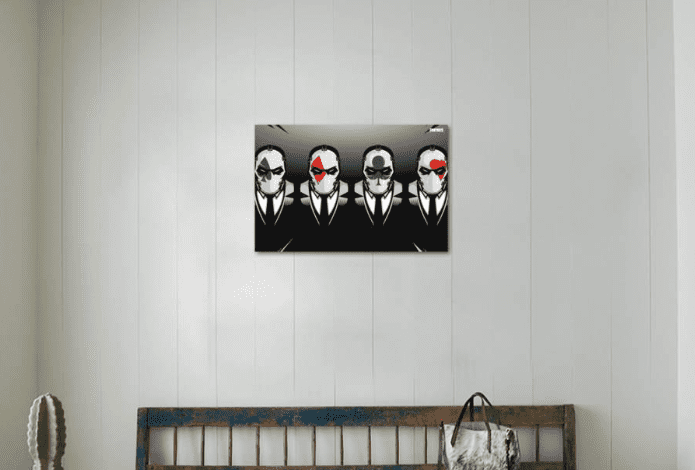 Before we dive too deep into what made the list of the best Fortnite posters, here are some general buying tips that I have when it comes to these particular merch items:
First, always be sure to compare and contrast prices. There are a couple of posters on this list that are available at multiple sites. You never know; a place might be having a sale on the same poster you want when you're ready to purchase it.
Custom-made posters are the future. Sure, you could stick with some of the designs below, but you could take inspiration from some of them and make your poster image or hire someone to do it for you so that you can make your personalized item.
Keep an eye on the material of the poster itself. Some signs are pricier, but they might be made out of metal and hold up much better than the cheap paper materials of some of the others. This is especially important if it's for a young kid's room since they might accidentally destroy the poster.
Size is also very crucial when it comes to posters. Keep note of the size, if it is using centimeters or inches, and the general dimensions of the area where you'd like to put it. This way, you aren't surprised by a poster much smaller or larger than you expected.
Coordinate your posters well. Many people often put more than one poster on the wall of the same room. I think it is vital that you match your posters together, so they don't clash and look unnecessary next to one another.
Finally, I recommend looking into the place you're buying from's refund and return policies before purchasing. This will let you know how easy it is to get a return if the poster doesn't turn out how you expect it to in person, which could very well happen.
Selection Criteria
When selecting the most iconic and best posters you should know about, I kept a few different criteria in mind. You can find them below to help you better understand what went into making this list:
Above all else, the design is the most essential part. If the design didn't impress or even blow me away, it didn't make the cut.
Just under that was the poster's relation to Fortnite. These are Fortnite posters, and I should know that as such from the moment that I look at one of them.
I also kept in mind the supposed quality of the materials and the likelihood of them turning out similar in real life to the online images.
My go-to rule of thumb for every Fortnite merch item is to make sure that I am only offering suggestions for things that I would myself put up on my wall or buy for my loved ones.
Lastly, I tried to keep the items broad and diverse whenever possible. I ensured that there were different types of posters to appeal to a wide range of Fortnite players and a budget range that matched that, too.
Iconic Fortnite Posters List
Below, you'll find 17 of the best and most iconic Fortnite posters ever created. Hopefully, at least one of them will interest you or whomever you're buying it for.
What I love about this first poster is that it is in your face with style and color—making the background a plain back poster was an intelligent choice, acting like a blank canvas for the artist to splash their designs and art onto. The result is a collection of four skins that almost all have racing in common.
The artist also gave their rendition of some of the characters, which is impressive, allowing them to brighten and focus more on certain colors in the process. The bold and bright outlines of the characters contrast nicely with the seemingly chaotic splash of paint behind them. But this all works like a beautiful mess, feeling like the best form of graffiti, but in poster form.
Pros
The characters seemingly have a core theme tying them together
The graffiti style works so well in this chaotic but beautiful manner
Cons
These aren't the most popular skins that were chosen
Though it doesn't quite tout Fortnite as much as it could, this Marshmello poster is for the musical battle royale fans. Marshmello is an icon in the Fortnite community for his monumental in-game concerts a few years back and his subsequent skin.
In this poster form, we can see DJ Marshmello in a simplistic 2D take resembling his in-game counterpart. What I appreciate, though, is the splash of color in the background that offsets the plainness of the character. The shining yellow reflecting off of him tells me he's likely playing Fortnite right now.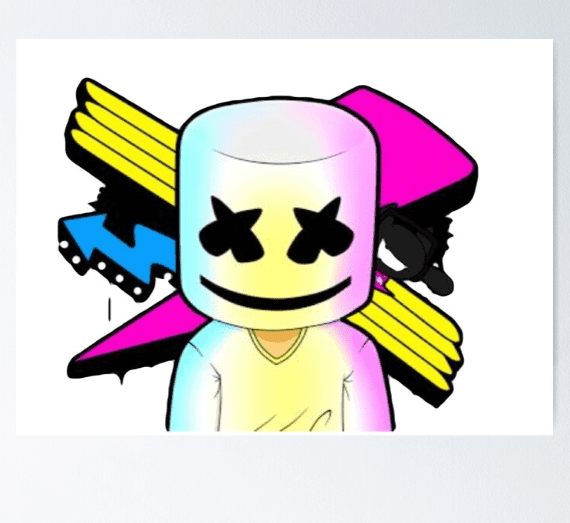 Pros
Marshmello fans will love this
The background colors and shapes add a nice touch
Cons
It's still a little bit too plain for some players. Perhaps a black poster background would've been better.
I could stare at this poster all day and night. One of the most gorgeous posters on this list; there is something so serene about staring at the vibrant sunset in the background. There is truly nothing else like the sunsets in Fortnite, and it is on full display here.
I always say that playing a match that starts with sunset and then takes place over the night is the best match, and this is partly why; you get views like this. But it isn't just a view of the sunset but that of the battle bus coming through to drop off players getting ready to fight for that Victory Royale. This is an exquisite piece that adds to any room.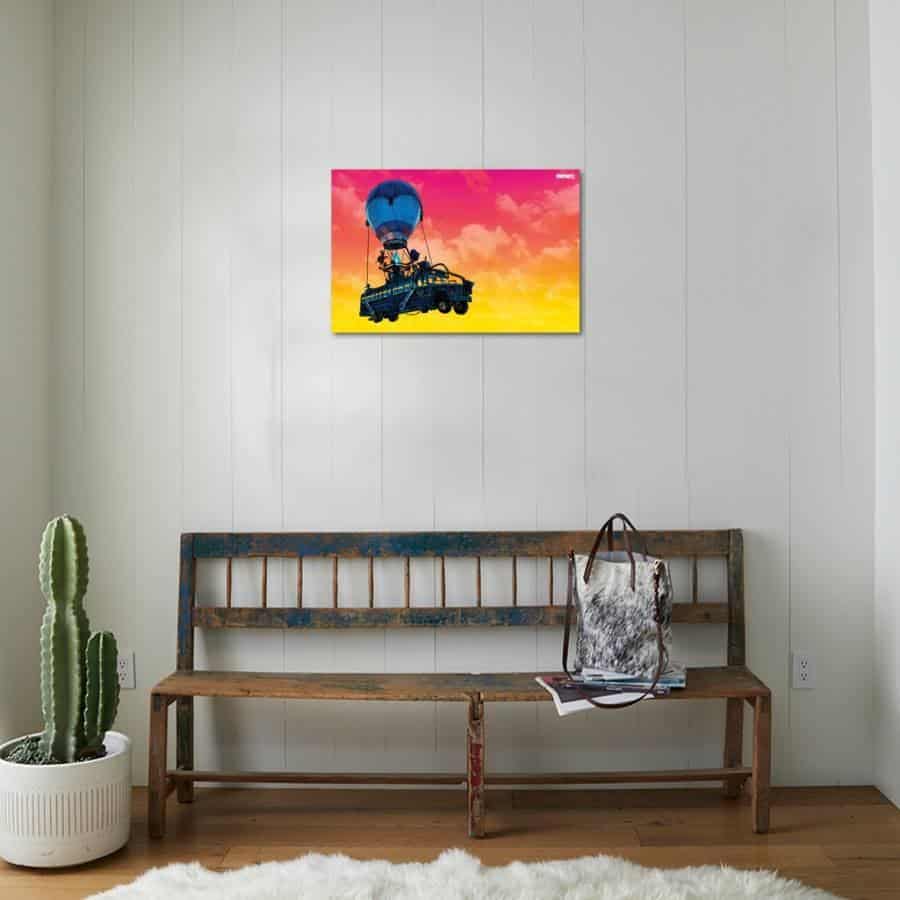 Pros
One of the most broadly appealing posters
The stunning sunset is iconic in its own right
The battle bus dropping off players is the centerpiece of any room
Cons
The only thing I would add to this would maybe be a few players' silhouettes as they drop from the bus.
Wild Card was a skin in Fortnite that I played for a long time. It was one of my go-to skins, so I had to include this iconic poster here. He holds a special place in my Fortnite history, and I imagine other players feel the same way.
What I appreciate about this poster version of Wild Card is that, firstly, it captures his identity as an ever-changing skin. He can be any of the four main suits from a deck of cards, and that is shown here in his variants. In addition, the art style is a heavily bordered, almost comic book style that gives him this fitting mobster style.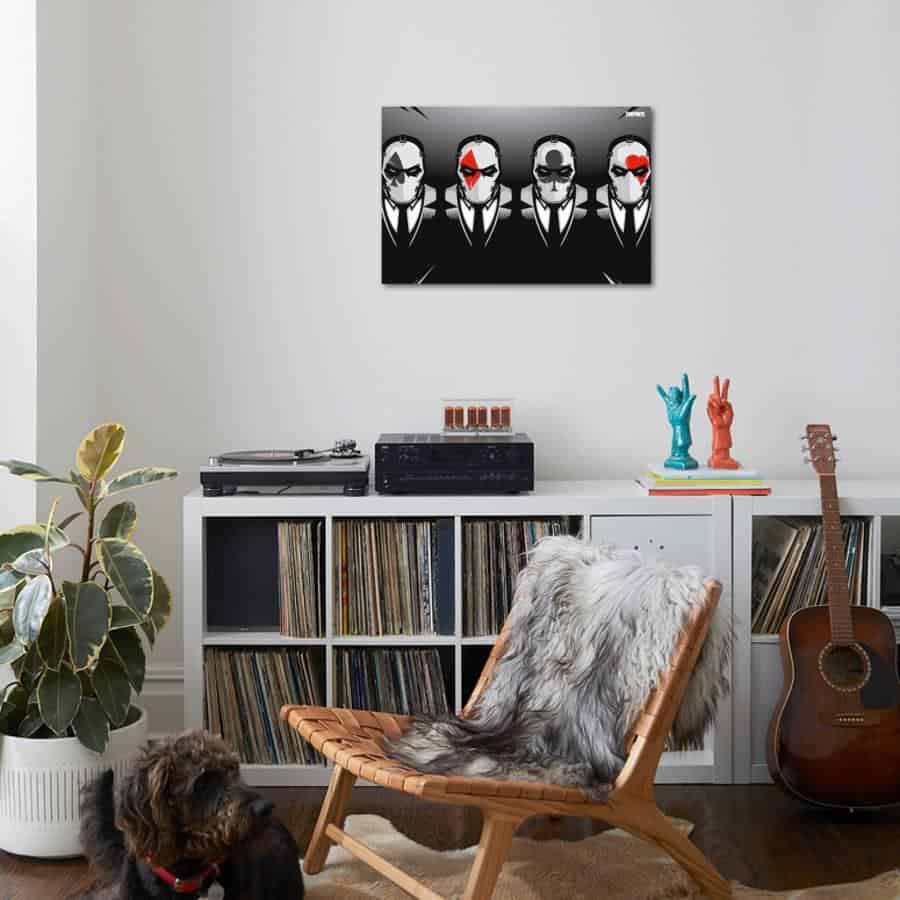 Pros
We can see all four of the Wild Card variants here
The unique art style gives off this much-needed comic book feeling
Cons
While I love Wild Card and always will, I would've preferred Ace in this poster instead.
There is a lot to love about the art style that this particular artist uses. Instead of simply recreating what Epic Games already made, they focused on showing off their talent. We have a TNTina-like skin character here who is riding a green rocket, for some odd reason, while also holding a pumpkin rocket launcher.
A lot of explosive action is happening here, but within an organized part of the poster. On its own, the character riding the rocket is fun, but this is only part of the action. There is more to this poster than meets the eye. If you look closely, you can see a place like possibly Tilted Towers below. This extra hidden layer to this poster and its sharp style help elevate its status.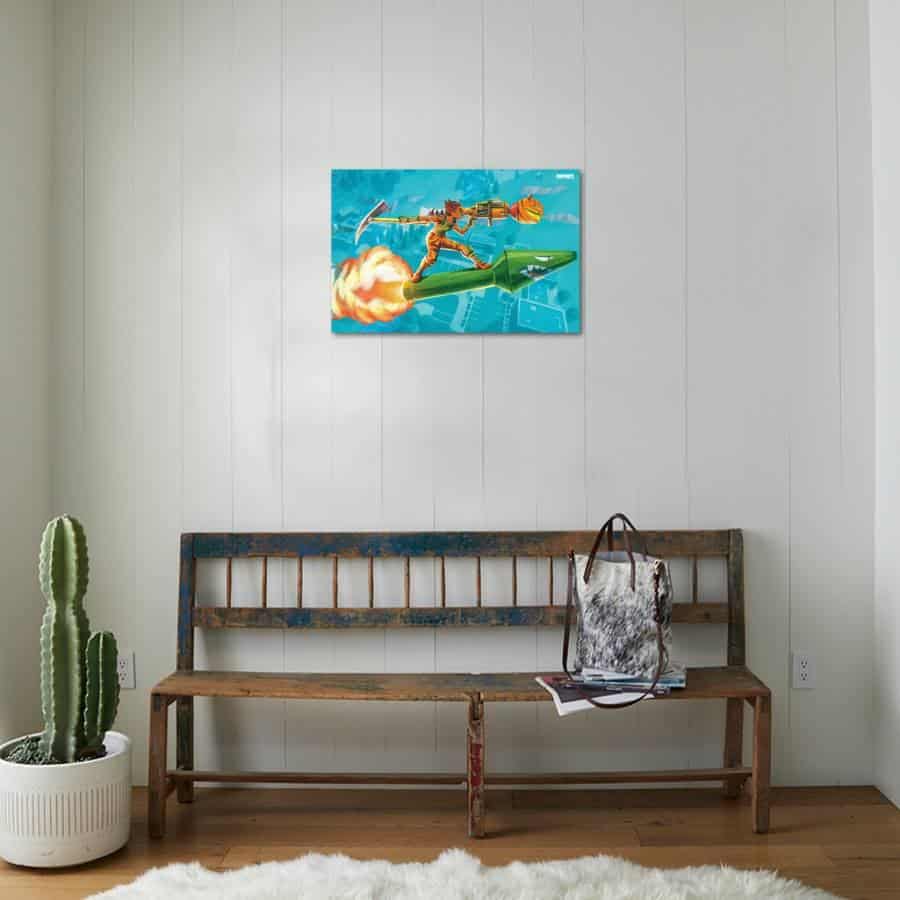 Pros
The character riding the rocket brings back one of the most iconic early memes in Fortnite's history
The extra layer of the island in the background is a bonus
Cons
I do wish that a different character was chosen to star in this poster
I love when an artist does their take on Fortnite, such as in this style. We have a beach area that looks far and away, more alien than anything we've encountered in the actual game. But to help with this unfamiliar location and the heavily stylized art that the creator uses, there are iconic characters.
One such person is my boy Peely, aka one of the two best original characters in Fortnite's history, and even more. The colors are strange, with a heavy mix of blue, yellow, purple, and green. These aren't the most traditional takes on these skins, but this originality makes this a lot more eye-catching than it would be otherwise.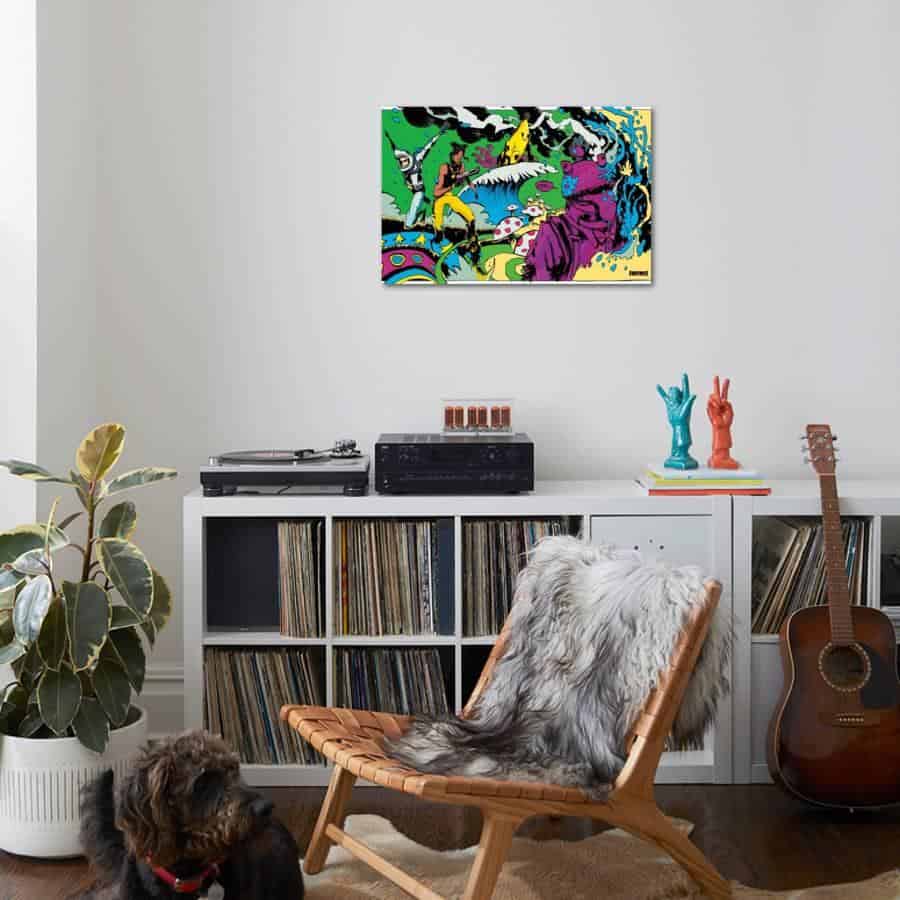 Pros
The unique art style immediately catches your attention
Including beloved characters like Peely was smart and brought some necessary familiarity
Cons
This poster is a little bit wild and unique for me.
The significant appeal here with this poster is the aesthetic the artist went for. The person went for an older advertisement style that captured my attention for its distinct, bold lettering and eye-catching headlines. It reminds me of the old 50s-style ads you would see in other games like the Fallout series.
The slurp juice ad poster gives this nostalgic feel to it that makes me want to hit up my favorite old-school diner on the pier of Huntington Beach, California. For my slurp juice fans out there, this is how to show your love for the ever-important item that ensures we are fully protected in Fortnite.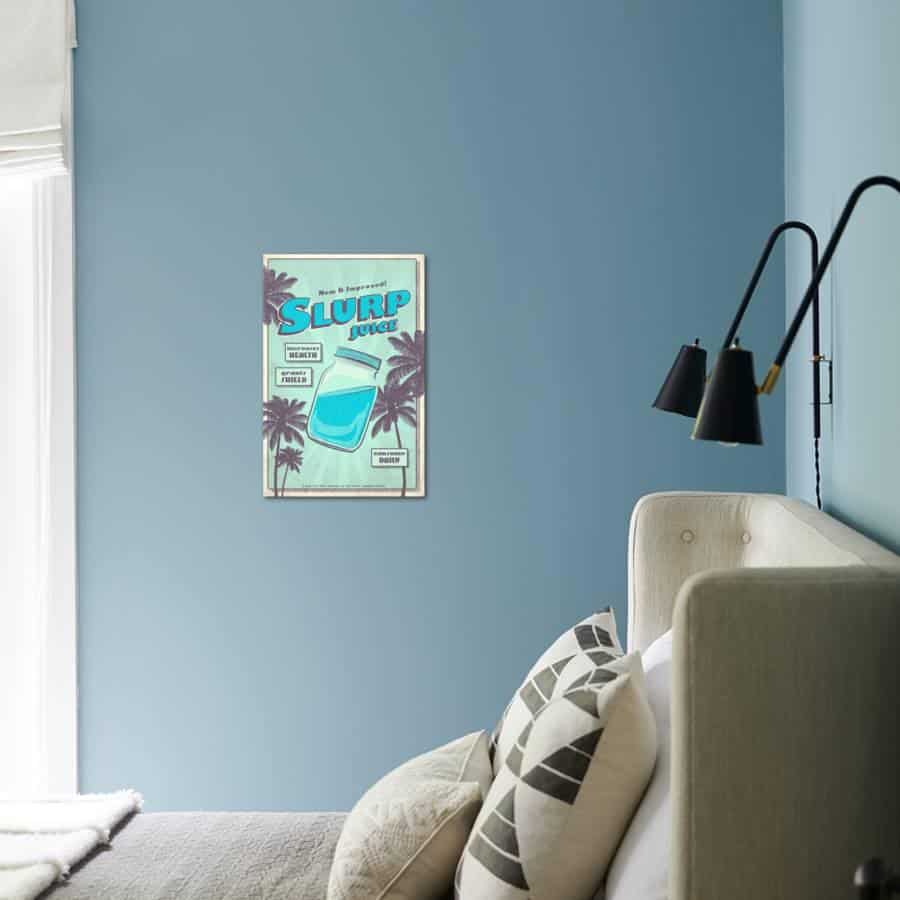 Pros
This 50's style advertisement style is a master in the nostalgia department
Slurp juice was the right pick for this Fortnite-style ad poster
Cons
I'd like to see a little bit more from the ad catchphrases
To be clear about this one from the start, there is way too much happening in this poster, especially regarding how many words it has plastered all over. That said, for a kid who loves eye-popping posters and maybe even some of the art used to tag up skateboards, this is a poster they can appreciate.
The style for this poster is unique, and I have to give credit that the artist went for it. In a way, it reminds me of old infographics to tell you about some crazy toy or science experiment that you could buy where it would have its warnings in bold, bright black and yellow caution letters.
The information it gives you will keep you entertained for a while, too, noting stuff like getting "rekt," you've been "pwned," "I'm pumped," and so much more. The taglines are hilarious, and I can fully admit that I've said more than a few of these in my time playing Fortnite. Bold personalities, this poster is for you.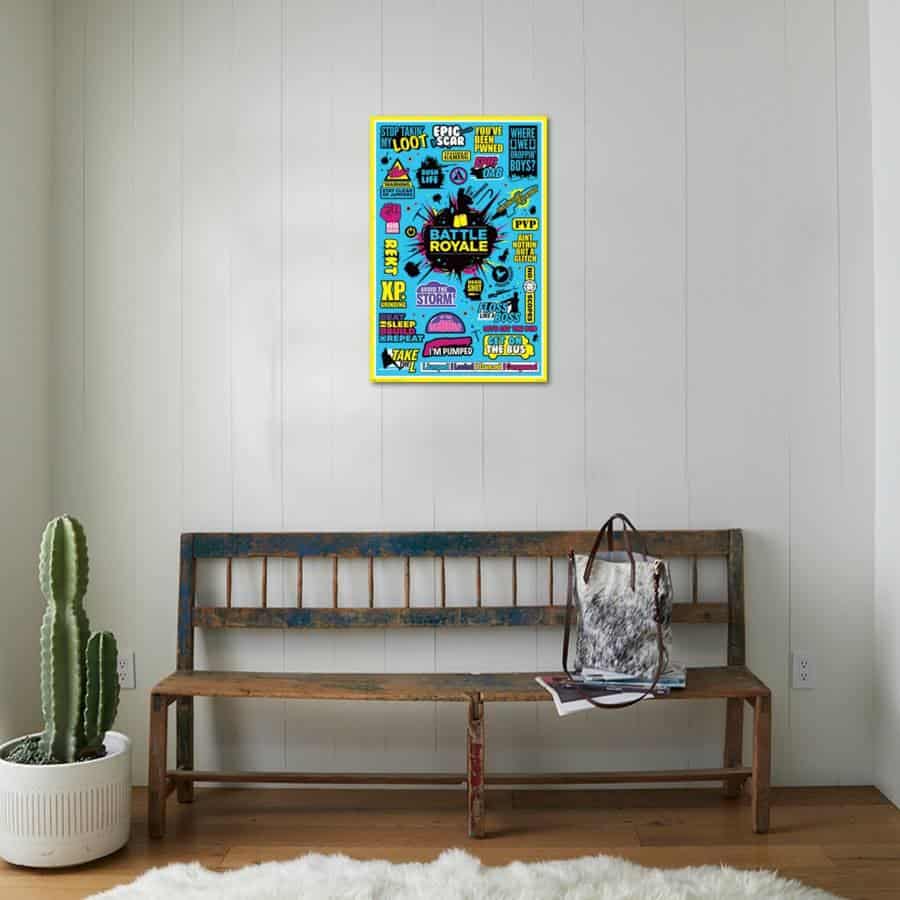 Pros
The sweatiest of players will undoubtedly appreciate this poster
It almost feels like an old-school infographic poster
There are some hilarious taglines here
Cons
This niche poster is certainly not for everyone, including me.
Jim Mahfood is a famous comic book artist who you may know for his work on several Spider-Man comics. I'm not sure if this poster is made directly by him or simply inspired by his style since the site doesn't clarify, but regardless, there is such a level of professionalism to this poster.
Everything about how this is made wouldn't honestly surprise me if it were from a professional comic book artist. The shading, outlines, edges, and general art style all feel boldly done in such a confident way. To be clear, the poster is a little random with its selection of Fortnite characters, but for fans of Blackheart and these other characters or just the style, this is a clear winner here.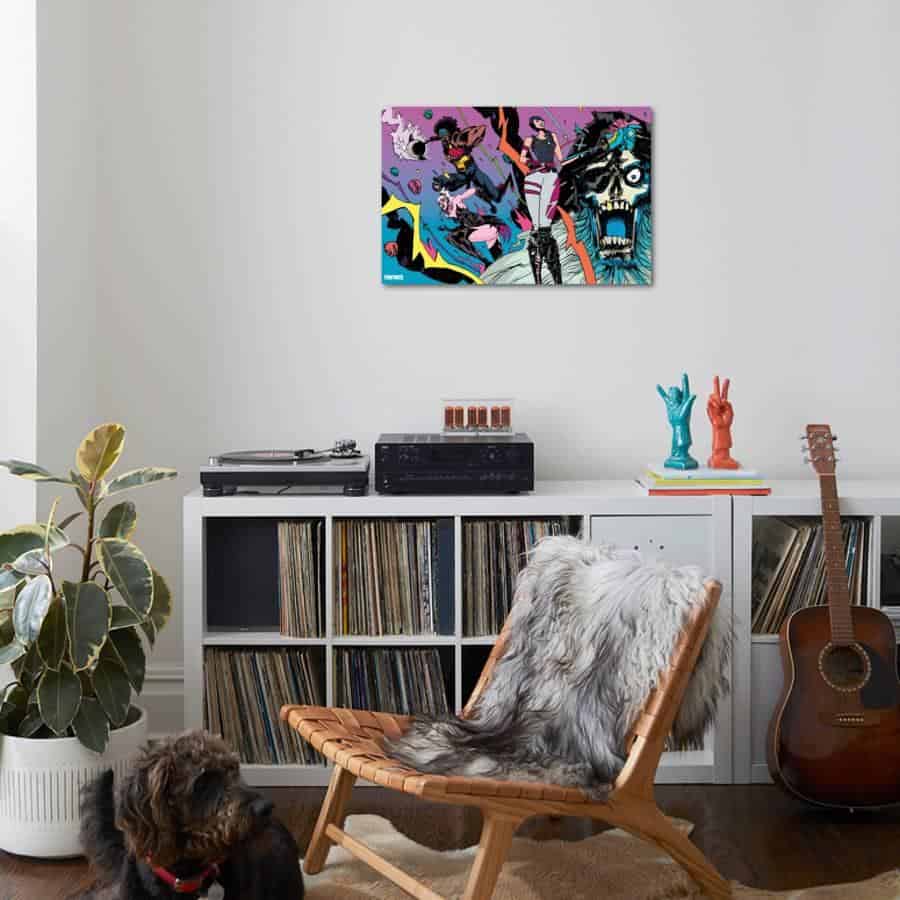 Pros
This poster feels like it was made by an actual professional with lots of experience
The characters might be random, but they are created in an expressive and detailed manner
Cons
I wish some of the better skins were chosen for this poster
The Straight Outta Compton trend resulted in many posters themed after the style, and this Fortnite version is a solid pick for some players. If I had to pick any location in the game to be "straight outta," it would be Tilted Towers, for sure. It is the most famous point of interest in the game for a reason, after all.
The poster itself doesn't change up the format all that much, other than the bottom third, which is a bit larger to compensate for the longer location title. If you want a straightforward recreation of the Straight Outta Compton logo but for Fortnite in poster form, this is the way to do it.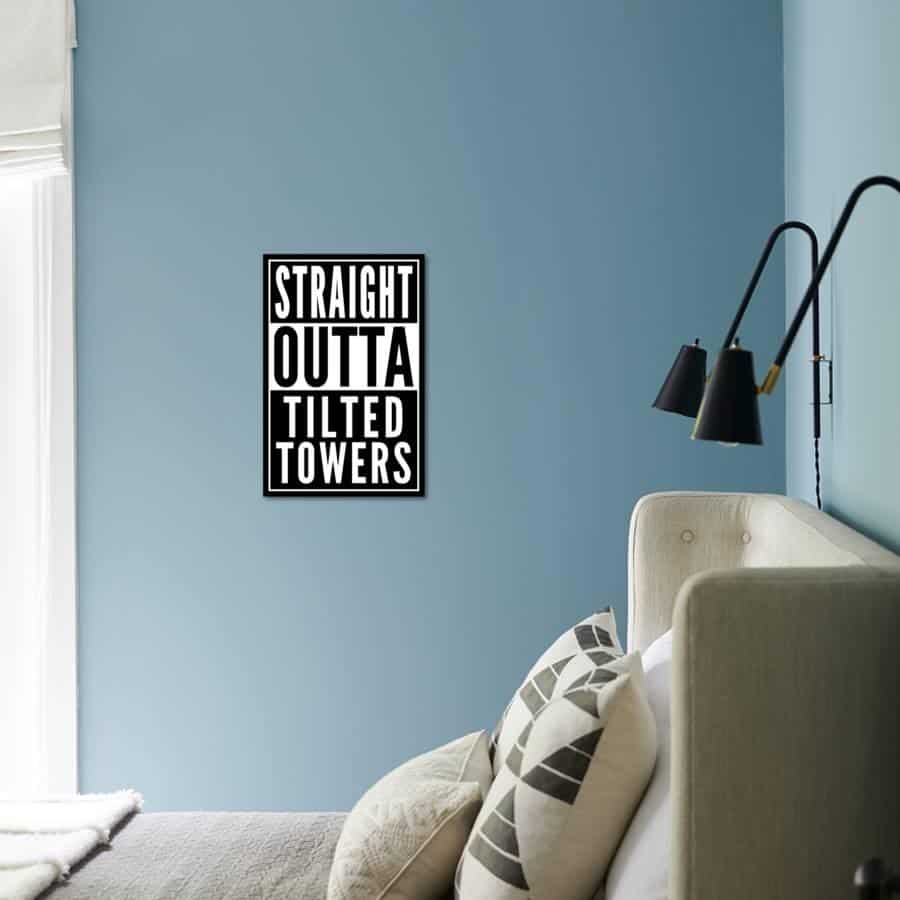 Pros
Straight Outta Tilted Towers is the best way to recreate the Straight Outta Compton style in Fortnite poster form
Relatively cheap even when it's not on sale
Cons
The larger bottom third of this logo lacks the brilliant balance of the original version
This Loot Lake poster reminds me of those classic scenery pictures and posters you might see in a tourist center to show off the iconic locations you can visit nearby. This stylistic approach was chosen for showing off Loot Lake, one of the most famous and beloved locations in Fortnite's history.
That alone was an intelligent choice for blending two weird and random ideas that somehow make sense. But the bonus is that the artist went for their take on Loot Lake, which is presented with some bold color choices. The purple is the real star here, so vibrant and in your face alongside the area's scenic views that almost give off some Twin Peak vibes.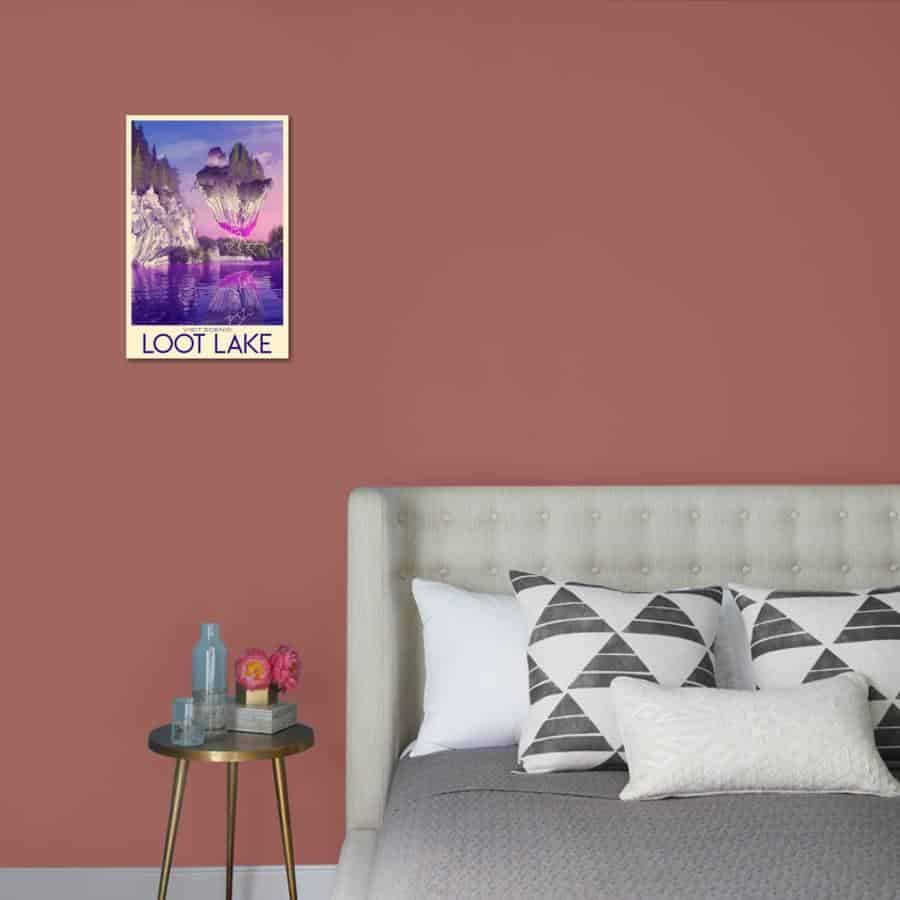 Pros
The tourist poster style is a fascinating way to show off Loot Lake
The sharp color choices for the purple provide a distinct style unlike anything else
Cons
This doesn't have an apparent Fortnite feel, which might be off-putting for some.
That old carnival and movie-style entertainment posters arrive with this retro-style Fortnite poster. In this case, it's like the artist made the name for a new James Bond movie, but the star this time is you. The film is, of course, the headline title "Drop Fast, Die Tryin'."
The person who came up with this idea is a master in coming up with catchy taglines and the like, such as the bottom motto, "every day I'm droppin' in." This brilliant form of marketing doesn't make it too obvious this is about Fortnite, but the dedicated players out there will know a fellow battle royale fan when they see this poster.
This is all before including the silhouette of the player dropping onto the island and the beautiful purple color scheme that it has going on.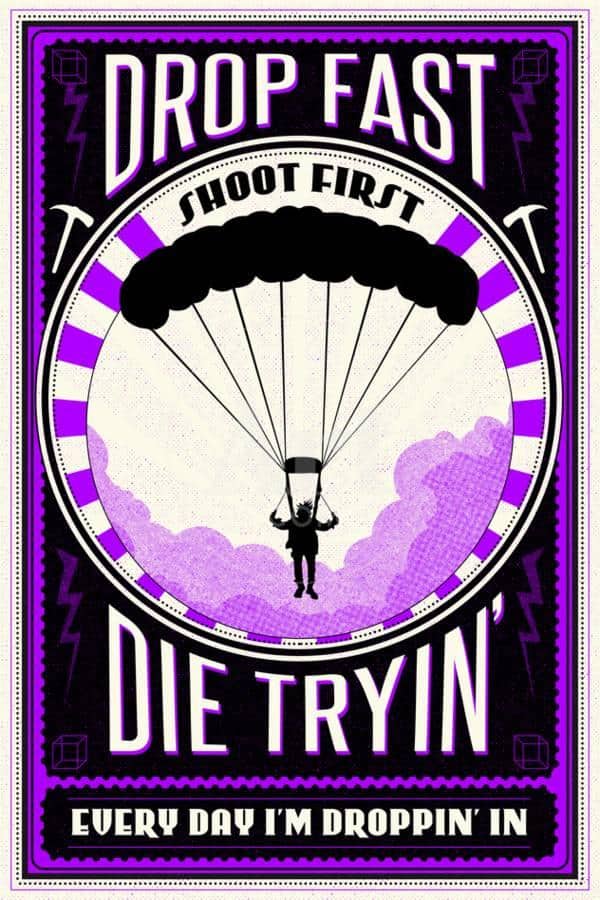 Pros
The retro movie poster vibe is to die for
This artist has a sense of humor
The purple color scheme is a riveting choice
Cons
It's not as straightforward as other posters that it is for Fortnite
Something can be said about that blockbuster poster that fully captures the experience of playing a battle royale match in Fortnite. Out of all the posters on this list, this is the first and only one that has adequately done this.
This Avengers Endgame-level poster features numerous players, each with different skins, dropping onto the map, in the middle of battle, building to survive, and more. There are so many scenarios in this poster that you can spend a lot of time just checking that part out.
If you want a poster that fully captures the look and feel of Fortnite, this is the one. I just wish that the skin picks were a little bit better. The strange middle divide with two different seasons shown off is a bit odd to me.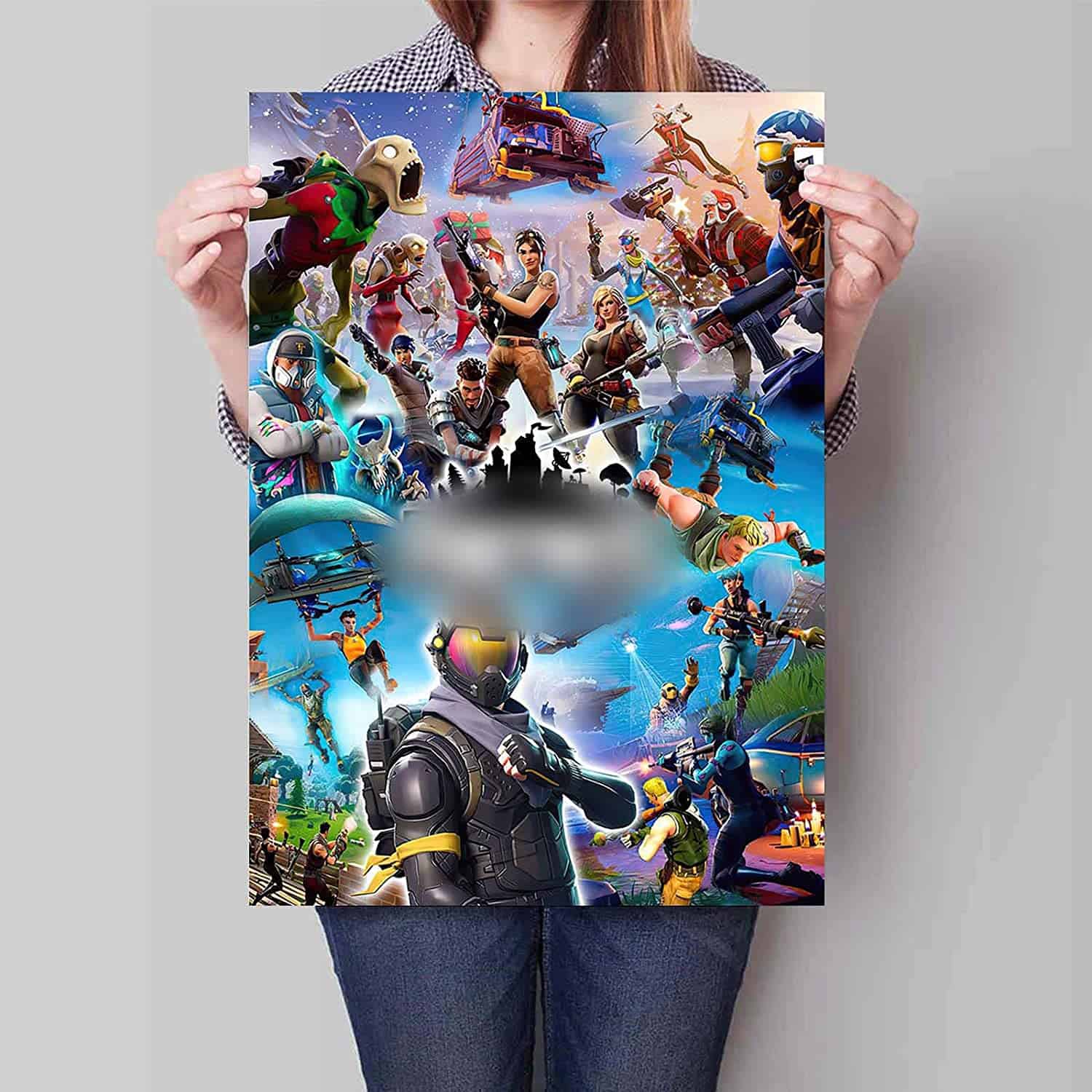 Pros
The closest you'll get to the look and feel of Fortnite in a single poster
So many fantastic scenes happening all at once
Every player is a different skin to show the variety of Fortnite
Cons
This poster went with the safest and most boring skin choices to show off
There was this local pizza place I went to as a kid that had all sorts of retro alien and monster movie posters on the walls. This Peely spring break poster feels like, right down to the color choice, poses of Peely, and even its fonts.
Peely is ripe and ready in this poster to have a good old time on the waves, surfing along while wearing whatever strange outfit he has. One of the harder-to-see but most essential parts of this nostalgic poster is the various photos surrounding him, showing snapshots of what he's up to on the battle royale island.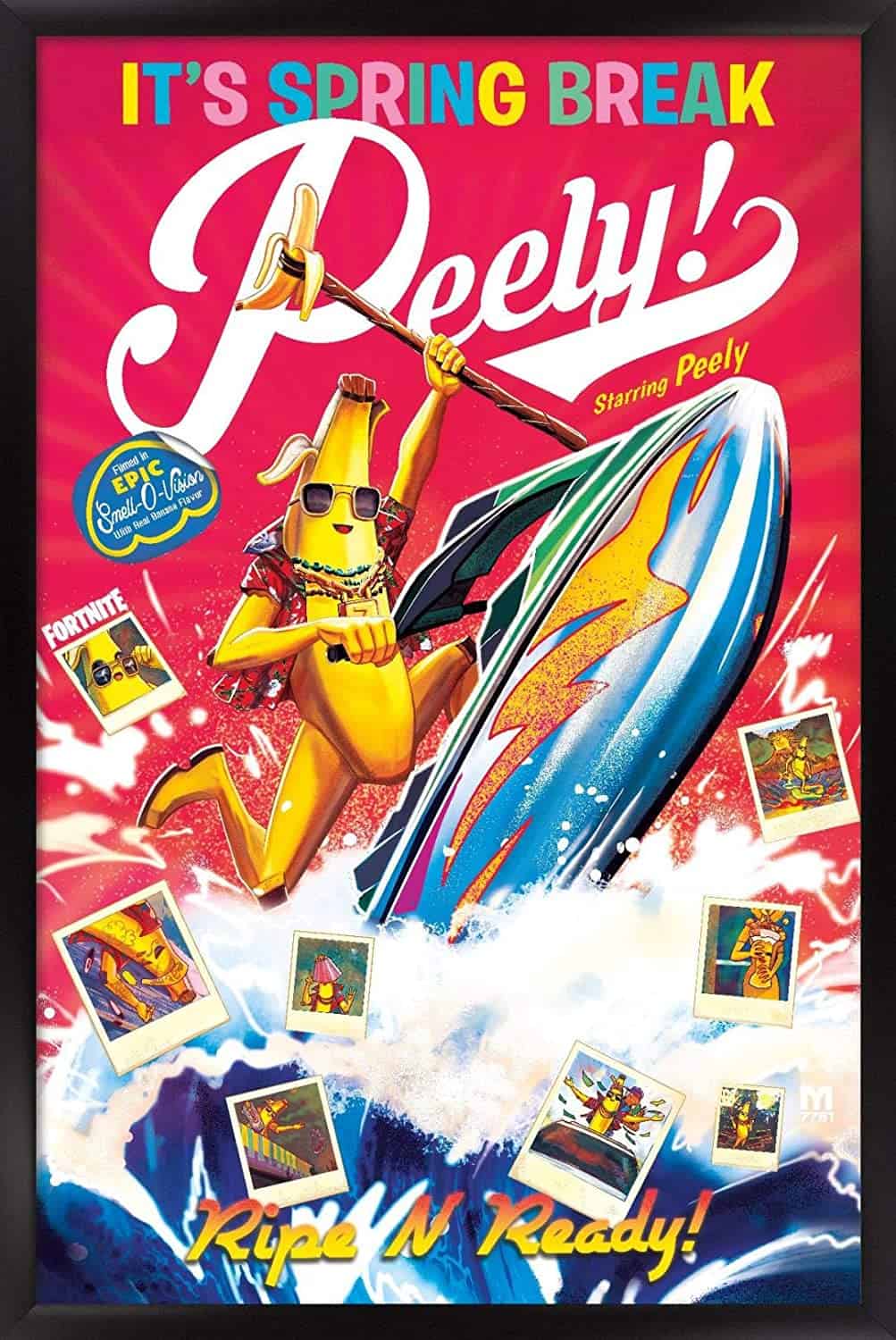 Pros
Peely is the right choice for a character-focused poster
The retro, nostalgic style is perfectly recreated here
Cons
Peely's outfit is quite bizarre; not a fan of it
We are back again with a retro-feeling poster that is almost similar to the propaganda war art style from the 20th century. In this case, we see that it is all about Cuddle Team Leader dropping into a match of Fortnite with her glider which happens to be the laser shark glider.
Altogether, this is one of the weirdest posters I've ever seen. Cuddle Team Leader certainly deserves a spotlight poster (that probably should be pink to match her) but a poster of her dropping into a match with a shark glider? Definitely random but I'm not mad. The Cuddle Team Leader fans can adorn their walls with it.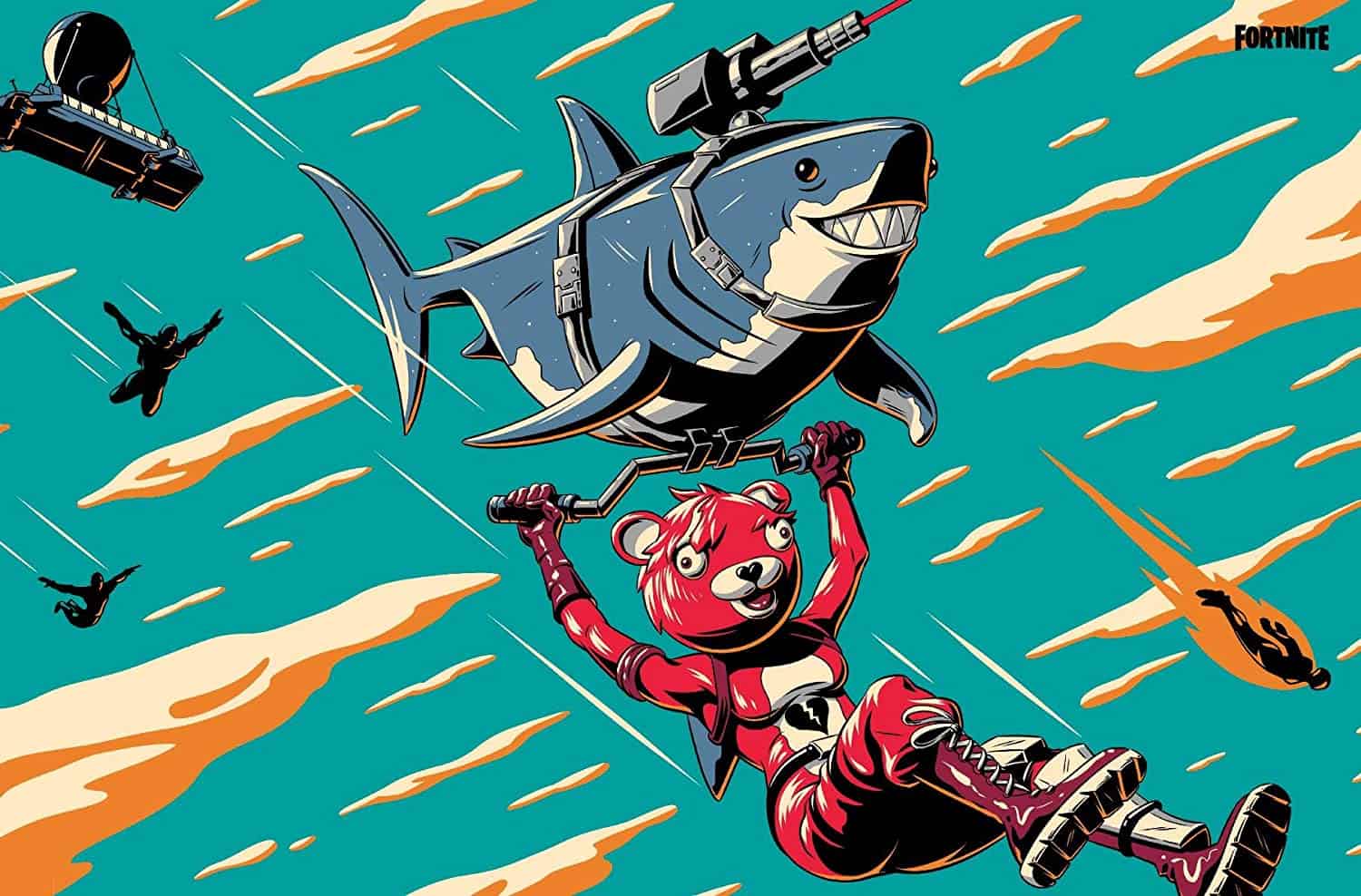 Pros
Cuddle Team Leader and the laser shark glider are a strange but welcome combination
The old-school art style is lovely
Cons
There were definitely better ways to show some love to Cuddle Team Leader
The endless rivalry between the Durr Burger and Pizza Pit restaurants is eternal, and a massive part of the lore behind Fortnite. This poster pays direct homage to that part of the in-game history with both Tomatohead and Beef Boss going up against each other in a competition poster.
Like some of the other posters, this one went for a movie marketing poster in a way, showing off this intense fast-food rivalry as if it is a new flick coming soon to a Party Royale theater near you. The artist who made this is quite talented, showing off such a heavy level of detail from the splashes of tomato sauce and mustard to the intricate details on each character.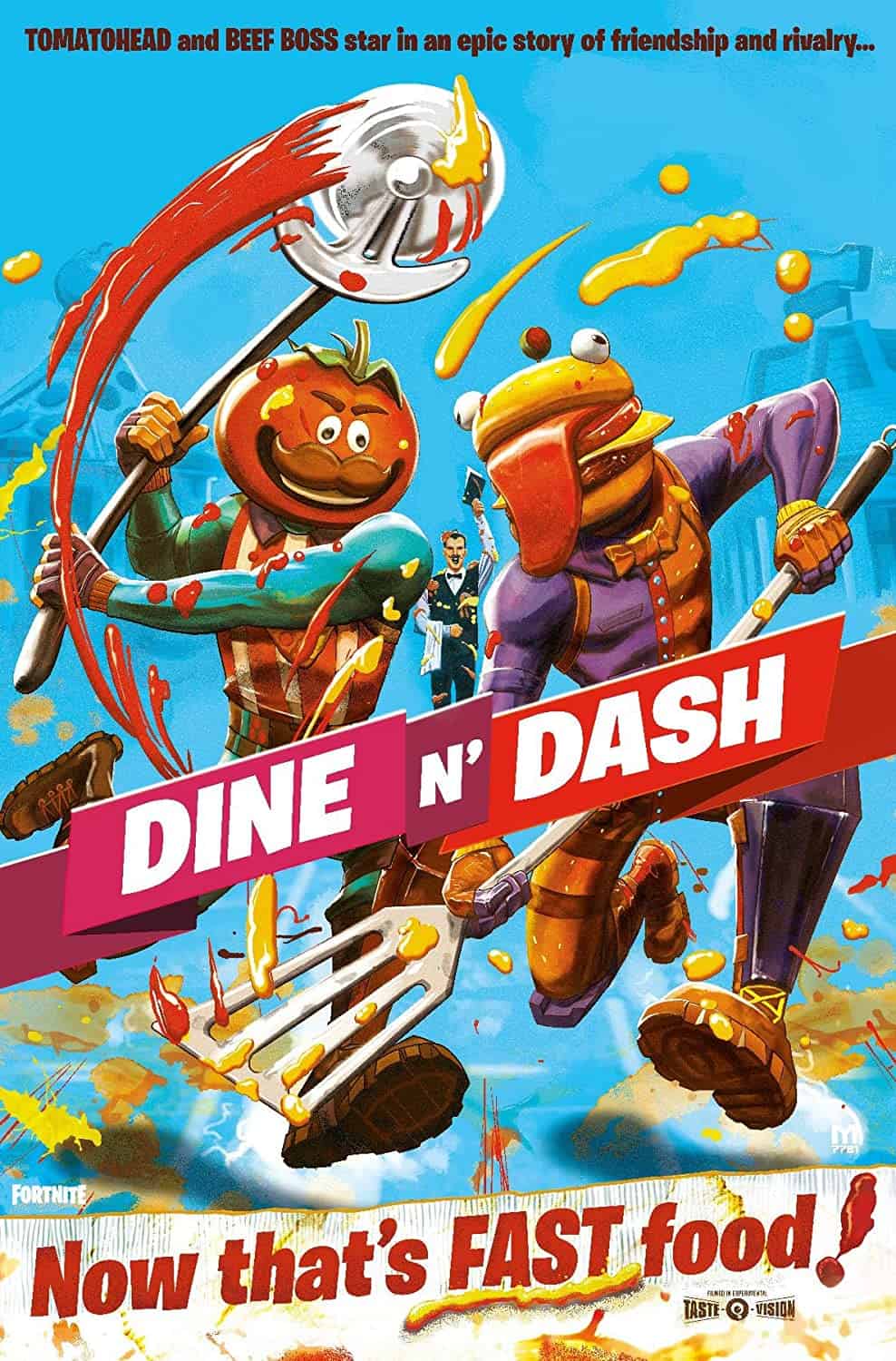 Pros
This poster smartly uses the lore behind the Fortnite restaurants
Tomatohead and Beef Boss are two of the best skins to focus a poster around
Cons
Why does Tomatohead look like a serial killer?
This chug jug poster takes clear inspiration from the Koolaid Man who's been twisted to resemble a chug jug Fortnite item now. Blue and green, instead of red, this chug jug man is busting through your forts to come to you. I love the idea of this poster and the general art looks pretty good.
However, I would like to note that on its own this unique metal poster looks a bit strange and is lacking some color. Thankfully, you can customize this metal poster to have a frame, which costs more but is worth it to me. With a black frame, it finally looks like this poster is complete with a border that gives it the classy finish that it needs. Unfortunately, it's going to seriously cost you.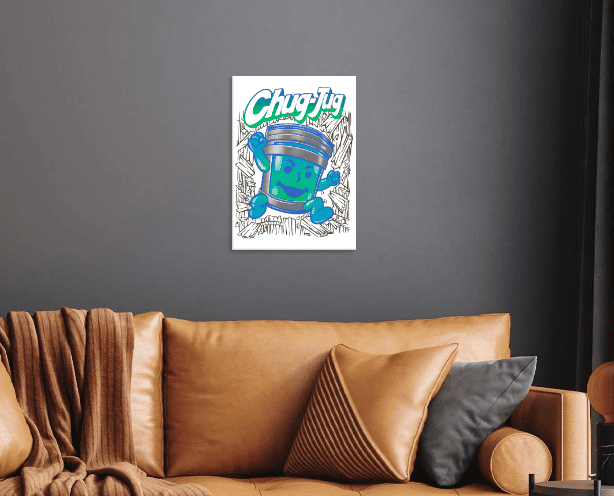 Pros
The chug jug man idea is brilliant
Cons
Requires a pricey frame to finally look complete
FAQs
Question: Is there a Fortnite poster for Season 8?
Answer: It depends, of course, on which Season 8 you're speaking of. Ignoring the awful Chapter 1, Season 8, I included a Chapter 2, Season 8 poster on this list with the battle pass characters one that I highly recommend to players.
Question: What is the best Fortnite poster for a bedroom?
Answer: The best Fortnite poster for your bedroom will largely be determined by the style you're currently going for there. That said, three posters I think would work well in a bedroom are the Slurp Juice poster for its classy nature, the battle bus sunset poster for its peaceful vibes, and the Spring Break Peely for those who want something more colorful.
Question: Where to buy a Fortnite poster Chapter 3?
Answer: At the time of writing, there isn't really a Fortnite Chapter 3 poster available online that I think is worth your money. I recommend using some of the key art or characters from the chapter to make your own custom poster through a site like VistaPrint, which I have used in the past (for business cards but they do posters, too).
What Is the Best Fortnite Poster?
If I had to pick a single poster that I would recommend to players, it would have to be the battle bus sunset poster. I think this fits every single type of player's room while being simple and colorful enough to bring some peaceful vibes. I recommend finding some amazing Fortnite blankets to add to your room to go along with it.
For more interesting readings check out: