Latest posts by Cody Perez
(see all)
So, you want to look fly not just in Fortnite but offline as well? Well, you are in the right place with the best Fortnite sweatshirts coming at you in this guide. Ever since first booting up Fortnite in 2017, I've had a lot of interest in the game's merch, such as sweatshirts, not just for myself but for some family members and friends who also like the game. I plan to leverage that experience in buying sweatshirts like these in helping you out.
In this best Fortnite sweatshirts list, you'll find the picks I have found across the internet for the best that official (and honestly, unofficial) battle royale sweatshirts have to offer. From ones that are pretty busy with lots of images and action happening in the background to simple slogans that are only there for those who know what it means, there are a lot of sweatshirts to choose from. Here are all of the best ones that are assembled together into a single list.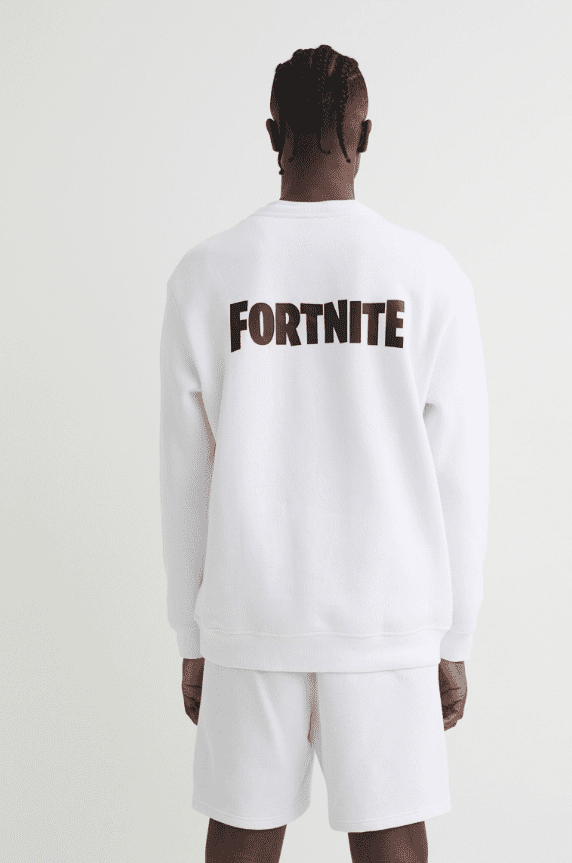 Bottom Line Up Front
Fortnite sweatshirts can be found across the internet at various online retailers like Walmart, Target, Amazon, and Redbubble. In this case, Walmart, Redbubble, and third-party sellers proved the most helpful and best places for the most high-quality sweatshirts based on Epic Games' battle royale title.
Some of these might also be available in-stores, but they are also available online for a wide range of budgets. Whether you like the loot llama in Fortnite, Jonesy, Marshmello, or many other skins in Fortnite, you will find a sweatshirt that is right for you here on this sweatshirt list.
My Top Picks at a Glance
For those of you in a hurry to find and buy the very best Fortnite sweatshirts, this next section is for you. I briefly described the top five sweatshirts from the main list below so that you can quickly grab some sweatshirts if any of them interest you:
Buying Tips
When it comes time for you to look into which Fortnite sweatshirt you wish to buy, here are some tips I've come up with over the years. For starters, I give this tip for almost all types of Fortnite merch, but don't just look in a single place.
I included multiple sites on this list because I want you to know that there are more places to look for your Fortnite clothing than just Walmart or Amazon. Those might be the most widespread and sometimes cheapest places, but they aren't always the end-all, be-all.
In addition, if you are a parent or family friend looking to buy a sweatshirt for a kid, be sure to ask them what sorts of Fortnite characters and skins they like. There is a strong chance if they like someone super famous like Peely or Jonesy that there is a sweatshirt that you can get for them.
On the other hand, they might like someone super specific, like Lynx, who is popular but enough to get a ton of sweatshirt options. In that case, not all hope is lost, as there are third parties and independent sellers who will gladly custom-make sweatshirts for you based on the character that you want.
You'll just have to shell out a premium price for that premium product. Not to mention there are some legal issues there, so not every custom clothing shop might be willing to go for it.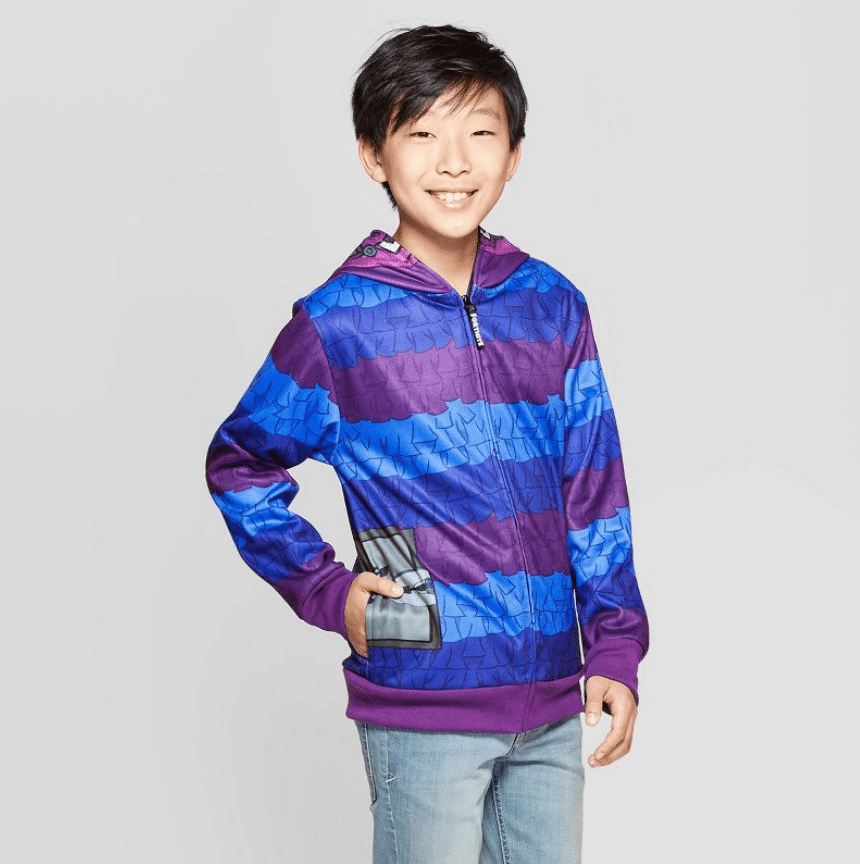 Selection Criteria
Now, onto the best Fortnite sweatshirts that exist. For me, I picked some items that I would gladly wear myself or allow one of my family members and friends to wear. If I wouldn't buy this for myself or someone I care about and let them wear it; I wouldn't dare recommend it to you, either, friend.
To this point, I care about the quality of a sweatshirt more than anything else. Though it is hard to judge since I don't own all of these sweatshirts, I did include some that were considered for birthday and holiday purchases for family members in the past that I can vouch for.
For the ones I don't have direct experience with, they had to impress me in one way or another when it comes to their overall design. For the ones that are flashier sweatshirts, they had to have some class in their attempt to put a lot of imagery on the clothing item.
And for the ones that don't have a lot going on, the little they do must be impressive enough in some way to carry the entire sweatshirt on its back.
Best Fortnite Sweatshirts List
Without further ado, let's look at the 15 best Fortnite sweatshirts I have ever found on the internet.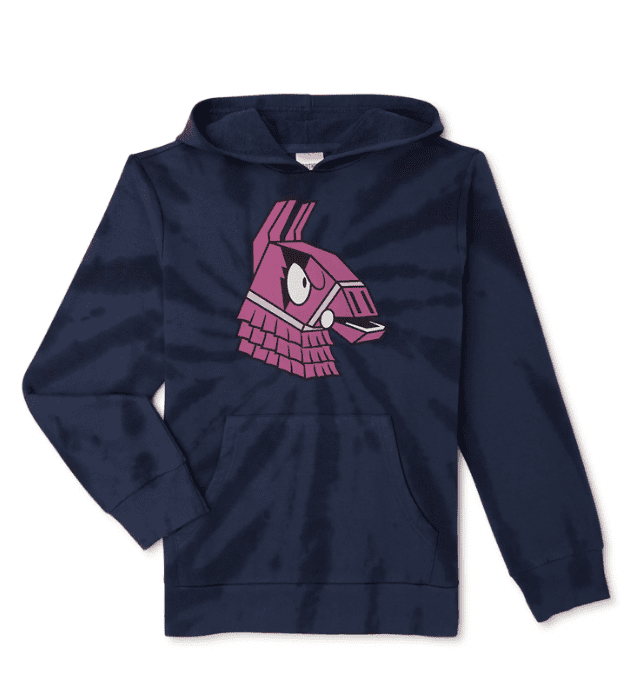 This first entry is a bit of a weird one. It is both considered a sweatshirt and a hoodie, the latter of which is a category for another time. That said, I kept it on here due to the rather unique design choice and the fact that you could easily take this idea and apply it to a strictly long-sleeve sweatshirt only.
The image on the front of the shirt is the head of the loot llama from Fortnite. Though it may not be the most detailed version of the loot llama, I like the cartoony vibe that the artist went with here. It's their take on the infamous loot-dropping piñata character, and it works.
But what I appreciate about this sweatshirt is the other surprising choice, and that is the background of the sweatshirt. Instead of a solid background, it is tie-dye. However, it's not tie-dye in the usual colorful sense but a muted, darker tie dye of black and maybe dark blue or gray.
Pros
A wonderful risky sweatshirt that pays off well
The loot llama's design isn't traditional, and it works
The darker tie dye style adds to but doesn't take away from the main focus
Cons
Sort of a hoodie and sweatshirt hybrid
The loot llama face could be off-putting to some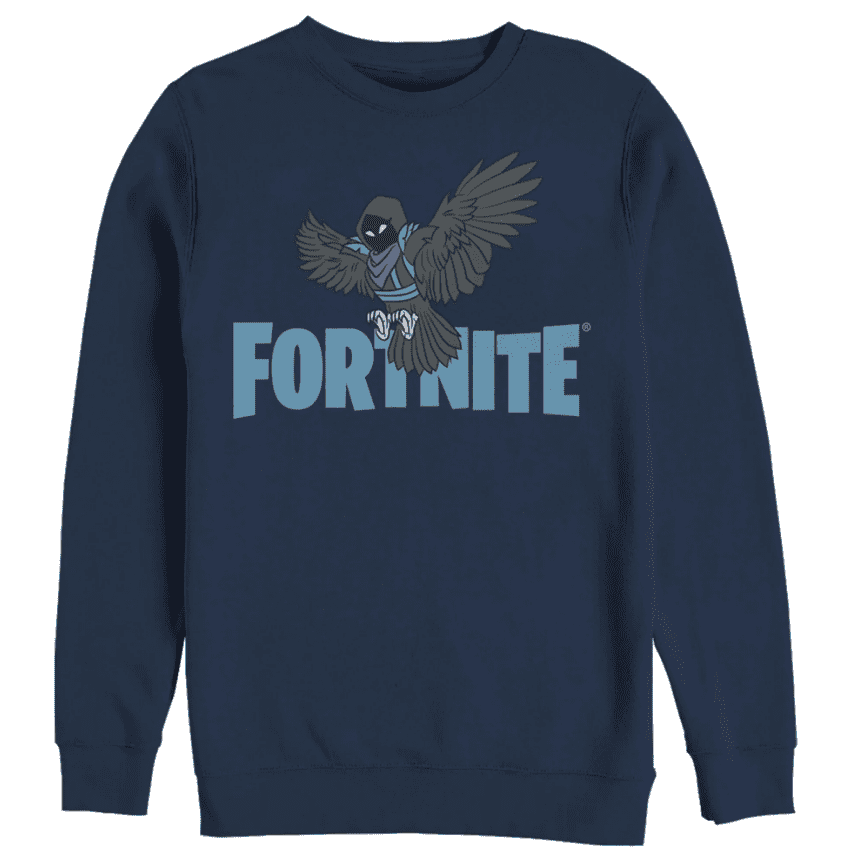 This navy blue sweatshirt doesn't do anything too crazy, unlike the last entry, which is actually surprisingly a common thread among the sweatshirts that exist out there. What I find fascinating about this one isn't the regular Fortnite logo but the image on top of it.
The famous Fortnite skin, Raven, makes an appearance but in a literal raven form that we haven't really seen before. This version replaces the arms and legs with wings and bird feet, giving a unique take on the character. I quite like it and the fact that you can get this sweatshirt in other colors, too.
Pros
The interesting bird take on the Raven Fortnite skin is fantastic
There are many color options for this sweatshirt
Cons
A little pricey for the otherwise simple nature of this sweatshirt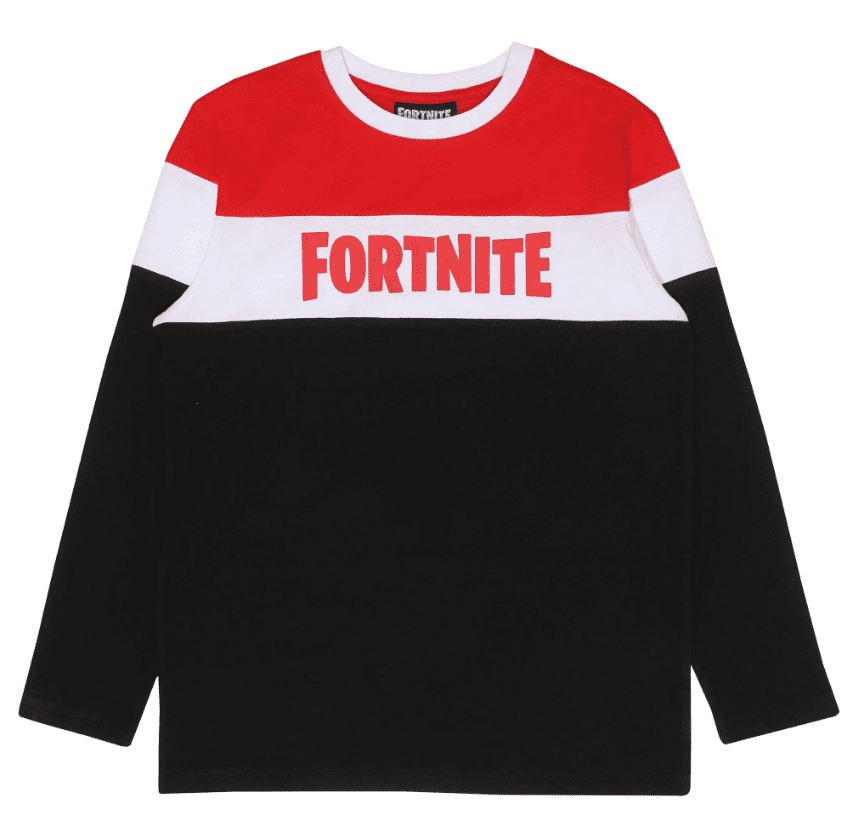 Forget Balenciaga and its thousand-dollar sweatshirts; this one fills the gap nicely for a tiny price point. This stylish sweatshirt is about as simple as it gets: putting the focus solely on the Fortnite logo and nothing else. But it is the colorful liberties that the sweatshirt takes that add this fresh perspective to it.
The Fortnite logo is reddish-orange, with a three-striped background behind it. The white stripe is behind the logo, pairing well together. But there is also the larger black section on the bottom and the reddish-orange part on top. Altogether, it makes for a sporty and fun take on a Fortnite logo sweatshirt.
Pros
Great bang for your buck
The logo and color scheme are paired so well together
Cons
There isn't anything else that this sweatshirt offers other than a logo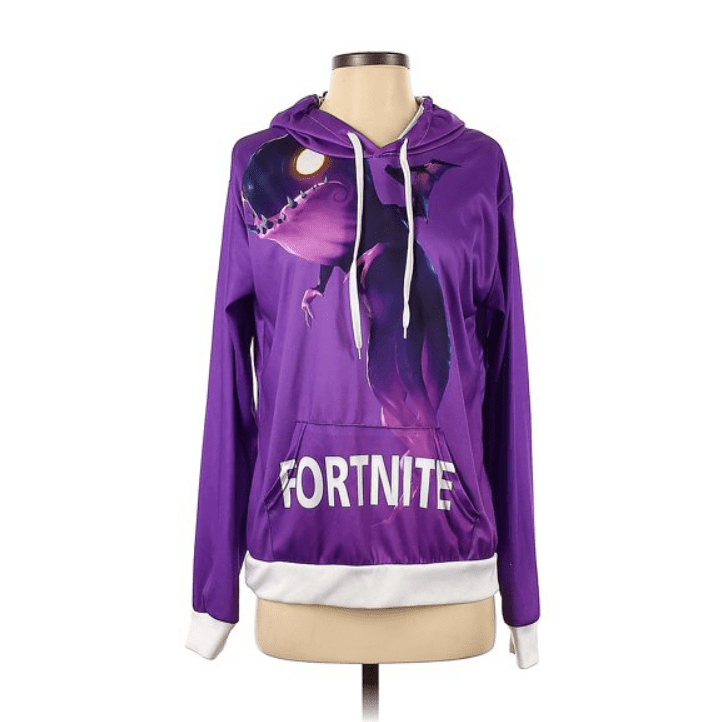 This is another of those weird in-between sweatshirt and hoodie versions. This particular sweatshirt is a terrifying one (but in the right way) with a purple background and some sort of purple shadow monster on top of it. There is a lot of purple on purple, if you couldn't tell.
What shakes up this sweatshirt's overload of purple color is the white stripe at the bottom and the Fortnite logo, which is also white. It helps this sweatshirt stand out more and makes it more appealing to the eyes. While not my favorite on this list, I think it could work quite well as an almost Halloween or spookier sweatshirt that you would wear. That works, too, since sweatshirts are the best in the fall time of year.
Pros
The purple and white combo works quite well
This is a nice sweatshirt for those spooky times of year
Cons
There is arguably a little too much purple going on
The Fortnite logo's font could use some work
If you couldn't tell from my past Fortnite merch guides, I have a bias, and that is either Peely or Meowscles. If they have an item that looks good, it will be on the list. That is the case with this particular Peely sweatshirt that plays it a lot safer than some of the other items about the character.
For one, the only image on the entire sweatshirt is a smaller one of Peely, the banana dude throwing up a peace sign and that's it. He is also partially split open, which is terrifying, but he's still smiling, so I guess he's alright. The image is small, but that works in this context, leaving it as a more artistic approach to the character.
Pair this with the dark gray sweatshirt itself, and the whole package is as straightforward but classy as it gets.
Pros
Peely is small but mighty in this sweatshirt
The dark gray sweatshirt matches well with the stark yellow contrast of Peely
Cons
This sweatshirt might be a little bit too plain for some Fortnite players, especially kids (this is probably mainly for adults or teenagers)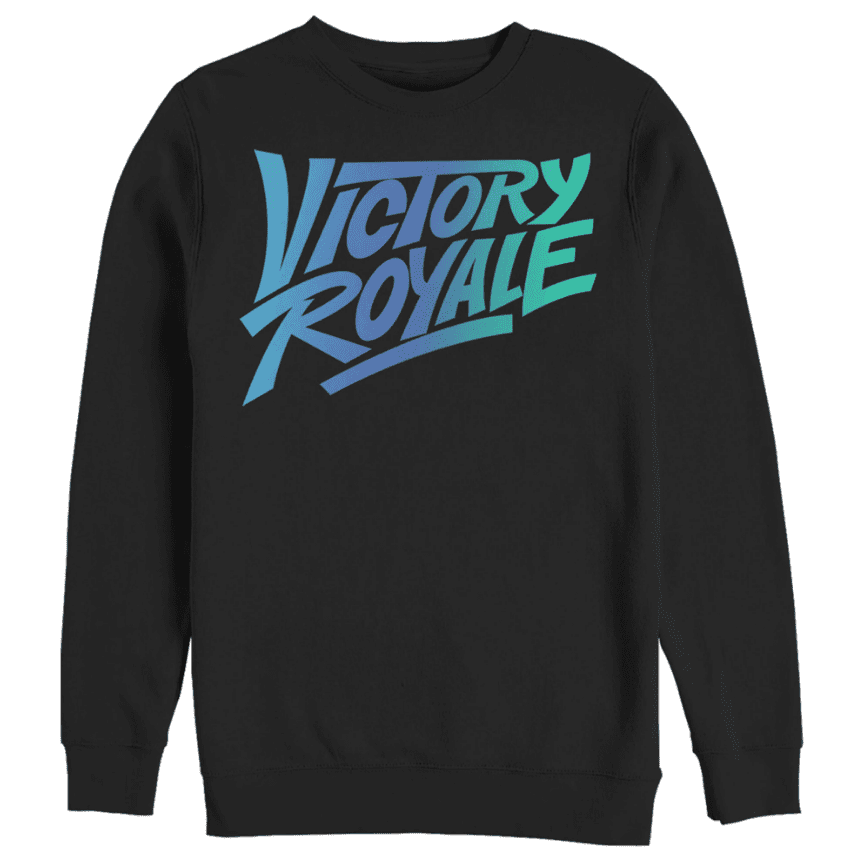 If you want to look fly, fashionable, or even dare I say, classy while wearing a Fortnite sweatshirt, there is no better place to look than this Victory Royale one. It is the perfect example of taking a reserved approach but not skimping out at all on the flashier side of things.
All you will find on this sweatshirt is a simple slogan that says Victory Royale. That's it. However, it does so much with so little, featuring a font style that is absolutely stunning with the lettering and the gradient of blue colors across it like a gorgeous ocean wave.
Pair this with the navy blue sweatshirt background, and it all works together so nicely. Well, if you like blue, that is.
Pros
The font of Victory Royale is masterful
The gradient blues going across the logo is terrific
Cons
If you don't like blue, this isn't for you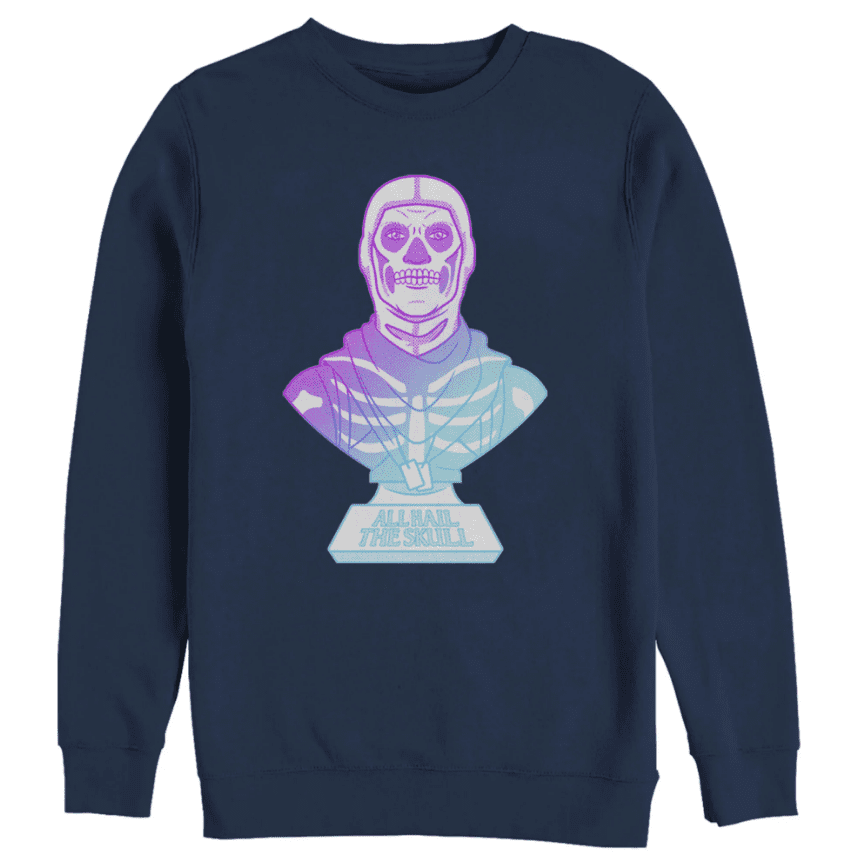 Skull Trooper is one of the few skins that gets featured in a sweatshirt on this list, and for a good reason. Skull Trooper was one of the first skins ever released in Fortnite and was among the best for quite some time in the game.
This sweatshirt takes some liberties when it comes to Skull Trooper, giving the usually black and white character a colorful makeover that seems a more rainbow aesthetic to him. The gradient style of this image is fantastic and complements well with the solid background color. However, this is the first case where I don't recommend the default navy blue. I prefer the gray or black variants.
Pros
Skull Trooper's neon aesthetic looks fantastic
Cons
The navy blue variant doesn't look that great; stick to the gray or black versions.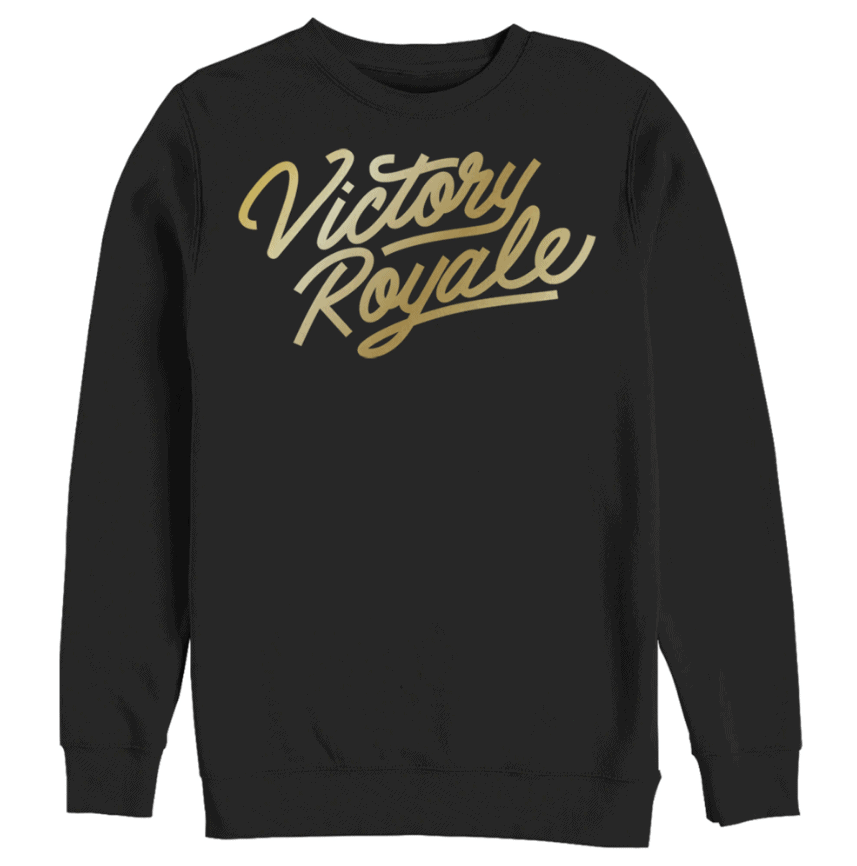 When it comes to my favorite sweatshirt on this list, it comes down to the two Victory Royales. Though they both feature the words Victory Royale on them, they are pretty different in their styles. For this one, it goes for a black and gold theme that is absolutely stunning.
It helps that the gold that was picked is a more toned-down approach that isn't as flashy as it could have been. Because of this, it allows the font to shine through as the main selling point. The cursive style that the font has for the Victory Royale slogan truly makes the sweatshirt give off that Midas touch or Solid Gold limited time mode approach, which is two of my favorite parts of Fortnite.
Pros
The font for Victory Royale is the best I've seen for a clothing item
The gold and black style is unforgettable
Cons
The gray sweatshirt version isn't worth your time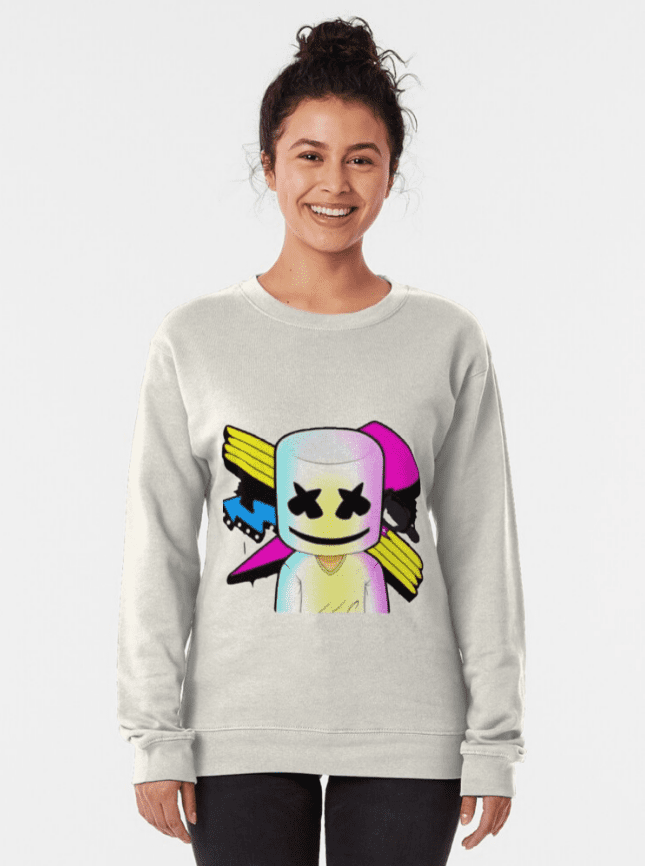 You already know that this is a Fortnite clothing list, so Marshmello is bound to show up at some point. The DJ is synonymous with Fortnite battle royale due to his concert, which helped propel both to stardom. It helps, too, that the marshmallow-themed guy has his own fantastic skin.
Though this is not explicitly stated to be a Fortnite and Marshmello sweatshirt, I'm including it on this list anyways. After all, the character of Marshmello on the front of the shirt looks quite a lot like his in-game skin, which is welcome enough on its own.
However, I appreciate the beige coloring of the sweatshirt to offer something similar but different from the all-white Marshmello character. In addition, there is a splash of color on the back of him with the pink, blue, and yellow parts. This is one of the more mainstream sweatshirts you can find.
Pros
Marshmello is always a nice choice
The splash of color helps to keep this from being too one-note
A flexible sweatshirt that could appeal to a wide set of fans
Cons
If you don't like Marshmello, this isn't for you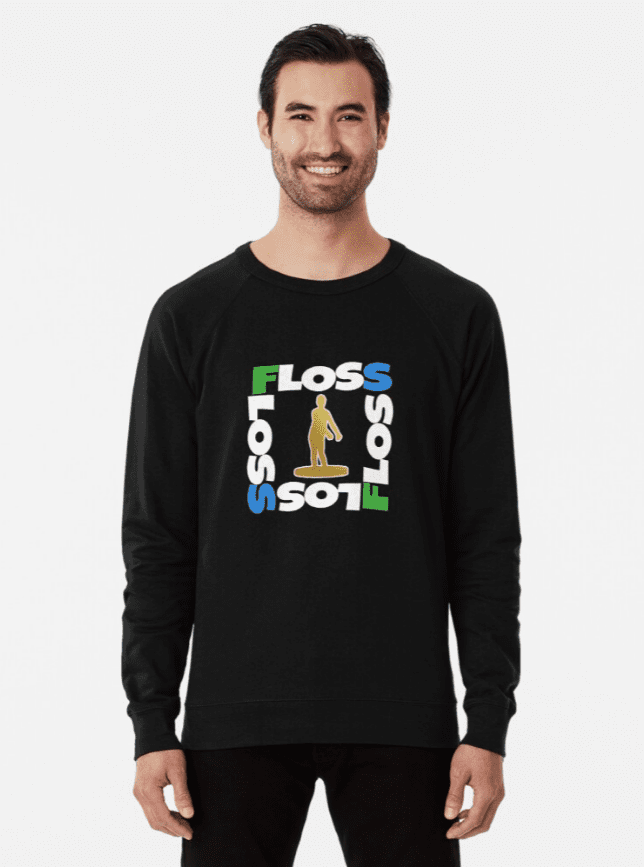 This is the definition of what SpongeBob meant when he said to "bring it around town." This sweatshirt is Floss-themed, taking after the iconic dance that helped to make the battle royale game go viral in the first place. I mean, how many games have you known to make grandmas even do a dance from it?
The Floss sweatshirt has the word going around in a square four times, which is interesting and a little fun. In the middle, though, there is a golden statue of a character doing the actual Floss dance emote. I'm not in love with the color choices in this sweatshirt, and I would change them, personally, but I think some kids will absolutely like this design.
Pros
Floss is always a good choice for a sweatshirt
Having both an image of a character flossing and the words is nice
Cons
If you don't like the Floss dance, look elsewhere
The color choice is a little weird and needs some work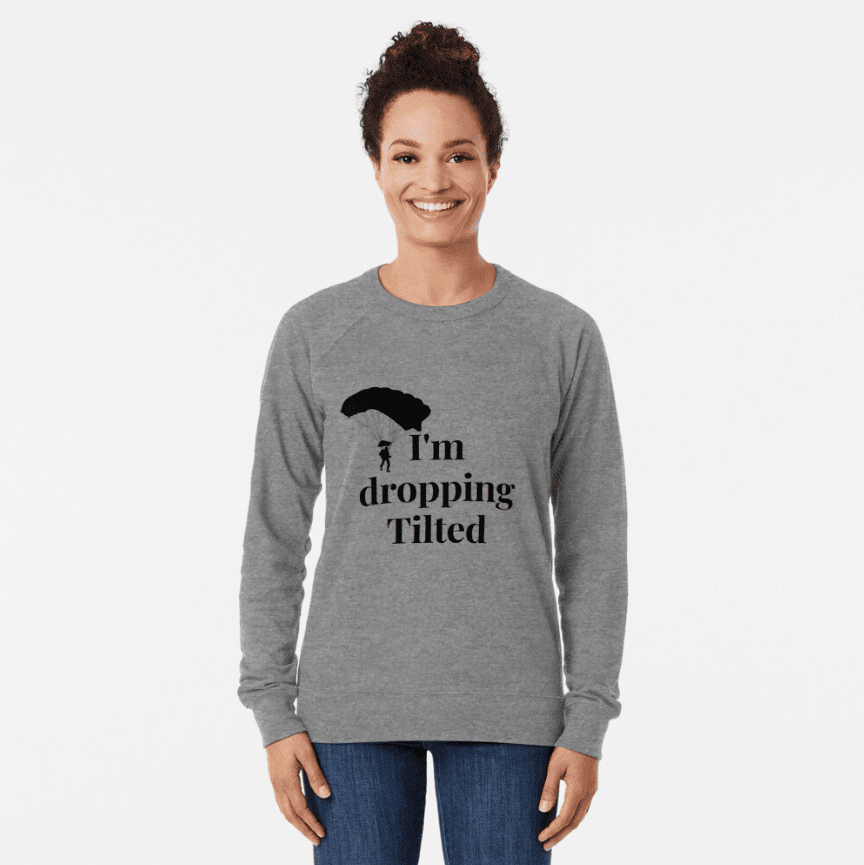 We all know that one person in the friend group who always wants to drop at Tilted Towers. Well, sweaty friend, do I have the sweatshirt for you. This one is all about noting that they are always going to drop at Tilted Towers, and that's it.
The only mix-in here is an image of said person literally gliding down. I do wish there was an image of Tilted's skyline itself, but this is solid enough on its own. I also appreciate that you can pick what color sweatshirt you want from a decent variety.
Pros
Tilted Towers fans rejoice!
This is the sweatshirt for the sweatiest players
One of the best options for kids
Cons
If you don't drop at Tilted Towers (like me), then this is probably not your cup of tea
Believe it or not, the Floss is making a return on this list with a second entry. This time around, it is the Floss Like a Boss sweatshirt. As you may know, when it comes to shirts and hoodies, too, the Floss Like a Boss slogan is one that is quite popular in the community.
And, I mean, it's pretty catchy, so I see why it exists. I honestly prefer this Floss sweatshirt over the other one, too, since it has a bit more going on. There is the slogan in the middle, accompanied by two flossing characters on each side and the Fortnite logo on top. The black and white aesthetic is clean, even if I think the placement of the slogan is a little weird with the space between the first two words.
Pros
One of the safest options for buying for someone else on this entire list
You can't deny the power of the Floss
The black and white color scheme is nice
Cons
Once again, if you don't like flossing, this isn't for you
The spacing between the first two words is a little bit amateur-ish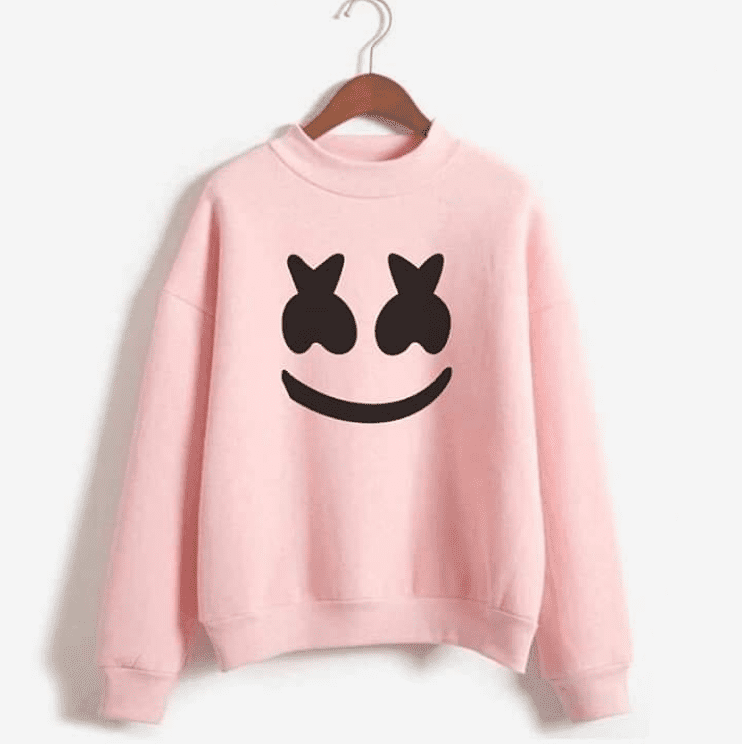 Marshmello makes yet another appearance on this list, but this one is a little bit different. In this particular case, we have a sweatshirt that is more on the flirty and lighter side. The focus of the sweatshirt is the face of Marshmello here, instead of the entire skin like in the other one.
But what I really like about this one, arguably more than the other Marshmello sweatshirt, is that it opts for a pink sweater instead of white or off-white. This gives the musician a nice pink strawberry marshmallow feel to him, which I vastly prefer. This light pastel pink works so well.
Pros
Marshmello face is wonderful as always
The pink sweater idea was a risk that pays off tremendously
Cons
They took some risks with the eyes, which I'm not a massive fan of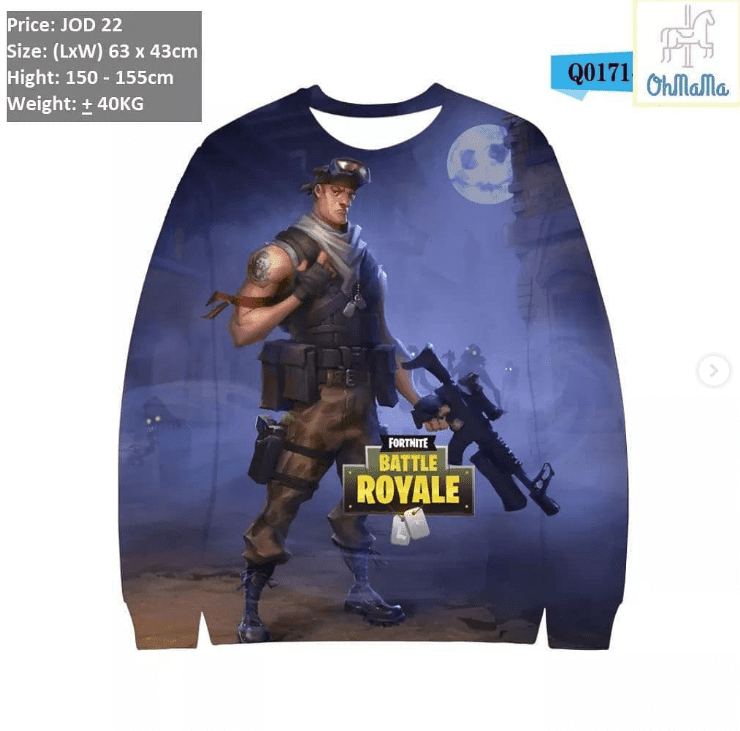 It is rare that you see a Fortnite sweatshirt that uses the entire clothing item as its canvas, but here we are. Instead of having some images take up most of the space or just some of it, this entire sweatshirt is filled with this picture of Jonesy in the middle of what looks to be a spooky Halloween night.
Jonesy has his full gear set on, getting ready to tackle the Cube monsters or whatever else goes bump in this purple foggy night. I like the little touches in this sweatshirt, like the fact that there is a creepy moon in the sky that looks like it has a twisted face. In addition, I appreciate the artistic take on Jonesy, which looks older and more hardened.
Pros
Another spooky sweater worthy of your time
The image covers the entire sweater, including the sleeves
The artist's take on Jonesy and the creepy moon are magnificent
Cons
Jonesy might be a little bit too old though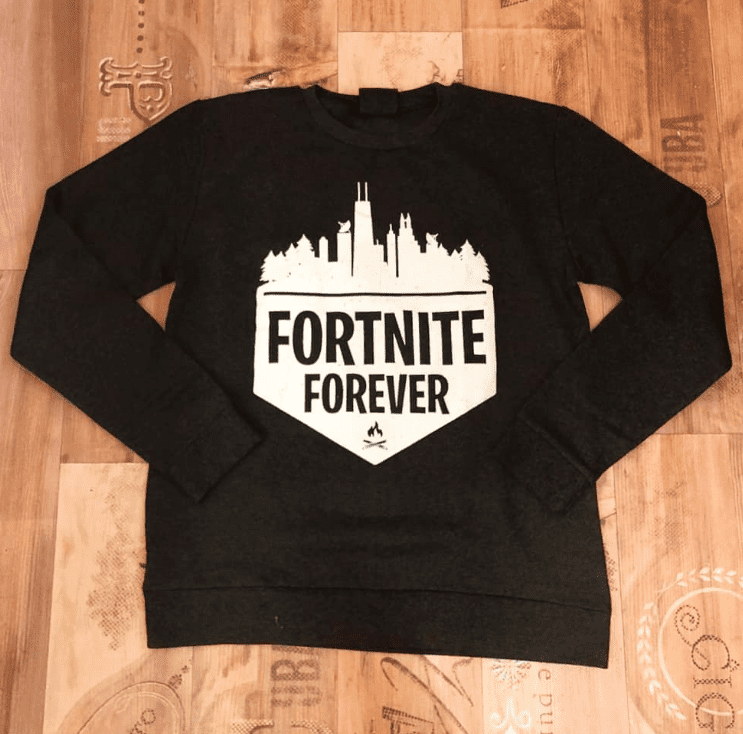 Ending off this list, we have a sweatshirt that is a prime example of what Fortnite is all about. The logo is Fortnite Forever, with a font that is similar to the official one but a bit different, which I appreciate. It has a half Chevron symbol to it, with the top appearing to be the skyline of the island or maybe just Tilted Towers. 
This contrast of the white background and symbol with the black letters and sweatshirt is awesome. It does a lot with so little without being as unnecessarily flashy as some of the other sweatshirts on this list. This is also one of the most versatile sweaters, where I could see it work for kids, adults, and basically any demographic in the Fortnite community.
Pros
This sweatshirt can appeal and work for anyone and everyone
The contrast of black and white is quite lovely
Fortnite Forever
Cons
The font is mostly great, but some may not like that it isn't the official one
FAQs
Question: Is there a Fortnite sweatshirt at H&M?
Answer: Yes, there is. Or, well, there is a hoodie at least that you can get. It is a very simple zip-up hoodie with the Fortnite logo side of the chest. While not having much to it, this hoodie is cheap, at least.
Question: Is there a Fortnite sweatshirt Balenciaga?
Answer: While there isn't a sweatshirt, specifically, there is a hoodie that you can get from the Fortnite Balenciaga campaign. However, there is no reason to buy this basic hoodie with just the Fortnite logo on it for nearly $1000.
Question: Are there Fortnite sweatshirts for adults?
Answer: Yes, there are absolutely some sweatshirts that adults could be glad to wear based on Fortnite. Two picks that immediately come to mind are the pink Marshmello sweatshirt and the Fortnite Forever one.
Fortnite Merch to Buy Next
When you are ready to pick a single Fortnite sweatshirt to purchase, it can be daunting. After all, we gave you 15 of the best possible options. If you are spoiled with too much choice, I would offer the solution of just getting the Fortnite Forever sweatshirt. I enjoy the fact that it can appeal to just about anyone out there with no problem whatsoever while still having such an understated quality to it.
When you're done picking up your latest Fortnite sweatshirt, don't think you are finished with your wardrobe. There are still more items for you to get, namely, the shoes, shirts, and even hoodies that are out there. Thankfully, our best Fortnite merch of all time list will help you out with finding some of the many items that you can get besides just these sweatshirts.
For more interesting readings check out: