Latest posts by Cody Perez
(see all)
When you want to look fly while repping your favorite battle royale game like Fortnite, a hoodie is one of the best options. Hoodies are so universal and arguably more stylish and versatile at times than a t-shirt. They're not just great for letting the person look great and walk around with their hands in their pockets, but they can even warm you up when it's cold outside. You'll be able to find some hoodies that will do just that for you with these best Fortnite hoodie ideas, many of which I would gladly wear.
These best Fortnite hoodie ideas are here to offer you a glimpse of some of the possibilities for your clothing options. Some of these are hoodies you can buy online right now, while others are just some art you can use to make a similar hoodie. Whether you want to dress to impress at school or on the streets, or you just want to show your love for all things Fortnite, you are in the right place with these awesome hoodie ideas.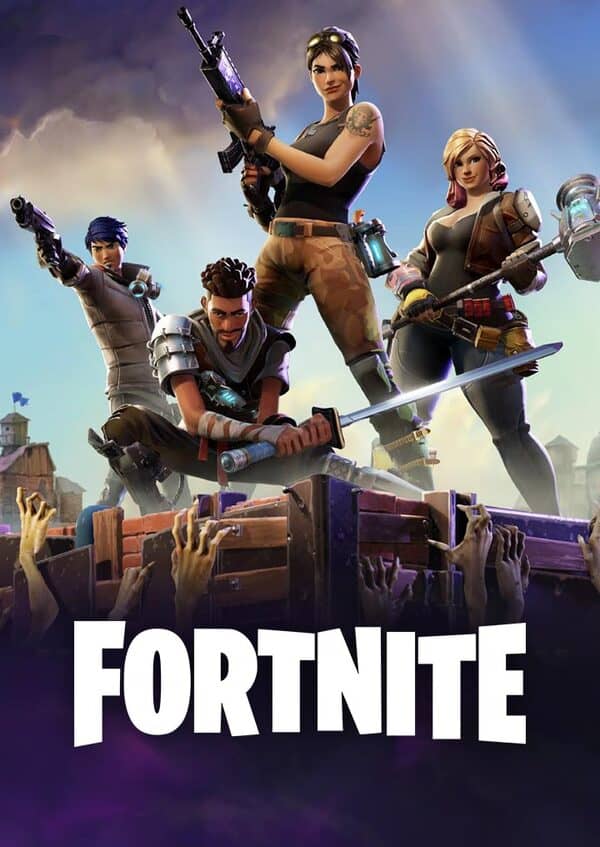 Bottom Line Up Front
The best Fortnite hoodies are the ones that capitalize on the game itself. Though it is OK to have the logo and maybe some key art for Fortnite, I prefer hoodies that go above and beyond. Having a nice slogan or focusing on a particular character/skin helps to make the best hoodies stand out from the rest. When you are ready to buy your hoodie, there are many places like Amazon, Redbubble, sellers on Instagram, and custom clothing companies where you can get these hoodies.
My Top Picks at a Glance
Here are just a handful of my favorite Fortnite hoodies. If you don't have time to check out the complete list down below, these few are the ones that are most worthy of your time and money:
Tips
Here are some of the tips that I have for you when it comes to selecting the right Fortnite hoodie for you to use. For starters, this is a tip I give for all sorts of merch, but I always shop around. Don't immediately go for the first hoodie you find online or in a store.
The idea is to see something you like and then try to replicate it elsewhere. Especially if it is an official Fortnite hoodie from a significant retailer, chances are that it is also available somewhere else. In that case, you might be able to find it for a possibly lower price on a different site due to a sale or promo happening.
In addition, I recommend using these designs and hoodies solely as ideas. You are not bound to buy whatever design is already available. There are many sites out there that custom-make hoodies and other clothing items.
If you find a background or logo that you like but want to mix it up with adding an image of your favorite skin, for instance, you can do that. You'll probably pay several times more than you would for a pre-made hoodie on an online shop, but the personal feel might be worth it to you.
Lastly, buy a more enormous hoodie than you usually would for shirts and tops. This might seem like a weird suggestion, but there are many people like myself who want their hoodie to be long or baggy. There is nothing like a nice baggy hoodie and some tight pants or shorts, so I recommend going at least one, if not two, sizes more significant than you usually do when picking a Fortnite hoodie.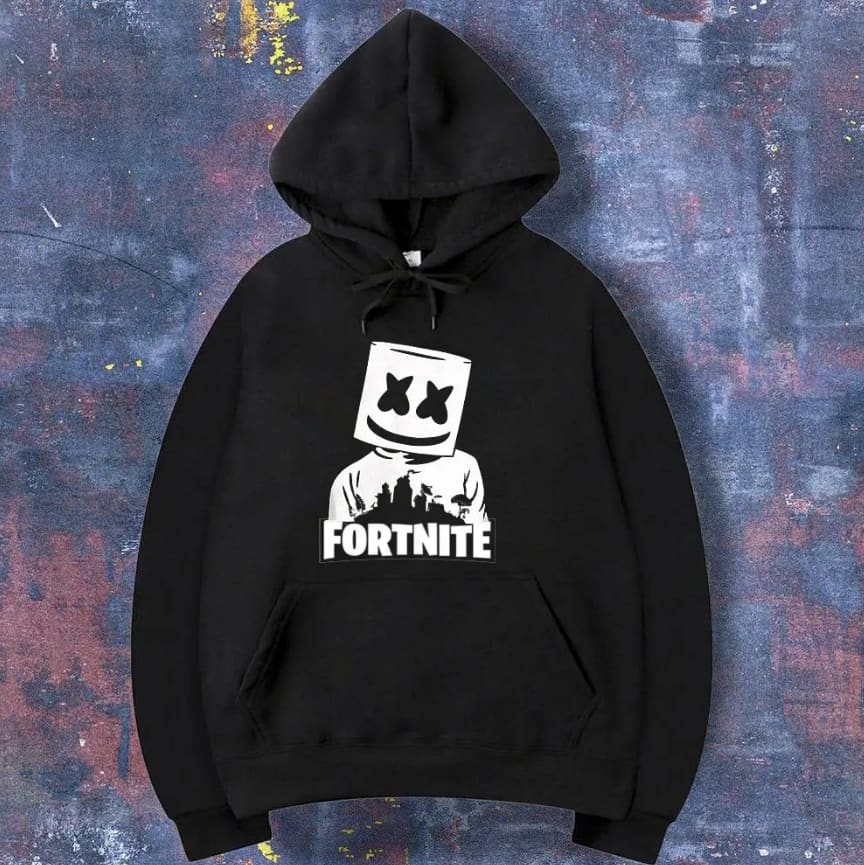 Selection Criteria
When it came to picking out these hoodies, there are a few key factors that I had in mind. For one, the Fortnite theme has to be there, and it has to be noticeably strong. Of course, it doesn't have to say the game's name, but it needs to have a character or emote or something that clearly lets any other Fortnite player know what you're representing when they see you on the streets.
In addition to that, I didn't pick a single hoodie on this list that I, personally, wouldn't wear or that I wouldn't recommend to someone else. Even if it's not my style, and there are a few on here that aren't my personal preference, I still only put ones that I would recommend to a family member or friend to look good on them.
The quality of the hoodie is essential, too. Unfortunately, I can't vouch for the materials that these hoodies are made with since I don't own all of them, but the quality of the images on the hoodie is at least clearly seen. I only picked hoodies with high-quality images and symbols worthy of your time and money.
Best Fortnite Hoodie Ideas
I picked 12 of the very best Fortnite hoodies that I could find online. Some of these are ones you can buy right now as soon as you head to the link, while others are ideas I simply took from someone else's hoodie on Instagram and the like. Regardless, these are the best hoodie ideas you'll find around.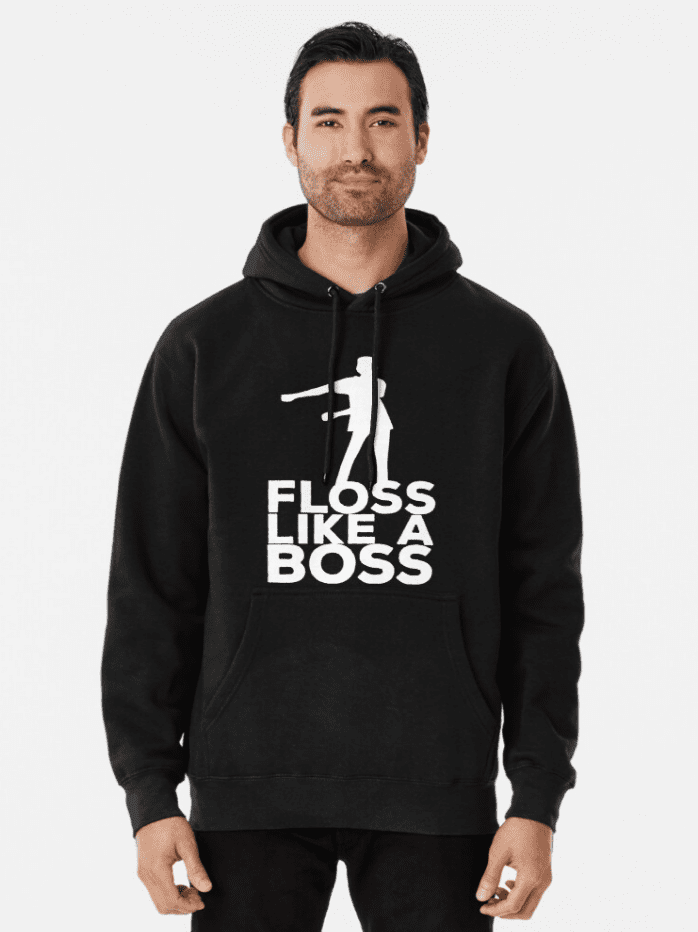 Starting off this list, we have a hoodie that you can actually buy yourself right now. This is the Floss Like a Boss hoodie, which is a true classic. If you've even remotely taken a look at Fortnite merch and clothing, you'll know that this saying is quite prevalent in not just hoodies but shirts, too.
However, I would argue that Floss Like a Boss works best for a hoodie because of the casual vibes that they give off. In this case, this Redbubble hoodie is as simple as it gets. It is an all-black hoodie with white letters that have the saying "Floss Like a Boss."
Of course, this isn't alone, as they are accompanied by an image of a Fortnite character doing the iconic dance. The Floss transcended Fortnite a long time ago, and you'll definitely get some looks when people see you wearing this hoodie. Bonus points to this one for letting you pick different hoodie colors, too, but I like the classic black and white combo.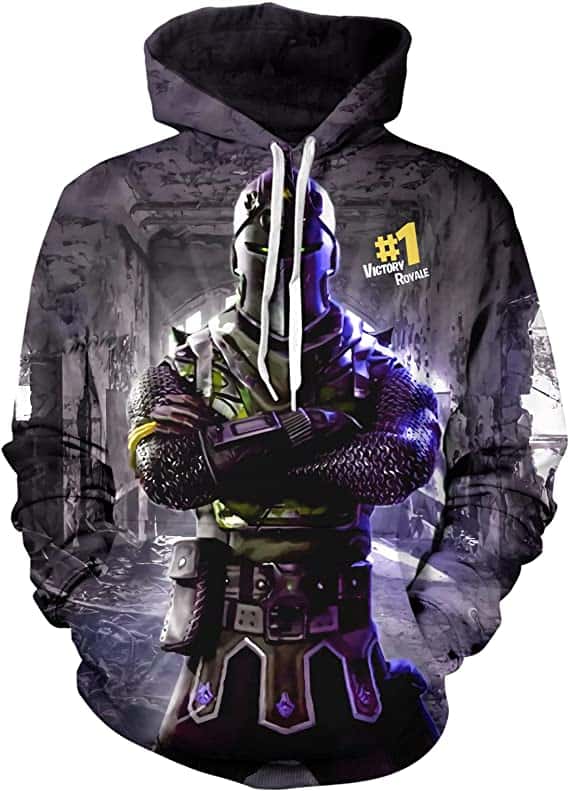 Back in the old Chapter 1 of Fortnite, Black Knight was one of the most beloved skins. Not only was he one of the OGs, but Black Knight is also one of the best-looking skins to come out of the first ten seasons of Fortnite. This hoodie puts him at the forefront, taking up most of the front of this hoodie.
Black Knight looks fantastic, too, with such a high level of detail, even though there are some liberties with the color scheme that the artist took. What I appreciate, though, is that it isn't just Black Knight on this hoodie. You also have a medieval, overgrown castle area of some kind behind him.
The mix of these two makes this one of the busiest hoodie ideas around but also among the most impressive. That said, I could seriously do without the random Victory Royale symbol that is unnecessarily there for no reason, so that is where I would customize this hoodie some to my liking.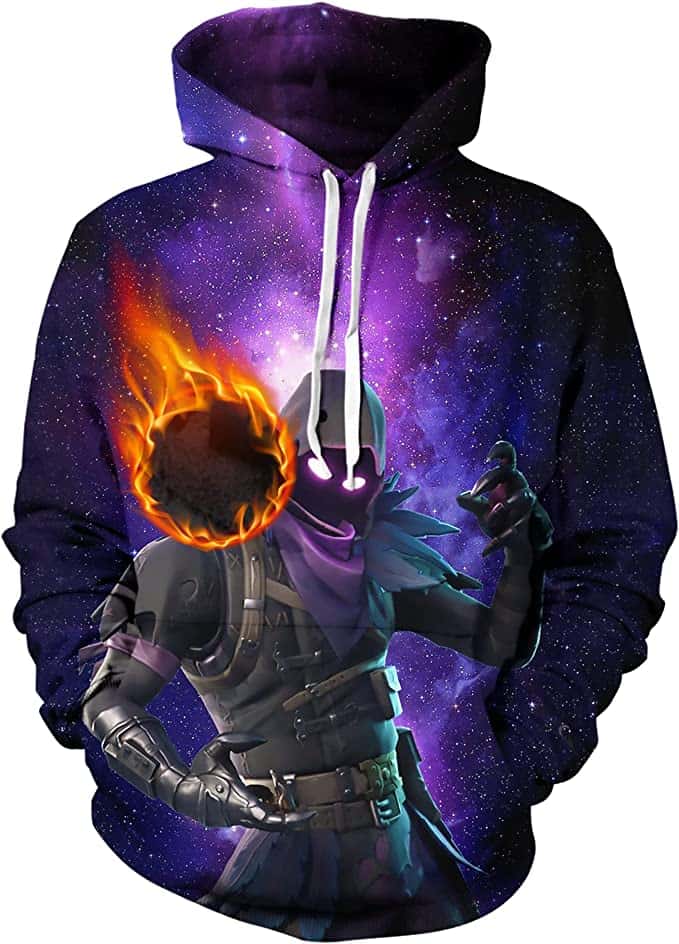 Speaking of classic Fortnite characters from the first chapter of Fortnite battle royale, we have an absolutely stunning hoodie that focuses on Raven. The super emo and dark skin still remains one of the very best that Epic Games ever came up with, especially in the original character department, and Raven looks completely accurate here.
This hoodie could have stopped with just Raven but what I appreciate is that it took the time to add its finishing touches. For one, the background is that of a bright and colorful galaxy that Raven is standing in front of. The mix of purple hues and the like go well with Raven.
Plus, there is also the random burning sun or meteor that is on the side. This inclusion was a little bit wilder than the other two parts of this hoodie, but I strangely like it. It adds this edgy side to the hoodie that keeps you on your toes and shakes up the balance a bit. The best part about the Raven hoodie, though? This is one of the cheaper hoodies you'll find on this list.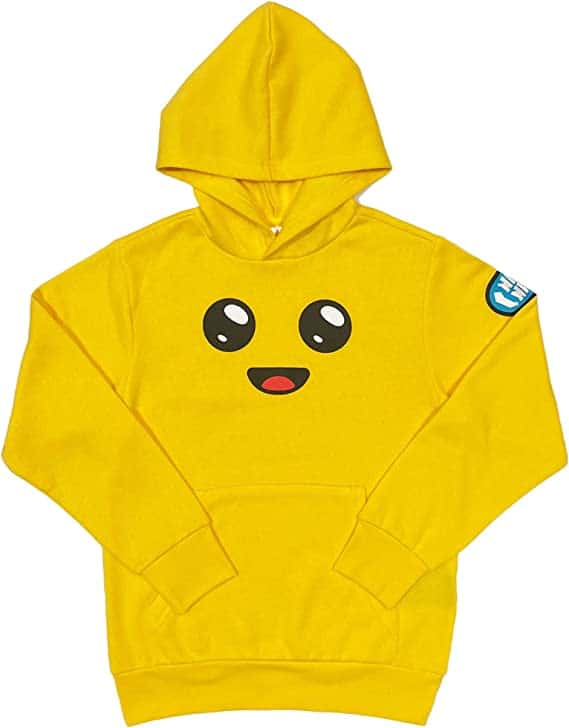 At the end of the day, there are no stronger original character mascots for Fortnite, other than maybe Jonesy, than my boy Peely. Everyone loves a good banana suit, and he is literally a sentient banana suit, dude. It's wild, and this hoodie pays homage to his craziness in all the right ways.
Sometimes simplicity is the best, and less is more, which is exactly the case with this hoodie. Unlike other hoodies I would typically pick to be darker, I appreciate the light and cheery vibes that this gives off with its yellow color scheme.
The entire hoodie is all yellow, even the back, and the only decoration for the hoodie is the face of Peely himself. You have his adorable emoji-worthy eyes and the infectious smile that he has. It is a little bit terrifying when you realize that you are wearing a flattened banana but totally worth it for one of the best hoodies on this list.
One of the hardest things to do with a hoodie is nail down a cohesive color scheme that doesn't feel too boring or like too much. Somehow this loot llama hoodie hits the right note of having some color to shake things up while not going overboard with its inclusion.
The loot llama is one of the symbols of Fortnite, and it is nicely recreated in this hoodie, as shook as ever. The blue, purple, and pink creation is matched by the rest of the hoodie, which follows a similar color scheme. I appreciate that the hoodie itself matches the image that it puts at the forefront.
There is something super unique about that, and the blue and purple tones look fantastic and psychedelic in a way. Once again, I could do away with the whole random Victory Royale symbol, but it actually doesn't taint this hoodie design all that much this time around.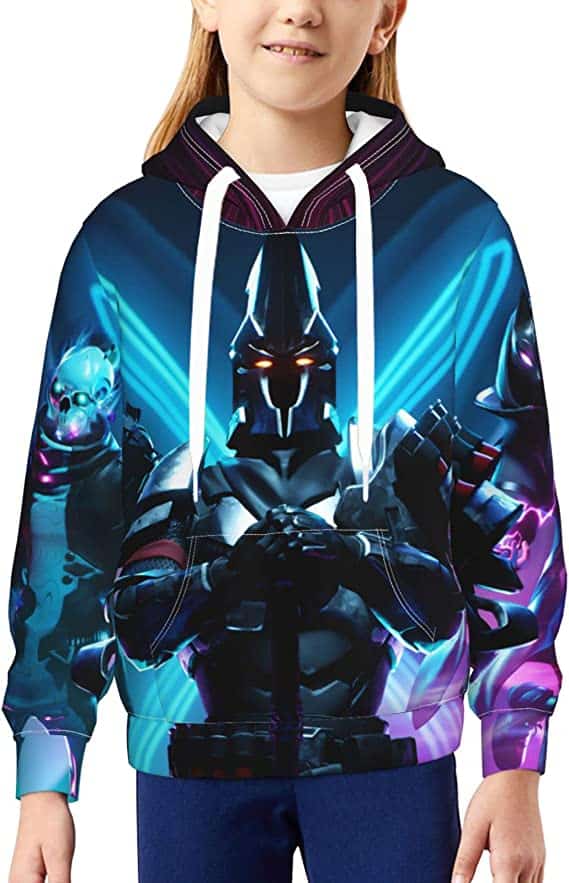 Chapter 1 ended with a bang in the futuristic and cyberpunk-themed Season X. While not my favorite season (I think Season 9 before it was a little bit better with the Neo style), Season X still has the single best key art image for any season of Fortnite to date.
Having the neon X behind the cast of brilliant skins that were in the battle pass was such a hype moment. This hoodie takes that key art, or at least the center of it, and translates it into clothing form. Honestly, this is about as flashy as you can get when it comes to a Fortnite hoodie.
If you want to stand out in the crowd and turn heads at school, this is the one. It is super cheap, too, perhaps because of how old Chapter 1, Season X, is at this point. The only downside to this hoodie is that it is for kids only, which is a shame. If you're a teenager or adult who wants it, you'd probably have to get it custom-made.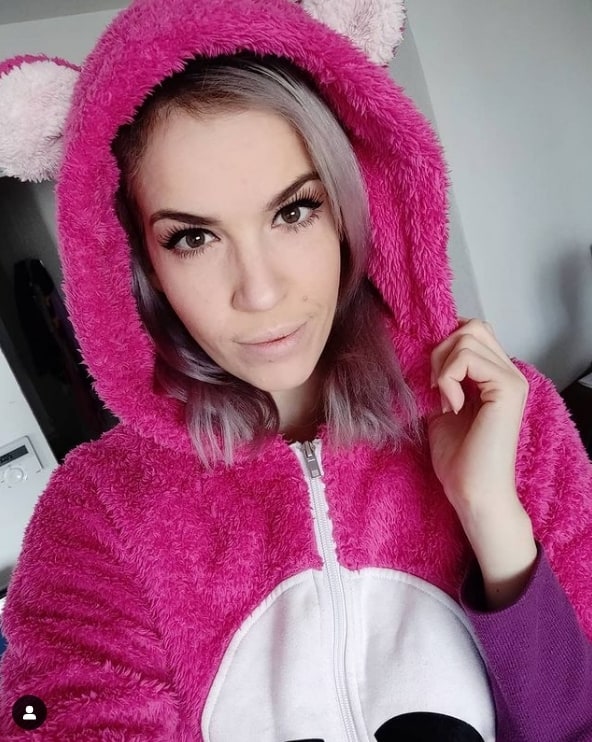 Let me be clear with this one right here: I am not honestly sure if this is a hoodie or onesie, but I'm including it regardless. Cuddle Team Leader is a fan favorite and honestly horrifying Fortnite character, and this clothing item captures her style perfectly.
I love how we can see in this picture that it has her outfit down to a tee, including even the texture of it. It seems that the hoodie has a furry texture to it that is so different from the other hoodies on this list. However, it is this texture and the zipper down the front that makes me think this is a onesie, actually.
But, I mean, it has a hood, so I'm considering it a hoodie on this case. And even so, you could use this basis as a way to get a custom hoodie that has that same furry texture and feel to it. I think that would be pretty unique and honestly wonderful during those colder winter months.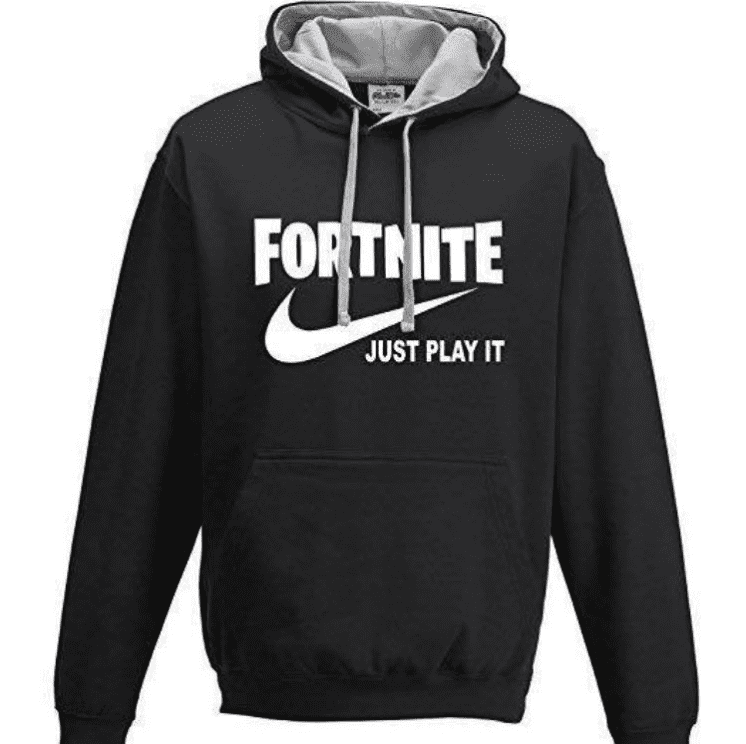 Fortnite and Nike have had their bouts in the past with crossover stuff, but I'm pretty sure this hoodie isn't part of that. Even still, legal issues aside, I am including it on this list for the simple fact that the two companies just go so well together.
Nike is a clothing brand that many people love, and for a good reason. This hoodie has the quality of Nike's clothing but with a little bit of a splash of Fortnite thrown in the mix. You have the standard Fortnite logo on top of the Nike check symbol, and that is really it for this hoodie.
The only part that is unique is the twist on the Just Do It Nike slogan with the changed version of Just Play It. When it comes to classy but stylish hoodies, this is among the best.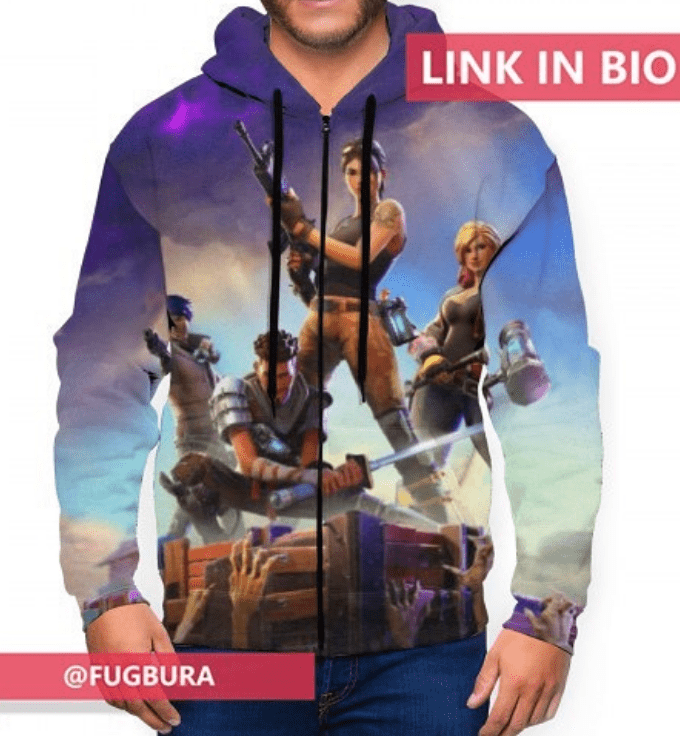 If you are one of the oldies like me who has been with Fortnite since the very beginning, there is a strong chance that you know this artwork quite well. The original key art for the battle royale game featured Ramirez and the other default skin characters in their neat poses, getting ready to fight for their very lives.
This key art is used in a lot of Fortnite merch, and this hoodie version is one of the best I've seen it used in. Having it cover the entire front of the hoodie, including the sky and environment, even on the sleeves, is a nice touch. The colors almost seem edited, too, looking more vibrant and colorful in this version, which I like. If you like the older style of Fortnite, this is one to take a look at.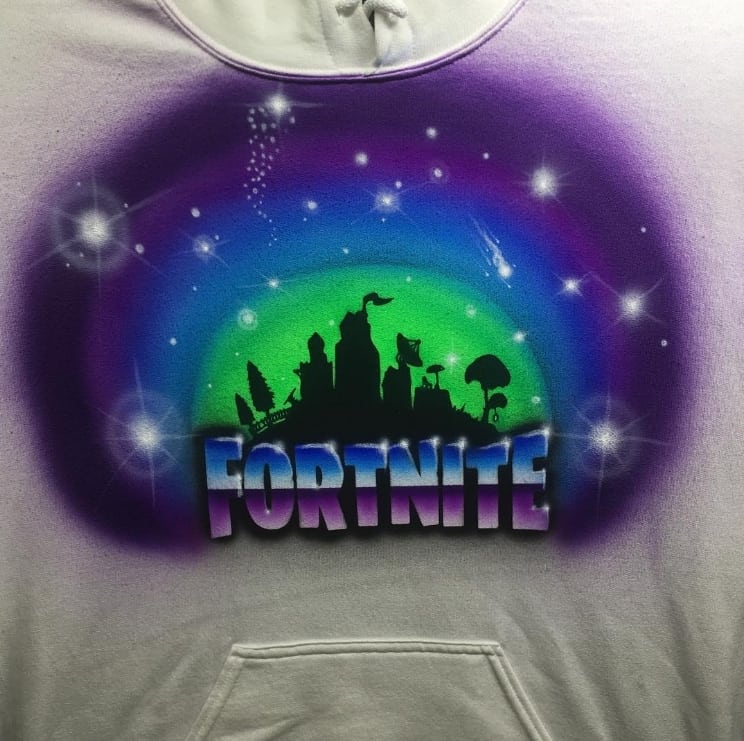 One area that I don't think gets brought up enough when it comes to shirts and hoodies is airbrushing. Though it might not be dominating small town malls as it used to be back in the day, airbrushing is still a beautiful technique when done in the right, most talented artistic hands.
This particular hoodie is an example of that. I'm not sure I'd go for a white hoodie here, but the actual design is gorgeous. The Fortnite logo is this own person's interpretation of it, and it works, giving off some serious 1980s sci-fi film vibes to it.
And that is all before, including the glimpse of the Fortnite horizon and the gorgeous starry night that is happening above it. Airbrushing is a tricky thing as you need to find someone with some solid talent to show for but if you can, you can have a one-of-a-kind hoodie like this one.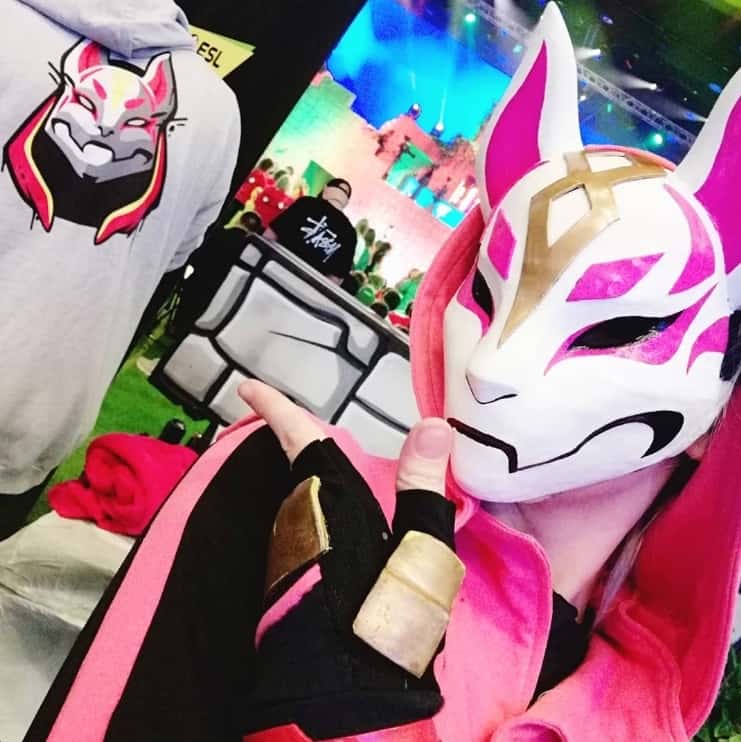 Drift is one of the most popular Fortnite battle pass characters of all time due to the immense customization that he had, which was revolutionary at the time. By far, the most attractive version of Drift is the full armor that includes the stunningly detailed fox mask and hoodie that he wears.
In this Instagram post, I like that the two people show off two variations of Drift in hoodie form. The first on the left is a simple hoodie that just shows the character's face on the back. But the other is basically cosplay, having a pink and black hoodie with a Drift mask.
Now, I'm not saying you need to go out in full cosplay, but there is room for a solid in-between hoodie that could have the color scheme of Drift and maybe an image of his mask on the front of it while still keeping room for some potential cosplay if you wanted to do that.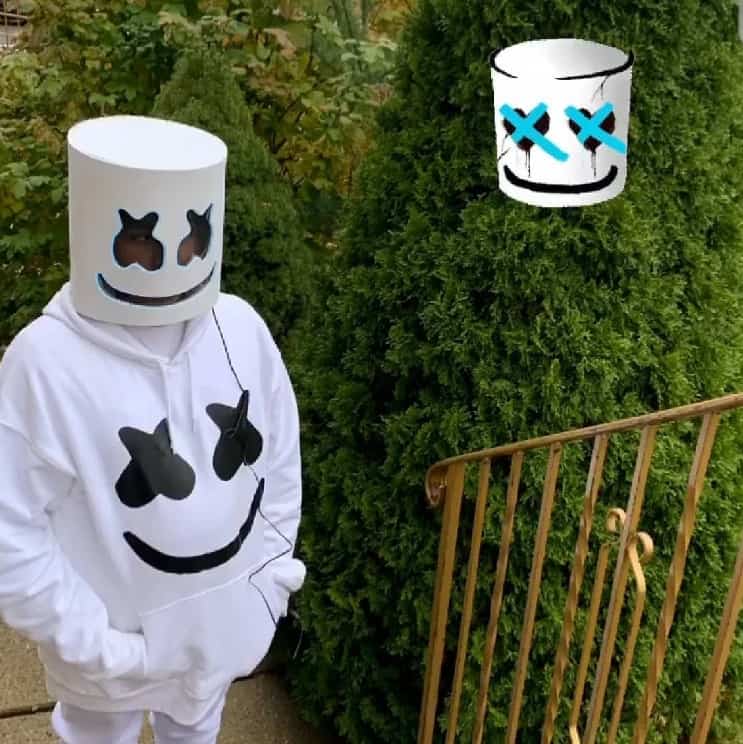 We end this list with one of my favorite examples of not doing too much. This hoodie is just the face of Marshmello, and that's it. Now, technically, that means that it is a Marshmello hoodie and not a Fortnite one, but the two have become one and the same for many people.
It is because of Fortnite, for some fans, that Marshmello is even popular in the first place. There are many kids, particularly, who love Fortnite and Marshmello, mainly because of the epic skins that he has in the battle royale game.
What this hoodie does is just be Marshmello, and that's it. It is a plain white hoodie whose only design is the face of Marshmello, complete with eyes in the shape of Xs and that smile. It's not in your face in the slightest, and it's one of those situations where if you know, you know when you see someone wearing this hoodie. Plus, you can have a full-on Marshmello cosplay if you want, like the person in this Instagram post.
FAQs
Question: Where to buy Fortnite hoodies?
Answer: You can buy Fortnite hoodies already pre-made at online retailers and stores in-person like Walmart, Target, Amazon, Redbubble, and more. There are also some Etsy and other independent sellers who will make these hoodies for people to buy custom-designed from them.
Question: How to find cheap Fortnite hoodies?
Answer: Generally, if you want cheap Fortnite hoodies, you'll need to head to some of the online retailers like Amazon or Walmart. It especially helps if you have a coupon or there is a sale going on, as you can quickly get a hoodie for $20 or even less (not including shipping).
Question: What is the best Fortnite hoodie?
Answer: The best Fortnite hoodie for me has to be the Raven Galaxy hoodie. This one features one of my favorite skins in such an epic way that matches well with the surprising galaxy background. There's a lot going on with it, but I love that about this hoodie.

What Fortnite Clothing to Get Next
Hoodies are a major part of your wardrobe, especially if you are a middle school or high school student who likes to wear them even when it is in the middle of summer. However, a hoodie is only one part of your outfit, even if it is a significant piece of the puzzle. There are other items that you should get if you want to complete your full Fortnite setup.
There are even t-shirts, shoes, and backpacks that you can wear to elevate your love for Fortnite. There are just so many items out there that you can wear to show your love for the battle royale game. However, it can be a little bit overwhelming trying to find plenty of clothing that works together. Thankfully, we have our massive list of the best Fortnite merch items out there, including several items in every single category.
For more interesting readings check out: