Latest posts by Cody Perez
(see all)
Ever since my start with Fortnite, right when battle royale dropped during the game's early access phase, I knew that there was limitless potential for merchandise. The sheer number of remarkable characters and intriguing skins in the battle royale game lent itself to marketing toys, figures, and other merchandise items. In this best Fortnite Funko Pop guide, I aim to tackle one aspect of the merch side.
The best Fortnite Funko Pop guide will dive into the adorable little collectible figures that are so immensely popular, and for a good reason. The insane number of crossover figures is impressive, and Fortnite has its fair share of figures. With so many to choose from, it can be hard to figure out which to get, but that is where I come in with the best ones, in my opinion.
Bottom Line Up Front
There are well over 50 Fortnite Funko Pops that exist at this point. Though you cannot buy all of them new at retail these days, there is a fair number to pick from. Below, I selected the top 20 that I think you should consider if you are looking to add to or start a Fortnite Funko Pop collection.
But if you are on a budget and can only afford a single option in the group, I would suggest the Frozen Raven Funko Pop. It is numbered 567 and is the best of the line, in my opinion.
There is something so wonderful about how it looks, from the outfit to the lovely little touch of having blue eyes. It is cute and menacing, appealing to a wide range of tastes.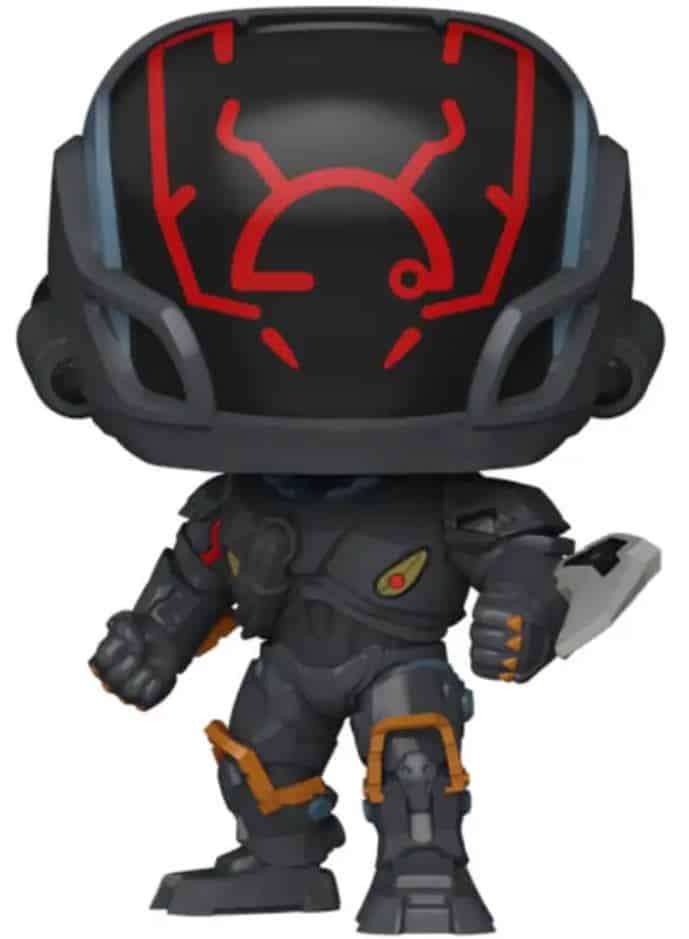 My Top Picks at a Glance
Here are all 20 of the best Fortnite Funko Pops that I selected for this guide, with short descriptions for each of them:
Tips
Before I dive too deep into the world of merch and we all spend our money, I have some tips for you. One thing to keep in mind is to figure out what kind of collector you are.
It is crucial to figure out why you are starting to collect. If you are doing it just for fun with no real aim at all, I do not recommend trying to get all of them, but if you are a diehard fan who wants every Funko Pop out there for Fortnite, by all means, do it. I just find that there are people like me who only want one or two that are of interest, and then that's it.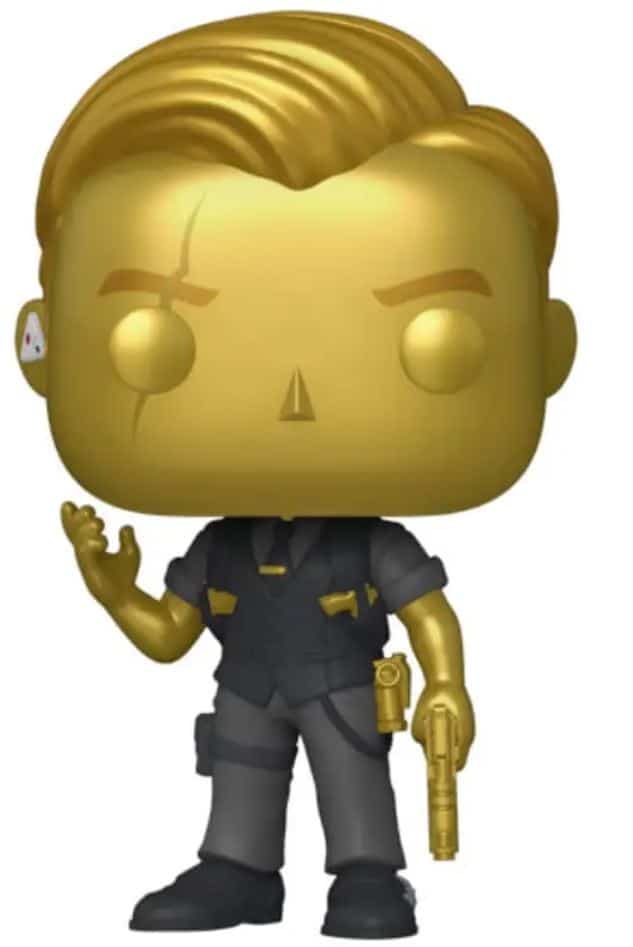 Some in the Fortnite community will make you feel pressured to expand your collection to keep up. Don't fall into that pressure, as it can be a huge money sink. My recommendation is to find one or two items you're interested in, pick them up, and then stop. A few weeks or months later, if you find that you are grateful for your initial purchases and want to buy more, then get one or two more.
Don't dive too deep into collecting everything right off the bat, or you might regret it in the end. Do not feel obligated to keep up with everyone else as I think that is always a losing battle.
Best Fortnite Funko Pop: Selection Criteria
When deciding the best Fortnite Funko Pops out there, I should note that this is based on my personal likes and dislikes. There will be some figures out there that someone is a diehard, number one fan of that I do not like.
And there will be some on this list that I adore that someone else will disagree with. Both opinions are valid, so I included 20 Funko Pops in this list. I think this is a healthy amount with a wide variety to give you a solid idea.
These choices are based on my personal preferences, but I did make a point to select ones that I think can appeal to many players. First and foremost, I based this list on the design.
Does it do something unique and extraordinary? Is it gorgeous to look at? How detailed is the face or clothing? Is it worth your hard-earned money? I even considered how the figure itself compares to the original Fortnite skin.
I will say that I tried not to let any predisposition towards a Fortnite skin stop me from including a figure on this list. There are a couple on this list that I am not a huge fan of their original skins, but the figure version looks great.
My Recommendations
Let's dive into the fun part. Here are my picks for the 20 best Fortnite Funko Pops. This is in chronological order from when they were released; I did not rank them. But I will be sure to note the ones that I particularly like.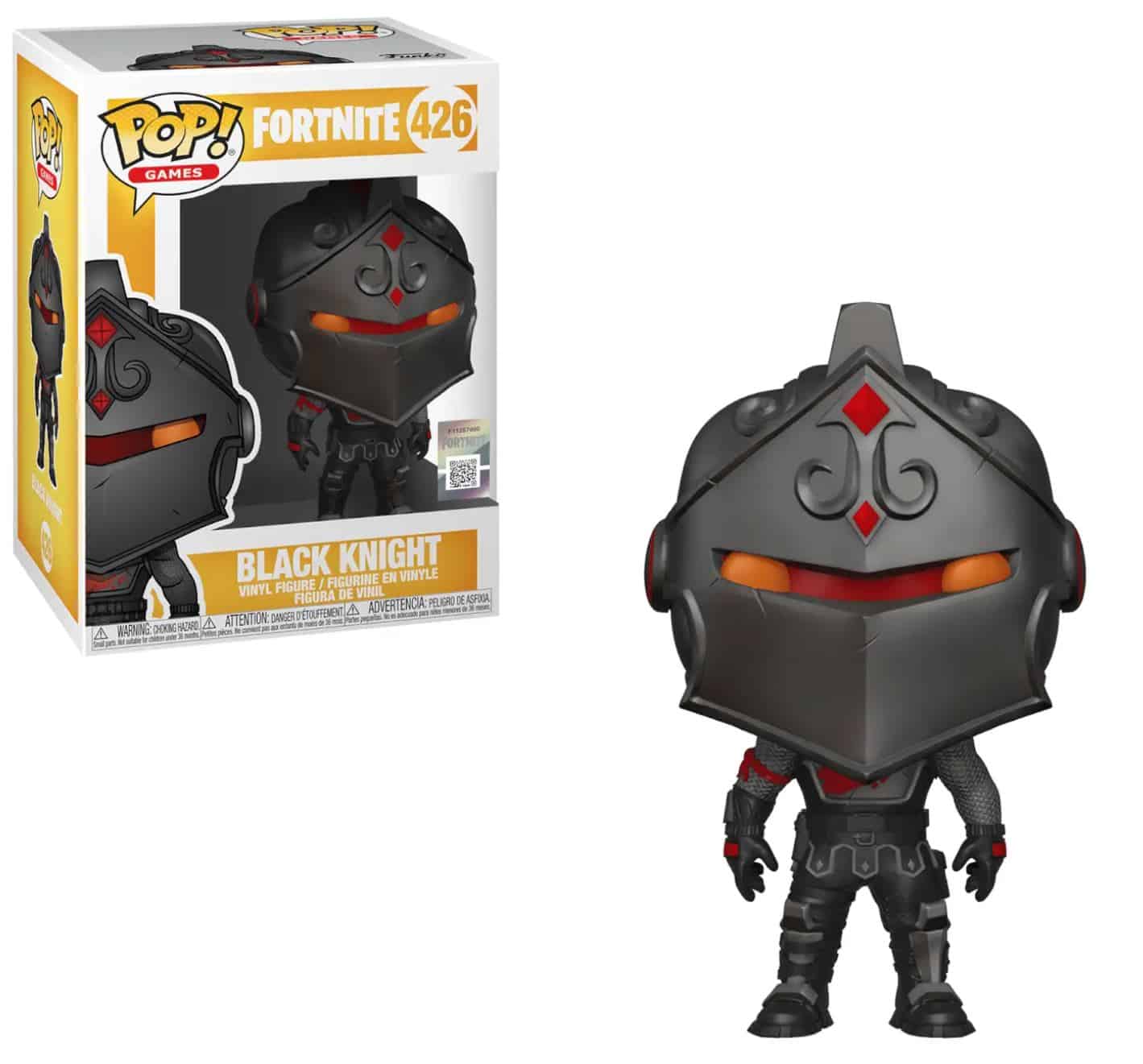 First up is the first Funko Pop ever released for Fortnite: Black Knight. Released in 2019, it was based on the Season 2 battle pass skin.
What I like about this one is that it is a textbook example of translating the Fortnite skin into chibi figure form nicely. The once menacing armor and helmet are now cute and elongated, looking adorably dark and moody.
There is also a decent amount of detail to the figure from top to bottom, especially with the helmet. This is a great figure, especially for one looking to start a collection.
Pros and Cons
Pros
Near-perfect recreation of the Fortnite skin in figure form
Nice detail across the entire figure
The helmet is especially impressive, with brilliant orange and red color choices for the visor of it
Cons
It was the first Fortnite Funko Pop, so more interesting and detailed ones came later
It's from 2019, so it is relatively challenging to find but certainly possible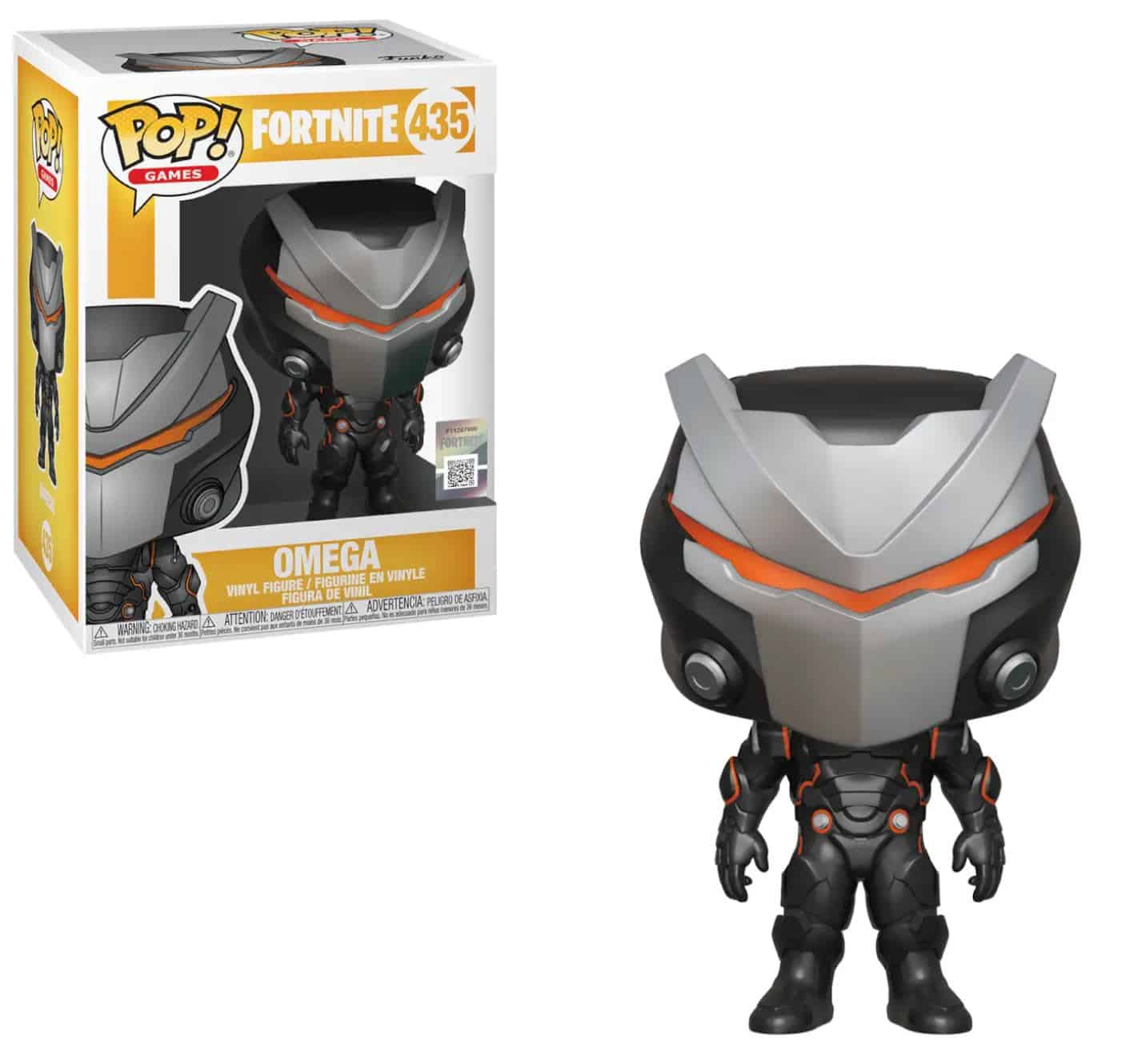 Omega was the first skin in Fortnite that made me realize that something was exceptional about Epic Games' outfits. For a while, it was the best skin around. It should come as no surprise that I think that its Funko Pop version is also impressive.
I will admit that I think that the Omega Funko Pop loses some of the charm and excitement in its shrunken version, but it's still great.
The design speaks for itself with the classic v-shaped helmet and black and silver design. I think the colors are slightly off, especially the silver, but that is mainly nitpicking.
Pros and Cons
Pros
Omega is one of the best Fortnite skins, and the Funko Pop is rather excellent itself
The helmet design is still iconic
Cons
It is not as sharp as its skin version, especially in terms of colors
There is a lack of detail as one of the earlier Fortnite figures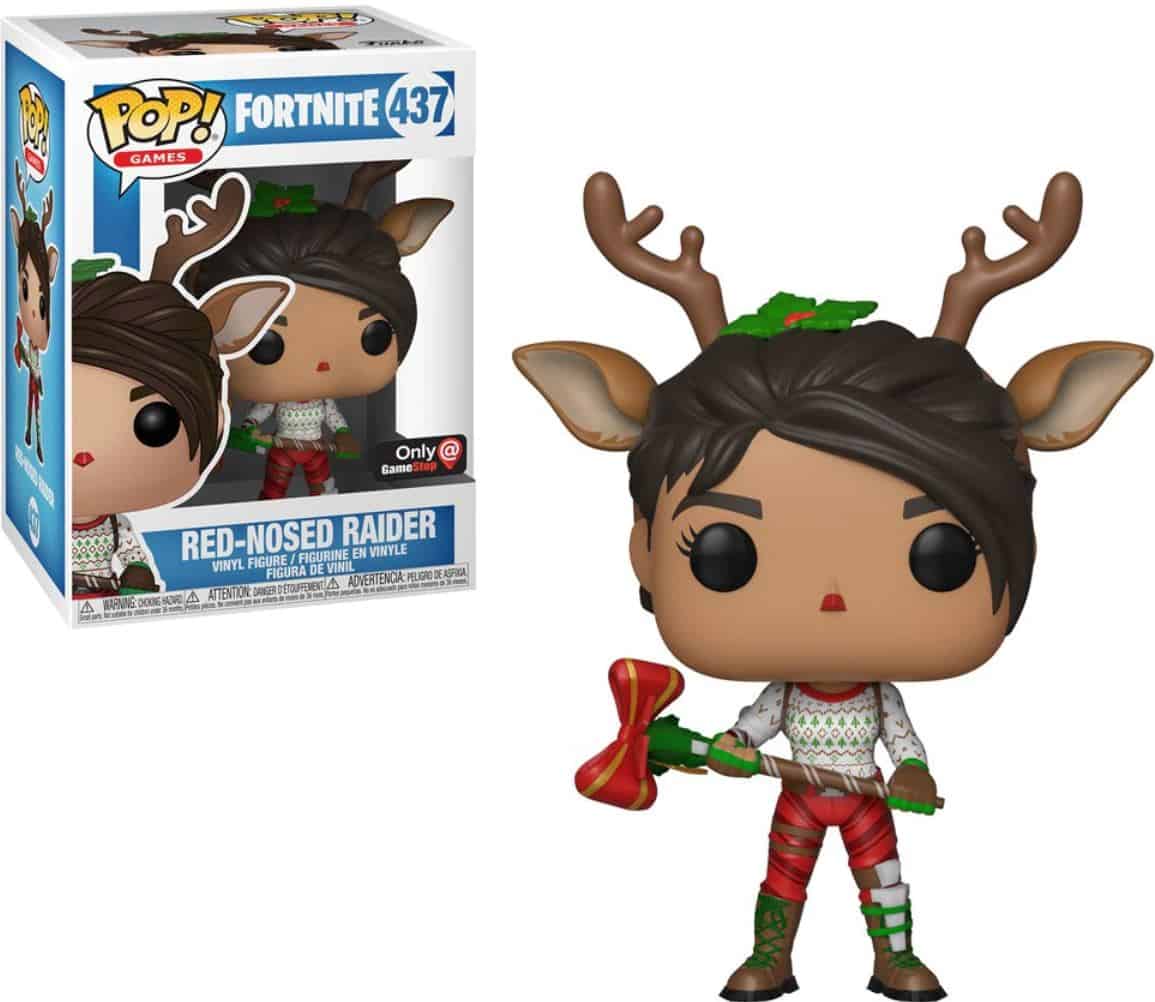 Everyone loves a good holiday cheer, especially in Fortnite, right? Some of the most colorful and happiest skins in the battle royale game arrived during the holidays. Thankfully, the Red-Nosed Raider Funko Pop fits the bill nicely, being one of the cheerier figures around.
This figure has a lot of charm, from the tiny but adorable red nose to how the outfit turned out in this more diminutive form. One of my favorite parts is how the antlers and deer ears turned out on the character.
The red nose, so to speak, on top of this reindeer is the holiday ax that comes with it. Not all of them have a pickaxe accessory, but this one does.
Pros and Cons
Pros
Red-Nosed Raider is a colorful and cheery holiday figure
The antlers and ears are unbelievably adorable
The pickaxe is a nice touch not featured in every Funko Pop
Cons
It is holiday-themed, so it does not necessarily fit all year round like other figures.
The cute red nose definitely could have been bigger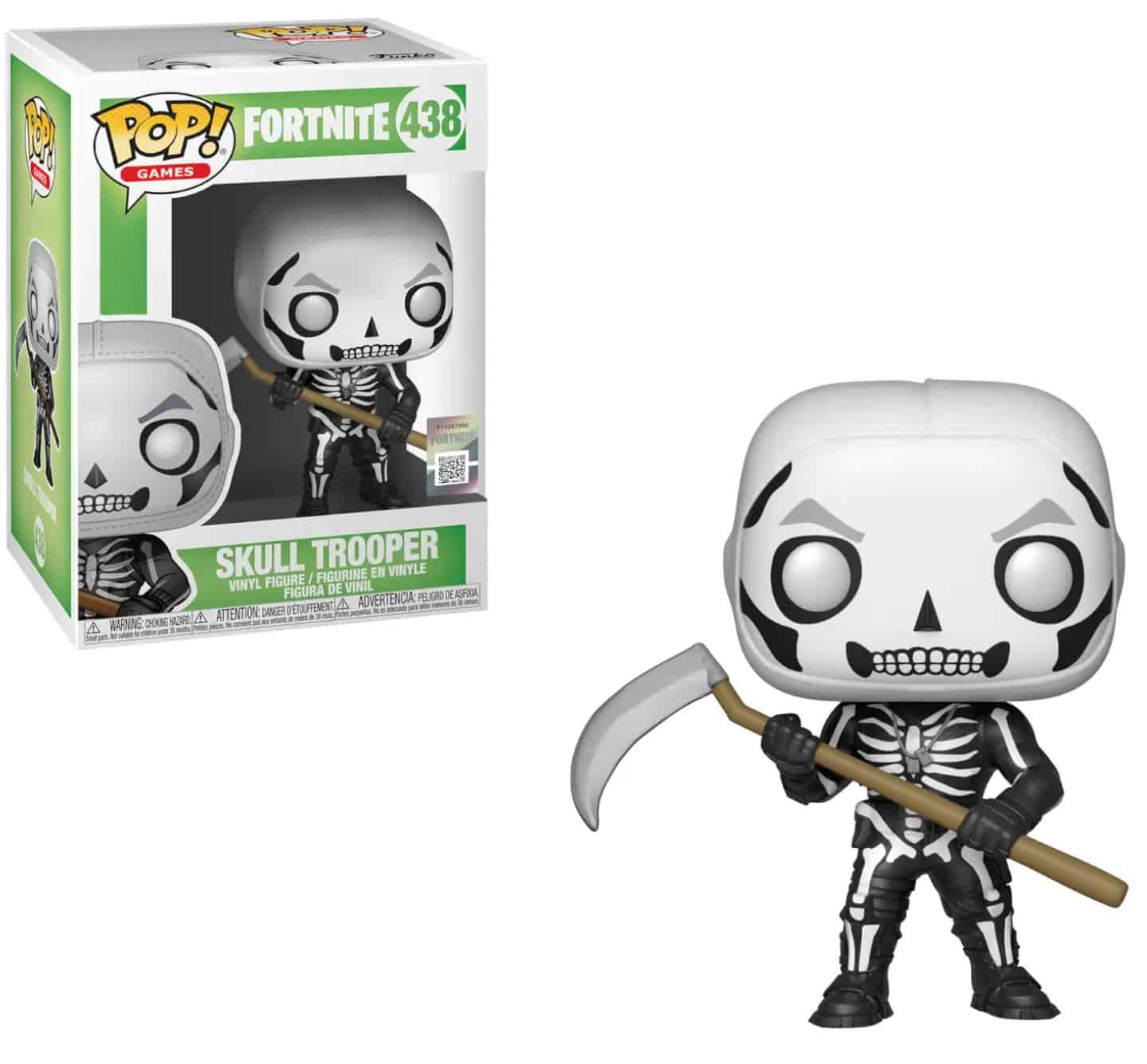 A few Skull Trooper versions exist in Funko Pop form, from the original to the purple to the glow in the dark one. 438 Skull Trooper Glow in the Dark is my favorite of the three. It is a simple skull Halloween costume, just like the original skin.
However, I like that it is somehow creepier than the original skin. There is an unnerving smile to the character that puts me on edge but is fitting for a Halloween figure. Like the one previously on this list, the scythe is a fun touch that adds to the theme.
Pros and Cons
Pros
Skull Trooper Funko Pop is somehow creepier and more fun than the Fortnite skin
The blue glow in the dark feature is a nice touch
Scythe adds a little extra value to the figure
Cons
That smile might be a little bit too creepy for some
Glow in the dark means that it may annoy some light-sleeping collectors out there like me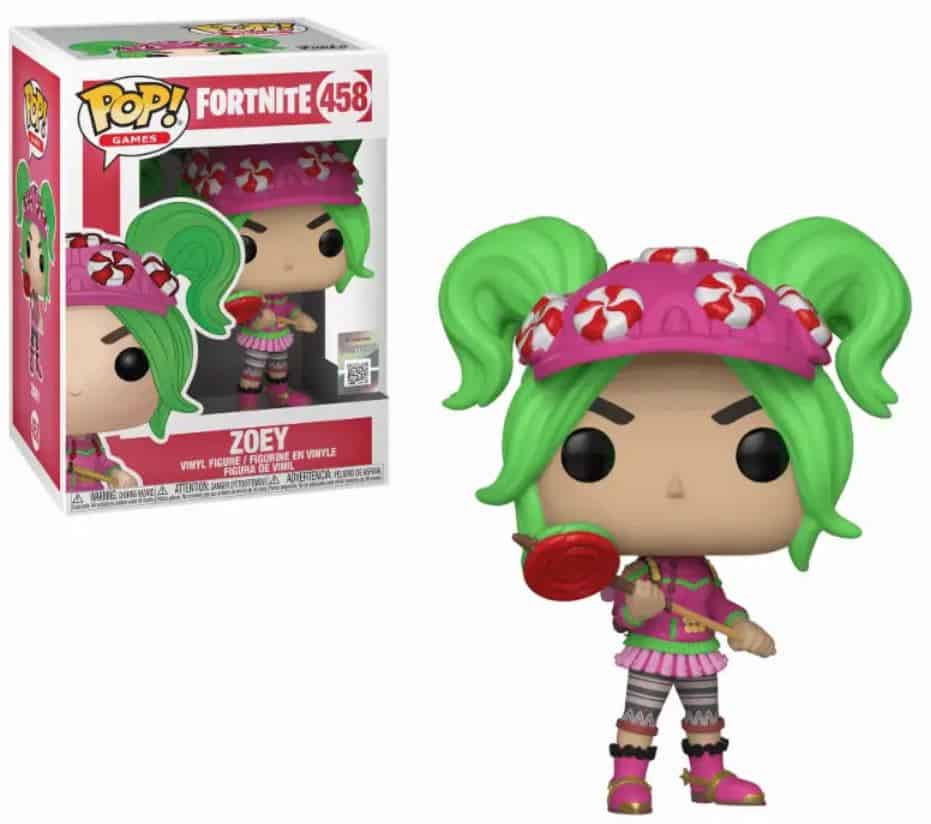 If there is a Fortnite Funko Pop that envelops the bubblegum sweetness of playing Fortnite with your friends, look no further than Zoey. The 458th Funko Pop is everything I love about Fortnite captured into a figure form.
The figure is all about bright pink and green colors that immediately catch your eye. If I set this one next to other figures, the one that will catch my attention first every single time will be Zoey.
She looks like a cartoon character from a candy land come to life. The only gripe I can even come up with is that her pickaxe accessory is a throwaway addition.
Pros and Cons
Pros
The most colorful and eye-popping Fortnite Funko Pop out there
It perfectly captures the fun and joy of Fortnite
Cons
Zoey's pickaxe is a throwaway addition, not adding enough to the figure.
It is almost so cute and sweet that I could quickly see some getting tired of it.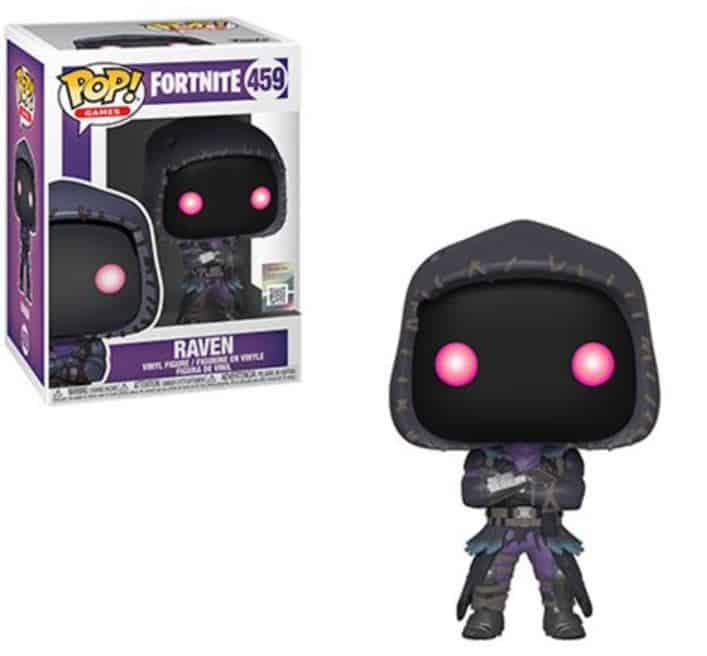 Another skin that I adored towards the beginning of Fortnite battle royale was Raven (not the DC Comics character). The moody and mysterious character was great.
What is fascinating about the Raven 459 Funko Pop is that it is surprisingly different than the skin. It is to the point where they are almost separate things.
Whereas Raven is this dark and mature character, the Funko Pop is like the Jawa version. Surprisingly cute with the outfit, hood, and even face having a more childish look.
Oddly enough, though, I dig this change in style and might even like it more than the original. The best example of this is with the hot pink eyes that add so much character to this merch item.
Pros and Cons
Pros
It somehow gives off a very different feel than its skin while still being great
The cutesy approach to the otherwise mature skin pays off
The pink eyes pop in the figure, reminding me of the iconic Jawas from Star Wars
Cons
The cute aesthetic of this super-serious skin may put off some people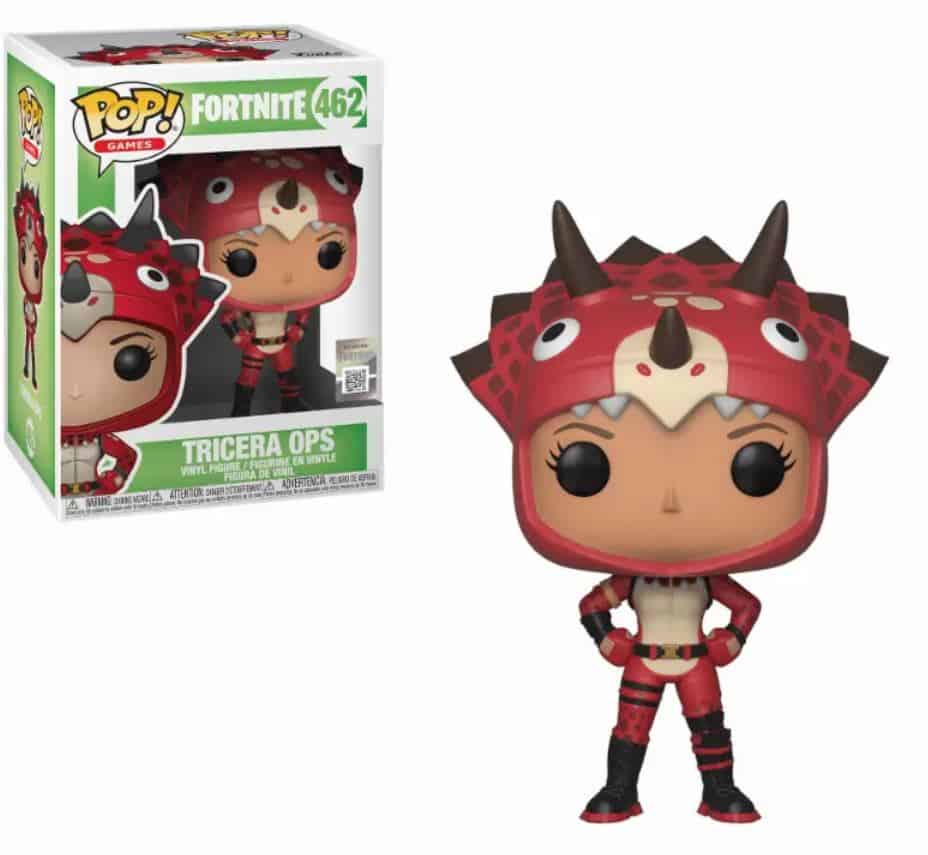 Tricera Ops is one of the cheesier Fortnite skins that I am not a fan of. But, yet again, the Fortnite Funko Pop version wins me over. Whereas it was too cheesy in a full outfit, it fits perfectly with a little figure. It is just a girl wearing a red triceratops onesie, and it works so well in chibi form.
The beady little eyes, which are obviously in every figure, add so much to the character. The goofy second face on top of her on the onesie's hood looks great.
The pose of the 462nd Funko Pop is an underrated part, too, adding an excellent detail that is missing in some of the more bland and basic Funko Pops.
Pros and Cons
Pros
The triceratops costume looks brilliant on the Funko Pop
While I think the original skin is cheesy, it works in this shrunken format
Cons
While I like the eyes of the character, the triceratops costume's eyes are a bit weird.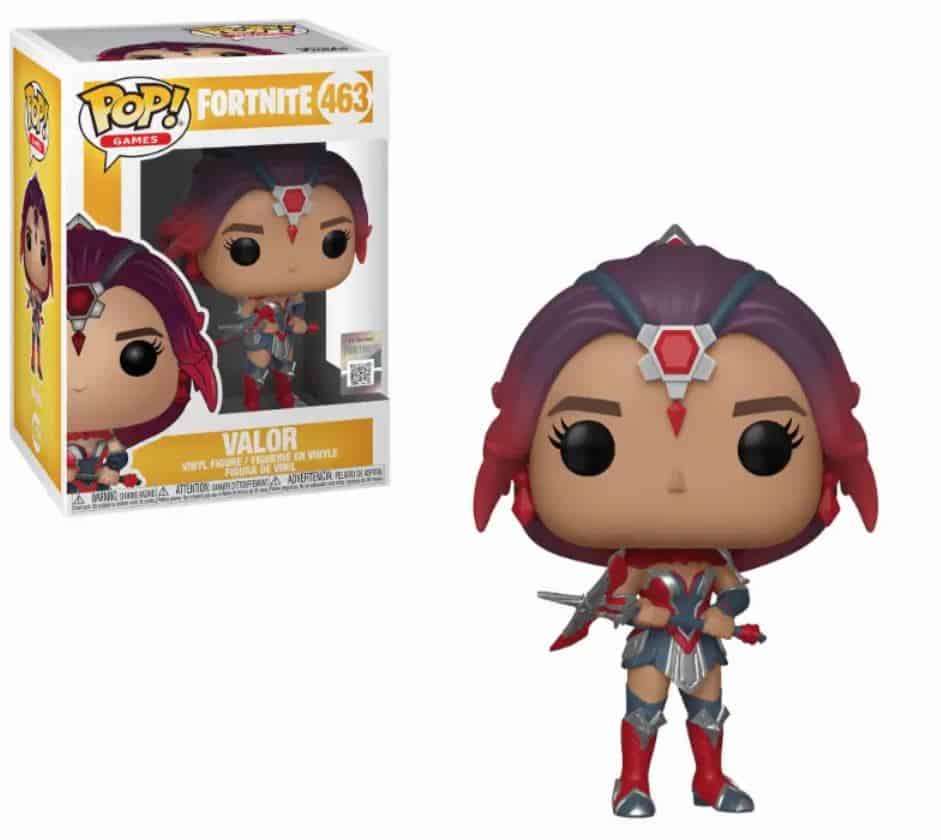 Wonder Woman is one of the coolest superheroes in the DC universe, and the Valor skin in Fortnite felt like an attempt at capturing her style long before she joined the game for real.
Admittedly, I was not a massive fan of the Valor skin's attempt.
Thankfully, there is a lot to love about the Valor Funko Pop that somehow addresses my concerns with the main skin. The chibi version features an outfit that is detailed and interesting.
The real star, though, is the terrific hair. Somehow Funko Pop made this ombre look work in figure form, and it is the best hair you will find on this list.
Pros and Cons
Pros
The ombre hair is the absolute best you will find among the Fortnite Funko Pops
It somehow looks better than the original skin
Cons
It is a Wonder Woman-style knockoff, so you might just want the original character.

Dark Vanguard is one of the most straightforward skins on this list, but there is something so fascinating about it. I'm not a fan of the skin, but it works in this form.
It is like a dark astronaut with an orange suit and black helmet. There is nothing too special about it, but I appreciate the moody, sci-fi style it gives off.
The glow-in-the-dark feature is otherworldly, fantastic, and unique compared to Skull Trooper and the others with its purpleish pink hue.
Pros and Cons
Pros
Simple and clean design
The glow in the dark feature is super unique and interesting
Cons
It might be too simple for some fans out there
The helmet is a little plain
You cannot go wrong with Ragnarok and its glow-in-the-dark variant. Both are terrific examples of some of the finest detail that Funko Pop can do. The most noteworthy parts of this Ice King are its pickaxe and the impressive skull helmet.
There is nothing like the skull helmet with the textures, attention to detail, and piercing blue eyes. It is the best helmet on this list.
Pros and Cons
Pros
Ragnarok already looks great, but the added details and disturbing blue eyes are nice touches
The skull helmet is the best helmet accessory on this list
Cons
Its design might be a little too intimidating for some fans out there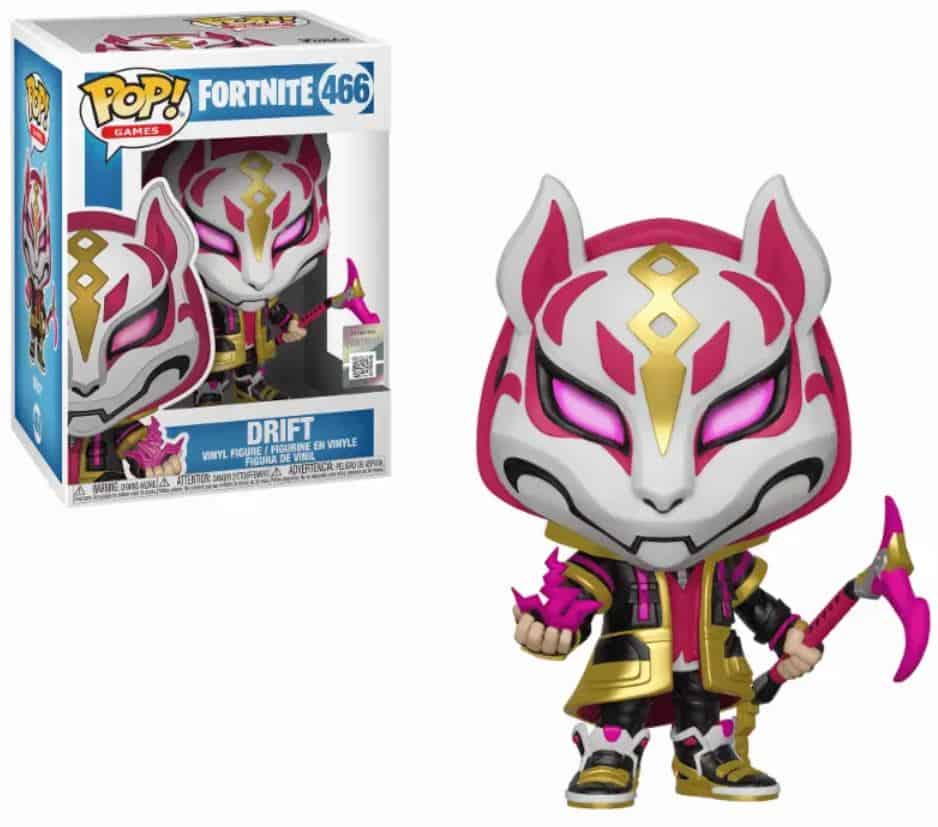 Drift is one of the closest Funko Pops to its original skin. The fox mask, pink, black, white, and gold aesthetic remains one of the best styles I've seen in Fortnite. Somehow, Funko Pop nailed the detail on the mask, typing this figure all together nicely.
Pros and Cons
Pros
Mask is somehow just as detailed as the skin's version
The color scheme and outfit look wonderful
One of the most faithful figure translations I've seen
Cons
Perhaps a little too gaudy for some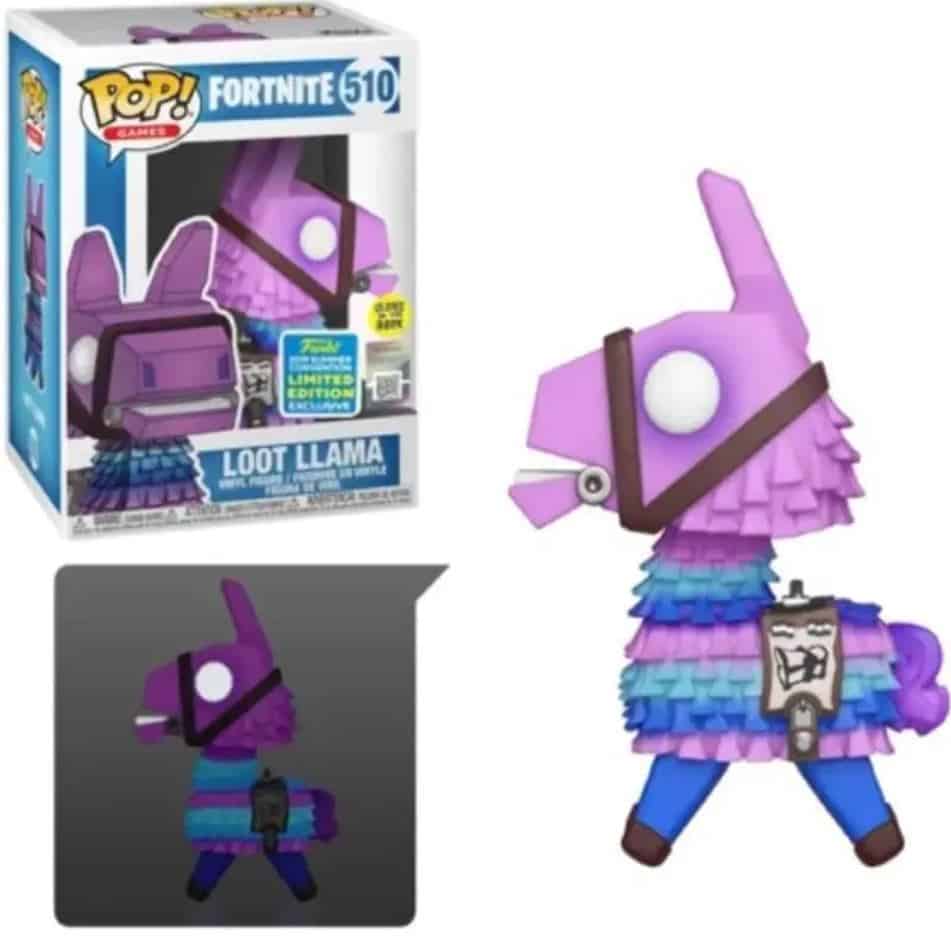 The Loot Llama is the most unique Funko Pop on this list. It is not a humanoid but a literal llama from the side that is a figure. They took the loot llamas from the game and made them into a near-exact replica figure. I'm not a fan of the eyes, glow in the dark feature, and jumbo variant.
Pros and Cons
Pros
It looks just like the loot llama from the game
The unique Funko Pop on this list
Cons
The (lack of) eyes is unnecessarily creepy
Glow in the dark feature is throwaway
Jumbo variant defeats the purpose of Funko Pops, in my opinion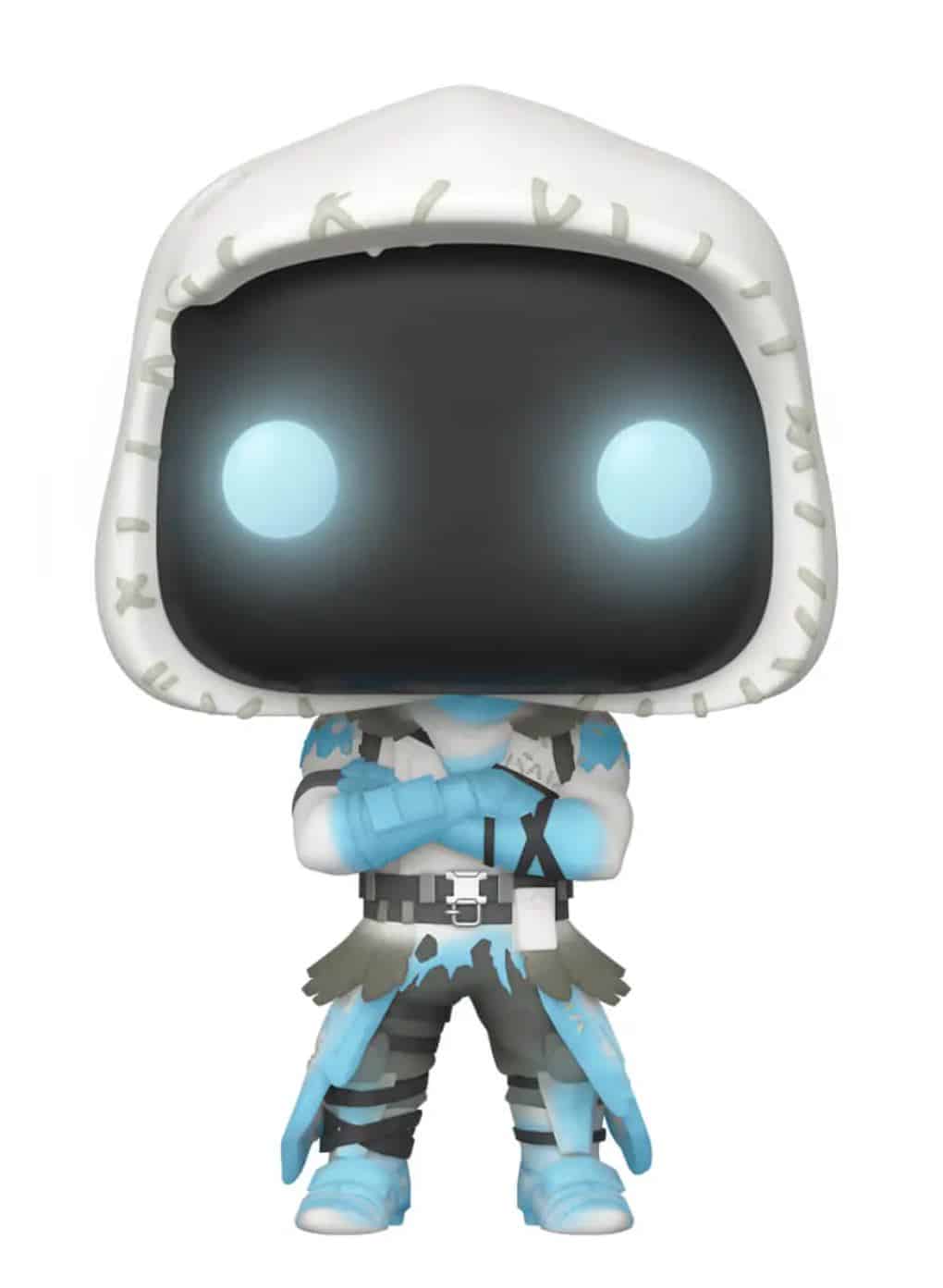 The number one best Funko Pop on this list for me is Frozen Raven 567. I thought Raven was good enough, but this version takes it to another level. It takes the mystery of Raven and adds a layer of ice and mystique to that.
The blue and white outfit is cozy and welcoming, while the blue eyes (instead of pink) with the shadowy face make it a perfect example of how Fortnite style can work in Funko Pop form.
Pros and Cons
Pros
It takes the already excellent Raven and makes it better
It is a nice mix of mystery and cozy winter warmth
The blue eyes are once again a nice touch
Cons
I don't have any negatives except, maybe, that it is limited to being winter-focused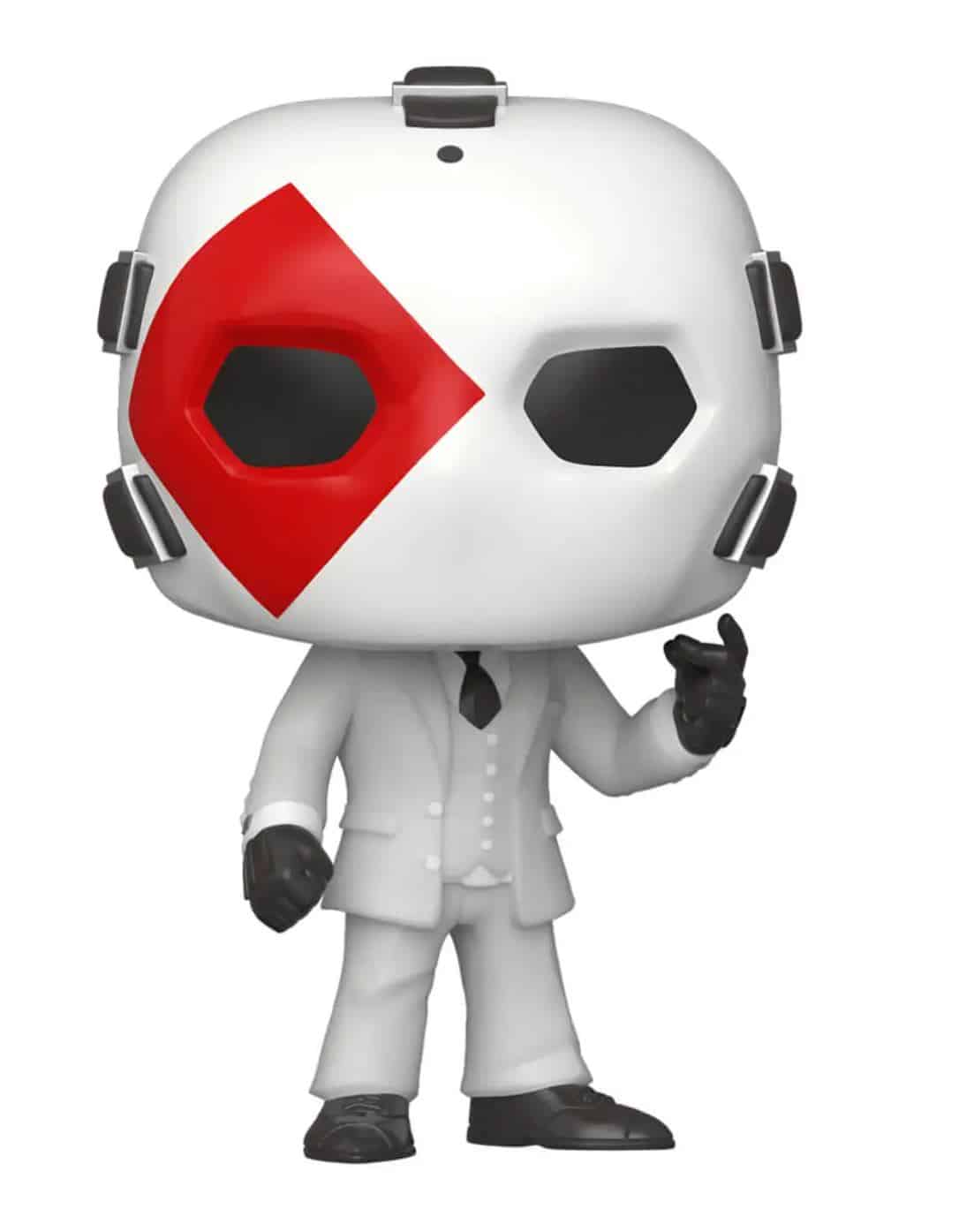 For a long time, Wild Card was the go-to skin in Fortnite, so the Funko Pop version has a special place in my heart. However, it is one of more plain figures with an all-white suit and mask.
The only standout part is the red diamond on the mask. I would have liked to see more mask options than just that with the heart, club, etc.
Pros and Cons
Pros
Stylish outfit and character
Cons
Too plain
More mask options would have been nice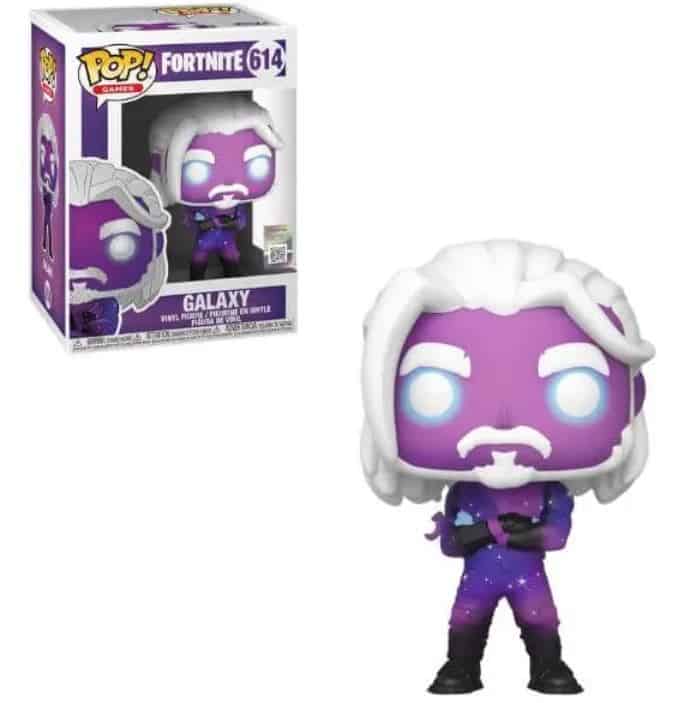 Galaxy is one of the best Fortnite skins. Oddly enough, the figure does not look too similar to it. It lacks a lot of the allure and detail from the original but still looks pretty cool, almost like a galactic Santa.
Pros and Cons
Pros
The purple galaxy design is still welcome
It hilariously looks like sci-fi Santa
Cons
Pales in comparison to the original skin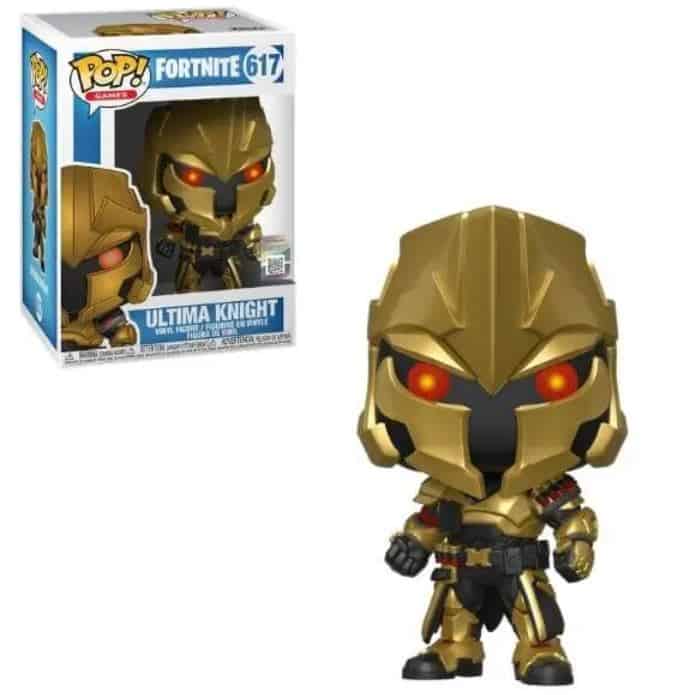 Ultima Knight is like the father of the first figure on this list. It is a black and gold suit of armor with glowing red eyes that are fantastic. It has a nice futuristic look mixed with the fantasy that I appreciate.
Pros and Cons
Pros
Nice mix of fantasy and sci-fi together
Better than the Black Knight
Cons
The helmet seems strangely cut-off on top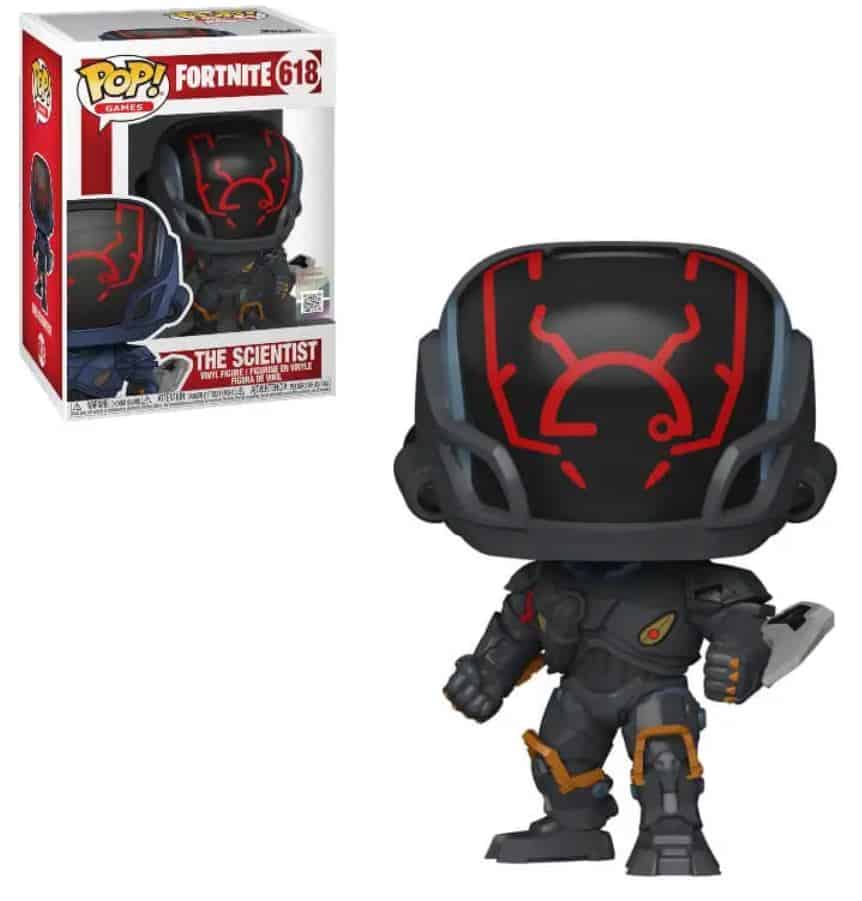 The only member of The Seven to have a Funko Pop, The Scientist is somehow impressively close to its skin. The star of the show, the helmet with its red markings, is just how it should be.
Pros and Cons
Pros
Having one of The Seven as a Funko Pop is nice
The helmet is ideally how it should be
Cons
Gauntlet and kneepads look a little cheap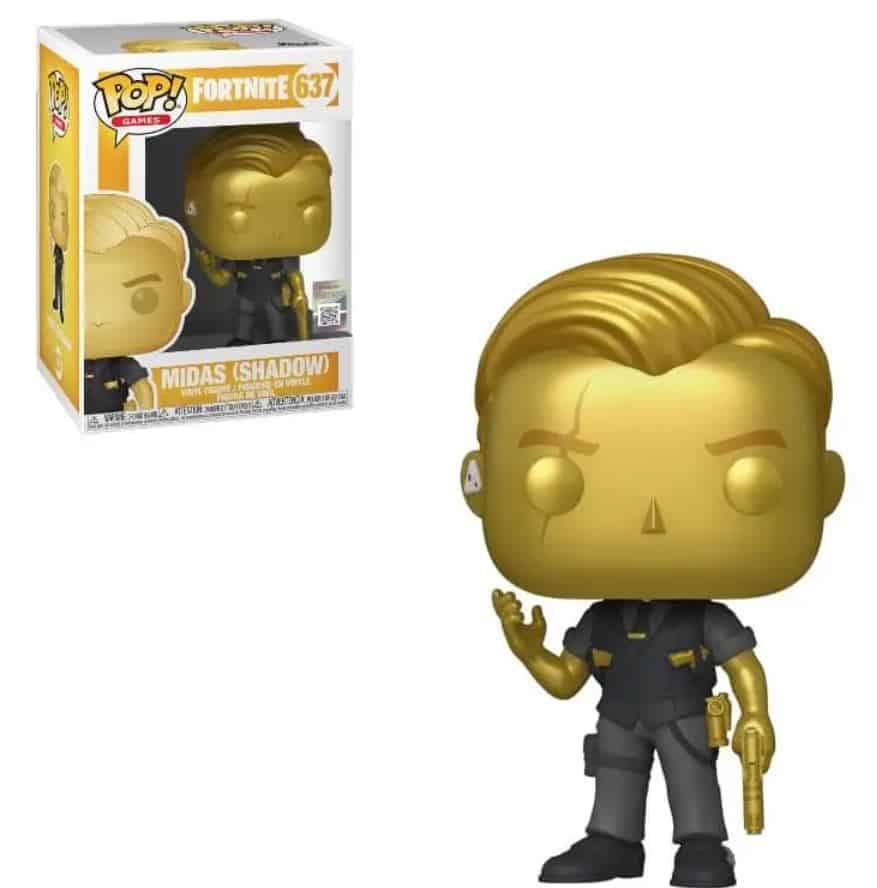 Midas is a memorable villain, so having a Funko Pop is nice. The choice for the golden shadow version of Midas is a great surprise. However, more options would have been good.
Pros and Cons
Pros
Golden shadow Midas is a great choice
The scar and outfit look good
Cons
More options like standard Midas would be welcome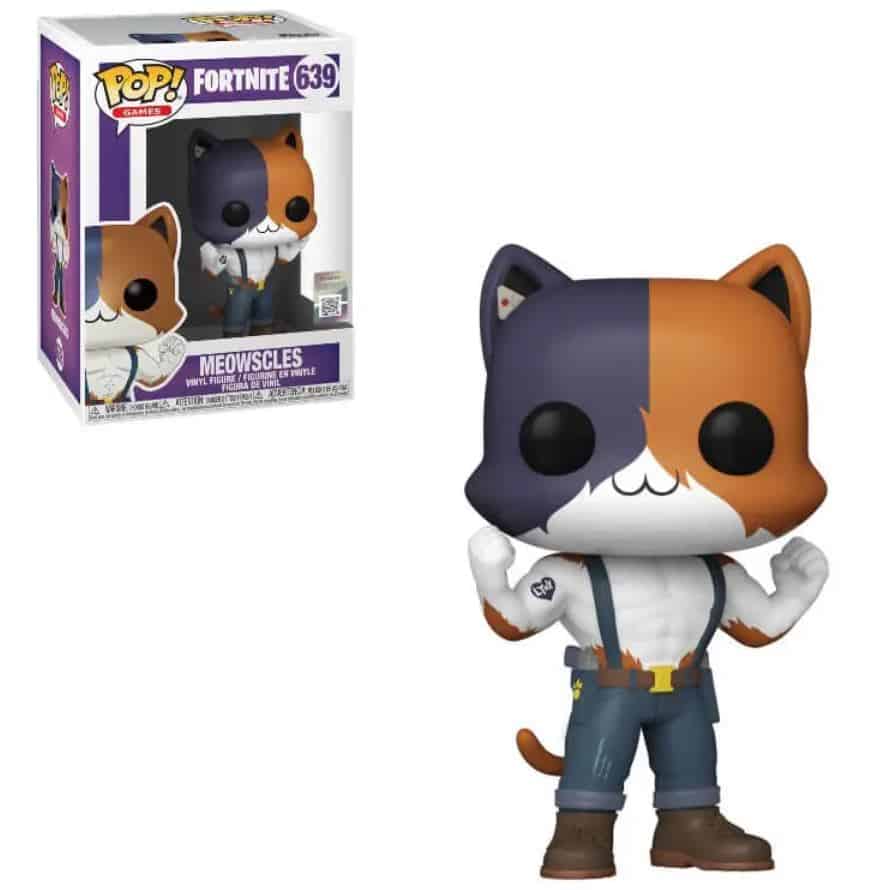 Meowscles is the second-best Funko Pop on this list. It is a replica of the unforgettable skin that was just begging to be a figure. The humanoid cat man is so adorable and fits a Funko Pop better than any other character.
Pros and Cons
Pros
Meowscles was made to be a figure
Near-perfect replica of the cute calico cat man
Cons
It's so cute that I feel the need to buy it now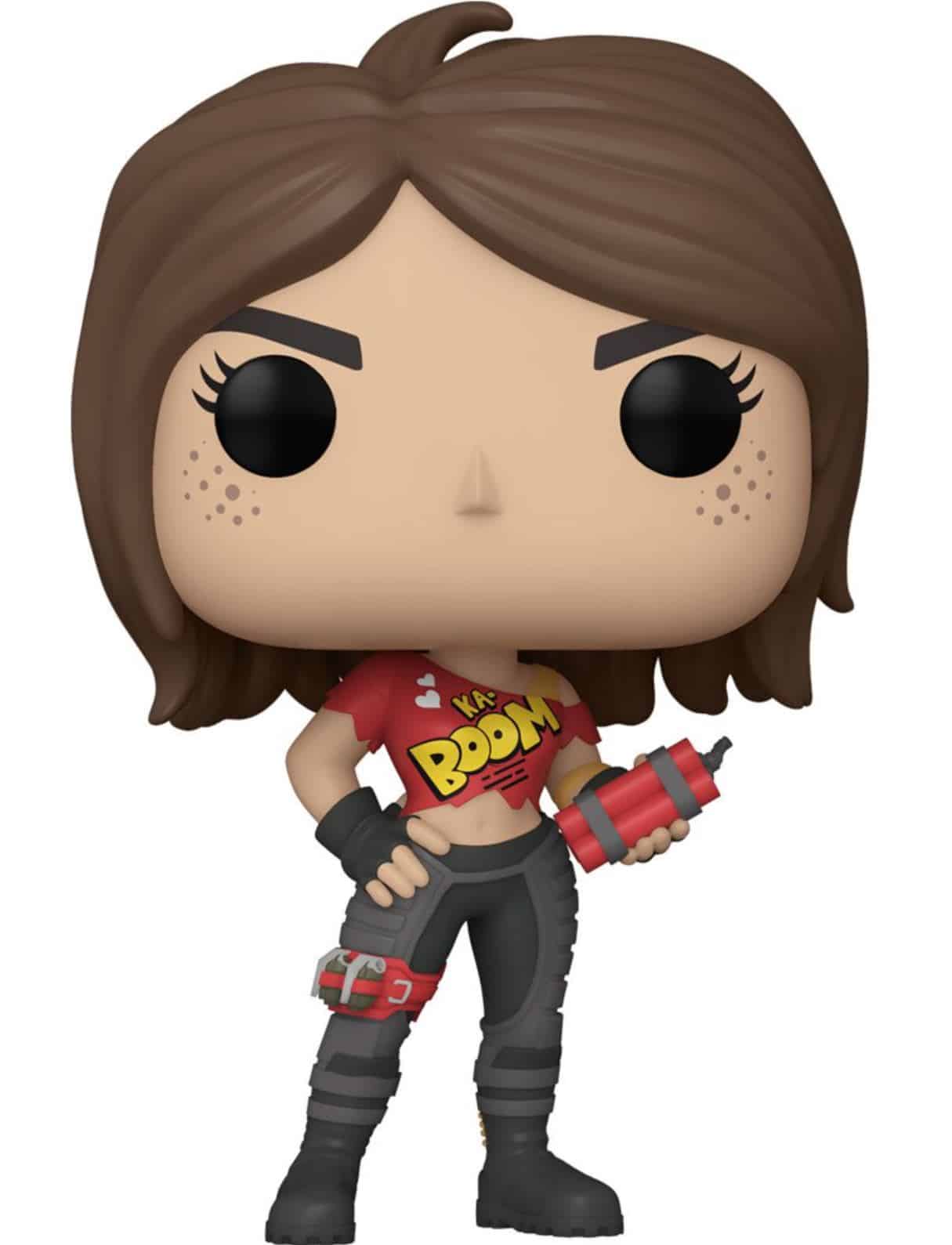 TNTina is one of the other spies from Fortnite, and while I'm not a fan of her in-game skin, her figure is better. She has an excellent style to her grungy aesthetic that clashes with the cuteness of her eyes, improving her in the end.
Pros and Cons
Pros
It makes me like TNTina more
The clash of her edgy side with the cute eyes and freckles mix well
Cons
Her hair looks a little awkward in figure form
Her outfit is a bit plain
FAQs
Question: What is the most popular Fortnite Funko Pop?
Answer: This is hard to answer since we do not have access to the data regarding this. That said, I can give my personal opinion on what I think the most popular one is.
Given the fantastic look and the character's popularity in general, I would not be surprised if 639 Meowscles is the most popular one in the line.
Question: What is the rarest Fortnite Pop?
Answer: This is another difficult question, but there are a couple of possible candidates for the rarest Fortnite Funko Pop. There are several stores and event-exclusive figures that exist.
Of them, Battle Hound Glow in the Dark was at E3 2019, which I was at and regretfully did not pursue. Dark Voyager Glow in the Dark was similarly rare for Target during New York Comic-Con.
Question: What is the number 1 Fortnite Funko Pop?
Answer: The number one Fortnite Funko Pop for me will always be the Frozen Raven one until a new one comes out. But, again, Meowscles is a close second that I think more people would likely agree on as the best around.
Conclusion
If you're looking for the best Fortnite Funko Pop around and can only afford one, I recommend Frozen Raven. There is just something so brilliant about how this figure was able to bring the skin to life in a new way.
It is similar to the base outfit and wholly its own thing, bringing the character to life in a figure in the way that I prefer it.
If I had to select one Fortnite Funko Pop on this list to purchase, that would be the one. Meowscles would undoubtedly be a very close runner-up after that, though.
If you want to admire the beauty of Fortnite outside of Funko Pops, be sure to check out my list of the very best Fortnite battle royale skins out there. Many of them do not even have a Funko Pop yet, which should be a crime.
For more interesting readings check out: