Latest posts by Cody Perez
(see all)
What is Fortnite without those adorable little llamas? They are among the most iconic parts of the battle royale game, with the loot llamas being a symbol of Fortnite. But Epic Games did not let the llamas remain as simple fixtures of the island but also made them skins over time. As such, I have created this Fortnite llama skin guide to go over each and everyone one of them.
This Fortnite llama skin guide will include all of the skins that have made the memorable llamas playable in battle royale matches. Some of them are creepy, others are cute, but all of them are llama-focused. There aren't too many llama-themed skins in Fortnite at this time, but a couple of them are some of the most flawless skins that the battle royale game has ever seen. Let's get started.
Bottom Line Up Front
There are nearly a dozen Fortnite llama skins that exist in the battle royale game at this time. They take the literal loot llamas head and idea and translate it into an actual skin that players can run around and play as.
Some of these skins are unlocked through the various battle passes that have been available over the seasons, while others were in the item shop. Still, more had different methods of unlocking them via methods like the Fortnite Crew subscription service.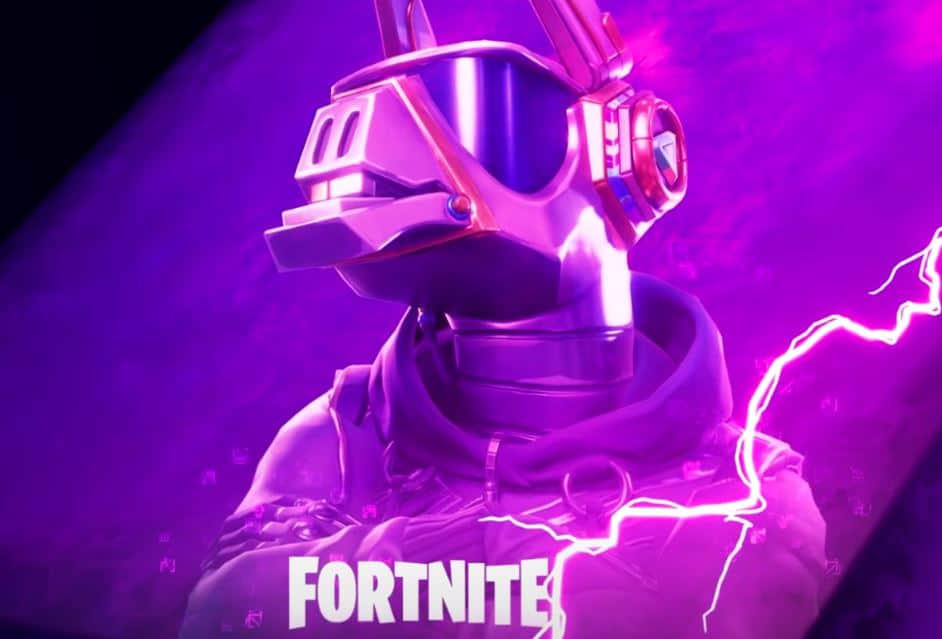 Here is the complete list of the Fortnite llama skins that exist at this time, up to Chapter 3:
Bash
DJ Bop
DJ Yonder
Giddy-Up
Heartbreaker
Llambro
Llion
Lt. John Llama
Sgt. Winter
Yee-Haw!
Yond3r
If I had to pick one of these to be the best one of them all, I would go with Yond3r. Not only is the black and gold aesthetic pleasing to the eyes, but the lighting system on his suit jacket is phenomenal.
Fortnite Llama Skins Explained
Epic Games has done many forsaken things in the past, but there is perhaps none so egregious as taking the loot llama, ripping off its head, and attaching it to a humanoid body. It is pretty disturbing, honestly, but yet another example of why Epic Games is so hilarious and groundbreaking at times.
The loot llama is an iconic part of Fortnite, a literal llama piñata that runs around the map. They are hard to find but discovering one allows you to take it out for a good bit of loot. They quickly became a symbol and meme of sorts for the Fortnite community.
As such, it is no surprise that Epic Games wanted to capitalize on the popularity of the llamas in Fortnite with skins. Skins exist for just about every idea imaginable, from crossover characters and various pop culture icons to even obscure parts of the battle royale game's lore.
Now, whether or not they should have is another story, as I will admit that I am not a huge fan of most of the llama skins on this list. But I would like to offer you the chance to check out each and every one of them on your own.
All Llama Skins in Fortnite
Here are all of the llama skins that have ever been released in Fortnite battle royale. This is not a best-of list, but I will be including some pros and cons of each of them that you should know about.
Again, I do not like most of the llama skins as I think they are creepy and even ugly at times, but there are a noteworthy few.
This list is in no particular order other than alphabetical, and I will note the couple of skins that I appreciate. When it comes to what I like about the skin, it has to be the llama head or idea done in a practical but sensible way. I'm not here for the weirder and less attractive designs.
Alongside the details about the skin's appearance, I will also note how that particular skin was unlocked in Fortnite. Some of them were initially released as part of the seasonal battle pass for a particular chapter, while others were in the item shop. There are a couple of them that even fall outside of those unlock methods.
I should also mention that there are a couple of skins on this list that I consider llama skins, but some may not.
There is also one particular skin that is, technically, a llama skin that I do not personally agree with, but it is here nonetheless.
Bash Explained
Bash is one of the most traditional Fortnite skins that is based around a llama. The default look for this outfit includes a rainbow llama head with crystalline eyes and a pink mane of hair.
It is wearing an outfit that is quite similar to that of Brite Bomber's classic blue and rainbow-themed gear. For the most part, the epic outfit is one of the better customizable ones out there, with several different skin options.
The militia version gives a more bronze look to the skin, the glow that is not nearly as colorful as it sounds, and my favorite is the dark one. This one gives Bash a purple and black aesthetic that is interesting, along with a red horn on his head.
Overall, Bash is one of the better skins on this list but only in certain styles. I think that the default and militia versions of the skin are forgettable at best.
How to Unlock
Bash was first released in Fortnite battle royale in Chapter 2, Season 1. The circumstances surrounding this llama-themed skin were interesting. The epic skin was part of the Community Choice in Season X. Players had the chance to choose what skins would be released.
Unfortunately, Bash lost the poll but would still release. In fact, he was the first official skin from that selection time that was offered in the item shop. Players can get Bash when he arrives in the item shop.
Oddly enough, he is one of the more recurring items in the shop, being last seen in Chapter 3. When he is in the shop, he costs 1500 V-Bucks.
Pros
There are several customization options.
The glow and dark versions of the Bash skin are surprisingly good. For a llama skin, at least.
Cons
The default skin and militia options are just standard and forgettable.
Bash is a reminder of how creepy the llama skins can be.
DJ Bop
There are some skins that players would not consider llama skins, but DJ Bop is one that I, personally, do not consider a llama. That said, Epic Games considers it a llama skin, so here it is.
DJ Bop is an ordinary girl with a flashy outfit that consists of a black skirt, top, and glowing undershirt.
In one of her customization forms, though, she can wear a "llama" helmet on her head. It is a pink animal head that is supposed to be a llama, but I, personally, think it looks nothing like one.
Since it is technically a llama, I have to include it on this list. The default version of this skin is disturbing and, quite frankly, unattractive. However, I think the remix version with the llama helmet off is surprisingly good, so that it might be worth it for that alone.
How to Unlock
DJ Bop was first released in Fortnite in Chapter 1, Season 7. It is a legendary outfit that appears in the item shop for around 2000 V-Bucks.
Since it is an item shop skin, there are times when it will reappear for players to pick it up. Unfortunately, it has been a while since its last appearance at the time of writing this post.
Pros
The remix skin style for DJ Bop is fantastic. The hair and glowing outfit look great.
Cons
It's not a llama skin or helmet in the default skin version. I don't care what you say, Epic.
And if it is a llama skin, it's horrible.
It's pretty costly and not worthy of the legendary rarity.
DJ Yonder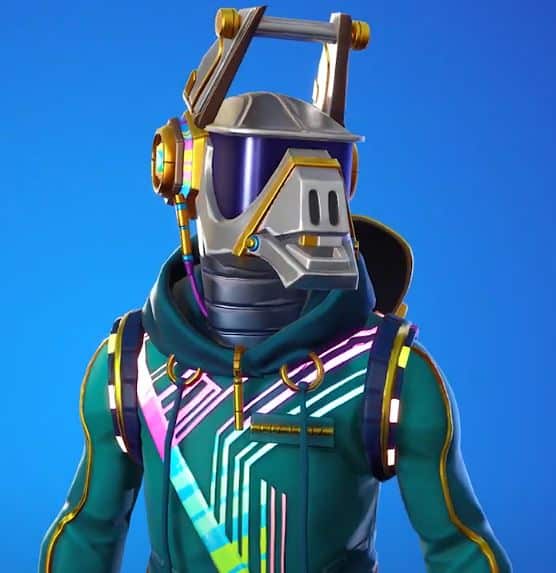 One of the most iconic Fortnite llama skins is DJ Yonder. It connects with DJ Bop on a couple of levels, not least of which is the fact that I do not like it. DJ Yonder has blue jeans that light up on the bottom and a green long-sleeve top.
Overall, the clothing is pretty forgettable about this skin. The most notable part about this skin is the head. It was one of the first llama skins in Fortnite, and it has a metallic silver and gold llama head.
It is futuristic, which is intriguing, but the look of the nose and eyes visor is a bit misshapen for my liking.
I do not think it is that attractive, either, and it lacks the detail of some of the later skins to release. I would even say that DJ Bop is a better skin overall.
How to Unlock
In Fortnite Chapter 1, Season 6, DJ Yonder came out as one of the first llama skins. You could only unlock it as the first tier-one skin in the battle pass for Season 6.
It was effortless to get at the time. However, since it was a battle pass skin, there's no way to get it at this time.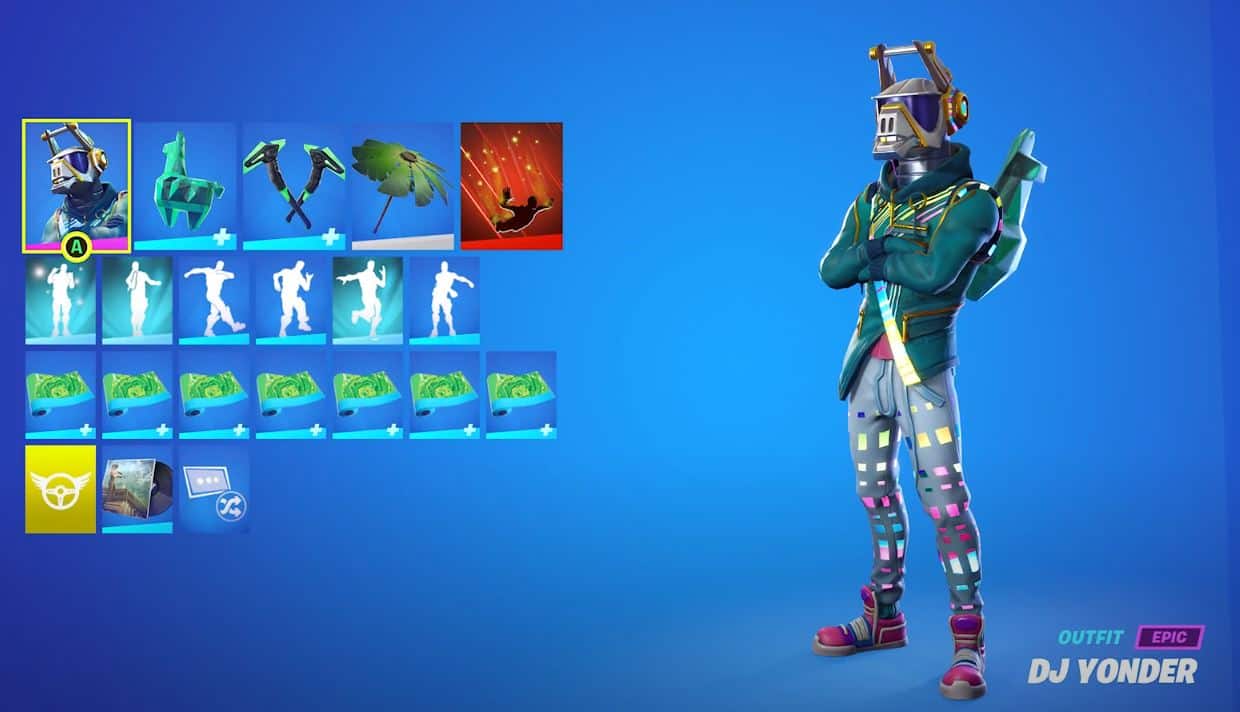 Pros
It has an iconic design and story.
There are worse llama skins, for sure.
Cons
It lacks the detail and customization of later llama skins.
The facial structure of the nose and visor is a bit strange.
Was only available in the battle pass
Giddy-Up
Here comes the first of a couple of skins that are not indeed considered llama skins by the developer, but I stand by this status. Giddy-Up is a simple but hilarious skin.
It takes the idea of those ridiculous costumes that you can wear that look like you are riding a horse or a dinosaur.
In the case of Giddy-Up, it takes the old Spitfire skin model, which is one of the most basic Fortnite characters and has him wear a llama costume.
It looks like he is riding an inflatable loot llama character. The catch is that he is not, but it's still funny.
How to Unlock
Giddy-Up came out in Chapter 1, Season 6, alongside DJ Yonder. Like the previous entry on this list, the only way to unlock it was by reaching tier 23 in the Season 6 battle pass.
Because of this, there is no way to get the Giddy-Up skin at this time if you missed out on it back then.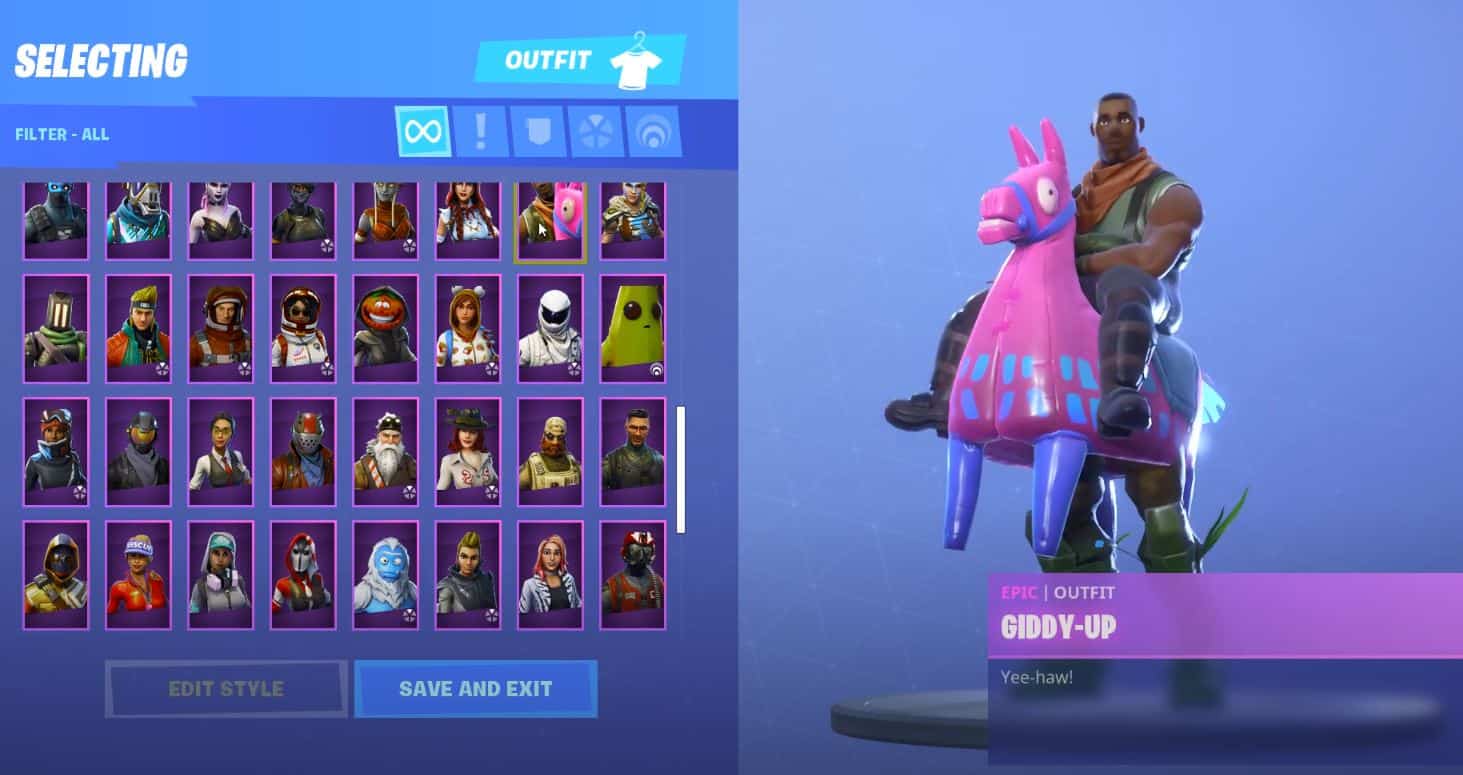 Pros
Simple but in a good way. The llama Halloween costume is hilarious.
The closest (sort of?) to an actual loot llama skin.
Cons
It's not considered an actual llama skin by some.
It's no longer available due to being a battle pass skin.
Heartbreaker
Heartbreaker is one of the most troublesome skins for me on this list. I will be honest with you that I think this is the ugliest skin that is available for llama lovers.
There is something to be said about Valentine's theme of the skin, but little else other than that.
It's like they took an outfit that Bruno Mars would wear in a music video and attached it to a tasteless llama character. The outfit itself is based around a suit of sorts that the llama is wearing.
But you can barely notice the suit since there's a red and black nightgown that he's wearing over it. It has pink hearts all over, matching the red llama head that it has.
The idea is excellent, but the execution is tacky and poor. The red hat on his head, for instance, is lame and unnecessary. Meanwhile, the head of this llama is easily the worst of the bunch.
How to Unlock
Heartbreaker was released in Chapter 1, Season 7, as a rare skin in the item shop. Players could purchase it for a measly 1200 V-Bucks, but that is not super worth it in my opinion. It has reappeared in the item shop many times in the past, typically around Valentine's Day.
Pros
I don't hate the sleeping gown that Heartbreaker wears.
It's one of the cheapest llama skins.
Cons
The Mr. Love name tag, outfit, and idea are pretty lame and tacky.
The red llama head is easily the worst out of every skin on this list.
Llambro
Out of the skins on this list, I would say that the most traditional llama has to be Llambro. It's also one of the newer additions as well to the game.
Llambro is all about baby blue and hot pink colors. The llama head itself is a baby blue color, with a horn and rainbow mane that is primarily pink.
He wears a matching winter coat babyin white, blue, pink, and purple. On the bottom, he wears black pants. Overall, Llambro is a winter-ready llama dude who is ready to hit the slopes.
I like Llambro because it captures the loot llama's idea and translates it well into skin form. It is goofy without being too much. It's the skin I think of when I think of llama skins.
How to Unlock
Llambro is one of the most unfortunate skins on this list since you can no longer get it. It was not in the item shop or battle pass. Instead, it was the main skin for the March 2021 Fortnite Crew subscription. Players had to be subscribed during that month in order to receive this skin. It will seemingly never come back.
Pros
The quintessential Fortnite llama skin look.
It is funny and cute without being too overwhelming or tacky.
Cons
It was only part of the Fortnite Crew subscription, so players can no longer get it.
Llion
Llion is one of the strangest skins on this list, and you can tell just by the name alone. It is named lion, but it is a llama skin. This is due to it having both a llama and lion option. The llama option is what I'm going to focus on for this guide.
It has a vector old school design to it where the skin is made up of Tron-like lines all throughout. It is a dark purple color for the most part, with some green here and there.
The outfit is rather plain, with just a black shirt and pants with a little green line up and down it.
It's a reactive skin, which is nice. In all honesty, though, I would note that the lion part of the Llion skin is much better than the llama version.
How to Unlock
Llion was released in Chapter 2, Season 2, in the item shop. The epic skin was available there for a mere 1500 V-Bucks. That is a fair price for what I consider to be a pretty great skin. Its last appearance was roughly six months ago, so I presume that it should be reappearing in the near future.
Pros
The vector-based futuristic neon theme is excellent.
It's a reactive skin, which is always a huge plus.
I think it's a good bang for your buck.
Cons
This is a negative only for this Fortnite llama skin list, but the neon lion skin style is unbelievably better than the llama version.
Lt. John Llama
One of the freshest llamas to roam around the island is Lt. John Llama. Introduced in Chapter 3, he became a quick favorite in the community, both as a skin and NPC on the island. Lt. John Llama is a military man (err, animal?) through and through with a buff physique.
He wears a mostly gray soldier outfit with plenty of room for his weapons, grenades, and ammo. The critical feature of John Llama is that he is a swole pink piñata llama. His arms are massive, and the llama head is surprisingly one of the best. There is a lot of charm and fun to Lt. John Llama, making him one of the best on this list.
There are some terrific skin styles like the classic loot llama look and the Special Forces style to make him even better.
How to Unlock
In Chapter 3, Season 1, players could unlock Lt. John Llama in the paid battle pass. He could be unlocked by using nine battle pass stars. Since he was a battle pass character, there is no way currently to pick him up if you did not already get him.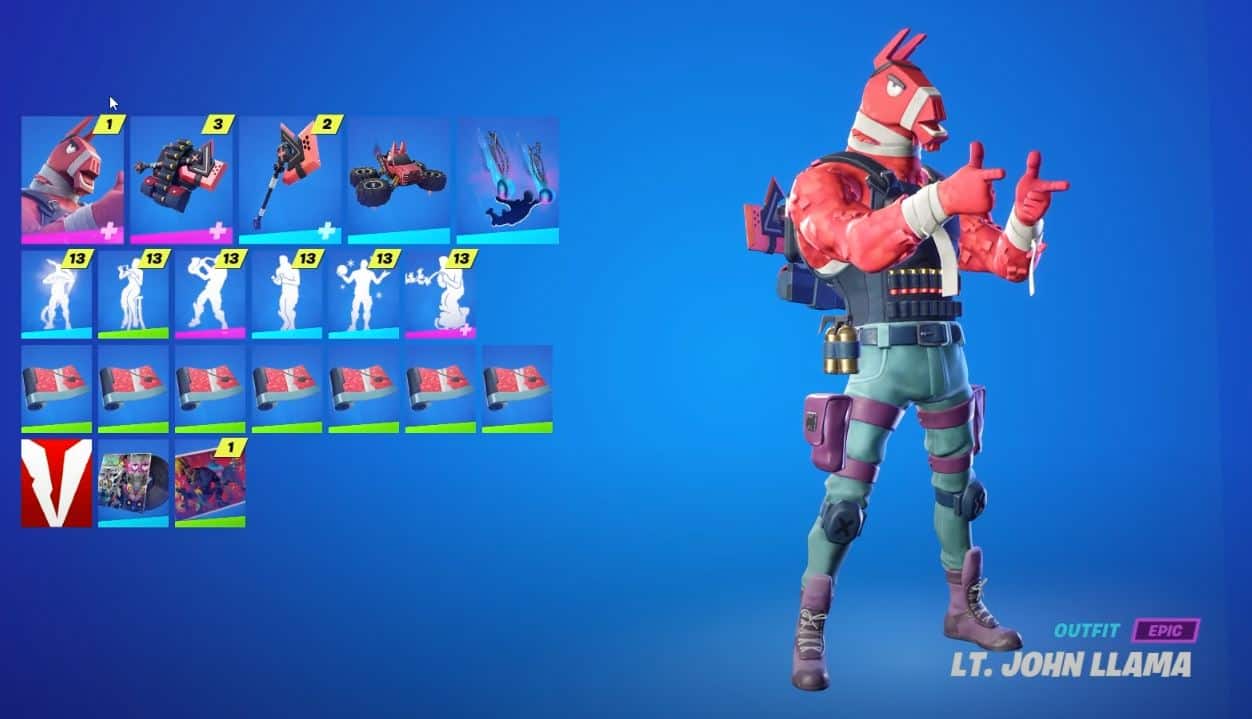 Pros
One of the best llama heads and body types on this list.
The skin styles are fantastic, especially in the case of the classic and Special Forces versions.
Lt. John Llama is both a great skin and memorable NPC.
Cons
He was only available as a battle pass character, so there are no real chances of returning soon.
Sgt. Winter
Sgt. Winter is a skin that is mostly not a llama one, but there is a particular skin style that puts it on this list. Sgt. Winter on his own is a militaristic Santa Claus, ready to make some toys and blast you in matches at the same time.
What I would like to hone in on is the Reindeer Llama version. It retains the original skin's brown and muscular body type but adds a brown reindeer llama-style head. It also includes a green wreath collar and a typical Santa hat on top. The blend of reindeers, the holidays, and llamas is a nice touch.
How to Unlock
In Chapter 1, Season 7, players could unlock the Sgt. Winter skin in the paid battle pass at tier 23. However, if you were looking to upgrade to the Reindeer Llama version that is applicable to this list, you needed to unlock it further in the battle pass. It will likely never return.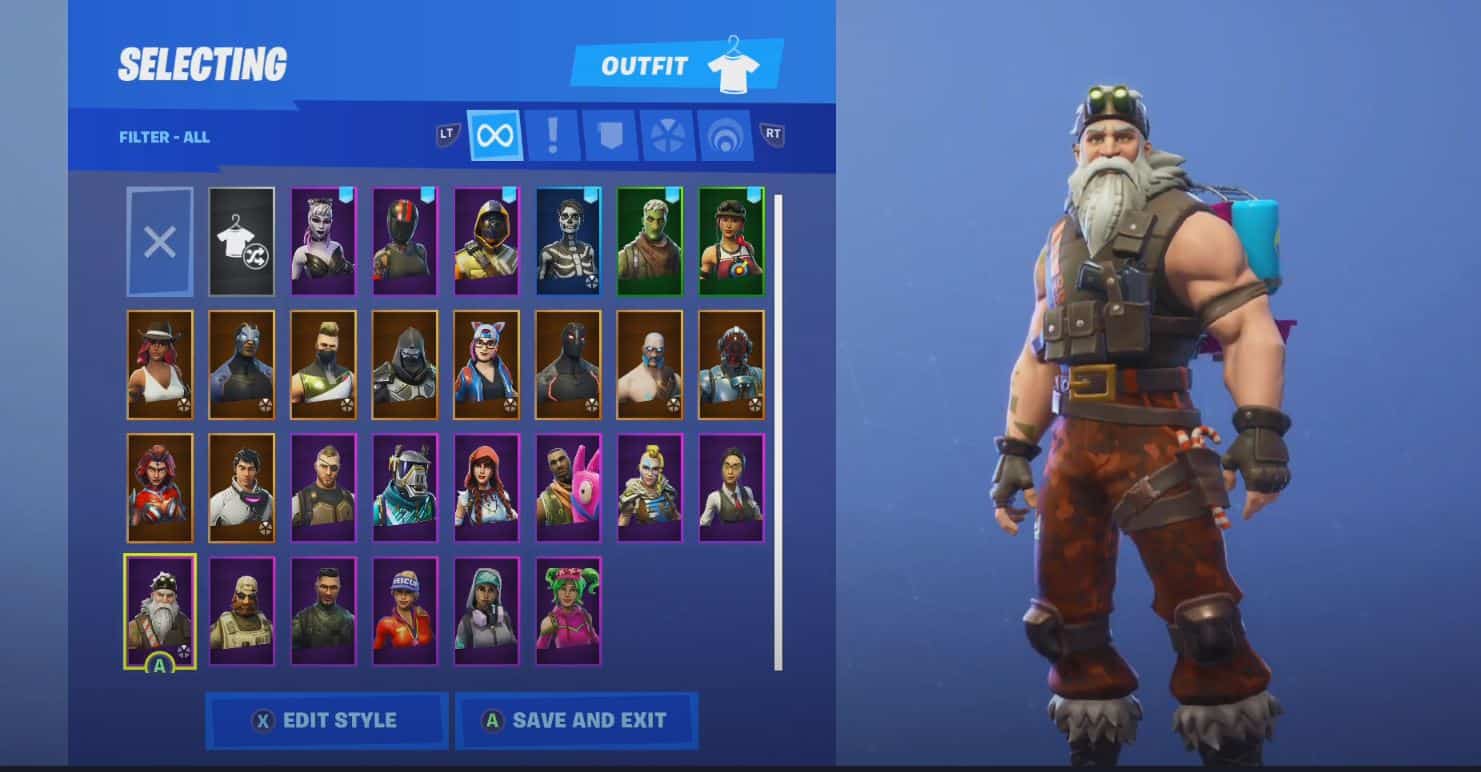 Pros
The Reindeer Llama idea is fantastic.
Cons
The Sgt. Winter skin on its own is just okay.
It was a battle pass skin, so it will not return.
Yee-Haw!
Yee-Haw! is the other counterpart to the non-llama but a llama skin selection. Like Giddy-Up before it, Yee-Haw takes one of the default skins from Fortnite and upgrades it with a Halloween llama costume. She is riding the llama, but not really since it is just how the costume looks.
The character model is just Headhunter with her mostly bright blue llama companion. There's nothing too fancy about it, but it is goofy and fun at least.
How to Unlock
Like Giddy-Up, Yee-Haw was released early on in the life of Fortnite on November 13, 2018. It first appeared in the item shop, and players could unlock it for 1500 V-Bucks.
It is an epic skin, so it is a little pricey, which is perhaps a little bit more than it deserves for the simple look. It has been a long time since it last appeared, with its most recent item shop return being more than a year ago.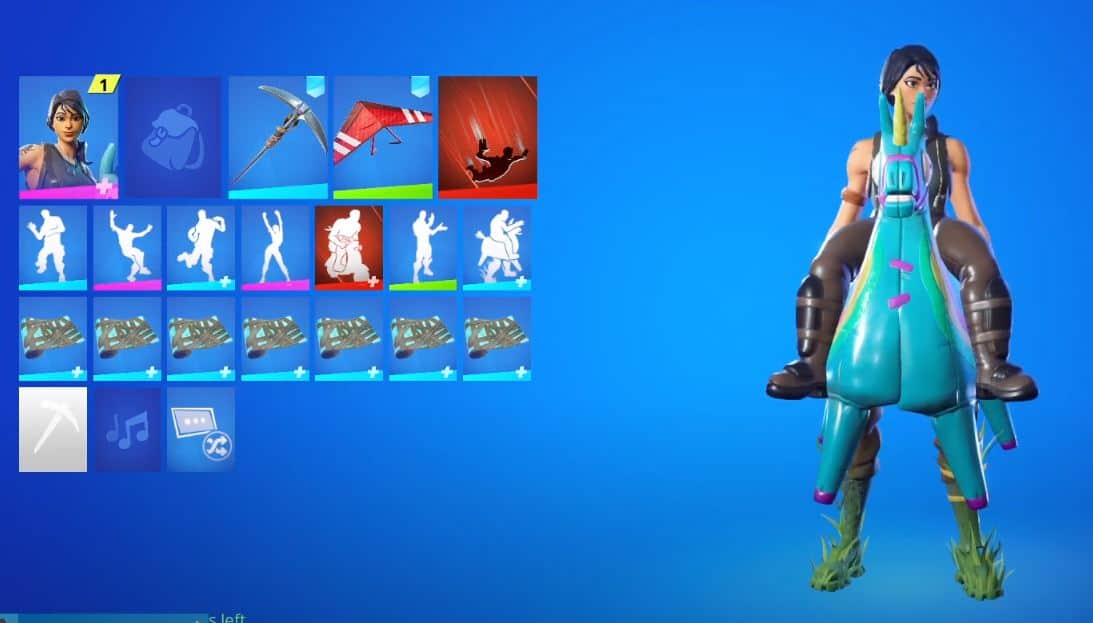 Pros
Yee-Haw captures the fun of Halloween and llamas with this ridiculous skin.
Cons
It has been too long since it last appeared in the item shop.
Yee-Haw is a little bit more expensive than it should be, with the single skin style option and a rather simplistic look.
Yond3r
It might be a little ironic since I am not a huge fan of the original DJ Yonder, but there is something really special about Yond3r. This remixed version of the original skin is not only the best on this list of llamas, but one of the best skins to ever be created.
Yond3r is technically the same character as the DJ but expanded upon in a solid way. There is the unmasked option that lets you see what he really looks like underneath, which is a human, by the way.
He is not literally a llama. He wears a standard suit with a glamorous gold and black jacket over it.
What is special about this jacket is that it can light up like a stage show on the back. There is a Dapper jacket that is longer and even more flashy, adding to the tremendous style of this character.
But above all else is the terrific golden llama helmet that he wears. It learns from the mistakes of the DJ Yonder version while adding some unique flairs like the golden crown. With other skin styles thrown in the mix, this is a GOAT skin right here.
How to Unlock
Like DJ Yonder before it, Yond3r is, unfortunately, a paid battle pass skin. It was released in Chapter 1, Season X. Players could unlock it at tier 47 with other skin styles unlocked later on. It should be a crime that this skin will likely never return due to its battle pass nature.
Pros and Cons
Pros
One of the greatest skins in Fortnite of all time.
The outfit, skin style, and the theme are phenomenal.
The golden llama head with the crown is unrivaled in its excellence.
Cons
It is very possible that we will never see this skin again due to its battle pass release.
FAQs
Question: Is there a llama skin in Fortnite?
Answer: Yes, there are quite a few llama skins that exist in Fortnite. There are around 11 in total at this time, as seen in the above list. If you mean a skin that is closest to the loot llama, I think that Llambro and Bash are relatively comparable.
Question: How do you get the Lt. John Llama skin?
Answer: The only way that players could get the Lt. John Llama skin was by unlocking him for nine battle pass stars on page three of Chapter 3, Season 1 pass. There is no way to get him now that the season is over.
Question: Where does Lt. John Llama spawn?
Answer: Lt. John Llama is an NPC that you can find on the Fortnite island. In Fortnite Chapter 3, the third (if you count the flip as two islands) island in the game features Lt. John Llama at Logjam Lumberyard in the northwestern corner of the map.
Conclusion
The Fortnite llama skins exist whether I want them to or not. Setting aside my personal thoughts on these skins, I will admit that they add to the charm of Fortnite.
Of the Fortnite llama skins, the Yond3r one is undoubtedly the best. There is just something so wonderful about the outfit that he is wearing with the black and gold suit.
Though there are other skin options, I prefer the default. The light show on his back is fantastic, and there is nothing like it to date. If you had to pick one llama skin to get, this would be the one.
Yond3r is the only skin on this list that even comes close to earning a spot on the best Fortnite skins of all time. If you would like to know more about those, I previously broke down what I think the best skins in the battle royale game are, so be sure to check that out.
For more interesting readings check out: