Latest posts by Cody Perez
(see all)
Fortnite is like a digital sandbox for you to dive into and play around in. There is a massive island to explore and do whatever you want in, in battle royale alone, but there is also an endless amount of fun in Creative. These playgrounds don't have to stick around in the game, either, as they can come out in the real world, too. This is seen in the best Fortnite themed toys guide I have for you below.
Over the years since Fortnite's early access release in 2017 and my start with it then, I have bought a lot of Fortnite toys. Some are still available today, while others are now out of circulation for newer toys. Regardless, I've come up with the best Fortnite themed toys guide for you to check out below. These include the toys that I believe are most worthy of your time and hard-earned income. Without further ado, let's look at 20 of the best toys around.
Bottom Line Up Front
The best Fortnite toys are the ones that perfectly capture the colorful, vibrant nature of the cel-shaded games. They either recreate some of the characters and skins from the game, or they offer experiences on the battle royale island very similar to what you find in the game itself. They have to have high-quality designs that are worthy of the massive success that Fortnite is and be enough to take you away from playing the game online. If I had to pick a single best Fortnite toy, it would have to be the Meowscles Funko Pop. You can play with it, collect it, and so on.
My Top Picks at a Glance
Before we get too in-depth with all of the various toys that you should check out, here are the top five picks that stand out even among the best of the best:
Tips
Here are a few tips that I have for you when it comes to buying Fortnite-themed toys. Over the years, I've spent a rather unhealthy amount of money on officially licensed Fortnite toys, buying them for family members and friends' birthdays and other holidays. Let's just say I'm saying all these tips for your own good.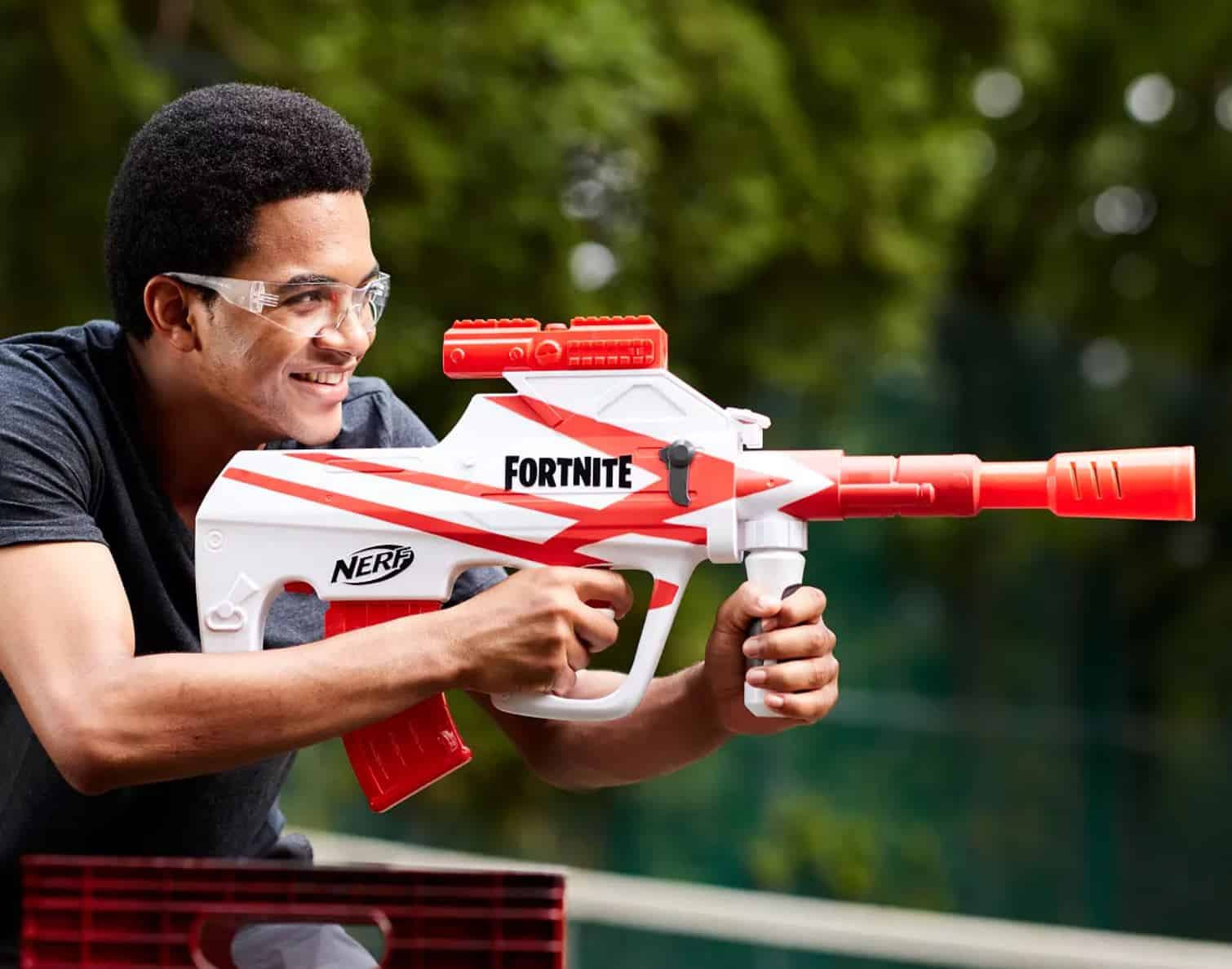 For starters, never settle for the first store you find. I linked to Amazon, Target, and some of the other stores you can buy these toys from, but they are generally not the only place to get them. A store might be having a sale one day, and you can get it cheaper there instead, so check everywhere to save a few bucks.
In the same vein, also check other stores online and in-person because there are some exclusive official Fortnite toys only available at specific locations. There is even one on this list: the Team Fishstick vs. Team Peely toy.
If you're purchasing a gift for a Fortnite fan you know, be sure to sneakily find out more information about the characters and skins they like to help you narrow down your search.
At the same time, though, always keep receipts for purchases and know the refund policy of the online retailers you're buying from in case of any problems that come up.
Lastly, there are a few Fortnite toys that come with free DLC code items you can use online to get stuff in the battle royale game. Take note of any toys you buy that have this extra feature, and don't lose the codes, as that is a nice bonus gift.
Selection Criteria
When coming up with the best Fortnite toys of all time, I didn't hold back regarding my selection criteria. I was as picky as can be, only selecting what I think is the best. This means that there are other high-quality toys out there, but if their original skin sucked, for instance, they didn't make this list.
First off, quality is critical. If I didn't like the look of the design, even if the character is a favorite of mine, I ignored the toy. A case in point was a horrible Peely plushie that exists out there; don't waste your money on it.
Furthermore, if the toy isn't something I have bought or would buy for myself or someone I care about, it isn't on this list.
I tried to keep the list moderately diverse, showing some love to Funko Pops, buildable sets, action figures, collector items, and more.
I also attempted to find items that appeal to a wide selection of players with various preferences.
In the same way, I tried to approach this list with various budgets in mind. Since these are the best toys, there are a lot of pricey items on this list, but I tried to include some more inexpensive ones, too.
Finally, I also tried to stay away from crossover characters, for the most part, and primarily stick to original Fortnite skins here. This was because most crossover characters, such as Marvel and Star Wars, already have plenty of toys out there in the wild to pick from.
Best Fortnite Themed Toys List
Now, we come to the complete list of the 20 best Fortnite toys out there. There are so many action figures, plushies, and other toys that exist in the Fortnite universe, but I was able to narrow it down to just these absolute juggernauts that you should know about. Let's look at the best toys in no particular order to hopefully help you find your following figure or gift.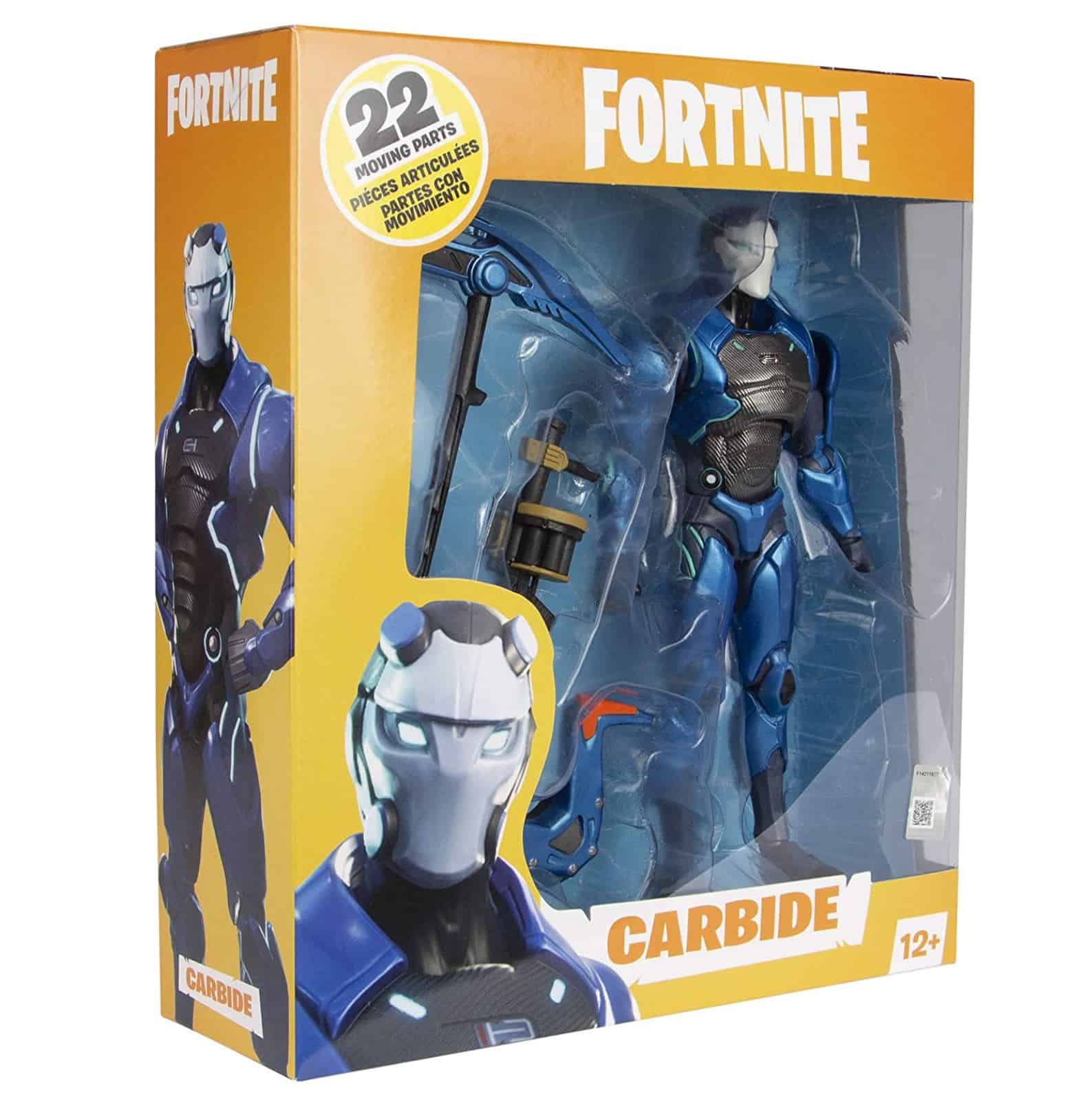 Carbide is like the sometimes lesser-known sibling to Omega, one of the best skins in Fortnite history. Carbide is no slouch, either, having a blue and black armor set that is bulky and packed with detail. What I appreciate about this particular figure is that it did a great job of bringing that detail to life.
The figure does so, too, in a significant way since this is a seven-inch figure that isn't exactly tiny. You get a decently sized recreation of this fantastic skin, and it comes with some bonus items, too. You get a grenade launcher weapon for Carbide to use and back bling. While it can be used for playing, this is primarily supposed to be a collector's item.
Pros
Carbide looks great in figure form
An excellent toy for both kids and collectors alike
22 points of articulation make for some nice poses and pictures
Cons
I would like a few more extra items, like another weapon, for this hefty price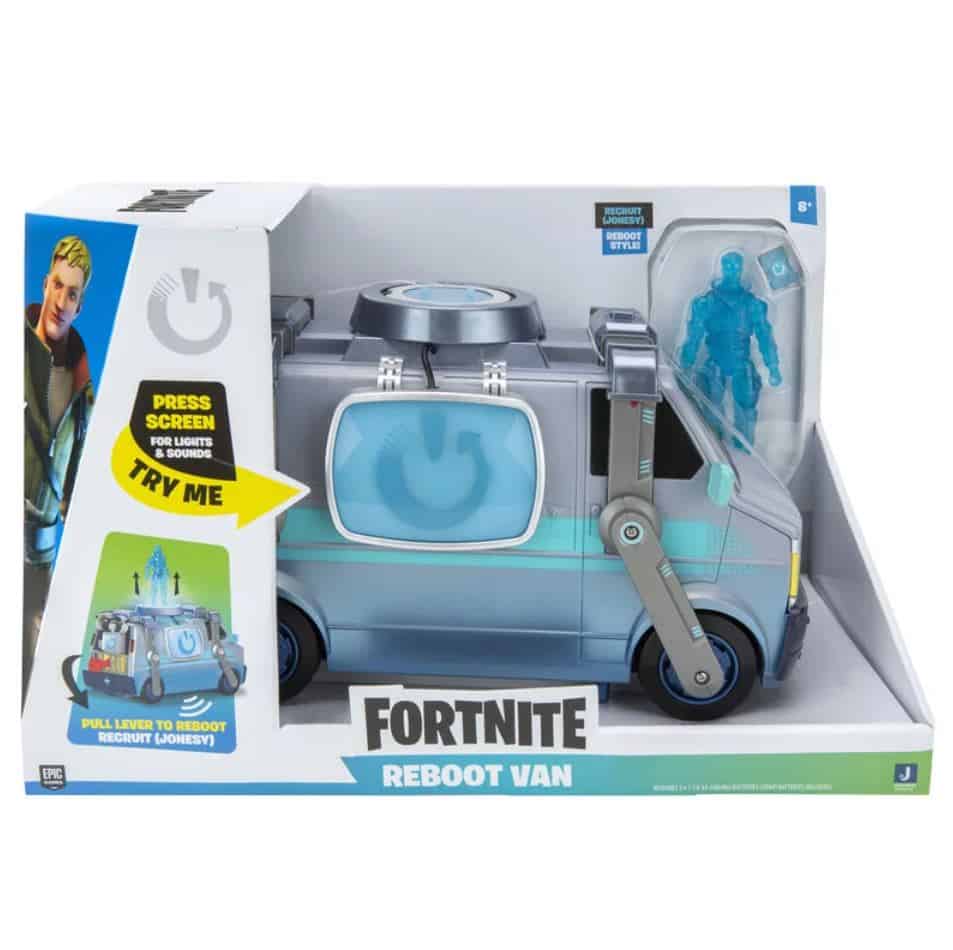 For anyone like me who spends a lot of time playing with loved ones, a reboot van is a place you'll likely visit often enough. Those intense moments of protecting the reboot van as you try to bring back a teammate can be brought to the real world with this particular bundle.
The reboot van is large enough here to be the center point of your experience, as it will be larger than most action figures. It even comes with an extra Jonesy action figure, though it is a strange blue one. That isn't the focus here, though, as it is all about the excellent reboot van toy.
Pros
The reboot van can be the focal point of countless play scenarios
It is more significant than most action figures, so it feels proportionally right
Cons
I'm not a massive fan of the Jonesy figure it comes with, but that is mostly a freebie at best, anyways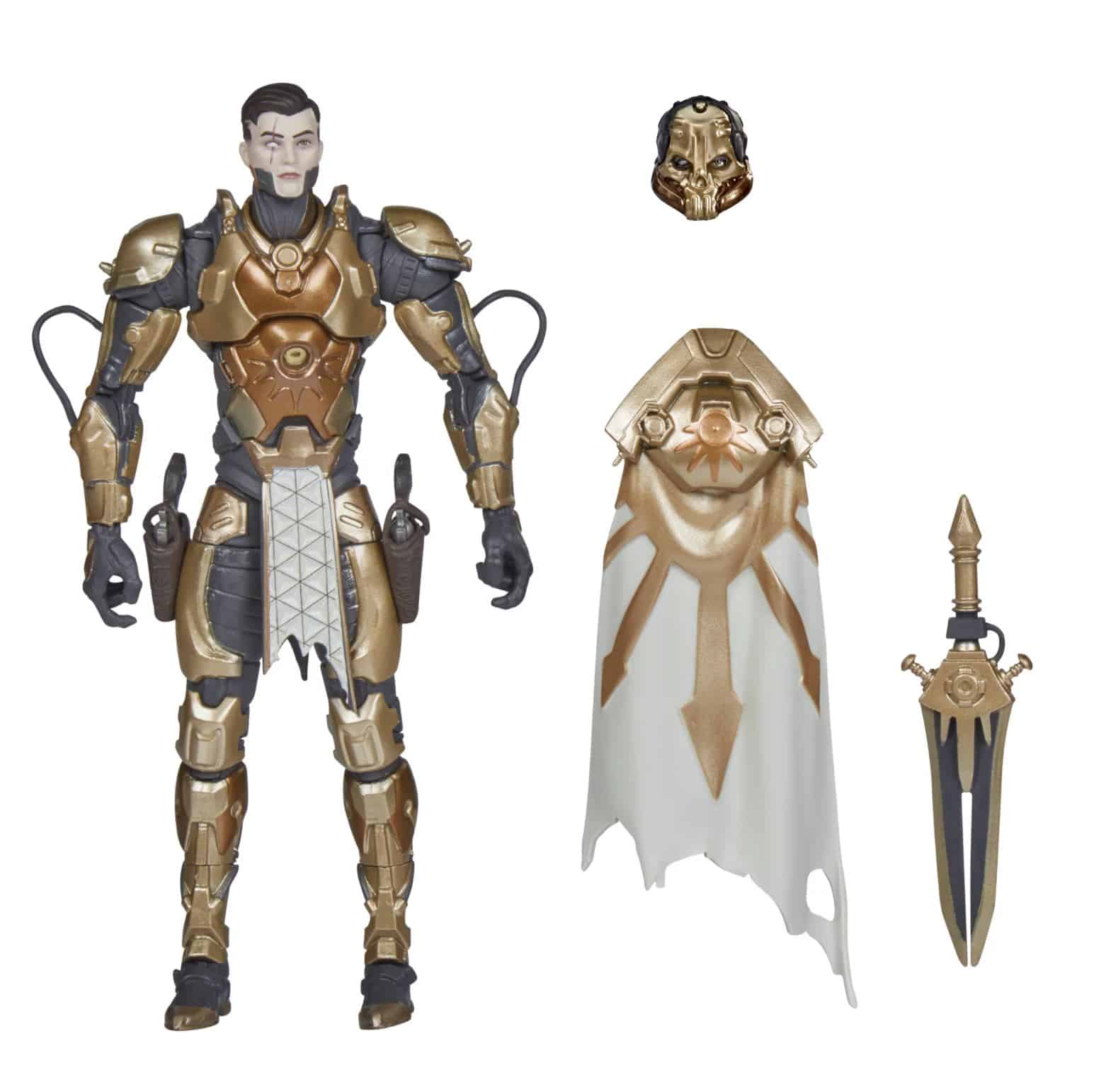 Midas is a character that most players know, love, and have a skin for. But Midas Rex is one of the most elusive and best versions of the character, as seen in this action-figure version of the armored master of all things gold. This version of him appears to be an android king of some kind.
He has elaborate muted golden armor with a high level of patterns and accents throughout it. The action figure version is about as good as it gets when bringing this complicated skin to life. Not too expensive, but still a strong recommendation; this is one toy I consider a collector's item.
Pros
The choice to go with Midas Rex was a smart move
Surprisingly priced for how detailed it is
Extra accessory items are fantastic
Cons
It would be sad to see this masterpiece dirtied up or broken; primarily for collectors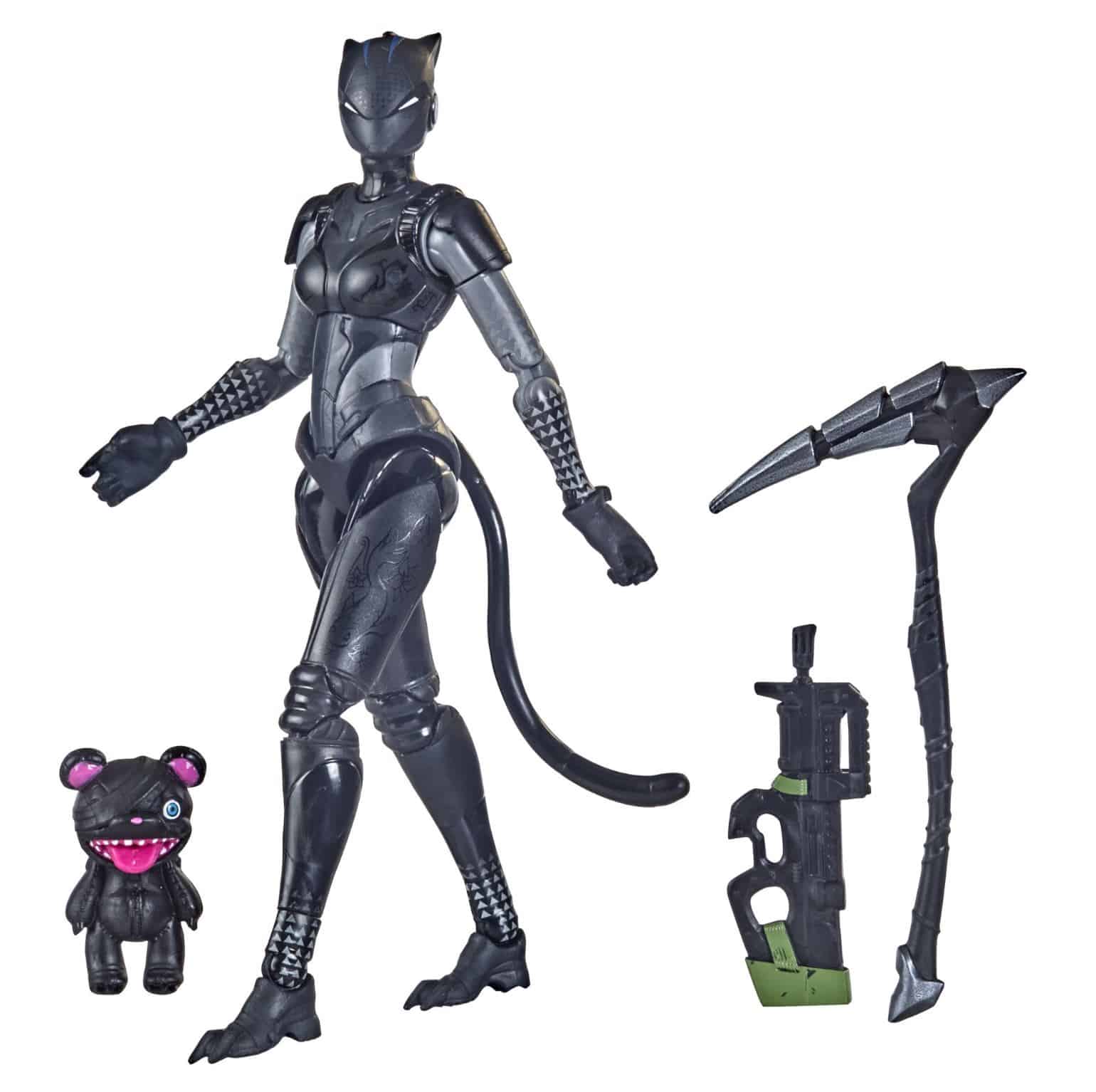 This list wouldn't be complete without including one of my favorite skins on it: Lynx. This is a skin that I used for many seasons of Fortnite and still go back to fairly often. The wonder of her is shown in this highly posable action figure.
To be clear, Lynx isn't that hard of a skin to create a figure for but the many articulate points on her help in this case. Plus, her scythe-style pickaxe accessory is fantastic and makes up for some of the other accessories I'm not as huge of a fan of. I wish there were other armors you could pick for her to match the skin version.
Pros
Many articulate points to pose with
Lynx is here in lovely action figure form from helmet to tail
The scythe bonus item is just as detailed as Lynx
Cons
Lacking the different colored armors that Lynx is known for
The other two bonus accessories that aren't as necessary don't have the level of detail as Lynx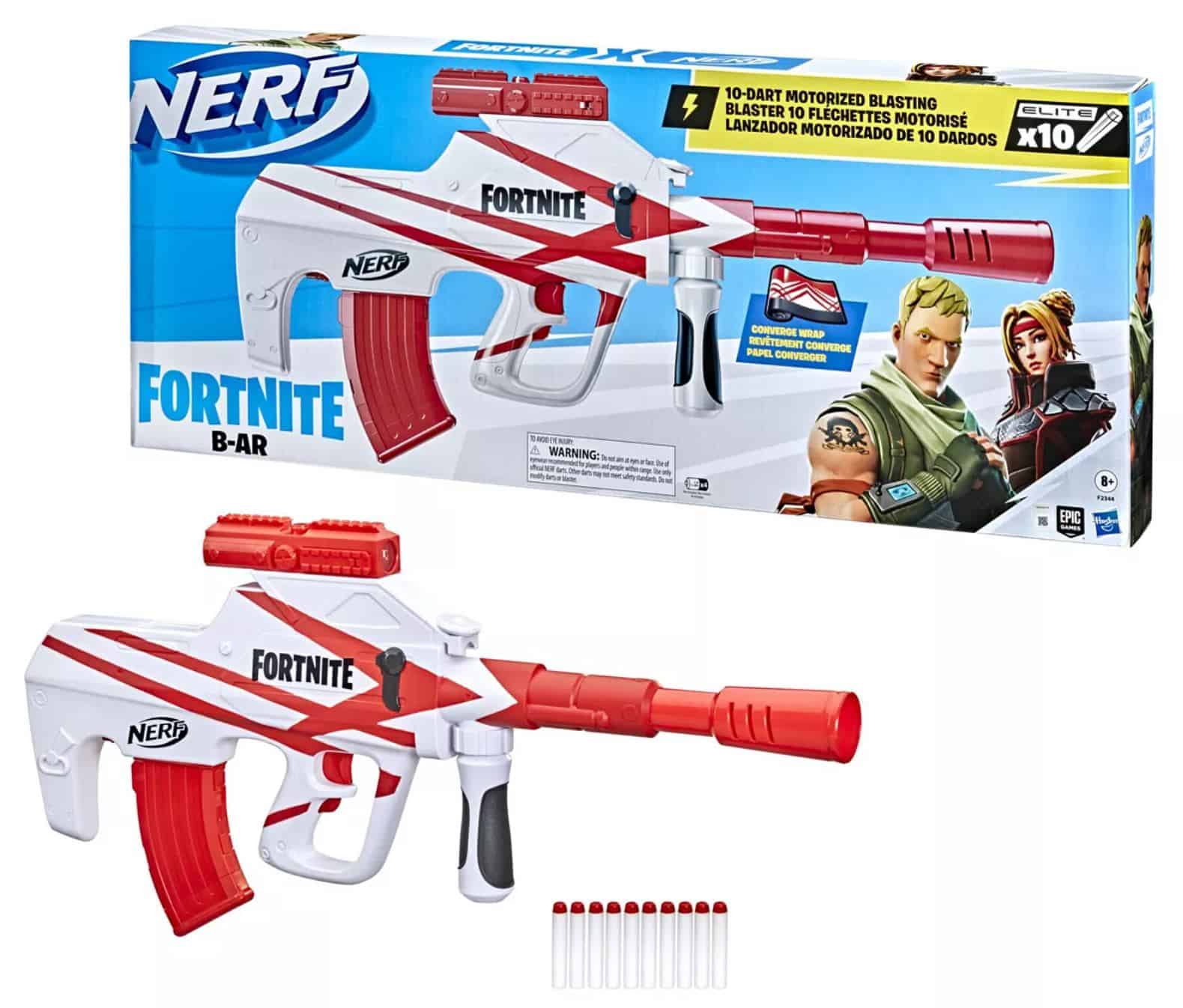 I'll be very clear from the start: I bought this specific dart blaster for a loved one of mine and have used it myself. My direct experience with this blaster can tell you that not only does it look quite a lot like one of the assault rifles from the battle royale game, but it is a hefty toy gun.
It takes batteries and fires nerf bullets in an insanely quick fashion, which is worth noting. But when it comes to premium nerf guns out there, this is the best of the best. In my experience, it is a safe toy that, even with its speed, doesn't hurt much to be pelted with nerf bullets. However, I only recommend this for older kids, preferably ten and up, if possible.
Pros
The best toy gun you'll find for Fortnite
It looks similar to an assault rifle from the game
I appreciate the unique red and white pattern it has
Cons
Some may understandably not like the motorized feature
Certainly not for younger kids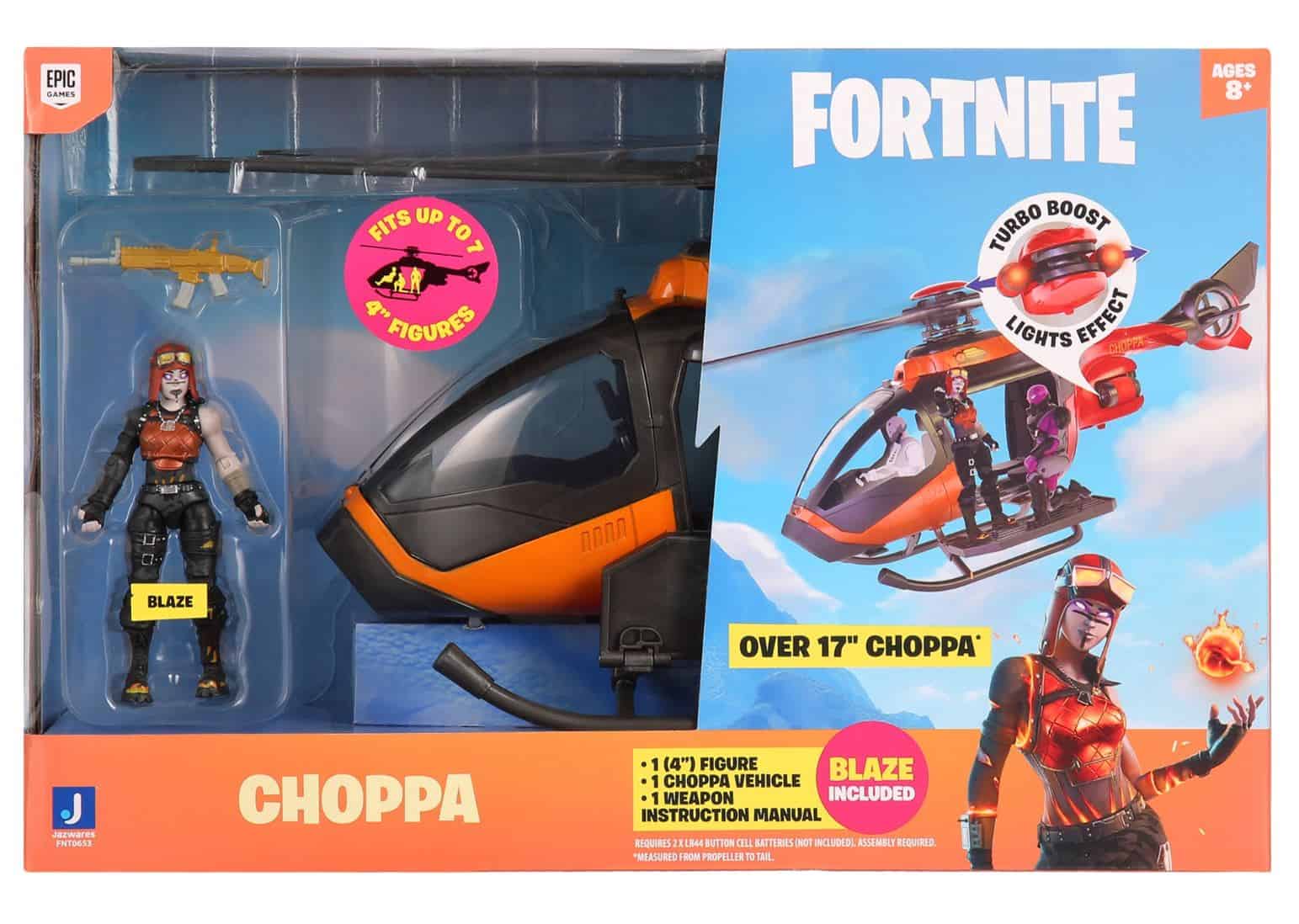 To this day, my favorite vehicle in Fortnite history (unless you count the jetpack) has to be The Choppa helicopter. It felt like the right balance of speed, power, and health. There are a lot of unforgettable memories of playing Chapter 2 while using this vehicle, and you can bring those memories to life with this toy.
It pairs nicely with other action figures and toys, acting as the vehicle your characters can use to maneuver around your playing area. The orange and black design is slick, while it also comes with a couple of bonus figures in the form of Blaze and Tempest. Honestly, they're not my favorite characters,, but The Choppa is the real focus here.
Pros
The Choppa is the best vehicle in Fortnite, so arguably also the best toy vehicle.
The orange and black color scheme is terrific
Some excellent bonus figures to start with
Cons
Not the best bonus figure selection, but I can't complain too much when the vehicle is more than worth it alone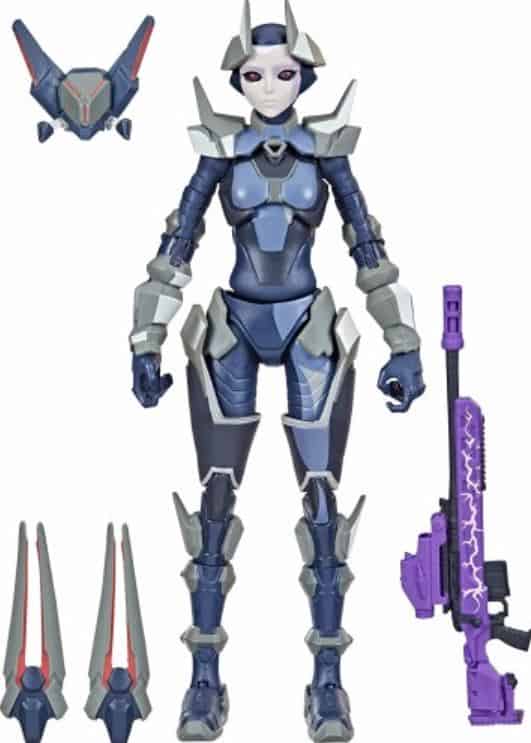 One of the more recent action figures on this list, Lexa, is a fan-favorite skin for a reason. This armored cel-shaded anime-style character comes to life in a figure about as good as it gets for the particular style she has going for her.
The armor features all of the pointy sides and patterns to her, plus a few unique accessories and a weapon that matches the quality of her figure.
Pros
Lexa's unique style and design work well in this figure form
The bonus accessories are as good as they get, matching her quality
Cons
A way to light up her eyes would be the cherry on top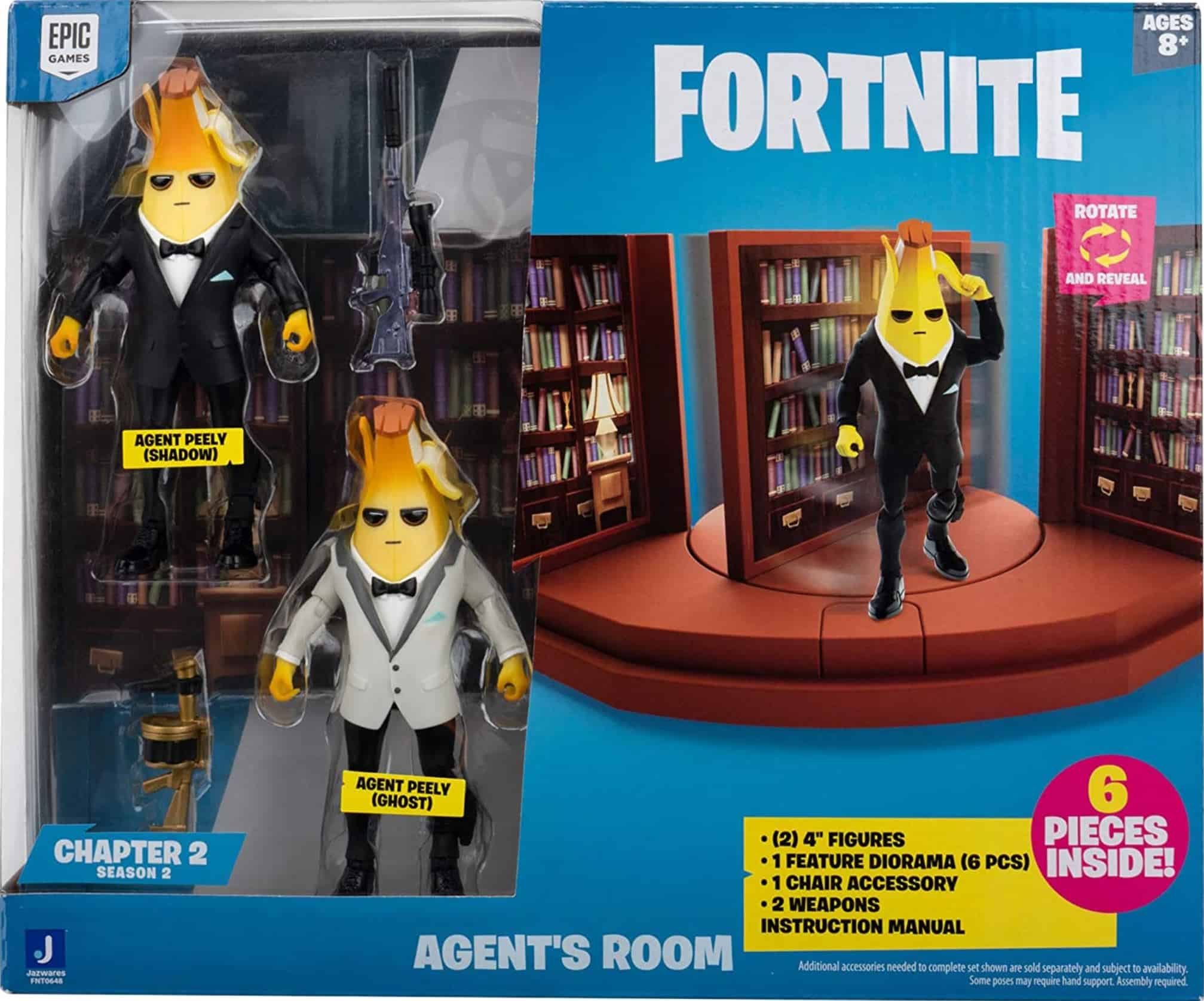 If you've read our site before, you'll know that Peely is one of my two favorite Fortnite original characters and this play set pays homage to the humanoid banana figure in the best way possible. For starters, you get not one but two Agent Peely figures that match the Ghost and Shadow versions of the spy.
But he isn't even the real star here, as that honor goes to the highly intricate agent room he lives in. This room has many parts, including a rotating platform and a secret passageway. The creative options for play here are so strong.
Pros
Opportunities for play are endless with this secretive play set
You get not one but two Agent Peely skins!
The Ghost and Shadow variants are nice
Cons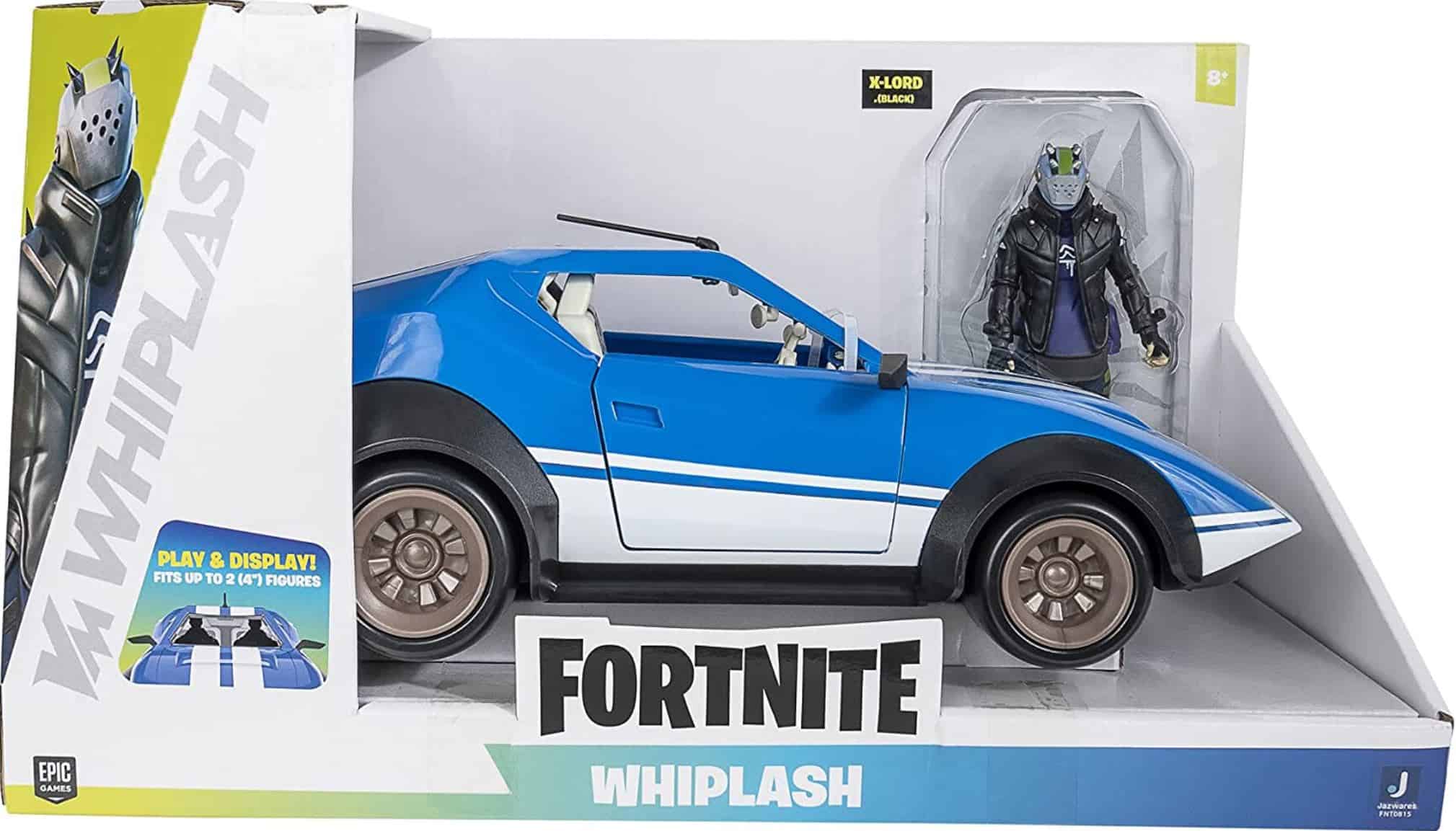 For my fans of vehicles, we have the Whiplash sports car here. Arguably the best type of car you can use in the battle royale game, its pick as a toy set isn't surprising in the slightest. Everything from the stripes on the vehicle to the spoiler in the back to the thick tires is featured here.
The car on its own is the centerpiece of this set, but, like other vehicles, there is a bonus in the form of the X-Lord skin figure. The muscle head character fits this set quite well, and the best part is that this is moderately inexpensive.
Pros
Pretty cheap for how good the car is
The bonus X-Lord figure is excellent for beginners
Cons
I wish there were more car color options besides just blue and white.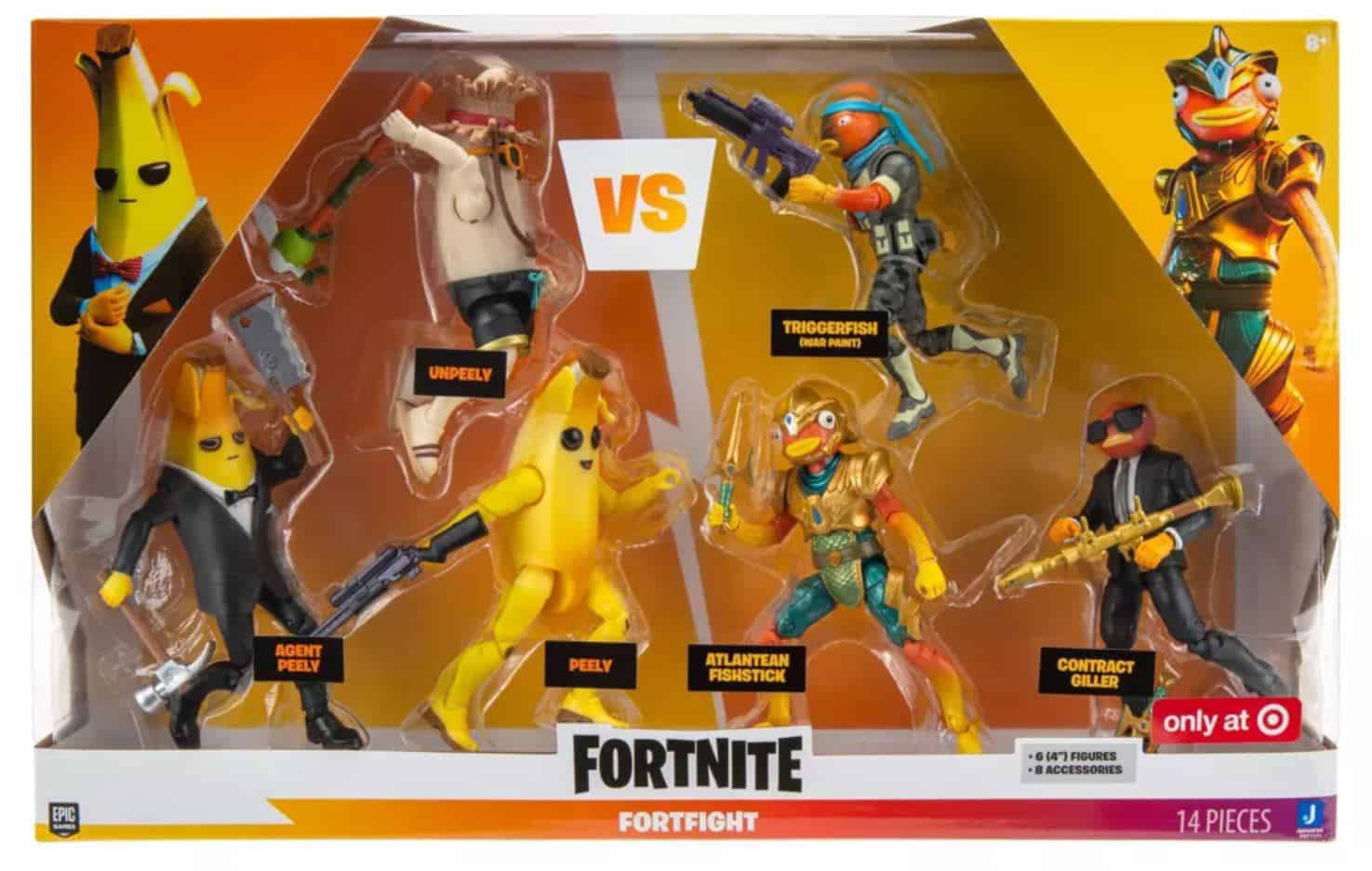 Peely is already back once more with this unique Team Fishstick vs. Team Peely set. If you already have something like the reboot van or other vehicle set, this is one way to populate your collection with many figures at once.
No matter what side of the war you fall on (Team Peely for myself), these six skins include some of the best and most beloved characters in Fortnite's history. It's not a cheap set, but you get what you paid for, with bonuses for every single figure.
Pros
Six of the best skins from Fortnite together in one set
Bonuses for every figure
Excellent for someone looking to pad out their collection of toys
Cons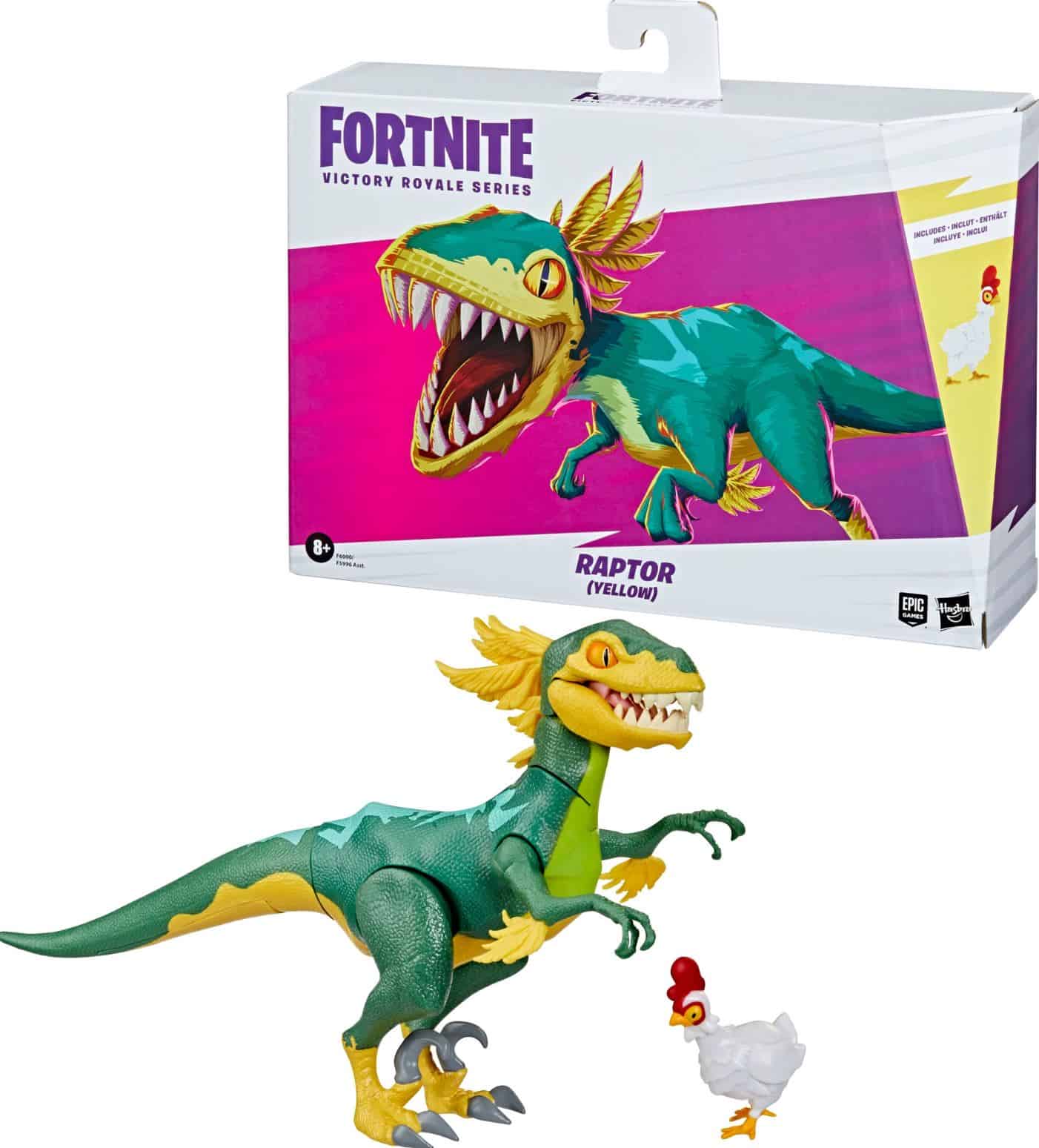 On this list, there are a lot of figures based on skins from Fortnite but few outsides of that. This yellow raptor toy is the exception here, bringing some of the wildlife from the battle royale island into the real world. The raptor is large enough with plenty of movable parts to have it hunt down the figures you have.
In addition, you get a bonus here with the green and yellow raptor coming with a chicken as well. This way, you can have plenty of horrific roleplaying sequences involving perhaps the figures hunting down the chicken and the raptor hunting down the figures.
Pros
Raptor is a unique toy for Fortnite
It comes with both the scary dinosaur and a chicken
Cons
It may have needed an action figure to justify its suggested retail price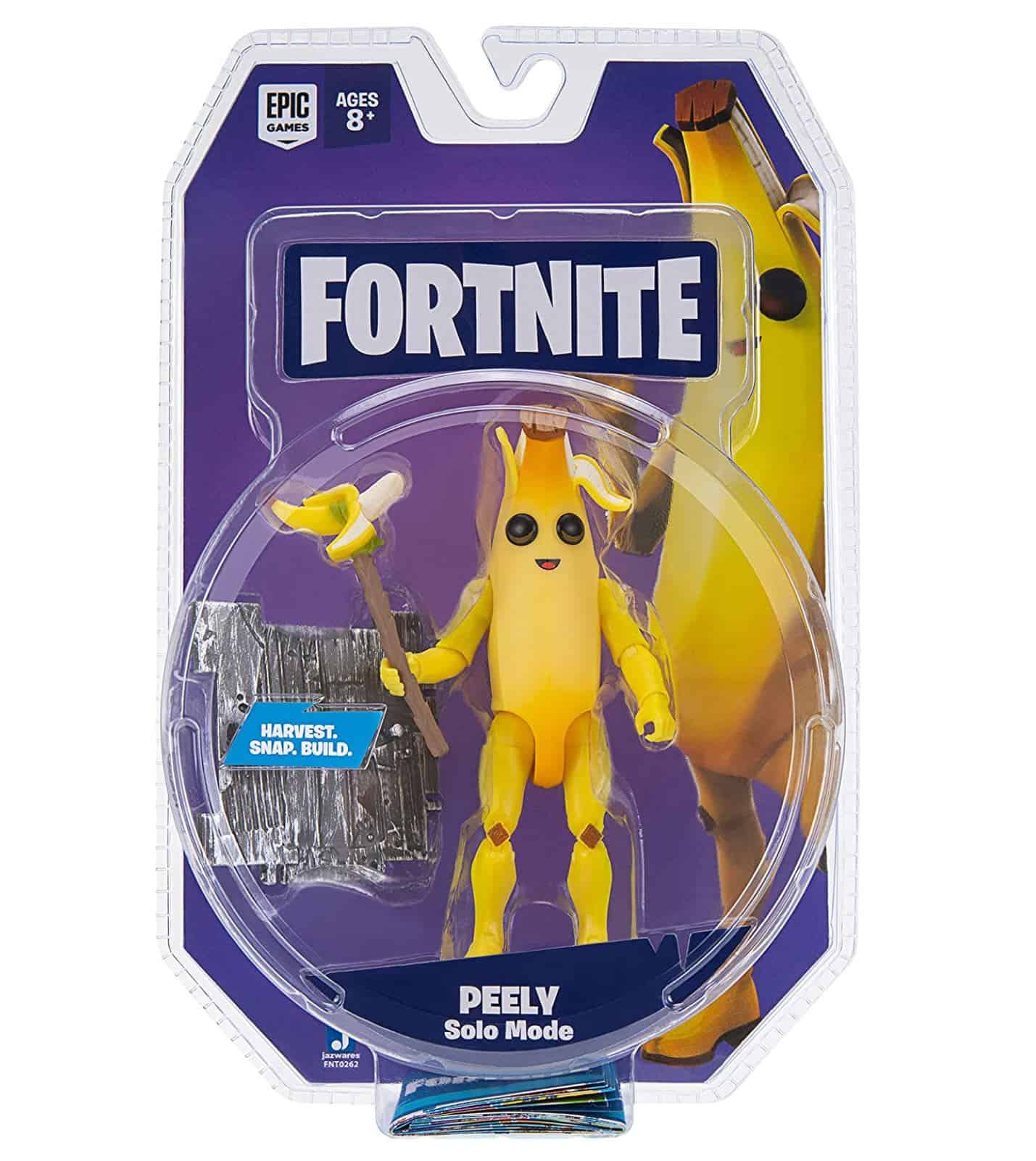 Peely has been featured a lot on this list, and that wasn't just because of bias (though that helped) but how much effort and talent is put into his figures. This one is as simple as it gets, being a relatively cheap collector figure that has Peely with his smiling face alongside his banana pickaxe and a stand for him.
Pros
Mainly for collectors, but you can play with the toy
Peely!
Cons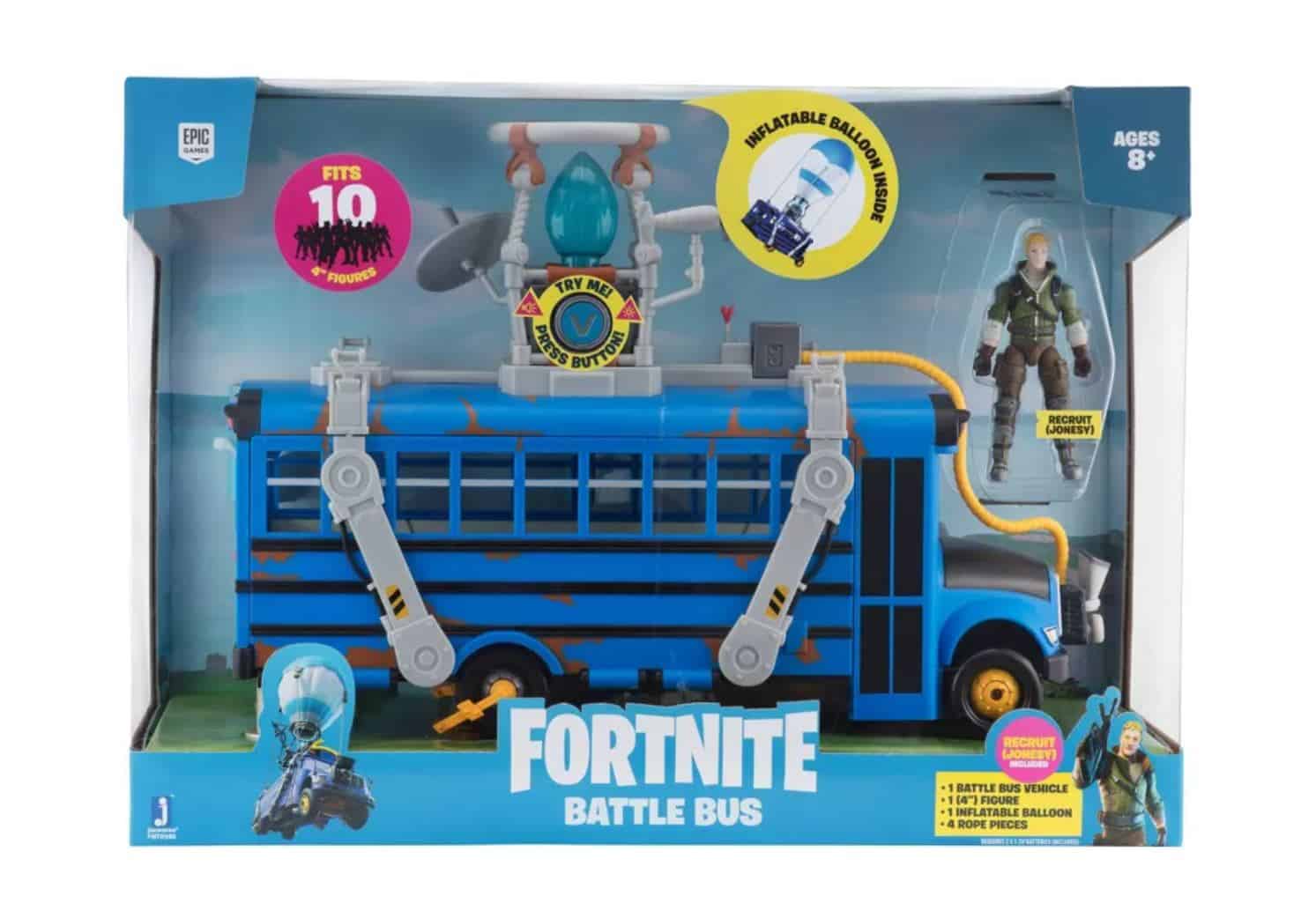 The mysterious and always present battle bus comes to life with this massive set. You can open up the bus for the first time, set figures in the seats, and have your own little battle royale match-dropping scenarios as you please. The 14-inch battle bus is enormous, so it comes with a hefty price tag. Thankfully, you get a free Jonesy Recruit skin figure as your first passenger.
Pros
The battle bus in the best form possible for a toy
You can open up the bus and sit figures inside of it
It comes with a free Jonesy figure companion
Cons
This is one of the most expensive items on this list (but worth it)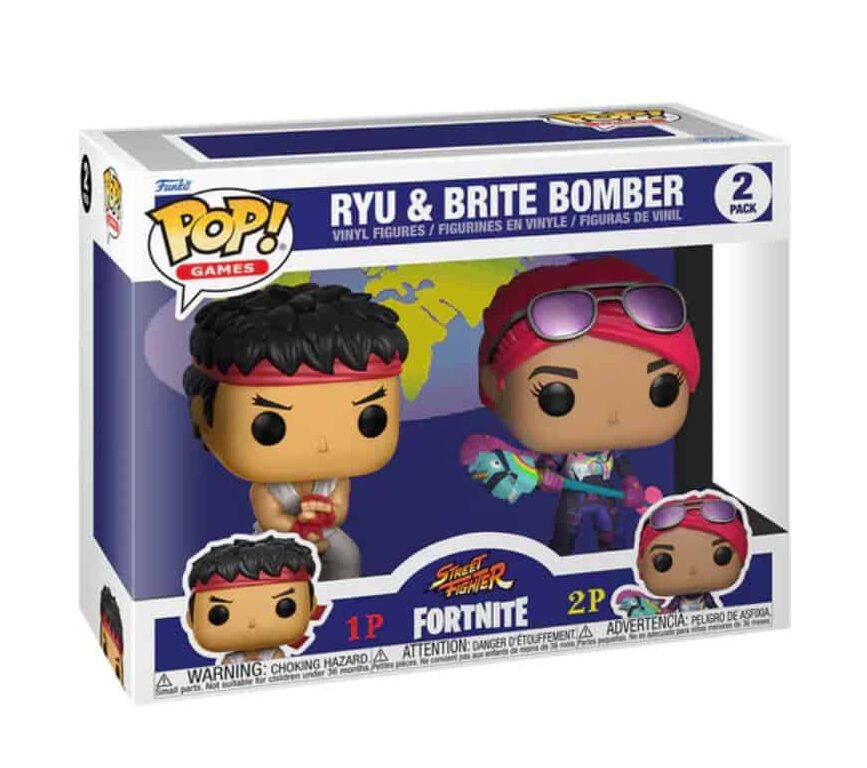 In the only exception on this entire list to the no crossover rule, we have a Funko Pop pack that comes with not one but two different figures. The first of these is the classic Brite Bomber, the extraordinary blue and pink fan favorite girl who many dresses up as for Halloween. In addition, you get Street Fighter's Ryu in a cute but slightly menacing form. Both look pretty good in Funko Pop form.
Pros
Street Fighter's Ryu and Brite Bomber both look natural in their Funko Pop forms.
You get two figures for pretty much the price of one Funko Pop in most cases.
Cons
These two have almost nothing in common. Why were they picked to be together?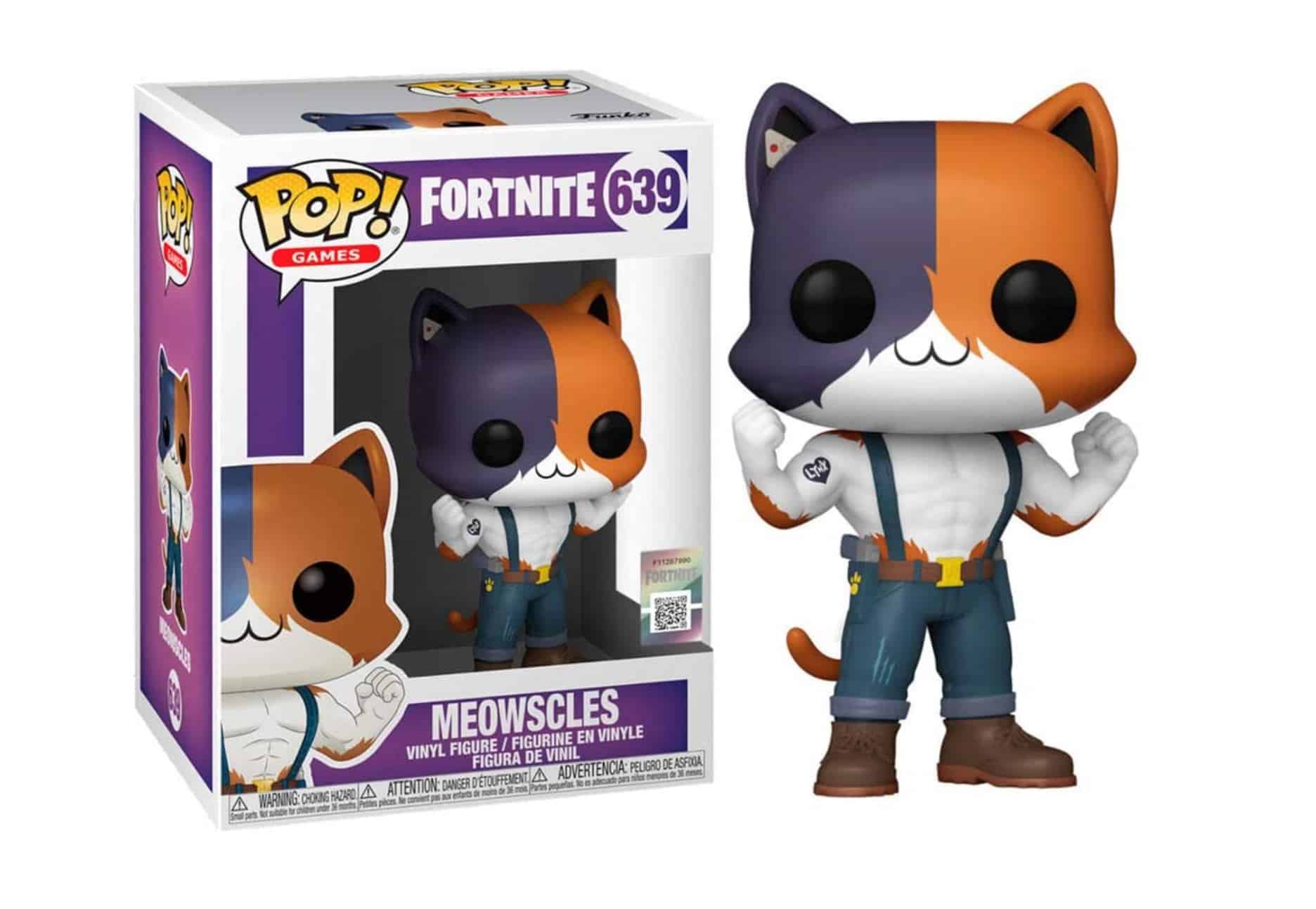 My boy Meowscles is my favorite Fortnite character of all time, so it would be a shame if he didn't show up at least once on this list. It turns out that Meowscles just so happens to have the very best Fortnite Funko Pop figure. Everything from the chibi version of him to the still muscular nature to his clothing and his beady little eyes is perfect.
Pros
I'd argue that Meowscles in Funko Pop form might be better than the skin version somehow
Everything about him is perfectly recreated in chibi form
Cons
I guess this might not be for you if you don't like cats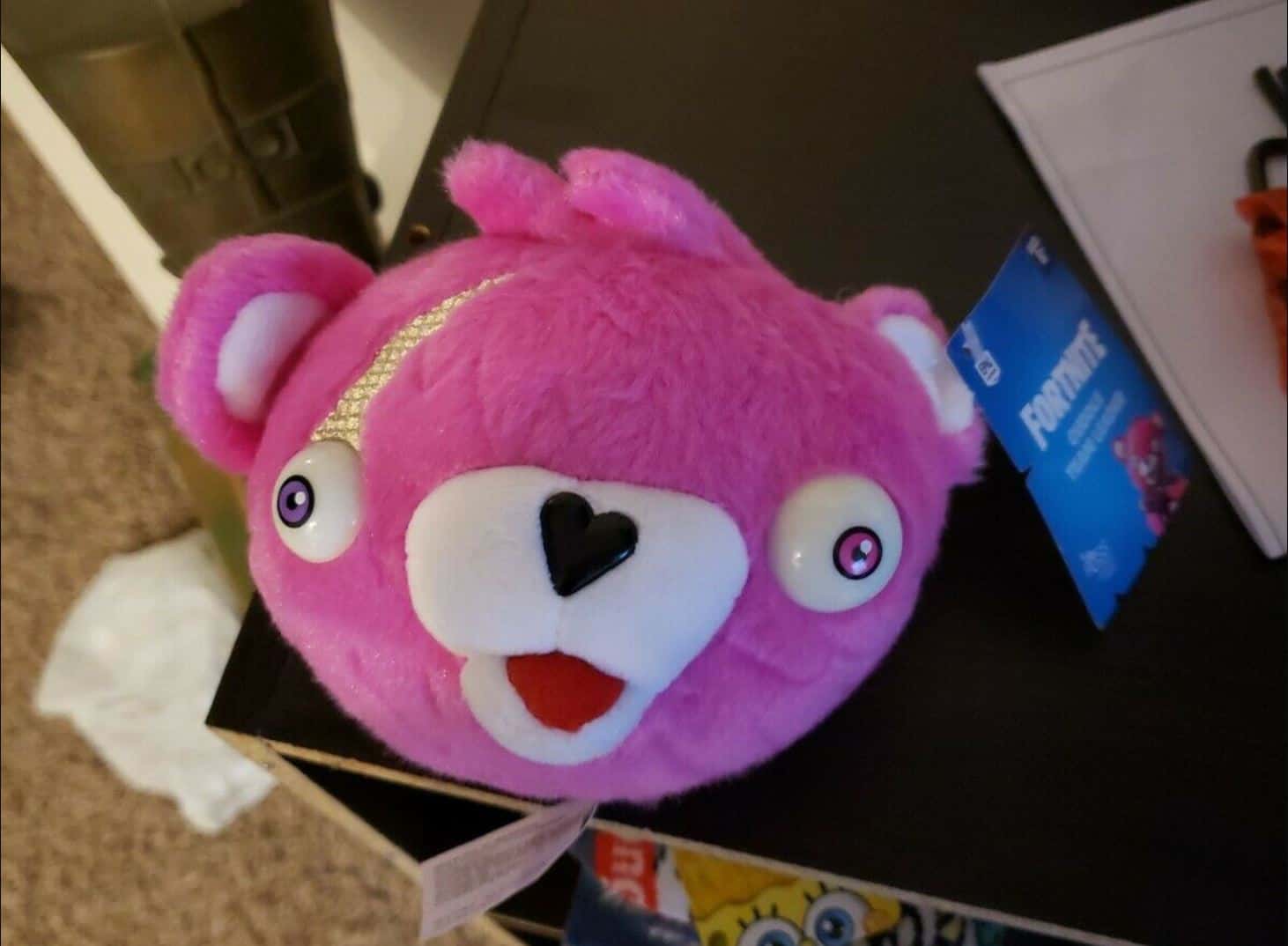 Cuddle Team Leader arrives on the scene with this plushie that isn't of the character's entire body but just her head for some odd reason. As if Cuddle Team Leader wasn't creepy enough on her own, the plushie creators decided to focus only on her noggin. That said, the pink cuddly bear person looks exactly the same here, making for the perfect cuddling partner.
Pros
Cuddle Team Leader couldn't look creepier with only her head (for better or worse)
Though only the head, Cuddle Team Leader has never looked better
Cons
Why only the head for this plushie?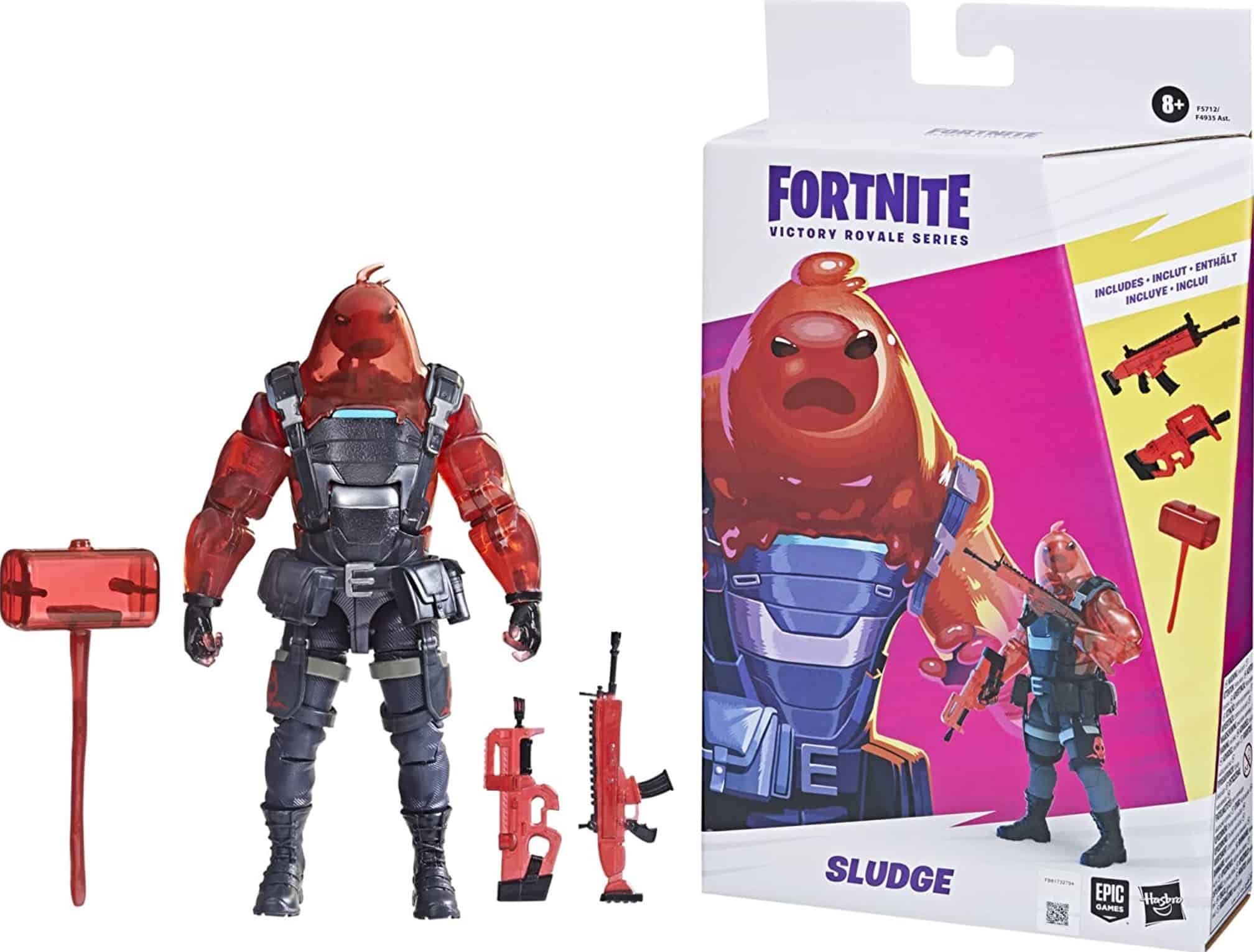 Rippley vs. Sludge is one of the strangest skins to ever release in Fortnite's history, being a slurp juice monster wearing armor. What I find fascinating about this toy is that it features the red version of the Sludge character, not the default blue, which is a bold but wise choice. In addition, I am a massive fan of the transparent nature of this figure, which is so unique compared to everything else.
Pros
The red version of Rippley vs. Sludge was a risky but smart choice that works out
The translucent nature of the character's body looks fantastic in figure form
Cons
Other options for the character would be nice at least
The eternal battle between the fast food chains of the Fortnite world has invaded the real world, too, with this Durr Burger food truck set. No matter if you prefer Pizza Pit, there is no denying the strong level of detail in this food truck vehicle. You can ride around with it, staking your claim in the fast food war, and use it as a nice set piece when roleplaying battles. It helps, too, that it comes with a tiny but well-done recreation of Beef Boss in figure form.
Pros
The Durr Burger food truck looks great
This vehicle works as a pleasant place to have figures fight around
The Beef Boss figurine is small but mighty
Cons
Fans of the Pizza Pit fast food chain in Fortnite might have something to say about this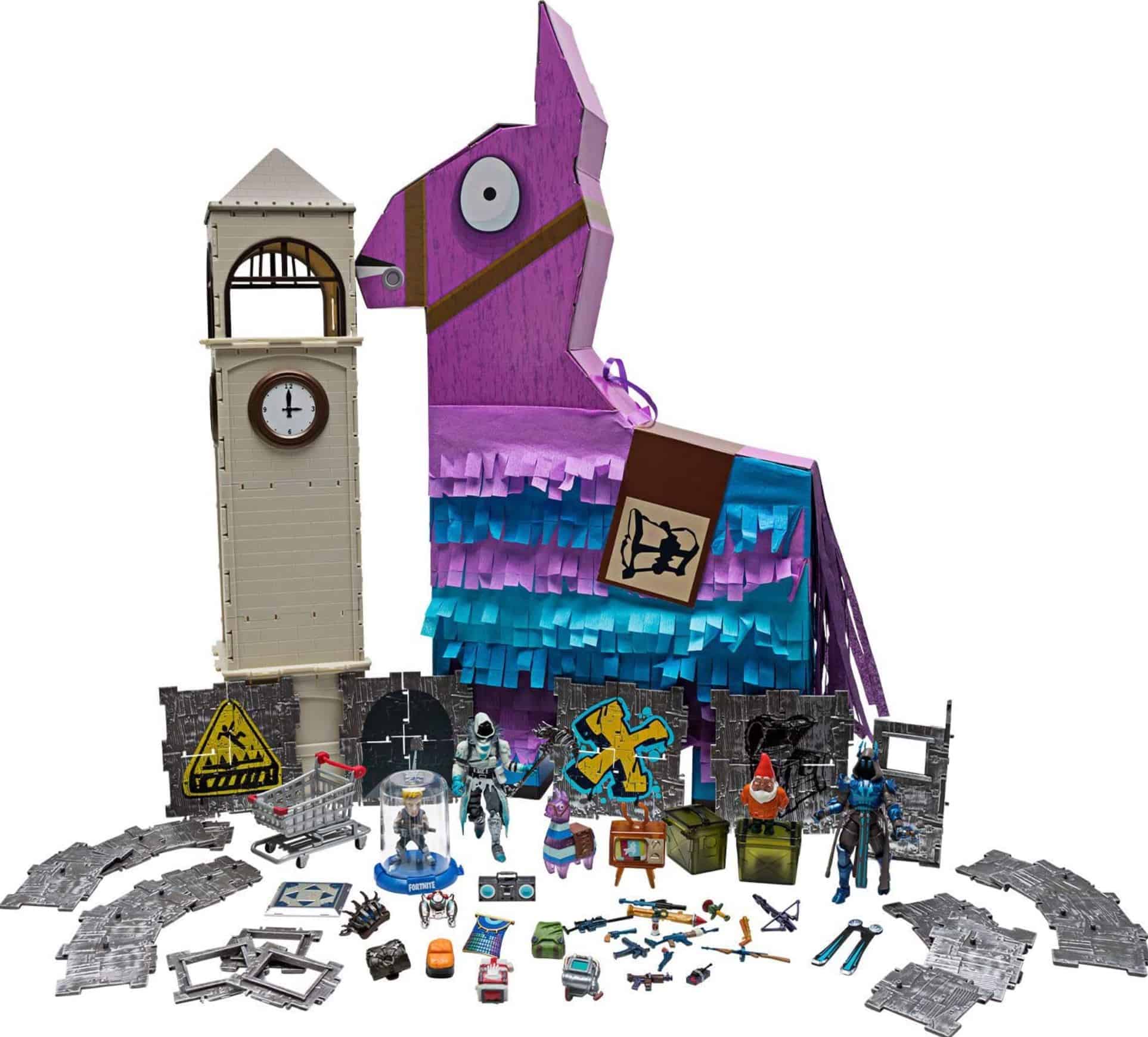 The ultimate beginner's play set in Fortnite has to be the Jumbo Loot Llama Piñata. This baby is absolutely chunky, showing off a large recreation of the fan-favorite loot llama. Sure, there are plenty of loot llamas out there for you to buy but this one is rather special.
It contains around 100 different pieces of equipment and characters around. There are graffiti walls, weapons, random items, and figures that are found inside. It even has the Tilted Tower clock tower, ensuring that you have tons of play with this one very expensive item.
Pros
Loot llama is massive and filled with so many items
There are so many fun roleplay possibilities with these items
Perfect beginner's play set
Cons
It's going to cost you a whole loot llamas worth of coins to get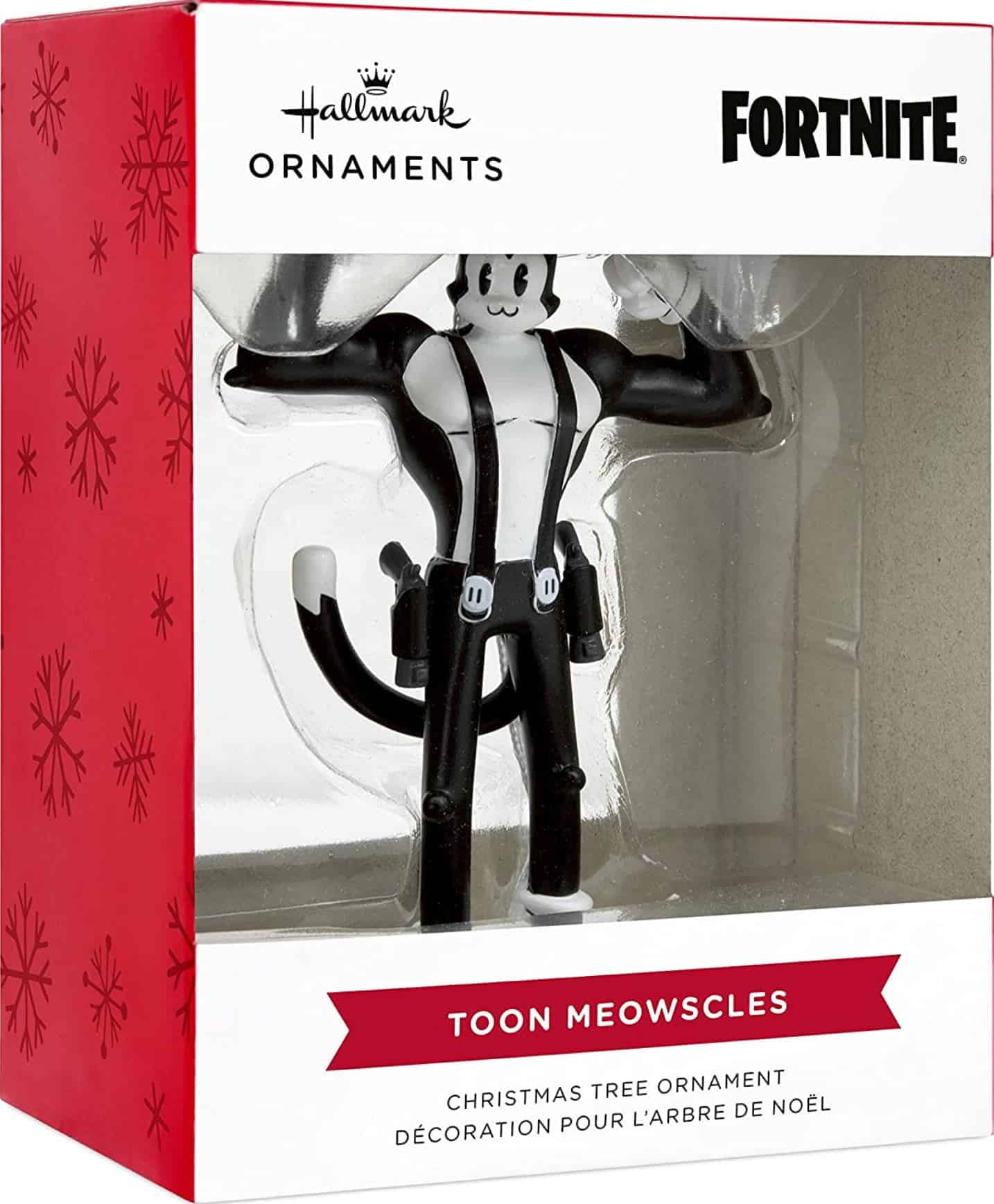 Hallmark came out with a unique toy that doubles not just as a wonderful action figure version of Toon Meowscles, but also as a holiday ornament. Toon Meowscles is my favorite version of my favorite Fortnite character and the black and white character looks terrific here. It's nice that you can not only play with this but hang it up on a Christmas tree.
Pros
Amazing figure version of Toon Meowcles
Doubles as a holiday ornament
Cons
This is a more delicate item
FAQs
Question: What company makes Fortnite toys?
Answer: There are quite a few companies that make Fortnite toys. To name a few that are out there, there are Jazwares, Funko, Hasbro, and McFarlane.
Question: Does Jazwares still make Fortnite toys?
Answer: Yes, Jazwares still makes Fortnite toys as of the time this guide was written. There are new offerings regularly being sold.
Question: Do they make Fortnite Legos?
Answer: There are a couple of Fortnite Legos sets that exist but they are few in number and mostly focus on Lego Fortnite characters. They're honestly a bit disappointing in scope, hence why they aren't on this list.
How to Show Your Love for Fortnite
At the end of the day, there is only so much money we can spend on toys and gifts for our loved ones. If you are in a position where you have limited funds, there is a single Fortnite toy that I consider to be the best of the best that you should buy. That toy is the adorable Meowscles Funko Pop that is affordable, fun to play with, and a great collector's item. When you're ready to expand your Fortnite horizons beyond toys, show your love through some of the epic shirts that exist.
For more interesting readings check out: