Latest posts by Alizabeth Swain
(see all)
Are you even really a Fortnite fan if you don't have at least one piece of merch? 
Yes! 
I've been obsessed with Fortnite for close to two years now, and I haven't snagged myself a piece of Fortnite merch yet. There are so many options out there that it's really hard to narrow it down to just a couple of choices. I don't really see Fortnite merchandise in stores, so I've had to go online to find a few options to pick out. 
As I was looking through it for myself, I realized how difficult it was to find a place to start. After all, finding Fortnite merch doesn't just mean looking around for shirts. Fortnite is so popular that Fortnite merch has spread to car gear and even home decor! I've spent hours looking around to find the best Fortnite products in different categories.
No matter who you're shopping for or what type of merch you're looking for, there's something on this list for everyone. I don't want you to think that this list covers every single piece of Fortnite merch ever created. I've only included my favorite products in this list. Let's get started
Bottom Line Upfront
 It's really hard for me to narrow down my favorite item. So, I'm going to list a few of my top picks for you if you don't have time to sort through this entire list: 
It was really hard to pick these three items because I seriously love everything on this list!
Wearable Gear
I always think about t-shirts, hoodies, and sweatshirts when I think about merch. I feel like it's the best way to show your Fornite pride to the world. It's such a great feeling when you go out in public and see someone's reaction to your shirt. I've made a couple of gamer and music friends this way! Not only is it a cool way to show your passion, but who doesn't love a t-shirt or hoodie as a gift? 
1. T-Shirts
If you're looking around for a gift, there's no way you can go wrong with a t-shirt! You can wear them all year round. I love getting matching t-shirts with my husband to wear out in public. I don't have a "lucky" Fortnite shirt yet, but I think I need to try out a few more designs before I pick my "lucky" shirt! 
I looked around for t-shirts from all over the place. There are a few official designs in this list, but part of the fun of Fortnite is the community. There are a lot of fan-inspired designs in here, which are all super cool!
2. Hoodies and Sweatshirts 
I would much rather receive a hoodie or a sweatshirt as a gift, because I love being bundled up. All of these options are so cozy and cool, it'll be hard to pick just one! Wearing a sweatshirt while I'm sweating it out may seem like a crazy idea, but I feel like the comfiness of my favorite Fortnite sweatshirts makes it so much easier for me to focus. 
Even if you aren't a big fan of faux leather jackets, I would still highly recommend you take a look at it. It's SO cool!
3. Hats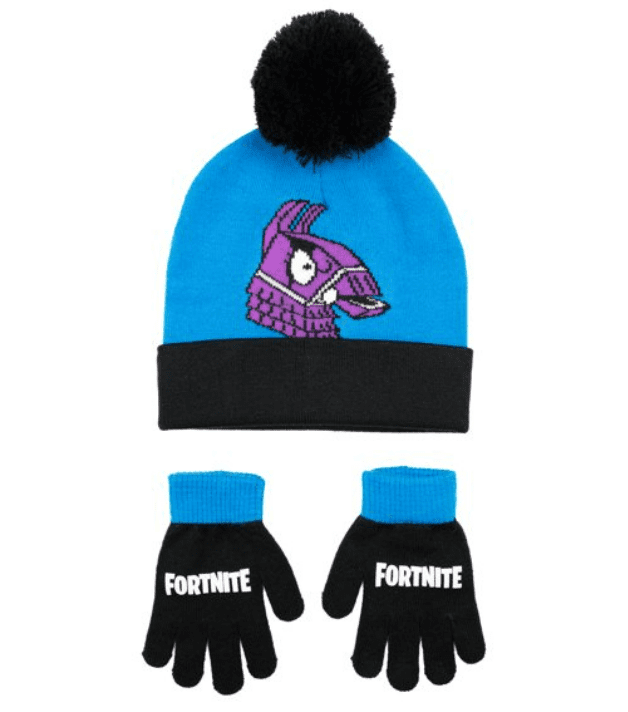 I have an 11 month old son, who isn't old enough to wear any of the hats I've listed here. I'm so excited for the day I'm able to buy him one of these hats! While he can't wear any of these hats, he still loves watching me play Fortnite. His favorite part? Watching me drop! I want to get him and my husband matching hats, like the Revive hat!
4. Backpacks 
If you're looking around for Fortnite merch to help cheer your kid up before they start school, you can't go wrong with a Fortnite backpack. They're so cool! I made sure to include some girl designs too because Fortnite isn't just for the boys! I love how bright some of these bags are; there isn't any boring or dull designs listed here. 
5. Costumes
Need inspo for Halloween or a dress-up party? The whole squad can go dressed up as your favorite Fortnite skin! I'm having a hard time choosing between Merry Marauder and Crackshot (my two favorite skins of all time). Don't forget to take a look at the Boogie Bomb accessory; it'll complete any Fortnite costume!
Decorate Your Home With Fortnite
Maybe you don't have the time to wear your favorite casual Fortnite merch. No worries! There are still plenty of ways you can represent your favorite video game. One of the best ways is to decorate your home with Fortnite! I've got a range of options here. I've clicked "Add to Cart" for all of these options!
1. Posters
The great thing about posters is they can go in any room. Even if you don't have a lot of money or a lot of space, posters make repping your favorite Fortnite scenes or screens possible. I love looking through all of the old skins, maps, and scenes. It reminds me of when I first started playing and how the game has changed so much. Plus, all of the different art styles that people draw the loading screens/posters in are so cool too!
2. Collectibles 
If your game room needs some sourcing up, you should take a look at these collectibles. I love how these collectibles aren't just made to sit on the shelf. You can still play around with these collectibles and re-live your most recent Victory Royale IRL! I hope more collectibles are released soon, I would love to collect all of the Fortnite skins that have been released so far to put in my gaming room.
3. Home Decor
Honestly, my favorite part about some of the options I've listed here is how nonchalant some of the patterns are. The camouflage curtains made me laugh! If I had walked into someone's home, I never would have realized that the pattern was someone's default dancing. While there are more obvious options to show off your love of Fortnite to anyone who enters your home, I think the not-so-obvious options are funny!
4. Official Collabs
Even if you're new to Fortnite, you'll know that they're always doing collaborations in the game. It seems like every week, Fortnite releases a new collab that everyone gets excited about (I'm really hoping Fortnite does a Doom Slayer collab soon). What I think is really cool is Fortnite's done collabs for physical products too. Here are a few officially licensed collaborations, so you can combine the best of both worlds! 
5. Toys
What I think I love the most about Fortnite is how it's a family-friendly game. My husband and I often talk about how excited we are for our son to grow up, so we can all play together as a family. I'm buying the RC baller for my husband for Christmas (please don't tell him). I included a variety of toys here, too, so don't feel limited. There are toys that are great for kids with more imagination and toys that are one-dimensional but still tons of fun.
6. Car Gear 
Want to make your car customized without having to take it to the auto shop? They've got gear for your car too! I just wouldn't recommend you drive your real car like you would a whiplash. While I'm normally a huge rainbow fan, I think the Midas steering wheel cover is SO COOL! Although, I'll admit I'm not a big fan of Midas in the game. Sweats are always wearing Midas, so I almost instantly rage when I see a Midas running my way.
I think the sunshade is also cool, but I'm not someone who uses sunshades often.
7. Stuffies 
Surprisingly, there are tons of different Fortnite skins available in plush form! I would love to fall asleep snuggling Guff, and that was something I thought before I discovered his 7-inch plush! I think the plush Fortnite skins are a great way to add a personal touch to your bewwwwwdroom, without having Fortnite overtake the entire space. I love how cute, soft, and huggable all of these skins are. Plus, they're a great option for a younger child, as they'll have their favorite skin with them while they grow up. How precious is that?
8. Funko Pop
Funko Pops have taken the world by storm, and if you're an avid Funko Pop collector who also happens to play Fortnite, I've got the perfect list for you! This list is by no means exhaustive, as there are always more Funko Pops (and Fortnite skins) being released. There is a variety of Funko Pops to choose from, with recent skin updates included (like The Scientist). I can't help but to fall in love with the Merry Marauder Funko Pop, but Peely does come in a close second.
FAQs
Question: Does Fortnite have official merch?
Answer: They do! They only sell their official merch on Amazon, though. There are a few retailers selling Fornite merch online (like Khols and Target).  Be careful because there are a lot of websites on Google that claim they're selling official Fortnite merch, but they actually aren't.
Question: Is Fortnite collabing with Destiny?
Answer: It seems so! Hopefully, we'll have some Destiny x Fortnite merch coming with this new collab too.
Question: Is Fortnite still free to play?
Answer: Yes, which is great, because you can spend the money you would've spent on playing on more Fornite merch!
Your Favorite Fortnite Merch
There are still so many I didn't include in this list! This list isn't exhaustive, but there are so many unique finds on here that it'll be hard to click off without buying at least two or three pieces.
Fortnite continues to grow and release new collaborations. I'm so excited to see what's in the future for collaborations and the new Battle Passes. I hope you love all of your new pieces!
For more interesting readings check out: