Latest posts by Cody Perez
(see all)
One of the more underappreciated parts of Fortnite is the hats you can wear. In my time since starting Fortnite in 2017, I have seen only a few people wearing Fortnite hats, and I will tell you that this is one of the best ways to show your love for the battle royale game. It is easy to make a solid Fortnite hat that adds to your outfit while showing everyone how much you love this game. If you wanted to know what the most amazing Fortnite hats are, you're in the right place.
With these amazing Fortnite hats, I aim to show you the best caps that you can add to your wardrobe that will show your passion and expertise in Fortnite. From focusing on different characters and skins in the game to just showing off nice logos for Fortnite, these different hats are all worthy of being part of your clothing set. Some of these are hats you can buy right now, while others are ideas you can take and custom-make yourself.
Bottom Line Up Front
The most amazing Fortnite hats come in a variety of different styles and looks. Some are darker hats with minimal lettering and images on them to not stick out too much but be there for those fellow Fortnite fans who happen to notice the hat you're wearing. On the other hand, some of the most amazing hats for Fortnite are bright, colorful, and in your face, with its Fortnite imagery so every person you walk by knows what you love. Both styles work, and you can get the best Fortnite hats from various places, including Amazon, AliExpress, Redbubble, and more.
Selection Criteria
First and foremost, I should get something quickly out of the way. I don't wear hats these days because of my long hair, and I haven't worn hats since I was maybe 11 or 12 years old. It was a training mechanism for my hair, but now it would mess my style up, but my love for hats remains.
To this point, I will say that while I won't wear hats, there are the rare winter days when I will wear a beanie every couple of years. If you see me with a beanie, though, chances are it's a bad hair day for me. Speaking of beanies, I think they count as hats in this case, so I included them as part of this group.
In addition, when picking hats, I am quite a picky clothing person, so I only picked things that I myself would wear or something that I would let one of my family members wear. You aren't going to see stuff that I don't think is quality enough to be on here.
That said, I did include some custom-designed items on here as ideas for making your own hat, and some of them might not be the highest quality hat, but I like the idea they have going on. When it comes to Fortnite-themed hats, my main goal is something that is stylish and represents Fortnite well.
This can be in a few different ways, like focusing solely on just a logo. But, generally, a logo alone isn't enough for me, so an excellent background or color scheme helps with that. Otherwise, I vastly prefer hats that do something unique, like focusing on a character or emote in the game itself.
Lastly, I tried to appeal to a broad range of hat preferences with this list. You won't just see stuff that I like, but hats that I can acknowledge are well-made, even if they aren't my personal style.
Amazing Fortnite Hats Ideas
Here are the very best Fortnite hat ideas that I could come up with from scouring the internet. There are surprisingly a lot of hats out there that exist for Fortnite, so we are spoiled for choice, honestly. To this point, I included 20 of the best Fortnite hat ideas I could find. They are listed in no particular order.
Starting off this list, we have an official Ninja-themed hat here. Though he is a bit in the background these days, Fortnite fans will likely remember Ninja, who was at one point the most significant content creator on the entire planet. There was no one else that dominated Fortnite and Twitch as he did.
The massive popularity that Ninja experienced led to his eventual line of merch and even a skin inside of the battle royale game itself. This hat is an official representation of Ninja's Fortnite skin, including the blue and yellow ninja character alongside his heavily stylized logo.
The blue and yellow ninja logo is so striking in its style, and I like that the hat designers paired this with a black and yellow hat. This wouldn't have been my first choice when it comes to a hat color scheme for Ninja, but it works pretty well in the end. The only problem with this hat is that it might be hard to find these days, so you may have to have it custom-made.
One element of hats you will see quite a lot on this list is airbrush custom ones. Even more than shirts, I think hats lend themselves quite well to the airbrush technique. In the truly skilled hands of someone who knows what they're doing, they can craft something special like this Skull Trooper hat.
It has Skull Trooper, one of the most beloved and original Fortnite skins of all time, with some impressive detail considering how airbrushing works and how small his head is on this hat. But what I appreciate is that they didn't just stop with Skull Trooper.
There is the dark purpleish blue night sky behind him and the spooky lightning that add to his Halloween feel. And to top it all off, they did their own take on the Fortnite logo with a sinister font that is a mix of pink and yellow. A solid and wholly unique design idea that you could take to someone you trust and have them make for you.
If you have seen one of our Fortnite clothing lists before, you will know it was inevitable. Floss Like a Boss had to show up at some point. Seriously, whoever first made this idea should have copyrighted it because Floss Like a Boss shows up on everything.
In this case, it is on an airbrushed hat where someone truly knows their stuff when it comes to fonts. The Floss Like a Boss logo is impressive, with some block text that is sharp and clean. On the sides are the two characters who are in the middle of flossing themselves.
I am not a fan of the color choices that this person picked for this hat, though, so I would take the dancing characters and the logo and have someone else customize this to my liking. Also, never put your child's name on the hat; that's just asking for trouble giving away personal info so easily.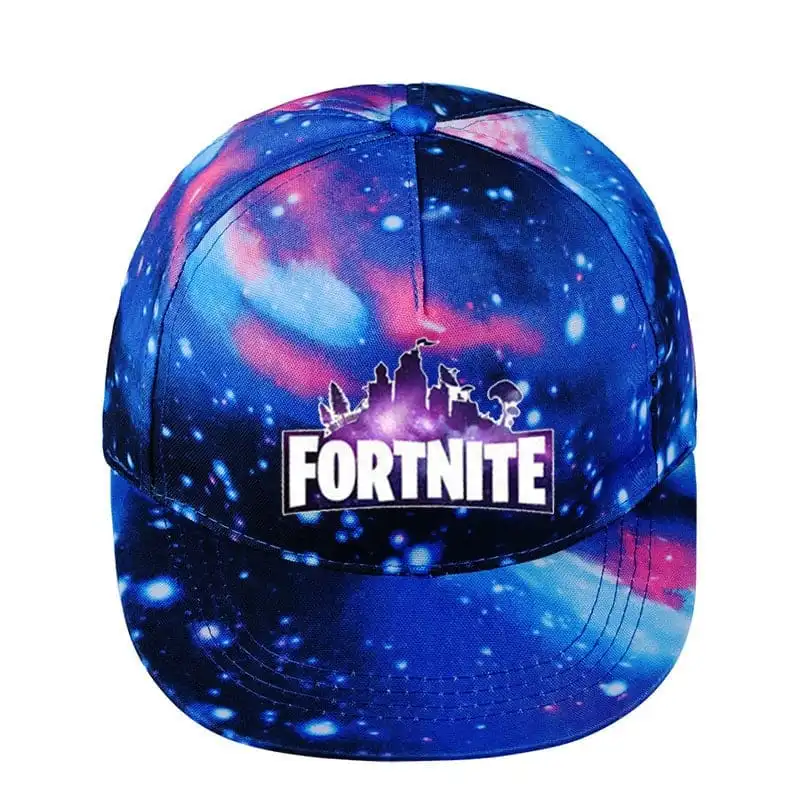 If I were still wearing hats today, this is the hat that I would instantly pick up from this list and have to wear all the time. It is the epitome of what I like about hats: clear about its intentions and what it represents but also not sticking to the basics with nothing else going on.
For starters, you have the Fortnite logo in the middle, which is one of my favorites, with the signature font and the island's horizon and Tilted Towers in the background. But the horizon itself is turned purple some by the galaxy background of the actual hat. This background is stunning and gives me vibes of the Galaxy skin, which is still one of the best ever to exist.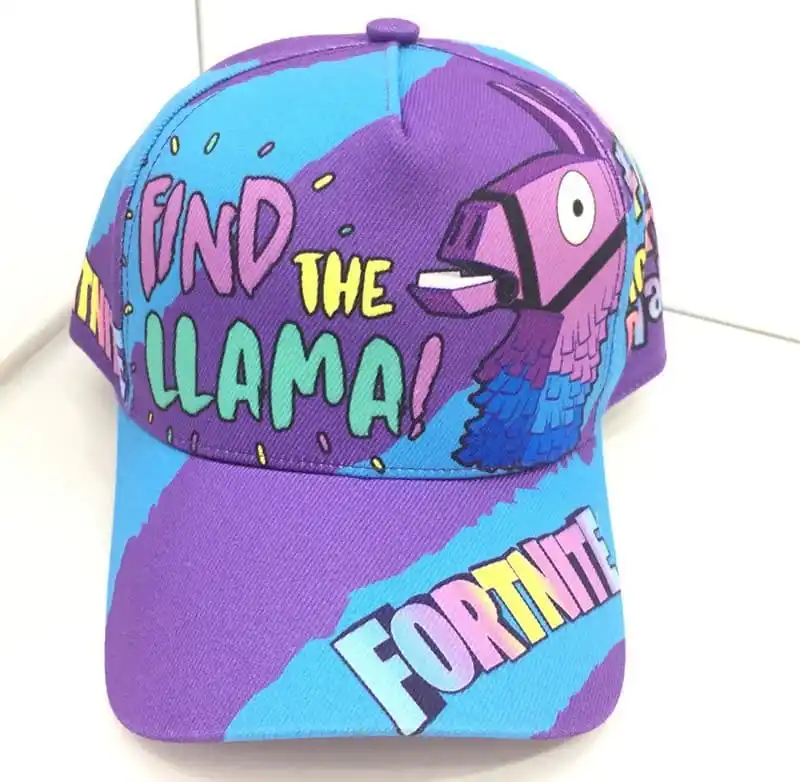 I love when someone comes up with their idea and turns it into a hat. That is exactly what this next entry is, focusing solely on the loot llama and nothing else. You have the Find the Llama slogan with the loot llama conveniently right next to it and recreated so nicely with the goofy expression and everything.
What I appreciate the most about this hat is that its color scheme is downright perfect. It carries the blue and purple colors of the loot llama itself but mixes in some interesting twists like yellow that you usually wouldn't associate. But it works so well here, with the little accents of it in the stunning Fortnite logo recreation.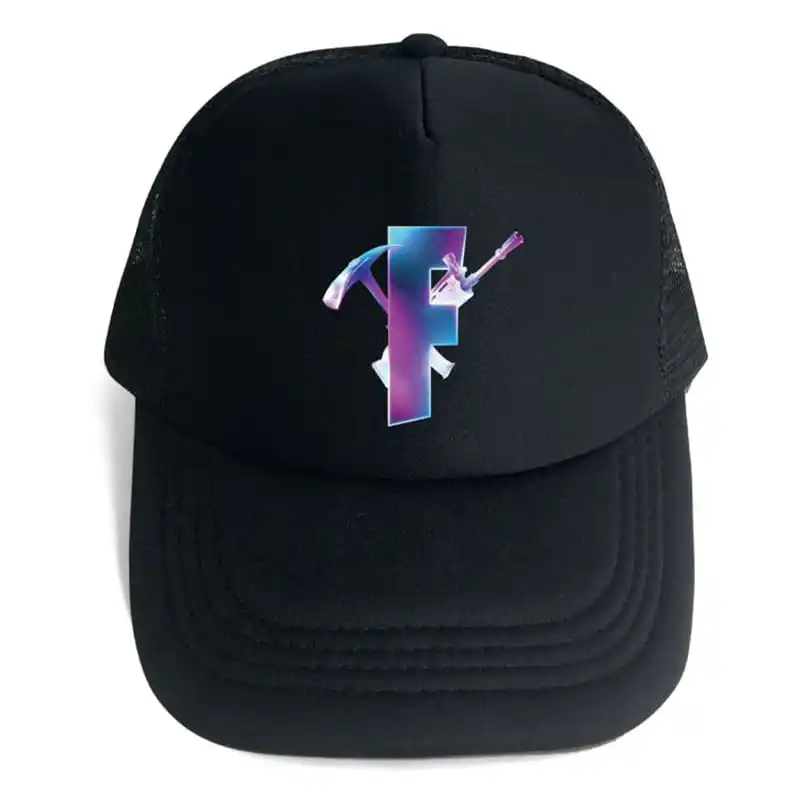 We go from one of the most extravagant hats to one of the simplest; it's all about pacing and ebb and flow. In this case, this is the simplest hat you'll find on this entire list. We have a plain black hat that is empty except for the single logo in the middle of it.
This logo isn't even the standard Fortnite logo but just a single F, and that's it. But they do so much with this letter to make it stand for "fantastic" and Fortnite in the end. It is a beautiful gradient of purples and blues, with a pickaxe and assault rifle sticking out on both sides. This is one of the more understated hats for the sophisticated player who doesn't want their hat to be too obvious.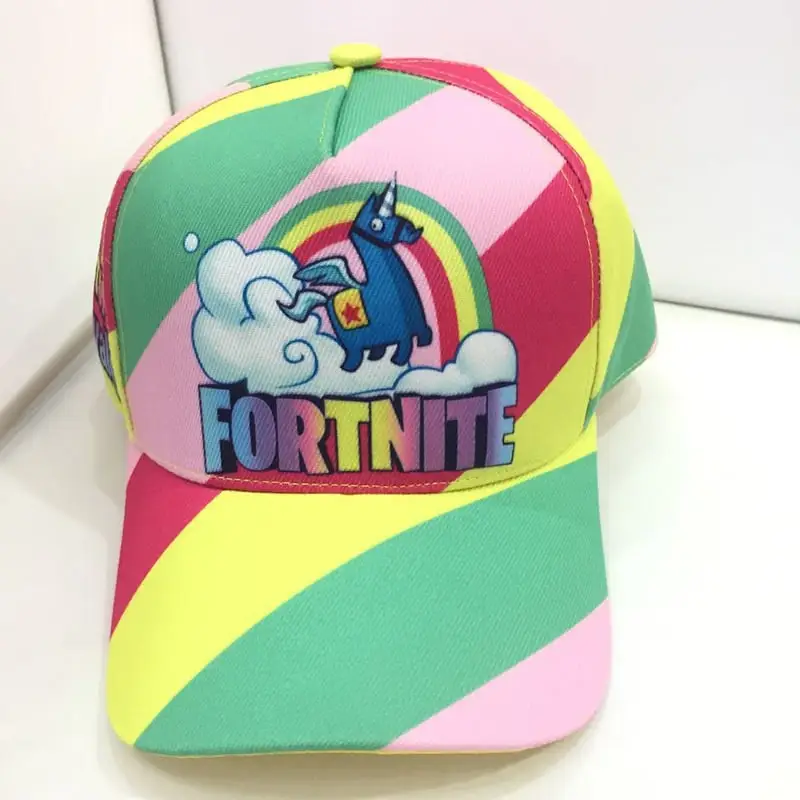 I don't know what it is about these loot llama hats, but whoever made them is an artistic genius when it comes to coloration. In this case, we have a rainbow-themed hat that features a jam-packed central logo that includes the Fortnite log,o complete with a blue llama on top of a cloud next to a rainbow.
This is all while having a hat that itself is pastel rainbow-colored with a mix of yellow, green, red, and pink stripes. This is an absolute work of art right here, except for the fact that it looks like the artist reused the same purple, pink, and yellow Fortnite logo from the other loot llama hat. That was a weird choice, instead of doing a full-on rainbow version.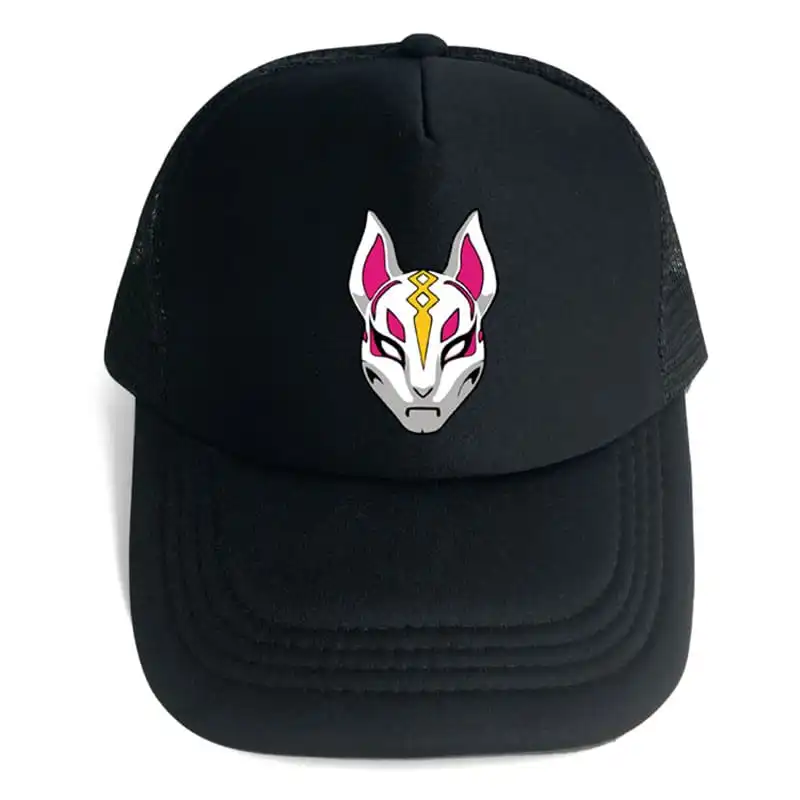 This is another case of a straightforward hat where if you know, you know. If you don't want to be obvious about your love for Fortnite but still attract possible friends who know what's up, this is the hat for you. It is just a black hat with a single noteworthy addition to it in the form of a Drift symbol.
The beloved Drift Fortnite skin is one of the favorites when it comes to past battle pass characters. In this case, only his signature fox mask is on display here, and it looks great. Some of the Drift masks I've seen for other merch items aren't the most detailed but this one has such sharp borders and coloring to look so good. Non-Fortnite fans won't even know that you're repping the battle royale game with this one.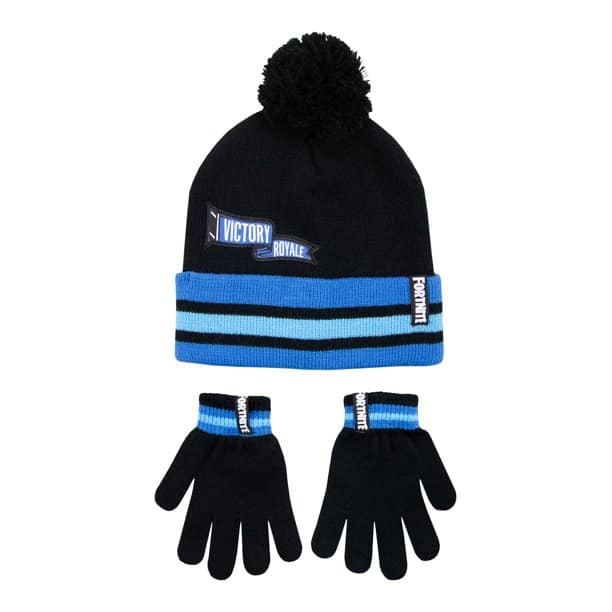 This Victory Royale beanie is the first non-traditional hat on this list. When wintertime rolls around, and you need something to keep your head warm, this is the beanie to pick that will also show your love for Fortnite. It is a black beanie with a stripe at the bottom that is a mix of blues.
You have a tiny little Fortnite symbol on this stripe, but the main focus here is the Victory Royale flag on the central part of the beanie itself. If your school colors are blue or you just love this color scheme, this might be for you. Bonus points for this relatively cheap beanie to also come with some matching gloves and a scarf.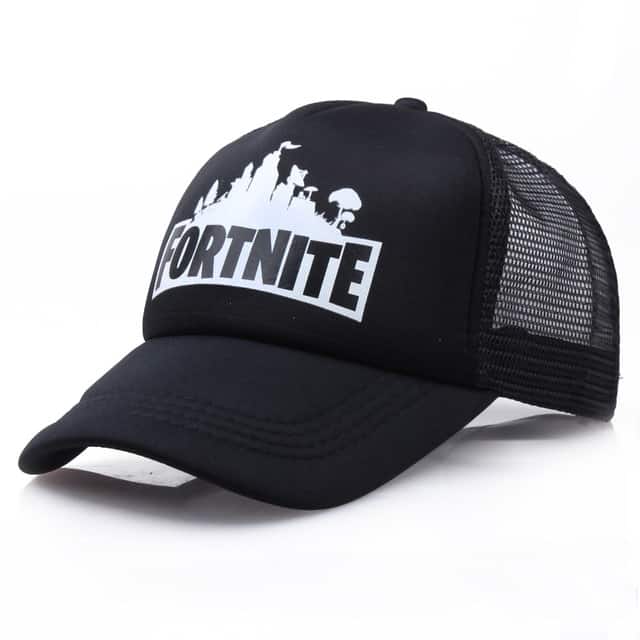 There is nothing all that special with this Fortnite mesh cap but this also makes it one of the safest options for a hat, especially if you are secretly buying for someone else. It is a plain black mesh hat with the classic Fortnite logo covering up most of it.
The lovely black and white logo are a true classic right here. The main draw might be the fact that, unlike other hats, this is a mesh one, so it will bring a nice breeze to your head if you feel restrained by other all-fabric hats.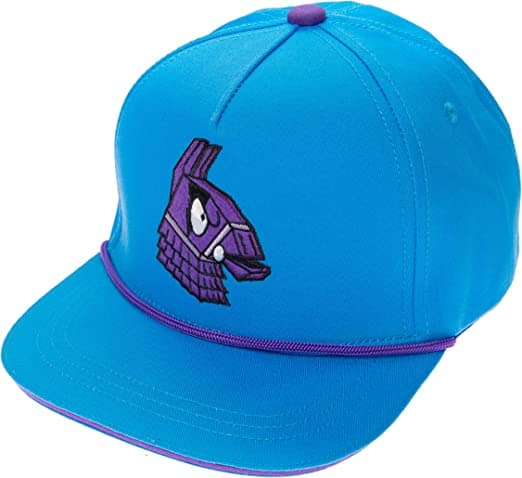 This snapback is an almost all-baby blue hat that is stylish enough on its own. But there are little tiny purple accents throughout that add some interesting layers to this otherwise straightforward hat. The real star here, though, is the head of the loot llama that appears in the middle.
The loot llama head, in this case is far more textured and detailed than any other on this list. If you love the loot llama and baby blue, this is the hat for you.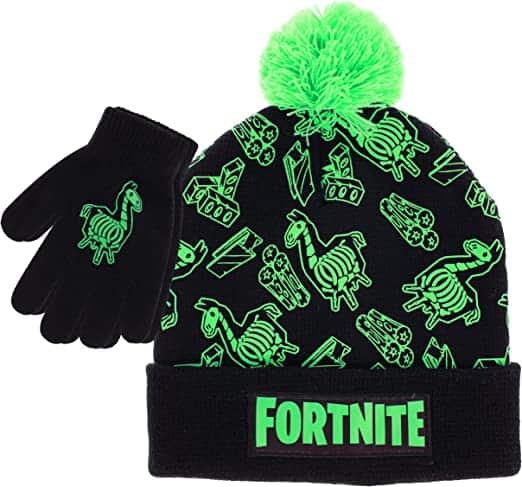 If you absolutely love neon green to the point of feeling like it is sending radiation to your eyes just looking at it, well, do I have the beanie for you. It is a black base beanie that has a neon bright green Fortnite logo on the bottom portion with tons of bright green symbols on the central part.
These symbols include loot llama skeletons, campfire logs, and metal mats. There are kids out there who will absolutely love this sickly green aesthetic, and more power to them. Also, this beanie comes with matching gloves in case you don't have enough of the neon green.
Just like Floss Like a Boss, it was only a matter of time until my boy Peely made an appearance on this list. As one of the best and most popular Fortnite characters of all time, you best believe he also has a hat of his own. Or, well, a beanie in this particular case.
The Peely beanie features a charcoal gray beanie that includes some yellow stripes that go throughout it. The main draw here is the yellow banana dude who is hanging out on the bottom half of the beanie. I love how he is just lounging around and having a good time. Bonus points, too, for the fact that this comes with some Peely-themed gloves. This would be my pick if I were a kid still.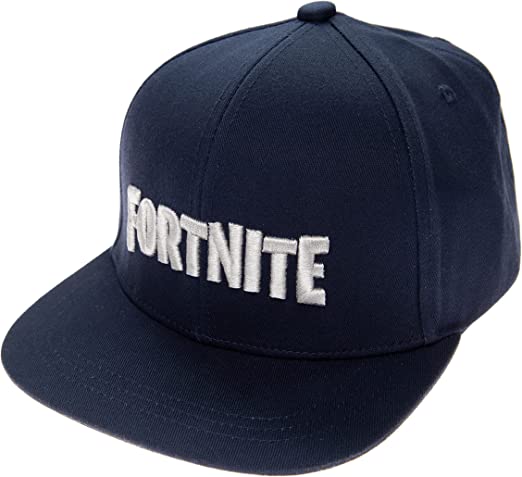 I know a lot of people reading this are looking for the most basic Fortnite hat possible that is cheap and durable. This is the hat for you. Through Amazon, you can get this hat that all it has going for it is the Fortnite logo in giant letters, and that's it.
The only change is that it is relatively cheap to purchase, especially if you have that free shipping at barely over $12, and that is without a coupon or promotion going on. This is the hat you might want to get if you're running out of time and need a quick, tried-and-true gift for a Fortnite fan.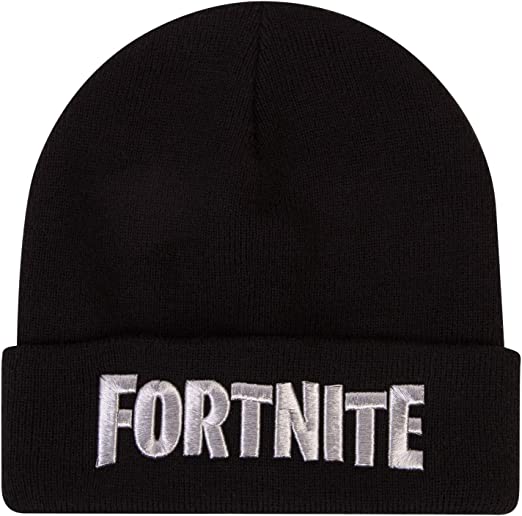 This is the exact counterpart to the previous hat. But, instead of a hat, we have the most basic Fortnite beanie you could possibly find. It is a plain black beanie, and the only noteworthy addition here is the Fortnite logo on the bottom section of the beanie.
That's it. This is a little bit pricier than the similar Fortnite hat, and you don't get any Fortnite gloves with it, so that is worth noting. This is basically just there for the Fortnite fan, who you know loves wearing beanies more than regular hats.
I may not like camo myself when it comes to clothing options, but I know that there are a lot of kids that do. This particular beanie is for them. We have a gray and black beanie that has the Fortnite logo on the bottom, but the main focus here is the gray-themed camo that is going on.
To its credit, I think gray camo is easily the best type of camo you can find. But there is something hilarious that is going on with this beanie. At first, you might just see it as a camo Fortnite beanie, but the camo splotches of different gray colors are actually Fortnite characters doing emotes. This hilarious touch truly elevates this beanie quite a bit for me.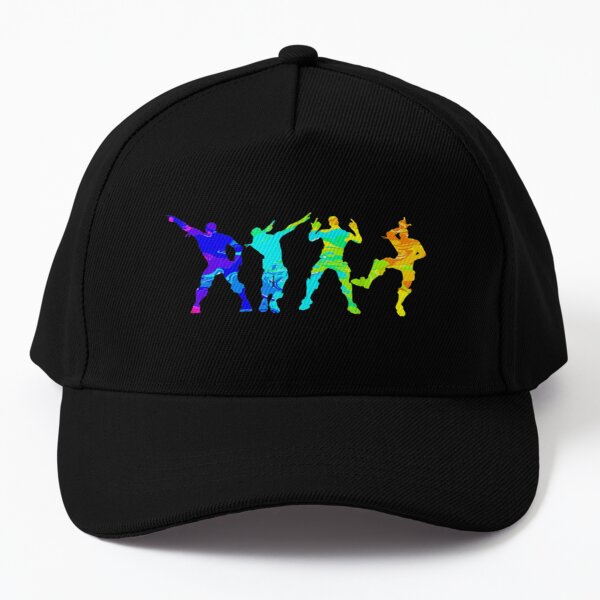 This black cap is rather plain except for the Fortnite characters that are in the middle of it. There are four distinct characters whose identities are unknown, but that isn't too important here. The main focus is that each of them is doing a different dance emote on the hat.
They are iconic emotes like the cowboy L emote and the dab. All four of them are different colors, too, with some mixes of orange, blue, and purple throughout each of them. My only issue with this hat is that it is a little too expensive for what it offers.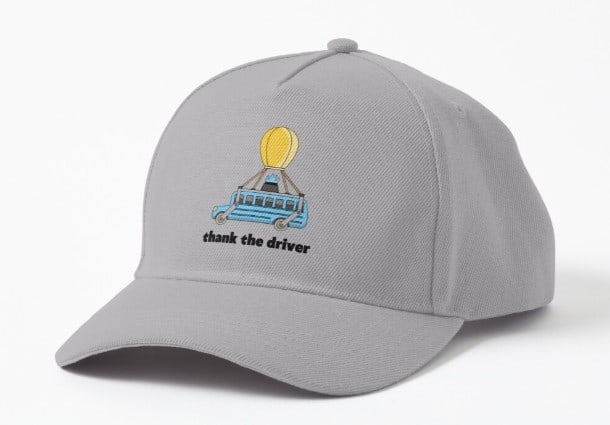 When it comes to Fortnite battle royale matches, what is the first thing you should always do? Well, other than maybe mark a location for you and your team to land on the island. That first action you should always take is thanking the poor bus driver for their endless 24/7 overtime of bringing you to the island.
This hat knows what's up and acknowledges this with a small thank the driver slogan at the bottom. Above it is a picture of the battle bus in a simplified and artistic recreation of the iconic vehicle. Other than that, we have a light gray hat, which I like this hat in but there are other options if you don't prefer this one. Bear in mind that this is a little bit expensive, too, also coming from Redbubble like the last hat.
Airbrushing returns in this heavily stylized take on both Fortnite and Marshmello. The two go together so well, with both helping each other to grow in popularity and fame when the Marshmello concert and skins came out all those years ago.
In this case, Marshmello is a slick version that has a graffiti, almost horror vibe to him that I appreciate. Then there is the Fortnite logo, which is actually quite similar to the real deal but with some tweaks in the coloring department to make it look unique in this airbrush format.
With splotches of other colors around, this is an example of what can happen when you hire a solid artist to create an original hat for you. I will say, though, that, as always, do not ever put your kid's name on the cap. You're just asking for problems when you do that.
Finishing off this list, we have perhaps the most impressive hat of them all in terms of custom designs. This hat is all about Chapter 1, Season 7 level 100 skin, Ice King. But his design wasn't printed onto the hat, nor was it airbrushed—the person who posted this hand-painted the art onto there.
The visuals of the Ice King are absolutely gorgeous, and they take up almost the entirety of the hat. Everything from the skull he wears on his head to the magnificent background to the detail around his neck is so wonderfully drawn by hand in an expert-level way. I would even argue that this is more detailed than the original Ice King skin in Fortnite.
Too bad that the hat material looks a little unworthy of such excellent art. This is what I am talking about when it comes to finding a custom artist who will recreate your favorite skins in such an excellent way. Just make sure to provide them with a hat that you want them to draw it on beforehand.
FAQs
Question: Is there a Fortnite hat Balenciaga?
Answer: For better or worse, there is, indeed, a Fortnite hat from the Balenciaga crossover event. There are a couple of options to choose from, with either a black or white version that shows both the Fortnite and Balenciaga logos. But you're looking at spending several hundred dollars to get it.
Question: What is the best Fortnite baseball cap?
Answer: The best Fortnite baseball cap has to be the Fortnite Galaxy hat. It has a cap that is similar to that of a traditional baseball cap but with a style that is wonderful. If you're looking for a mesh cap, though, go for the Fortnite Mesh Cap.
Question: What is the best Fortnite beanie?
Answer: For the best Fortnite beanie hat on this list, I'd have to go with the Peely beanie. Not only is Peely one of the best characters in Fortnite, but the mix of yellow and gray is a surprisingly good color combination.
What Fortnite Items to Wear Next
When it comes time to pick the Fortnite hat that you wish to buy for yourself or someone that you love, it can be a daunting task. This is especially the case if you are making it a surprise present for their birthday or the holidays. When it comes to a single recommendation I have for you, it would have to be the Fortnite Galaxy hat. That one could appeal to a lot of people, and it does a lot with so little, which I appreciate.
Once you have picked out the hat that you're going to give a Fortnite fan, there are other clothing items themed around the battle royale game that you could purchase. Some of the other clothing items include hoodies, shirts, shoes, and even backpacks. We've compiled together all of the best Fortnite merch items that you could purchase for your loved one in a list of more than 140 to choose from.
For more interesting readings check out: