Latest posts by Cody Perez
(see all)
I can guarantee you that if I were a kid today, I would want a Fortnite birthday party every single year over and over. Fortnite is such a tremendous experience that lends itself quite well to cakes. I would know this, too, because I have helped make some Fortnite birthday cakes in the past several times, for both family, friends, and as commissions. To this point, I am going to leverage my passion and skill with cakes to give you some epic Fortnite cake ideas.
When it comes to these epic Fortnite cake ideas, I want to note that these are ones that I am taking from the internet on various platforms and sharing with you. I'll give you some thoughts on the cake's design and, better yet, I'll even note some tips on how to make the cake itself. I am more of a baker than a decorator, but I still have some general ideas on how to up your game when it comes to making Fortnite-themed birthday cakes.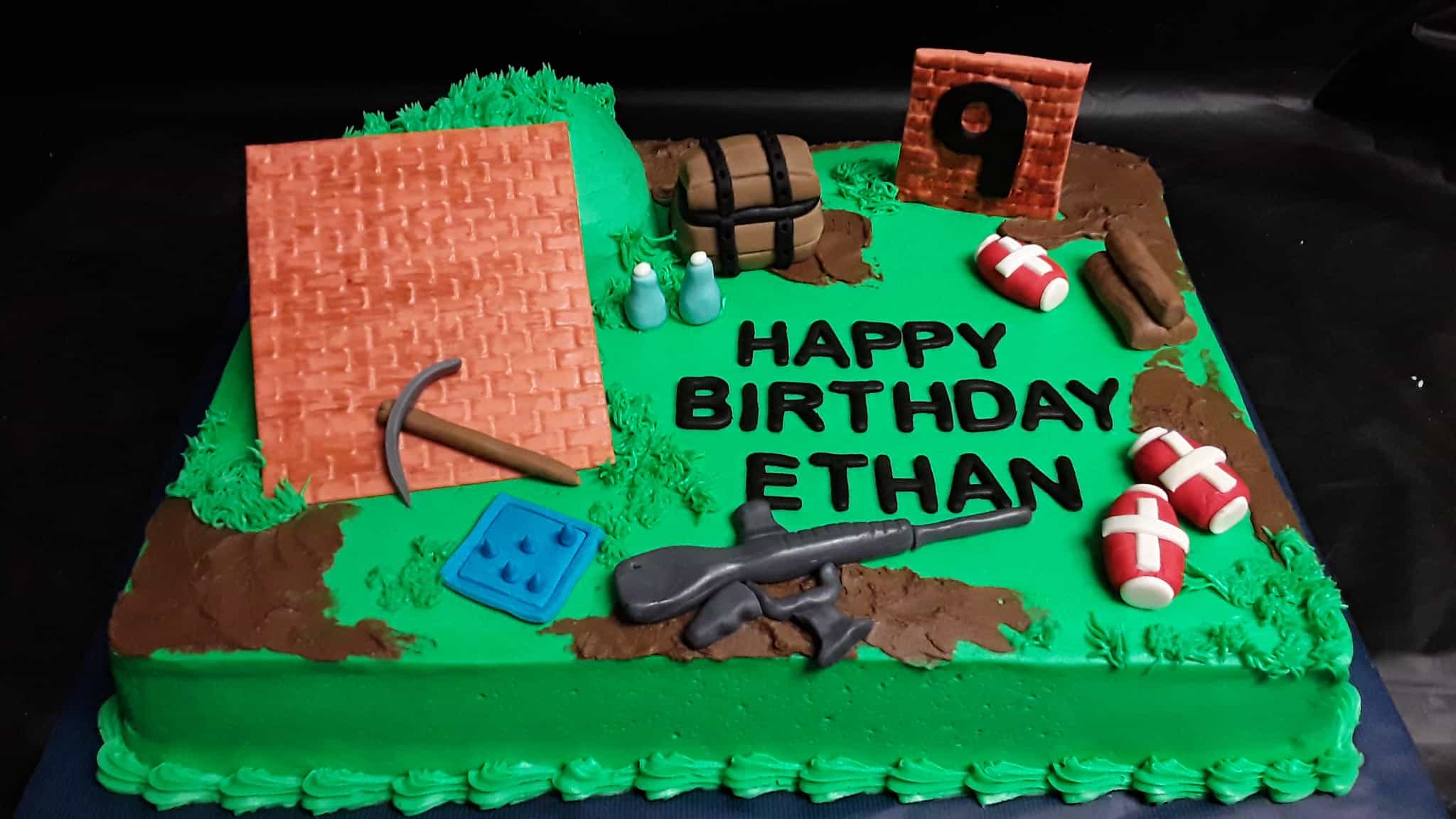 Bottom Line Up Front
Fortnite cakes are some of the best options for crafting a themed birthday cake for your kid or someone else's. There are many possible themes for a Fortnite cake, from making a loot llama cake to a Jonesy one to even some cakes that are based around the favorite skin the player likes to use.
With such fun and original characters throughout Fortnite, there are endless possibilities that I haven't even mentioned yet, such as a battle bus cake and more. The best spots I like to use for coming up with Fortnite cake ideas are Instagram, TikTok, and even YouTube.
Fortnite Cakes Overview and Tips
Before we get started, here's a little background about me. I love to bake, and creating themed goods like a Fortnite cake is fun for me in my free time. Honestly, if I weren't writing for a living, I'd be a chef or baker again. My fiancée has made cakes for a living in the past, mainly as a professional decorator, so when she makes cakes outside of her businesses, I am the go-to baker.
Basically, I bake the cakes, assemble them, and then she creates the stunning design. So, I would love to share some of the Fortnite cakes we've made in the past, but I can't due to not having permission from her or her business to share some original designs. Instead, I took a picture of some cake batter I was making for a homemade Fortnite birthday cake that I am allowed to share at least, and, yes, I was watching a movie on my Nintendo Switch while I created it. Can you guess what I need these four colors for?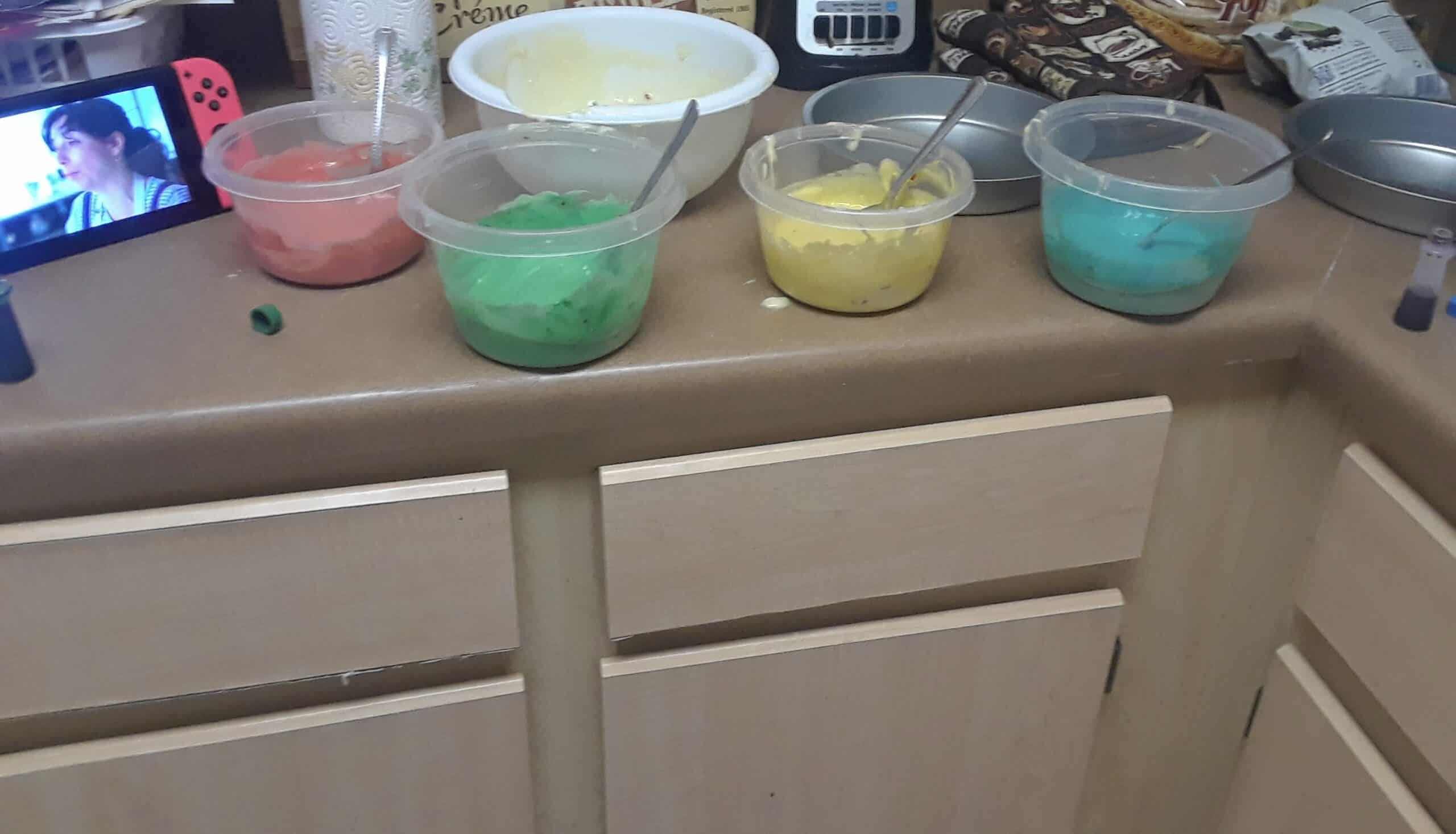 The answer was a partially-layered Rainbow Royale Fortnite cake! While I can't share the result as much as I would like to, I have come up with some tips I've learned over the years and some ideas from other people that I can share.
For starters, I recommend finding a pro to make your cake and not do it yourself unless you're a skilled baker and/or decorator. Take the ideas below to that person and ask them to make that custom cake like it for you. I didn't pick too many extraordinary cakes that I wouldn't make myself as a hobbyist baker, so these should mostly all be fine for anyone. If the person or business can't make it, they're probably not worth your time.
The other tip is to make it your own. While these ideas are lovely and helpful, they shouldn't be an exact replica of what you create or order from a business. Feel free to mix them up with personalized touches that your loved one will appreciate, such as their name, favorite skin, or maybe even their Epic Games username.
On the topic of favorite skins, it is so easy to make edible images these days, so it is even possible to slap a picture of their avatar on top of the cake. A worthy cake place will have the printer to make an edible image happen; just don't expect it from large grocery store chains like Walmart and Safeway.
Selection Criteria
When it came to picking the cakes below, there are a couple of factors that I had in mind. For one, I tried to have a broad range of ideas. I picked a few that I think should be relatively inexpensive to make and shouldn't cost the same as a two or even three-tier cake.
I also included some middle-of-the-pack cakes that are going to be pricier but give a little more room for customization and the like. And, of course, if you have the money to splurge and know a masterful cake business, I included some of the higher-end professional cake ideas I've found.
To this point, though, I tried to ensure that almost all of these cakes are relatively straightforward to make. I didn't include anything on this list that I, personally, wouldn't make or buy from a business. I didn't waste your time with cakes I wouldn't bother with.
One thing to note about these cakes is that they don't have to be birthday cakes. Though I think that will be the bulk of the reasoning behind these cakes, there are other occasions you might get one for. It could be to celebrate a kid's graduation, them doing well in school, or, heck, even reaching level 100 in the battle pass for a season. I'd even consider celebrating my kid's 100th or 1000th victory royale with a Fortnite cake.
Last but not least, I know kids have different tastes, too, so I tried to include a few options for kids who might not fit into the more extensive section of Fortnite's demographic. Let's take a look.
Epic Fortnite Cake Ideas
Here are the ideas I found for Fortnite cakes that I think you should consider making or buying for your friend or family member's party or special occasion.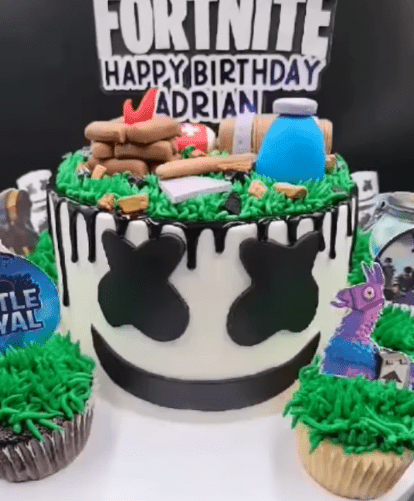 For many kids out there, one of their favorite artists is none other than Marshmello, in no small part due to his concert in Fortnite back in the day. With his skin and classic character look, I adore this recreation of Marshmello within Fortnite but in cake form.
The entire cake is Marshmello's iconic head and well done, too, with the X-shaped eyes and smile. I even appreciate the chocolate drip at the top of the cake. Admittedly, I think the cake is doing too much in regard to the campsite area on top.
For me, I would remove that and strictly keep it to Marshmello's head, and that's it. This would not only make it a lot easier to make but prevent itself from doing too much. You could even add a happy birthday message for the kid in question on top if you'd like to put something there.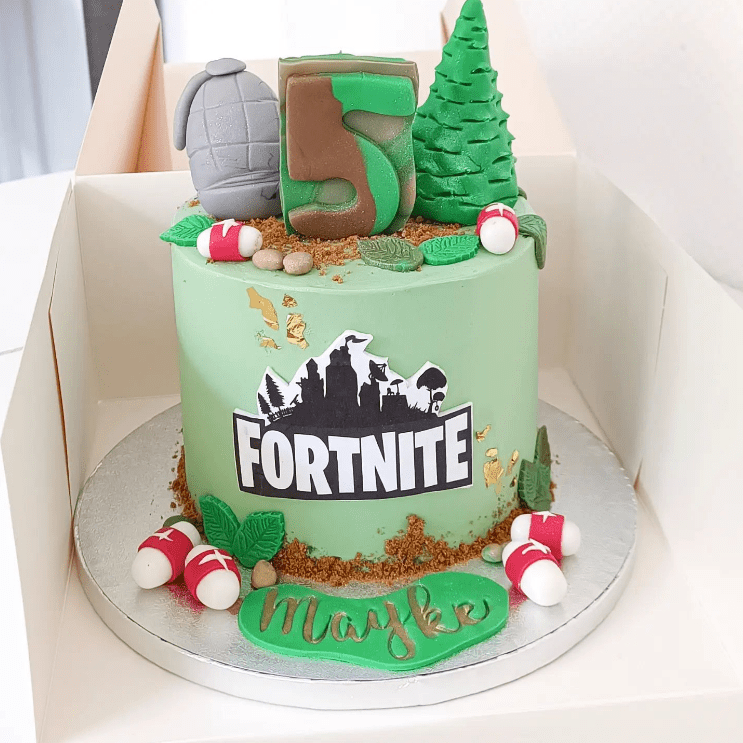 In reality, I appreciate the campsite idea that the last cake had, but I think it deserves its creation entirely. That is where this campsite Fortnite cake comes into play. For starters, I appreciate the little attention to detail in making the cake a light green with some woodsy crumbs at the bottom.
The edible logo on the front of the cake ties everything together nicely, while the decorations on top are welcome. You don't have to have fancy frosting trees, either, as you could just have a topper of some kind. I think what I would add here is either a campfire topper or one made of fondant or frosting instead of the random grenade.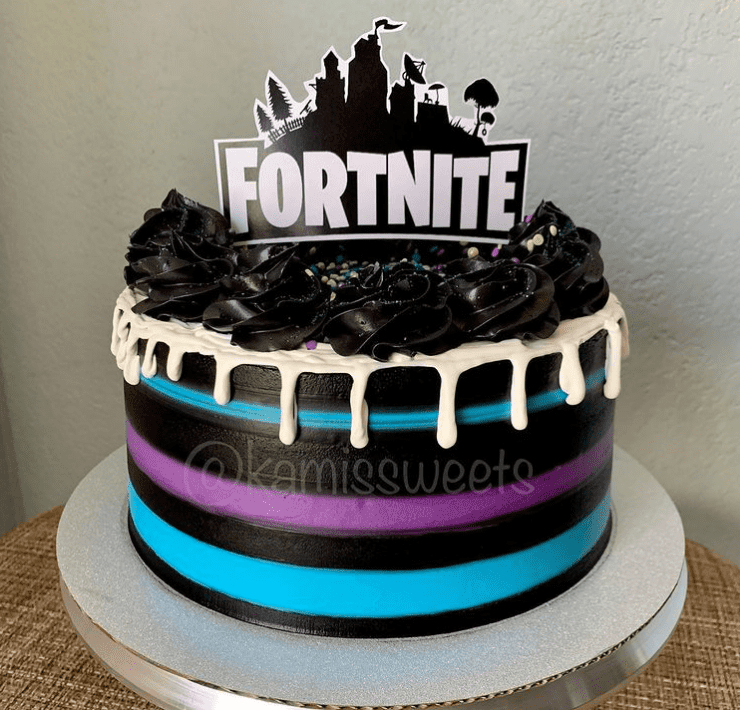 I like to call this the emo Fortnite cake for the kids going through it these days like I was back in the day. Honestly, this is the sort of cake I would have asked for as a kid. The mix of blue, purple, and black is such a nice combo that gives me some Raven or Galaxy Fortnite skin vibes.
I dig the extra color with the white chocolate drip and the black icing decorations on top. What I would change is the Fortnite logo, which anyone and everyone can use. Instead, I'd put a matching skin edible image or topper here like the aforementioned Raven to help give a reason for this darker color scheme for a cake. Bonus points if the cake is an Oreo or cookies and cream-flavored one.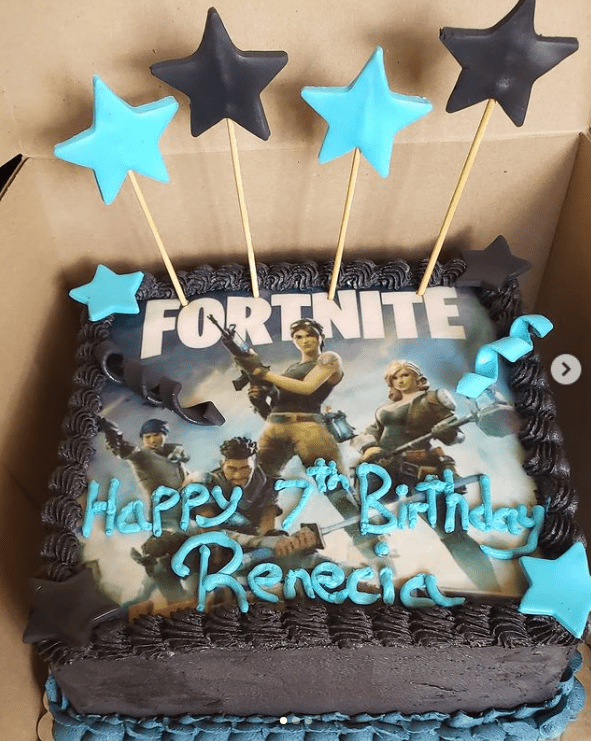 When it comes to a homemade cake idea that I think you could make yourself for a birthday and do a great job, this is the one. You don't have to go out and order a custom cake for $100 or more when you could easily make a serviceable cake like this one yourself.
It is a simple rectangular cake with some black and blue frosting accompanied by the central star here: the Fortnite image on top. Add in those nice little touches like the black and blue stars to represent battle pass stars and a happy birthday message, and you have a cake ready to go.
Feel free to change the colors here and make them more appealing to your kid. What I appreciate about this cake is that it also goes well with some homemade cupcakes, as the Instagram user also showed off. Have a mix of matching cupcake colors, and everyone will be able to enjoy a nice dessert at the Fortnite party.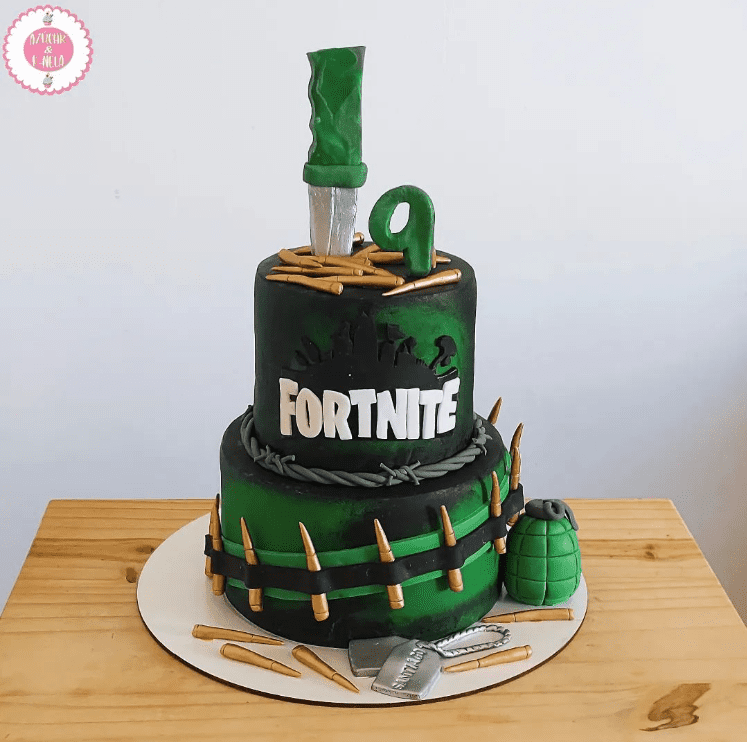 There is such a nice cohesive theme to this particular cake from Instagram that I love. This person has an excellent eye for detail and keeps everything matching from top to bottom. Admittedly, I am not a fan of the camo vibes going on, but there are a lot of kids who like that.
Camo happens to go quite well with Fortnite, too, given the default skins and my boy Jonesy. This cake doesn't have to have highly detailed parts like the knife sticking out the top or the bullets or grenade, as I could see someone make an adequate version of this homemade.
This is one of the more versatile cake ideas in that you could make it yourself or have someone else make it if you wanted to, and both would suffice.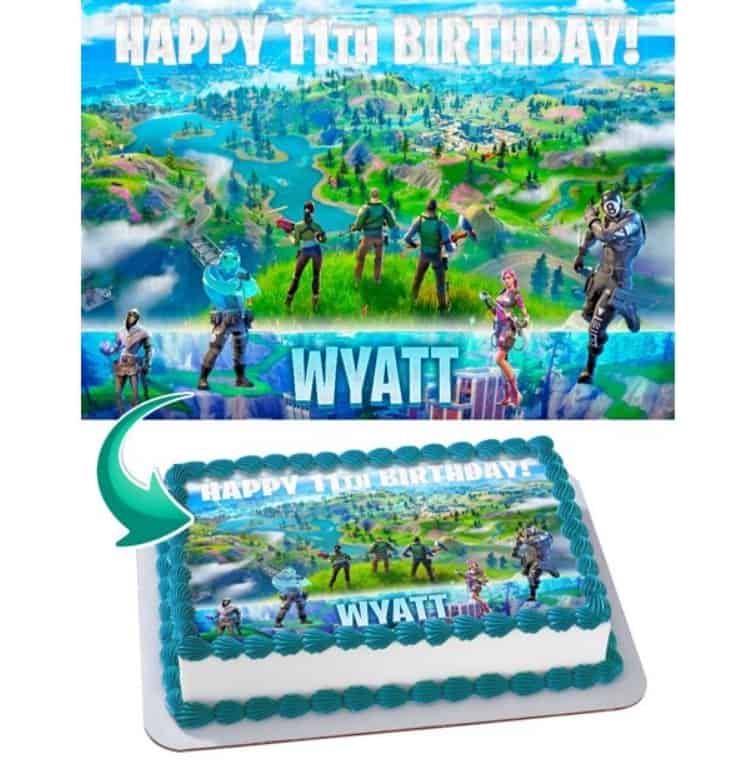 I don't know about you, but Chapter 2 is still my favorite chapter of Fortnite. You can see just that in this still amazing key art of the new island that was introduced in the 11th season of the game. This official edible image is one that you can buy online from Walmart and get it customized.
You can add on the kid's age and name to personalize it to their liking while not giving up on a nice image. You don't need anything else other than this, so you could just apply the image to any old affordable rectangular cake at Walmart.
Though the image is a little pricey for a Walmart topper, you'd still be saving a considerable amount of money versus going through a dedicated cake shop or a third-party person for a custom cake.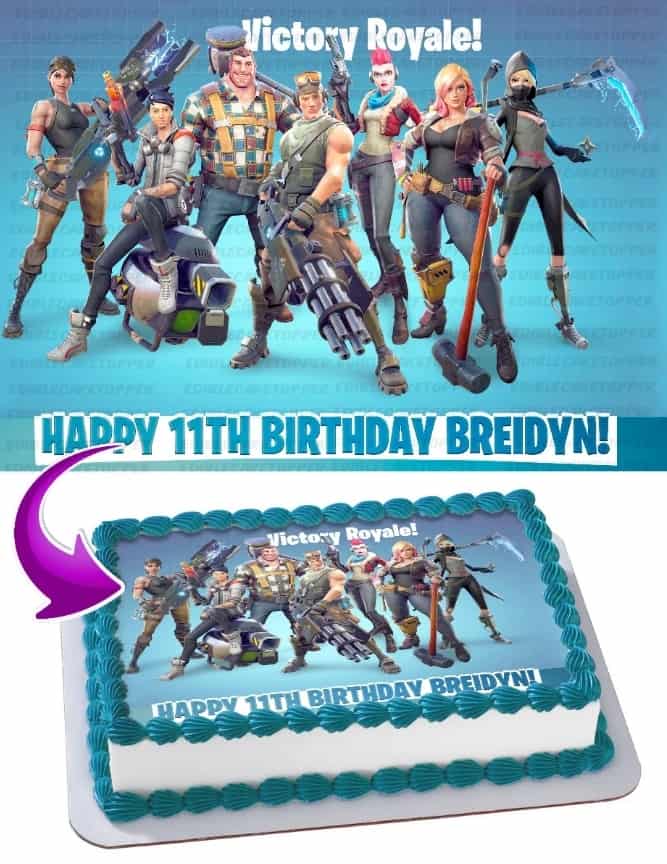 Speaking of Walmart toppers, there is this Season 4 Marvel Galactus cake next. While the previous edible image was quite pricey, this one is relatively inexpensive. Couple this with an affordable cake from Walmart, and you could easily have a welcome birthday cake for half, if not less, than the price of a custom one.
The best part is that the image is of Season 4, the Marvel season that many kids were obsessed with. So you are killing two birds with one stone, having Marvel and Fortnite together in one. And you could very well get someone to add a quick birthday message on top for you, so it's personalized, looks great, but is still cheap.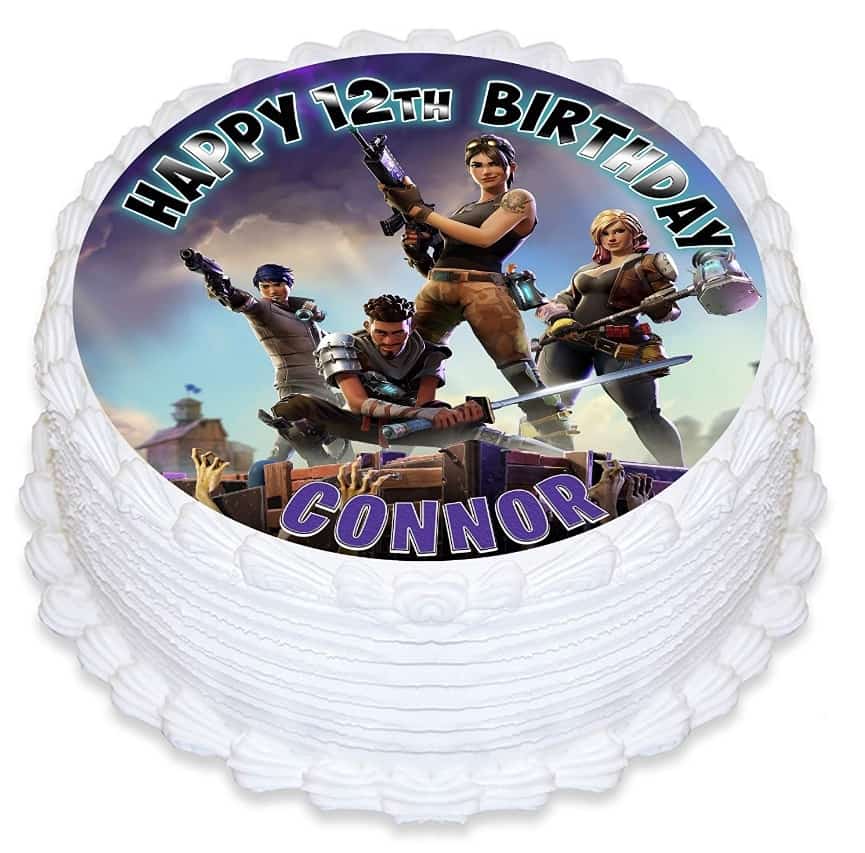 You don't have to break the bank to have a customized cake that someone will enjoy at their birthday party. Taking the homemade idea from before and now putting it in the hands of Walmart, we have this relatively cheap image topper for a round cake.
Round cakes are notably much cheaper than a quarter or half-sheet cake, so you save quite a bit of money. If you're having a smaller party or just celebrating with your family for this one, this is one way to get a smaller and cheaper cake that more than gets the job done.
The original Fortnite logo is a classic and works well here for this round cake shape. Plus, the company that designs the edible cake topper lets you customize it to your liking with a personalized birthday message for the birthday boy or girl.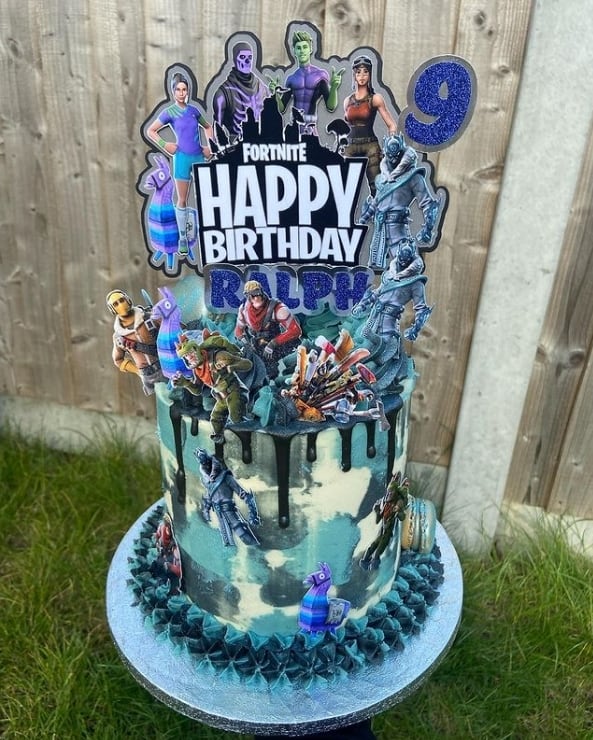 Let's get the elephant in the room out of the way from the start: this cake has so much going on that you don't know where to look. But it strangely kind of works for some reason for this cake. It goes all in on having so many characters and colors happening that it looks pretty good, to be honest.
I'm almost not even a fan of the weird artistic blue and white cake underneath. What I'm more concerned with are the dozen characters and items that are spread throughout the cake. This is honestly a brilliant idea for someone who has a lot of skins that they love.
If you can get stickers or edible prints of those favorite skins and then spread them all over a cake like this one, you will create a cake and birthday that that kid will never forget.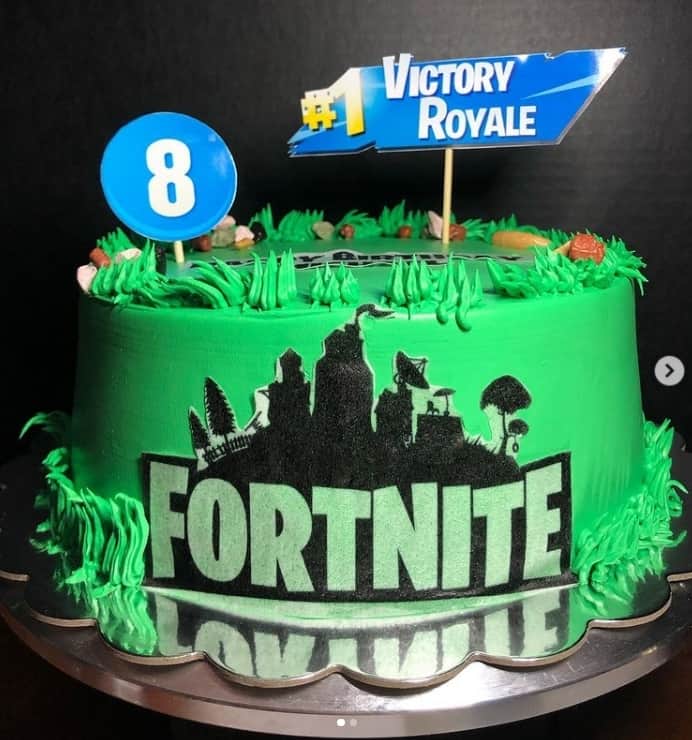 Moving back to sanity and simplicity for a moment, we have this Victory Royale cake. This is about as easy and straightforward as it gets. It looks like a small round cake with some green fondant and grassy frosting all along the edges. The Fortnite symbol is nice, as well as the Victory Royale logo on top.
I think the green color scheme and the Victory Royale symbol go that well together, so I'd probably change the colors to something like blue and white maybe. This is a blank canvas sort of cake where you can mix and match colors while keeping the logos and images the same. All the while, you can also personalize it with that nice birthday message. I also think this is one birthday cake that goes well with candles on top, oddly enough.
Two-Tier Cake
When it comes to spending a fair bit of money, there is nothing more than making a more giant cake like a two-tier cake. This one from YouTube is a prime example of a massive cake for an equally huge birthday party. The cake itself has a simplistic design with a white bottom layer and a blue top one.
There look to be some edible logo stickers slapped on, and that's it minus some occasional bandage decorations. The simplicity means that it won't cost nearly as much as most two-tier cakes, which are understandably pricey, but it's a blank canvas for you to work on.
Personally, I would change up the color scheme and make it either a theme, such as golden Midas or something or match the favorite colors of the kid in question. The decorations with the images and the like are rather boring, so I would recommend requesting some cool cake toppers on top.
Once you have a theme and some mini-cake toppers, you can even do this what the person did and make some matching cupcakes if you'd like.
Loot Llama Cake
Ending off this list, we have a loot llama cake off of TikTok that went viral. Now, to be clear, this is what I'm talking about when I say that you can really go wild if you want to and create a shaped cake that is the head of a loot llama.
The cake itself in this video did an admirable job of trying to recreate the loot llama, from the piñata-style fur to the eyes and even the open mouth. It wasn't an easy task whatsoever, and the cake is rather good. But this is one that you really should have a professional business make for you.
If you're going for a cake like this, take the TikTok to the cake business, and show it to them. Any good cake business worth your time (that isn't overwhelmed with orders) should be able to make a similar cake and, honestly, in a cleaner and more colorful way.
It will cost you a pretty penny, though, so only opt for this if you are ready to splurge on the best possible Fortnite cake around.
FAQs
Question: Where to find Fortnite cake toppers?
Answer: You can find some Fortnite cake toppers at various online stores like Amazon and the like. I, personally, like these simple edible cake toppers you can get that show some of the classic Fortnite skins.
Question: How to make Fortnite cake pops?
Answer: It is relatively easy to make Fortnite cake pops. I like this really simple YouTube video that smartly uses colorful sprinkles and just some basic loot llama stickers, but the end result is something that looks fun and perfect for a party.
Question: Are there Walmart Fortnite cakes?
Answer: Yes, there is Walmart Fortnite cakes! I even included some of the designs found at this site here in the above list. Do not ask them to make a cake design outside of these already existing ones, as it is a legal issue. My fiancée used to work there as a cake decorator and ended up doing her own designs as a side business because of stuff like this.
Making That Perfect Fortnite Birthday Party
One way to make someone feel special is to empower their passion and love for something. If there is someone you know that loves Fortnite, one way to make them feel special on their special day of the year is to make or buy them a Fortnite birthday cake. The more customized and personalized to that person, the better. It doesn't have to be super professional or high-quality, as they will just appreciate that you care about what they care about.
But the Fortnite birthday party is not complete just yet. The cake is one thing, but you need gifts, too. Thankfully, officially licensed Fortnite Nerf guns exist that make for perfect Fortnite birthday party gifts for some players. Modeled after the actual weapons used in the battle royale game, these Nerf guns are ones that I have bought and given for birthdays and holidays many times in the past.
Looking for more interesting readings? Check out: