Latest posts by Cody Perez
(see all)
Fortnite is a highly successful game with plenty of cosmetics to choose from, as you'll see in our best free Fortnite skins guide. Oddly enough, though, Epic Games is not so generous regarding free outfits. There are only a few that players could unlock in the three chapters thus far.
There are still enough free skins available in Fortnite to make the best free Fortnite skins guide. I came up with the top 10 skins that I think are the best of the bunch for freebies. I will be sure to go over the look of the skin, when it was available, and how it was unlocked for free in this guide. Many of these are skins that I own myself, and some of them are good enough to use in matches regularly.
Bottom Line Up Front
When it comes to the best free Fortnite skins, there are only so many in the battle royale game's history. Some were given away as part of special holiday events. Others were promotional materials that required a separate purchase outside of the game to redeem. At the same time, still, others were simply freebies for players. Out of all of them, my favorite pick for the best free Fortnite skin is the Polar Peely skin. It was recently introduced at the 2021 Winterfest event. I like this one, for starters, because it is a Peely skin. Two, there is the fact that it was free to unlock; no strings attached, unlike some of these. And it is one of the best Peely options out there and one that I use often enough in my matches.
My Top Picks
Here are the top picks that I chose for the ten best free Fortnite skins in the history of the game, in no particular order:
Trailblazer: The Trailblazer skin did exactly what its name states: it blazed the trail by being one of the first free skins in Fortnite. You could get it through the Twitch Prime Gaming subscription.
Sub Commander: Sub Commander is the male counterpart to Trailblazer. Like it, you could unlock this skin through Twitch for free. Both are simple soldier-centric skins.
Havoc: Another Twitch-related free skin. So long as you connect your accounts, you will get this one for free. I like the camo design of the outfit.
Default Skins: Everyone gets these skins for free by default. While you cannot pick which one you get each match, they are diverse and get the job done until you can get a skin of your choosing.
Lt. Evergreen: Lt. Evergreen was the first of the holiday skins that players could unlock in Fortnite. The Jonesy wearing a Christmas tree is a nice touch.
Krisabelle: Krisabelle is surprisingly a tremendous free skin. She looks good enough on her own, but the holiday sweater and skirt are a great outfit choice. She was free in Winterfest 2021.
Polar Peely: Polar Peely is my pick for the best free Fortnite skin and was also in Winterfest 2021. It is the Banana Peely skin but frozen solid blue.
Rebirth Harley Quinn: This Harley Quinn is a modern classic skin, and players could get it through the Fortnite x Batman comics.
Armored Batman Zero: Armored Batman Zero was also in the Fortnite and DC Comics crossover event. Purchasing all of the comics in the short series would allow you to unlock this version of Batman.
Galaxy Skin: The most expensive skin on this list, it was technically free if you purchased a specific Samsung Galaxy device during a certain timeframe. For a long time, it was the best overall Fortnite skin, in my opinion.
Most Fortnite Skins Are Paid
The tricky part about finding the best free Fortnite skins is that there are not many of them. Most of the outfits in the battle royale game are paid skins. One way or another, Epic Games wants players to purchase the skins.
After all, that is how the developer makes money with Fortnite. Since the game is free on its own, the only way to make money is to monetize the cosmetics. And Epic Games does a fantastic job of this. It is not often that you will ever see a free outfit in the game.
Most of the skins in Fortnite are purchased through a couple of routes. First, there is the item shop where skins rotate daily for players to buy using V-Bucks. Second, there is the battle pass that costs V-Bucks on its own to unlock.
The battle pass is tricky as it can feel like you are earning free skins at times but you did spend money on them.
How to Get Free Fortnite Skins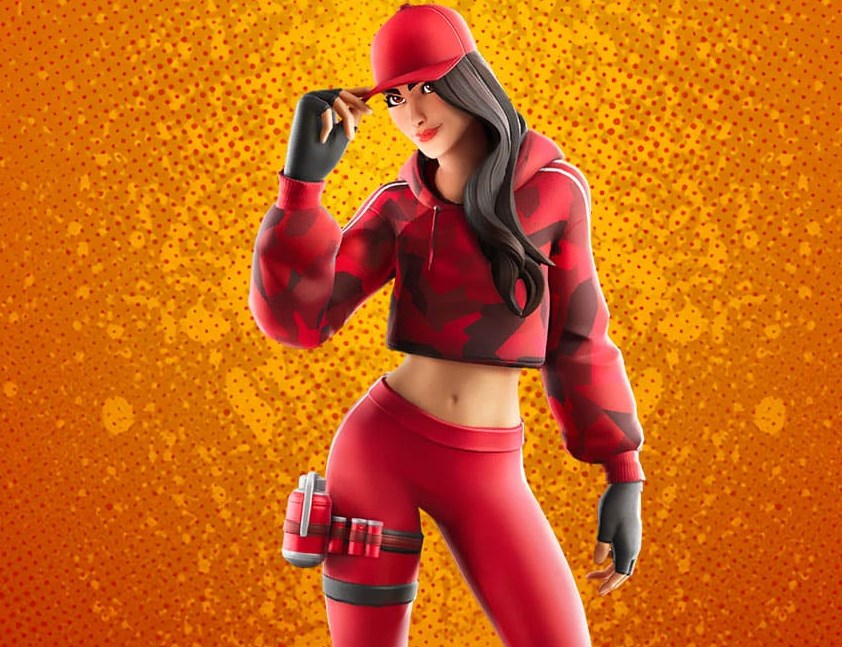 Instead, if you are looking to receive some free skins in Fortnite, there are only a few options. First, there are the skins that Epic Games directly gives to players for free. These are rare, and they only happen maybe once or twice a year.
And even to get these free skins, you usually have to play the game at a specific time of the year or event. For example, the Winterfest holiday event happens around the holidays in December each year. During this time, players can usually unlock one or two skins there.
Alternatively, most of the free skins in Fortnite require you to do something outside of the game. In some cases, they are not "truly" free in that we would hope. Some of these "free" skins that you have to purchase something outside of the game to get. Or, alternatively, you have to have an active subscription to an outside service.
Best Fortnite Skins Criteria
I came up with the ten best free Fortnite skins since the beginning of the game. It is worth noting that my selection criteria for this list are a bit more asterisk-heavy compared to others. This is because there are so few genuinely free skins in the game. As previously mentioned, most of them have strings attached.
When it came to selecting these ten best free skins, it came down to meeting the requirement of not forcing players to spend money on them within Fortnite itself. Once that requirement was completed, I whittled down the available free skins to a meager number.
I chose the ten skins that I think are the best overall in terms of appearance and uniqueness, though some are, admittedly, not my favorite. Lastly, it is also worth noting that this list is in no particular order.
Trailblazer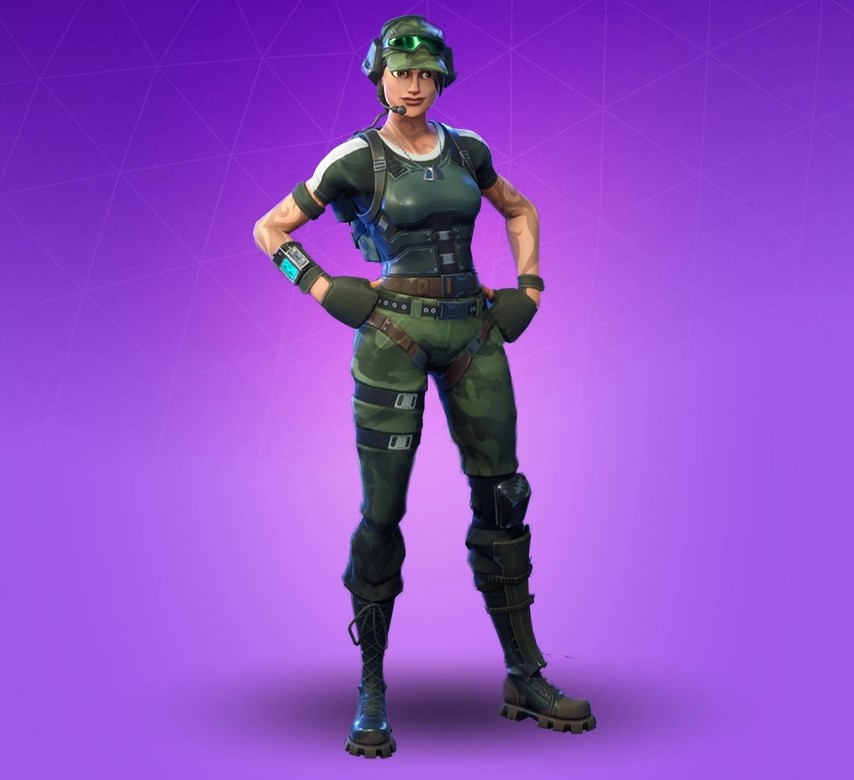 History and Lore
When it comes to the ten best free Fortnite skins, the first one up is the Trailblazer skin. When Trailblazer first arrived in Fortnite, it indeed did blaze a trail since free skins were not usually part of the battle royale game up until that point. Players finally had the chance to ditch the default skins for a freebie that did not cost V-Bucks.
Appearance
Trailblazer is an epic level outfit that features one of the default Fortnite characters. She is wearing a soldier uniform, but different from her default variant. She has a shirt on the top that is black and white and a camo hat that she wears on her head. On the hat are some sunglasses and a headset.
Price
Overall, the Trailblazer skin is a relatively simple one. But this made sense for the first free skin. Players could get this take on the popular Ramirez character by unlocking the Twitch Prime Pack. This pack was only unlockable if you had a Twitch Prime subscription in the summer of 2018 when she was available.
Pros
It was free.
It used the great Ramirez character.
Cons
It was far too simple of a skin.
It required a Twitch subscription.
Sub Commander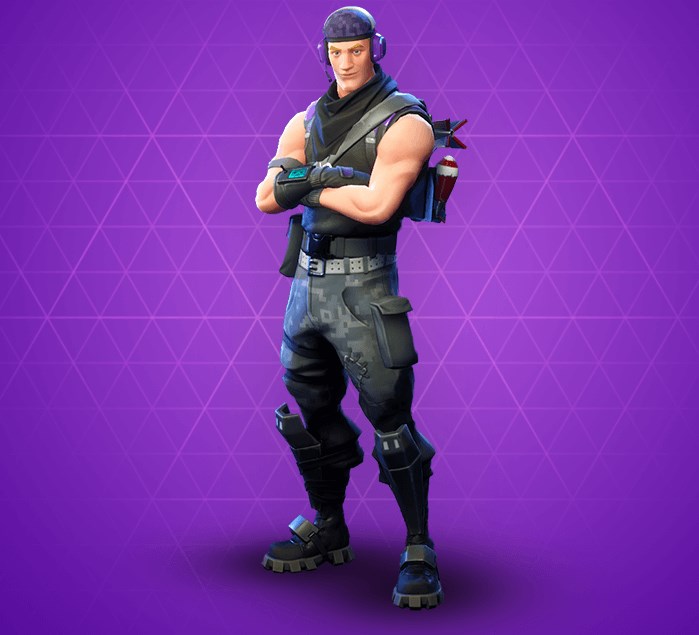 History and Lore
Outside of the defaults, the first free skin was the Sub Commander skin. In the same general vein as Trailblazer, this one took one of the default characters and applied a new outfit to him. Sub Commander is a take on the prevalent Jonesy character in this case.
Jonesy today is a significant part of the lore behind Fortnite, but back then, he was yet to become that person. Unfortunately, this is seen because the Sub Commander skin is one of the more lackluster members of this list.
Appearance
What the Sub Commander skin did was take the Jonesy model and change his outfit slightly to have darker clothing options. The central part of the skin is the top of his head, much like Trailblazer. He wears a purple camo hat and a matching headset.
Price
Like Trailblazer, the only way players could unlock the Sub Commander skin was by having a Twitch Prime subscription. Active Twitch Prime subscribers in early 2018 could unlock the Sub Commander skin at no additional cost.
Pros
Free.
It used the Jonesy model.
Cons
It required a Twitch subscription.
The actual new outfit was not that impressive.
Havoc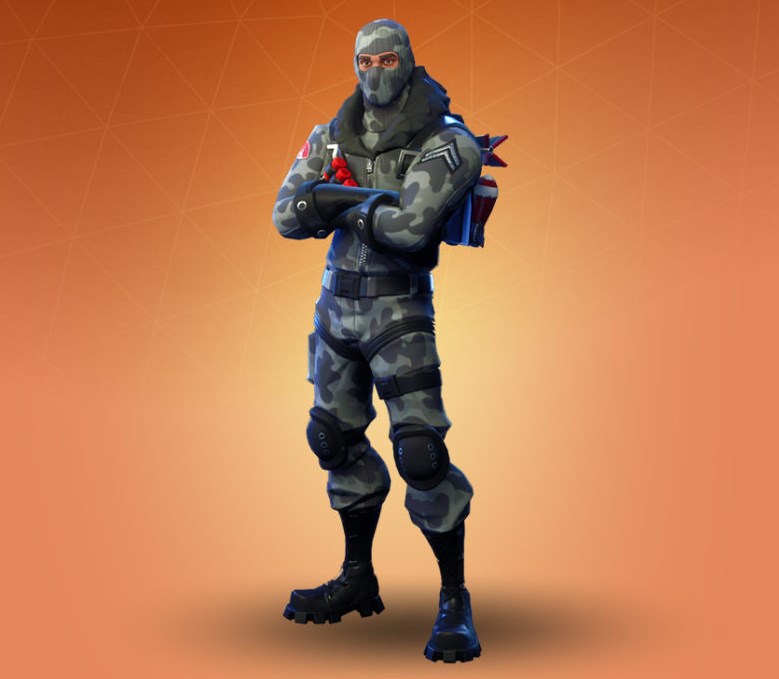 Appearance
Continuing this trend of early free Fortnite skins, we have the Havoc skin. Arguably a better option than the previous entry on this list, the Havoc skin was a take on the Nomad default skin. What I like about this skin compared to the Sub Commander is that it did something different.
For the most part, the first two entries on this list focused on simply giving different color and outfit options for existing characters. But Havoc gives an outfit that is vastly different than the original. This, in turn, makes the character feel new and fresh, even if it is not necessarily my cup of tea.
The Havoc skin is covered in a gray camo suit from head to toe. The suit itself looks fine and interesting. He wears large black gloves and has interesting sashes and accessories across his suit. The suit covers his head, too, hiding everything about his hair and face except for his eyes.
Price
The only way to get the Havoc skin was the same as the last two: through Twitch Prime. Havoc was part of the first Twitch Prime Pack alongside the Sub Commander skin. You could only unlock him for a few months during early 2018.
Pros
It was better than some of the other early free skins.
Free.
Cons
It required a Twitch subscription.
In modern day Fortnite, this skin is nothing special compared to the paid ones.
Default Skins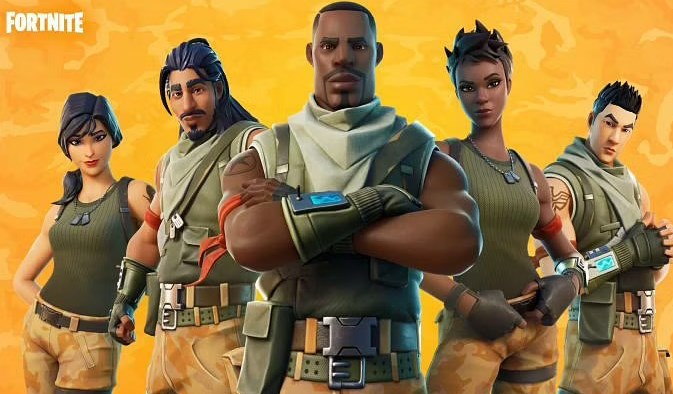 Price
This one is sort of a cop-out answer but worth mentioning nonetheless. The default skins in Fortnite are, technically, some free skins. You would not be able to play the battle royale game without skin, and Epic Games has you covered with several of them.
Appearance
There are many different default skins that you will find in Fortnite. These are there only for players who do not have their own skin just yet. In general, they all have the same basic military uniform as they are at boot camp. The only difference is within the ethnicity and gender of the characters.
History
There are several default characters that you can use, but Epic Games plays it a bit coy with them. For some reason, the developer does not let you pick which default character you get. Instead, it is randomly decided between each match which version you will get in the lobby. This can be a little bit weird, but they are free, so they are mainly just there to tie you over until you get a more permanent free or paid skin.
Pros
Free.
The diversity is neat.
Cons
There is no way to select which default character you want to play as.
Lt. Evergreen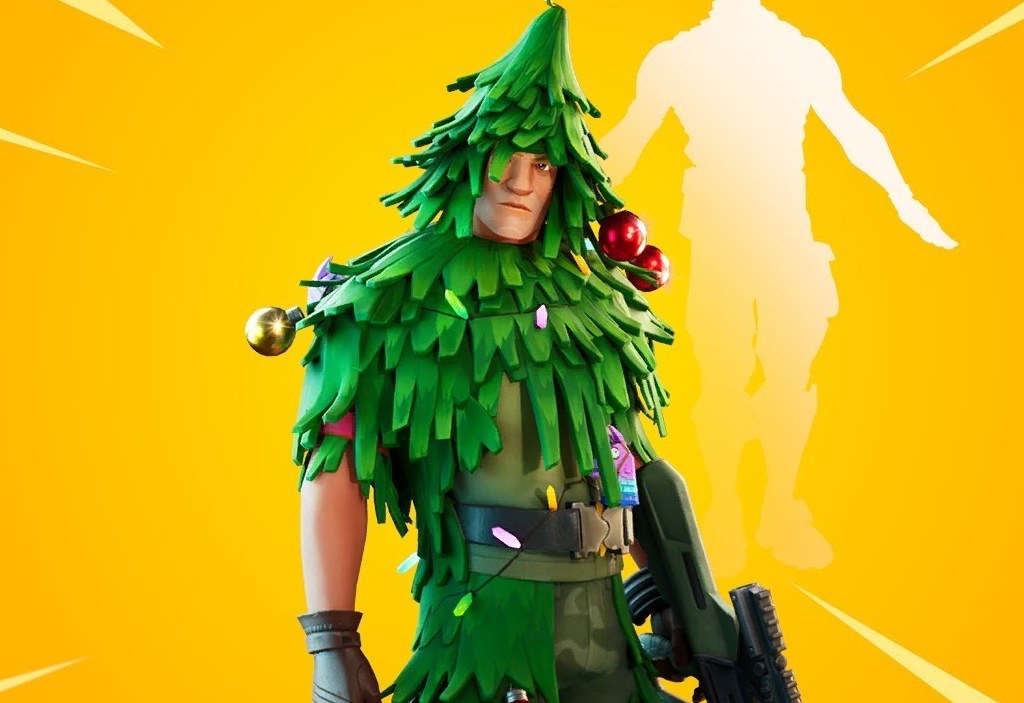 Price
Moving away from the skins tied to Twitch, we have our first genuinely free skin in Lt. Evergreen. This is an epic outfit that players could get for free during a limited time in Fortnite battle royale. During December and January of 2019 and 2020, respectively, this skin was available.
History and Lore
Around this time of the holiday season in the winter, Epic Games hosted the Fortnite Winterfest 2019. This major limited-time event saw the release of several items, game modes, and more. Epic was in the holiday spirit, so it gave out plenty of free presents to players in the community.
One such freebie was an entire outfit for free. Players did not have to spend any money on the item or anything outside of the game to get it. All the players had to do was show up, and they would earn this item. How it worked was that there were presents in the particular Winterfest Cabin area.
Every day, new presents would appear, and players who showed up in the game between December 25, 2019, and the end of the event would unlock this skin for free.
Appearance
The skin itself features the Jonesy look but with him wearing a bright and cheery Christmas tree. The tree is complete with decorations already on it.
Pros
Holiday-themed skins are always cool in my opinion.
Absolutely free with no strings attached.
Cons
It was only available for a short period.
The skin design itself is a bit cheesy with the whole Christmas tree costume.
Krisabelle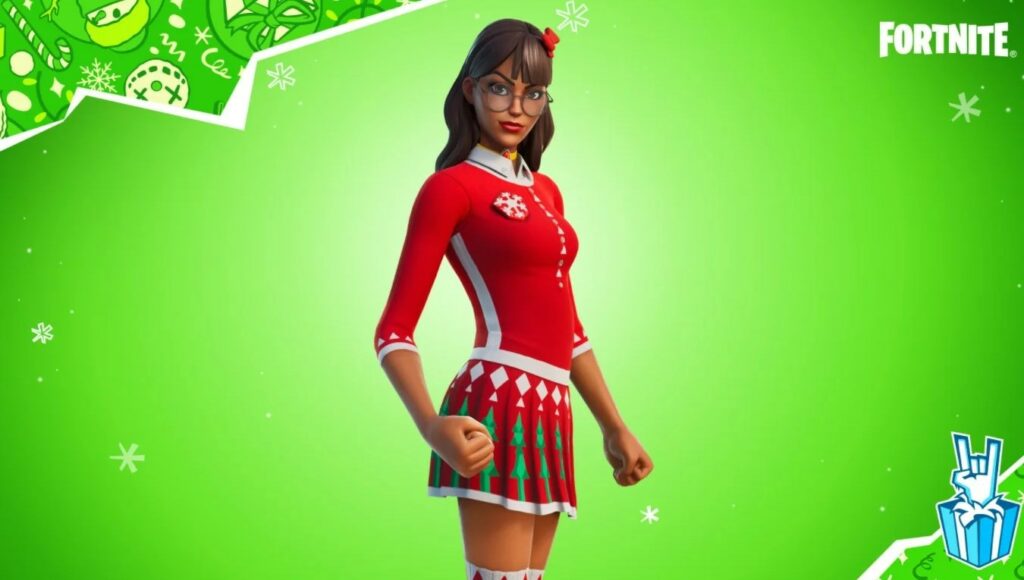 Appearance
Speaking of Winterfest skins, the next one on this list is the Krisabelle free skin. This is one of my favorites on this list and a skin that I sometimes use in matches. It is only a rare outfit based on the Jane model character.
In this skin, Jane has her hair down altogether. She wears large circular glasses to give her a more intelligent look. She also wears a little red bow in her hair to provide a lovely accent to her clothing style. As for her actual outfit, it is completely designed around the holiday season.
She has a holiday sweater that is mostly white and red, with a simplistic design to it. On the bottom, she is wearing a red, green, and white skirt that has an intricate pattern to it. Her socks are extremely long and match the skirt nicely.
Price and History
The only way to get the Krisabelle skin for free was during the Winterfest 2021 event. If players logged into the game from December 22, 2021 through the end of the event in January 2022, they could unlock her for free. This was done in the presents area of the main battle royale lobby.
Pros
It was free without requiring other strange subscriptions.
The skin actually looks pretty good. I'd pay money for it, which is rare for a free Fortnite skin.
Cons
It was only available for a very short time.
Polar Peely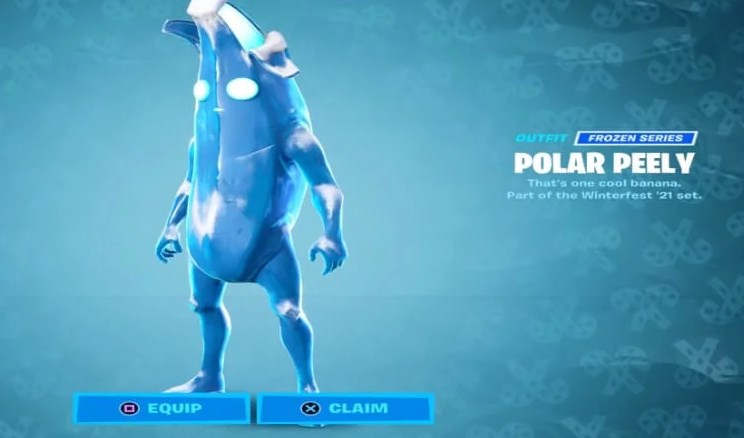 Appearance
Interestingly enough, Epic Games was feeling quite generous in Fortnite's Winterfest 2021 event. Not only was Krisabelle part of the freebies, but so was Polar Peely. This skin is also my pick for the best free skin that has ever been in Fortnite up until now.
This particular skin is a take on the classic Peely skin from Chapter 2. The banana peel Fortnite-exclusive character takes on a frosty feel with this Polar Peely version. It is essentially the same skin but turned blue and cold from literally being frozen alive.
Polar Peely is actually a bit disturbing the more you look at him, especially in the eyes. It almost seems like he is a White Walker from the Game of Thrones series. This frozen take on the banana guy is easily the best truly free Fortnite skin to ever be released.
Price and History
You could unlock him in the same way that Krisabelle was unlocked, and that was through opening the right present with him in it during the Winterfest 2021 event. So long as players logged in between Christmas Day on December 25, 2021 and the end of the event in early January, they could get this skin. I like this skin so much that I regularly use it during the winter and when my party goes for a Peely theme.
Pros
It was totally free with no strings attached.
The best-looking, absolutely free Fortnite skin.
You can never go wrong with a Peely skin.
Cons
None whatsoever except that it needs to come back for those who missed out on it.
Rebirth Harley Quinn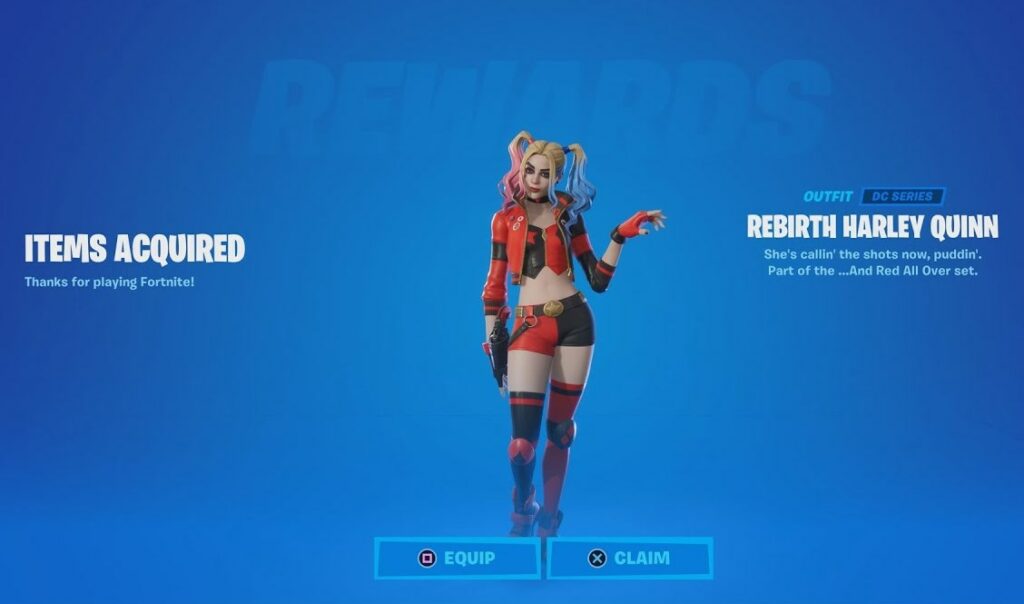 Appearance
The Rebirth Harley Quinn skin is one of the best for the crazy lovestruck sidekick of Joker. This skin is a nice blend between the Margot Robbie take on the character and the classic jester version from the comics. She has the now iconic blue and red tips of her pigtails.
But at the same time, this version of Harley Quinn also has the classic red and black outfit that is divided nicely down the middle. Mixing this with the more revealing attire of Robbie's version of Harley Quinn and the Rebirth edition is a nice blend of the old and the new in DC Comics.
Price and History
This skin was also one of the "free" ones that players were able to get. How it was done was by purchasing the first issue of the Batman and Fortnite Zero Point crossover comics. Alternatively, players could get it through the item shop.
But buying the comic proved much cheaper as you got an issue of the latest DC Comic alongside a free code for her skin for almost half the price of what it would be in the item shop.
Pros
This was the best take on a Harley Quinn skin in Fortnite, in my opinion.
Cons
It is only free if you spent money elsewhere, which is lame.
Armored Batman Zero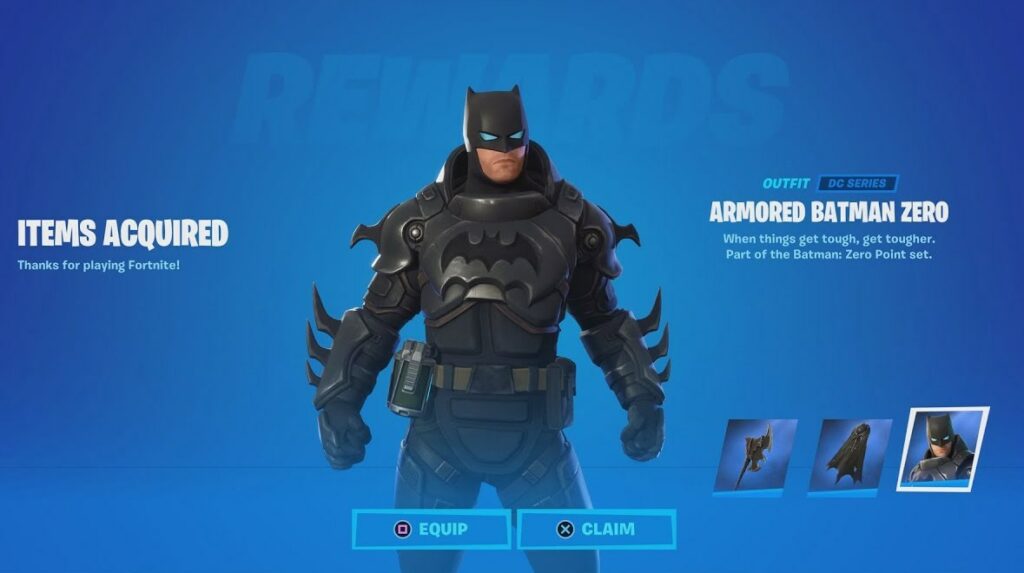 Price and History
Harley Quinn is not the only complicated free skin on this list that has to do with DC Comics. In the same vein, there is the Armored Batman Zero skin. This outfit was part of the same crossover with DC Comics during the Batman Fortnite Zero Point collaboration.
Unlike the Harley Quinn skin, though, the Armored Batman Zero skin was a bit harder to get. To get this one, you needed not just the first issue with Harley Quinn's code but all six of the issues in total. Only if the player owned all six comics in the crossover and redeemed all six codes would they receive the Armored Batman Zero skin.
Though this would make the skin "free" in the end, it would be quite costly out of the game to get it. In this case, it is not nearly as lucrative as the Harley Quinn skin. That is why some players opted to just purchase the Armored Batman Zero skin from the item shop.
Appearance
This skin is similar to the armored Batman that we saw in the Batman v Superman film. The difference is that, again, it takes that modern newness and mixes it a bit with the older Batman style.
Pros
A "free" Batman skin in Fortnite? That's always welcome.
Cons
Armored Batman is alright, but not my favorite style for the Caped Crusader.
It costs a hefty amount of money for this otherwise "free" skin.
Galaxy Skin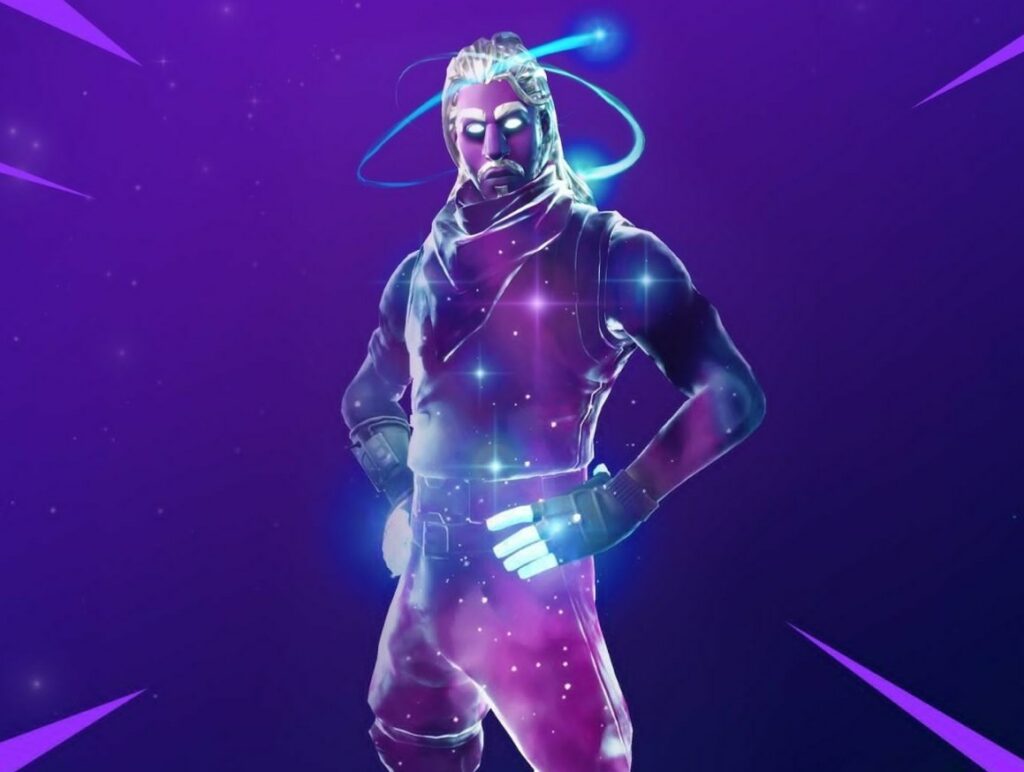 History and Appearance
Finally, there is the Galaxy skin. This is one of the most infamous skins in all of Fortnite's history. It is also one of the best and I considered it the best skin in Fortnite for many seasons. It features a wise old man with a white beard whose entire body is made up of a purple and blue-ish galaxy.
The galaxy swirls around the body of the outfit and it looks absolutely fantastic. For the longest time, there was no effect or outfit that could even come close to the epicness of the Galaxy skin. However, while you could consider it "free", the requirements for getting this skin were great.
Price
The only way that players were able to get the Galaxy skin was by purchasing one of the Samsung Galaxy products at a specific time. It had to be between a handful of Galaxy items and they were quite costly, averaging in the several hundreds of dollars and close to $1000. Doing so would grant you the free code for this skin that you could not get anywhere else. To this day, the Galaxy skin remains one of the best and rarest skins around.
Pros
There is nothing at all like the Galaxy skin
It still reigns supreme as one of the best Fortnite skins of all time.
Cons
It never came back for a second chance.
You could only get this "free" Fortnite skin by spending hundreds, if not thousands of dollars outside of the game.
FAQs
Question: What is the number 1 rarest free Fortnite skin?
Answer: The number one rarest free Fortnite skin is absolutely the Galaxy skin. It was only available for a limited time, which most of the skins on this list also have going for them. However, the sheer amount of money that you had to spend to get it was insane. As such, only a select group of players ever purchased a Samsung device at the time and got the Galaxy skin. It is one of the rarest skins in Fortnite period, not just for free ones.
Question: What Fortnite skins can you get for free?
Answer: You were able to get all of the Fortnite skins in this list for free and a few more that we did not include. Some of the skins that we did not include are ones like the PlayStation Plus Pack skin. There are also several superhero crossover skins that were free if you were able to do well in the tournaments.
Question: What are the best free Fortnite skins?
Answer: The best free Fortnite skins are the 10 that we included on this list. Here is a quick recap list of all of them:
• Trailblazer
• Sub Commander
• Havoc
• Default Skins
• Lt. Evergreen
• Krisabelle
• Polar Peely
• Rebirth Harley Quinn
• Armored Batman Zero
• Galaxy Skin
Conclusion
The best free Fortnite skins are few in number. This is most likely due to the fact that Fortnite itself is a free-to-play game. Epic Games gives out freebies quite often to players, but not usually in the form of outfits. This is because skins are likely where the developer makes the most money.
However, of the few free Fortnite skins in the game thus far, Polar Peely is definitely the best. While I think the Galaxy skin is a better overall skin, it was quite expensive to get. In terms of the best overall truly free skin in Fortnite, there is no touching Polar Peely. It is a great skin that I would have gladly paid money for. Thankfully, I didn't have to. For more great skins in Fortnite, be sure to take a look at our recent guide to the best Naruto Fortnite skins.