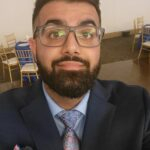 Latest posts by Vishal Thakur
(see all)
"Hey Siri, play Chun-Li by Nicki Minaj…"
Chun-Li is one of the few characters synonymous with the Street Fighter series of games. Everyone recognizes her and her signature 'ox-horns' hairstyle, strong legs, and blue Chinese dress known as a qipao. So when Epic Games decided to collaborate with Capcom to bring beloved Street Fighter characters into Fortnite, it only made sense to include the first playable female protagonist from the classic title (the other fighters that got a skin are Ryu, Guile, and Cammy). 
I will admit, I am no Street Fighter expert, but I've dabbled in their games enough to know for a fact that Chun-Li is one of a kind. Below you can find some quick facts about the character (table adapted from Fandom Street Fighter Wiki):
| | |
| --- | --- |
| Name | Chun-Li (traditional Chinese: 春麗; simplified Chinese: 春丽) |
| Species | Human |
| Birthdate | March 1, 1968 |
| Birthplace/Nationality | China |
| Height | ~ 5'5" to 5'7" (165 to 170 cm) |
| Eye Color | Brown |
| Hair Color | Varies, usually brown or black |
| First Appeared In | Street Fighter II: The World Warrior |
| Fighting Style | Chinese Martial Arts |
| Occupation | Interpol Officer |
| Quotes | "I'm the strongest woman in the world!" |
So, let's have a closer look at this awesome skin and other parts of the Chun-Li bundle! 
Bottom Line Up Front
The Chun-Li skin is occasionally available in the Fortnite Item Shop in a bundle along with the Ryu skin, a few backblings and emotes, and a loading screen. This bundle is one part of the Street Fighter set that was created in collaboration with Capcom and Epic Games. The bundle costs 2,200 V-Bucks and hasn't appeared in the shop in over six months (as of April 2022). 
Alternatively, you can get the Chun-Li skin, built-in Lightning Kick! emote, and Super Cab-Masher backbling for 1,600 V-Bucks. Go out and cop these amazing Street Fighter cosmetics if they appear in the shop again!
Chun-Li Skin
The main skin has a tremendous amount of detail and accurately recreates Chun-Li. My eyes first shift to her signature 'ox-horn' hairstyle – two little buns on either side of her head that are tied up with white fabric. Next, I notice her epic blue qipao or Chinese dress that is accented with gold. The main version of Chun-Li sports a soft, white corset that has some nice patterning. Next, we see she has spike collars as bracelets on each wrist, giving her an aggressive, almost menacing quality. To finish off the look, Chun-Li is wearing red pants and badass white knee-high boots. 
The Nostalgia variant of the Chun-Li skin has some tweaks to give her a different look. Instead of wearing a qipao, Chun-Li is wearing a small blue vest with similar gold accenting as the main skin. Instead of red pants, Chun-Li sports waist-high blue leggings/joggers with two gold stripes going down their length. Finally, the only other notable differences are her simple blue and gold running shoes and her hair buns which do not have any fabric on them.
In both variants of the skin, Chun-Li stands in a fighter pose in the Fortnite lobby. Her arms are in what appears to be a traditional martial arts pose, and her left leg is held high and bent at the knee as if she's about to kick. It's pretty unique if you ask me.
Backbling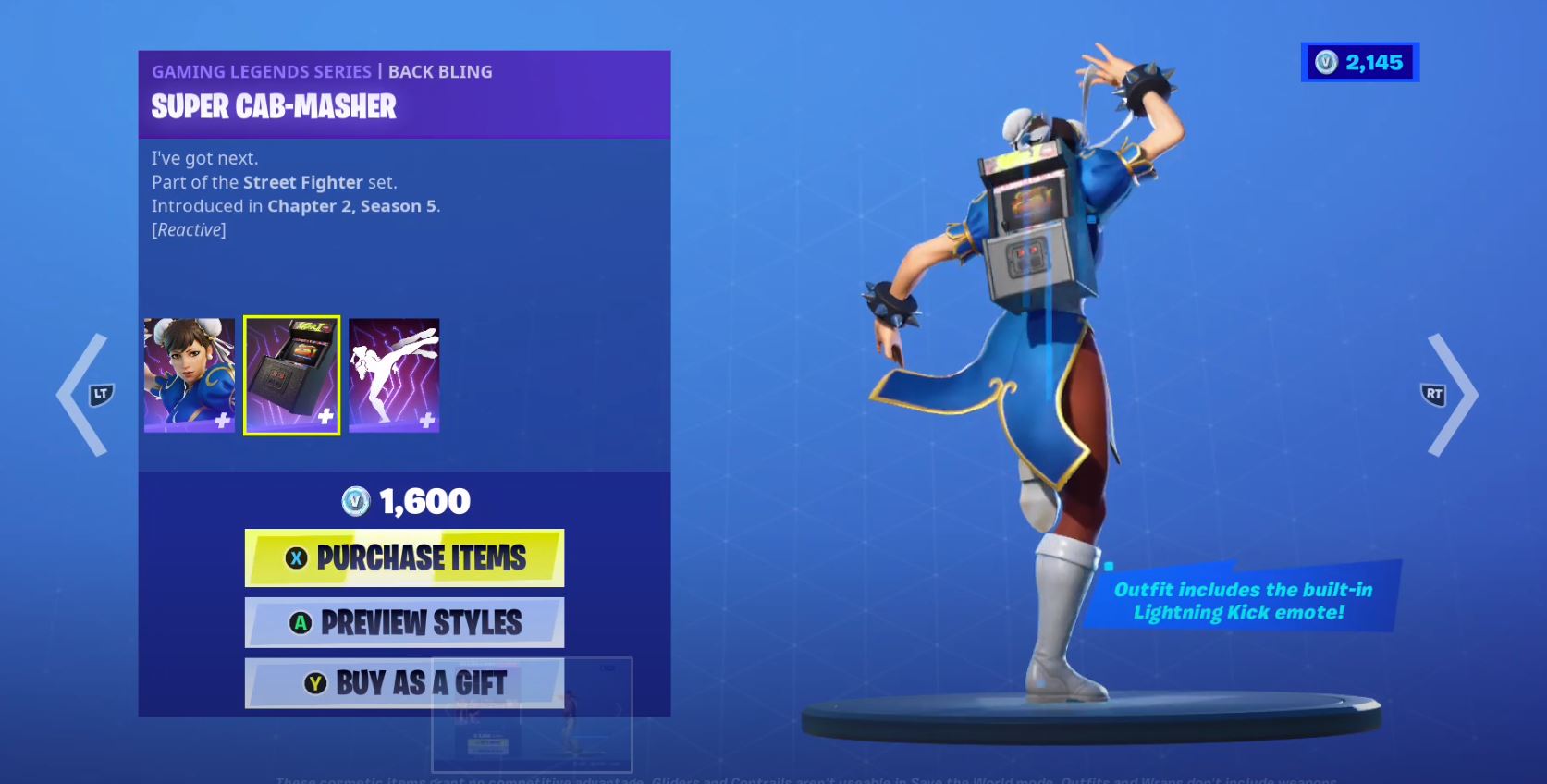 I LOVE this backbling. It gives off such retro video game vibes. Basically, it's an old-school black arcade system with Street Fighter II on the screen. It's even equipped with all the buttons and joysticks you would expect. But the coolest feature of this backbling is the fact that it's reactive! When you spawn into the pre-game lobby, the backbling's screen will show the Street Fighter character select screen. It's a very nice touch. A secret about this backbling that many people may not know is it even reacts to storm damage! Basically, if you get stuck in the storm the screen will show the Street Fighter character Blanka. Maybe my Street Fighter experts can tell me the relevance or connection between Blanka and the storm. Either way, it's another awesome touch that showcases Epic and Capcom's attention to detail. 
Emote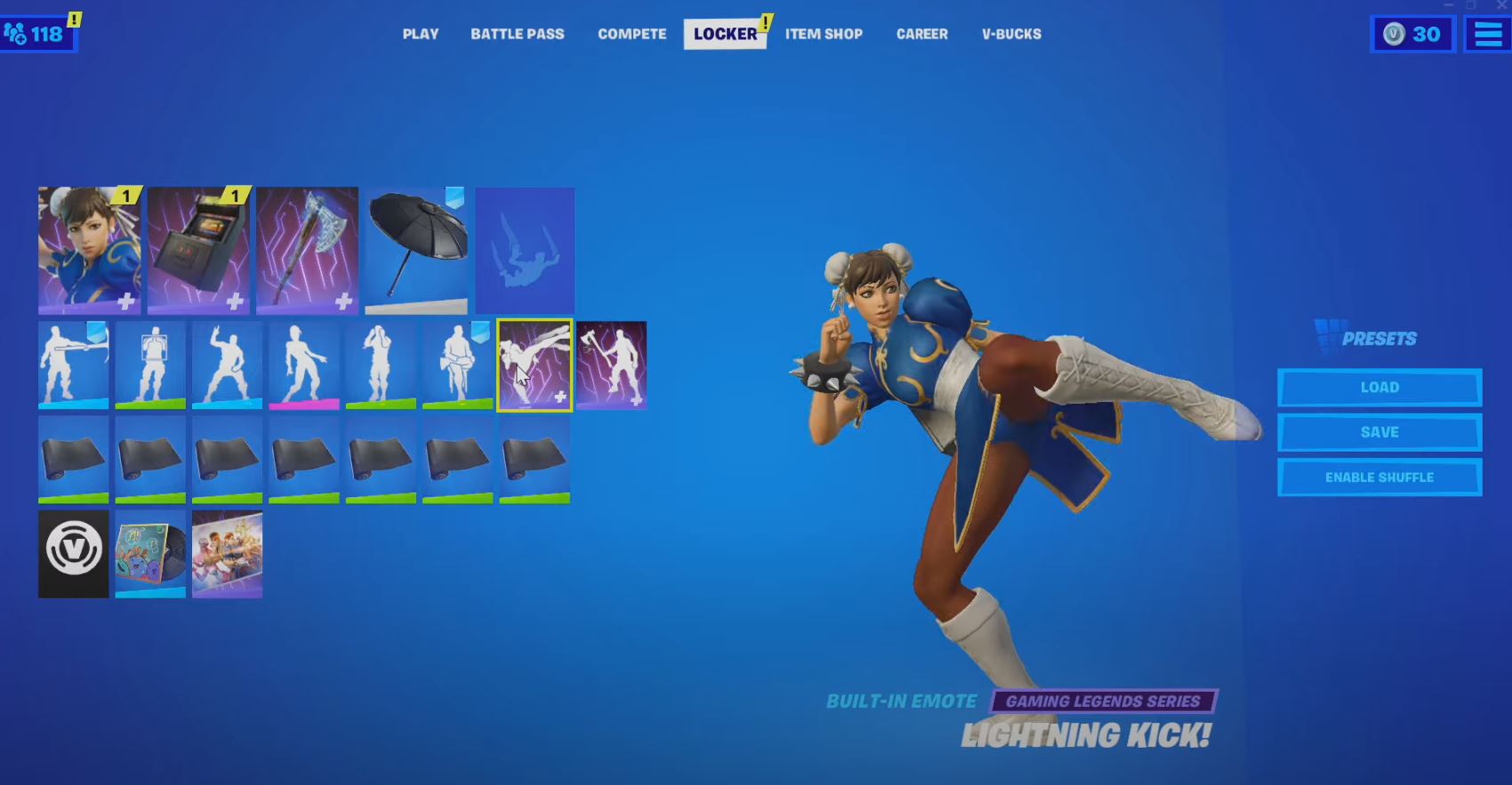 The built-in emote for the Chun-Li skin is pretty neat. It's called Lightning Kick! for good reason as the emote involves Chun-Li spinning 360 degrees and then doing rapid kicks with both her left and right leg. She finishes the move with one more 360 that transitions to an upward-directed kick (like an uppercut but with the leg). The sounds of the emote also give off retro Street Fighter vibes. You hear Chun-Li making intimidating fight grunts with her vintage theme song playing in the background. Overall, a very well put together emote that will enrage your enemies if used after a kill or Victory Royale 🙂
How to get the Skin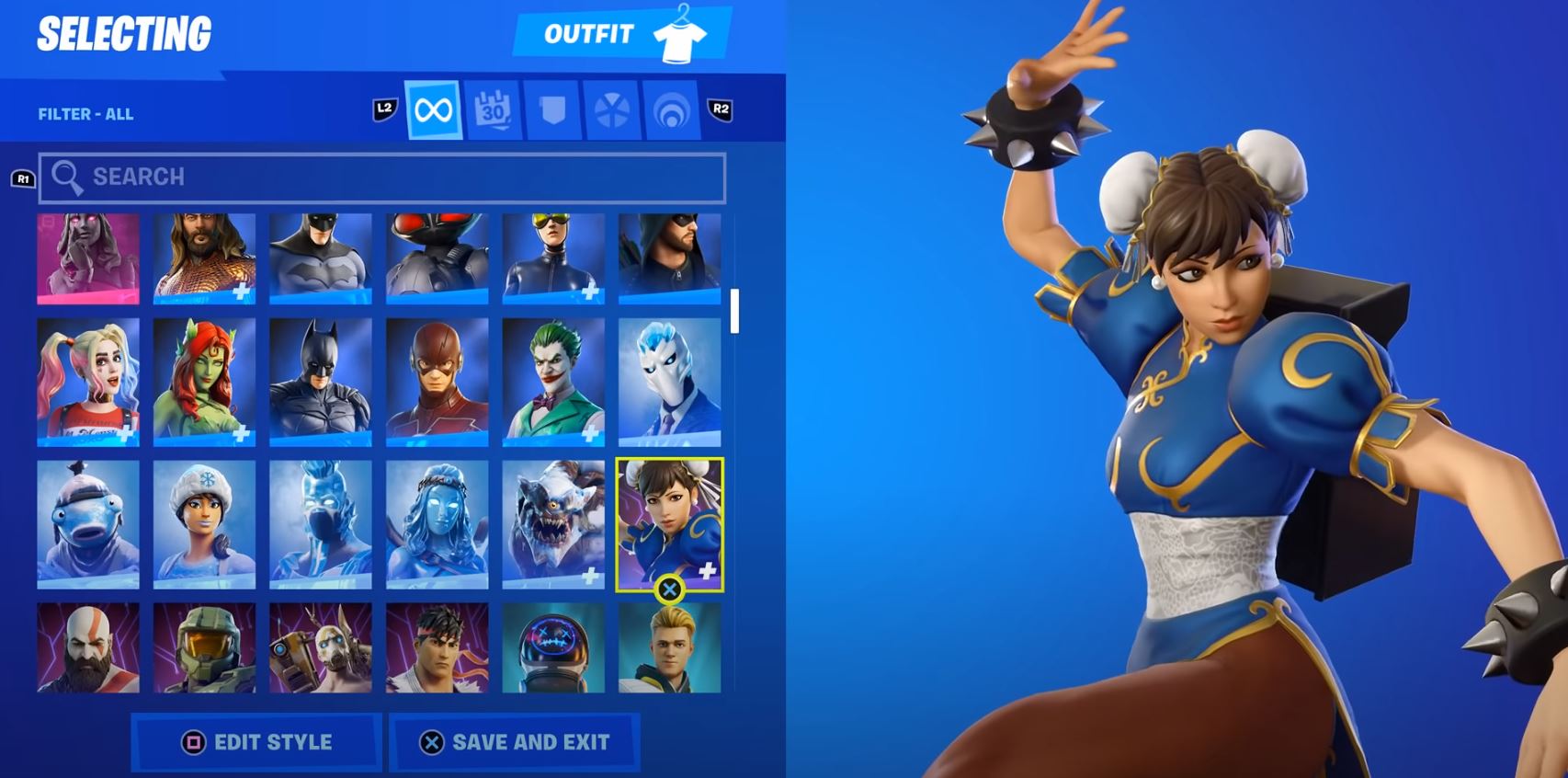 The Chun-Li skin (along with her emote and backbling) can be purchased in the Fortnite item shop for 1,600 V-Bucks. You can also get it bundled with Ryu and his items for 2,200 V-Bucks. The skin is part of the Gaming Legends Series of skins, with this particular set being a collaboration between Epic Games and Capcom. The set shows up in the shop quite infrequently so I suggest grabbing it as soon as it's available next!
FAQs 
Question: Is Chun-Li a rare Fortnite skin?
Answer: Yes, the Chun-Li skin in Fortnite does not rotate in the Item Shop very often. As of April 2022, it has not appeared in the shop in about half a year. If you are interested in the skin, I highly recommend purchasing it next time it is available. 
Question: How much does the Chun-Li Fortnite skin and bundle cost?
Answer: The skin, along with its built-in emote and backbling, costs 1,600 V-bucks. If you wish to purchase it alongside the Ryu bundle, it'll cost you 2,200 V-bucks. 
Question: Does the Chun-Li Fortnite skin come with other cosmetic items?
Answer: It does indeed! The skin itself has two variants that allow you to customize Chun-Li's clothes. There's also a built-in Lightning Kick! emote which involves her doing a few rapid kicks with both legs, followed by a roundhouse uppercut-like kick. It even has her signature music and voice effects. Finally, the backbling is a sweet arcade system equipped with all the controls and a screen that is reactive. 
Conclusion
Chun-Li is arguably one of the faces of the Street Fighter video game franchise. Thus, it only makes sense that she was included in Fortnite as part of the Street Fighter set of skins and cosmetic items. Stand out in the battlefield and get your hands on this skin and its items as soon as it's available in the Item Shop! After all, who wouldn't want to be the "strongest woman in the world"!?
Looking for more interesting readings? Check out: