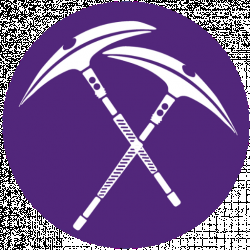 Latest posts by Fort Fanatics Team
(see all)
Since I was a kid I have loved rabbits, and that love brought me to one of the best seasonal skins in Fortnite; Guggimon. When I was 4 or 5, I was gifted 2 rabbits by a family friend, and before we knew it, I had a full clan of them. They were my mini ninjas, my assassins for hire, and my best friends. Time passed, and I no longer have those rabbits but imagine my surprise and excitement when thanks to Fortnite, I once again had access to a cute but deadly rabbit. I am, of course, talking about the murderous rockstar Guggimon skin from Fortnite Battle Royale.
I have had a rough relationship with Fortnite. Despite being a game all about building in the heat of combat, I have hated that gameplay mechanic. Whenever a Fortnite season lacked tools to counter builders properly, I would stop the game and return the next season. In that similar fashion, I had been on a hiatus from Fortnite until I laid my eyes on the aforementioned Guggimon skin in Fortnite. This was back in Fortnite Chapter 2 Season 7. Guggimon was a newly introduced character as part of the battle pass.
When I first saw the art of Fortnite Chapter 2 Season 7, my eyes were instantly drawn to the bunny ears, and I was like, hold up! Is that a rabbit holding an ax? I have to play Fortnite now! Launched the game and instantly bought the battle pass to get my hands on the Guggimon skin. It cost me 950 V-Bucks, but it was definitely worth it since now I had my own ax-wielding murdering rabbit skin.
While many people might not know it but Guggimon is actually not an original Fortnite creation. The character is a persona made by Superplastic Toys, and Guggimon as a "synthetic celebrity" has existed for a long time before making his appearance in Fortnite. In fact, the character even has his very own Instagram page with over 1.5 million followers. Being a musician, you can see his wild lifestyle and other collaborations with celebrities like J Balvin and Paris Hilton chronicled over on his official Instagram. Since the whole Guggimon persona is all about collaboration, it makes sense that Epic Games would sign a deal with this horrorcore artist to have him fight against the aliens with the likes of Rick Sanchez and Clark Kent, aka Superman.
As is typical of Fortnite characters, you could also find Guggimon within the game at Lockie's Lighthouse, and he turned out to be one of the deadliest enemies I have ever faced in the game. Even though Guggimon is supposed to be on our side in the fight against the Cube Queen and her alien invaders, he can turn hostile and attack you. Defeating Guggimon would drop an Epic Heavy Assault Rifle.
Guggimon Skin
In order to unlock the Guggimon skin, players had to reach level 30 on the battle pass before the page got unlocked. At first glance, the Guggimon skin shows a sharply dressed white rabbit who could kill enemies not just with the weapons at your disposal but also with his looks. However, the real nature of Guggimon lies behind that cute face. Wearing purple striped trousers, gold chains, bracelets, and sporting tattoos on his knuckles, you would think this is just another famous celebrity flexing their style, but when the mask comes off (literally), that's when you see the real terrifying side of Guggimon.
As is typical of most Fortnite skins, the Guggimon skin also has multiple styles for players to customize the character. One of those is a skull-like mask that actually makes him look cute. However, the default version without the mask is where you see his menacing eyes and razor-sharp teeth, truly earning him the Horrorcore artist title. The mask does a good job of hiding his menacing smile and the murderous intent in his eyes.
You can unlock more styles through the Bonus battle pass levels, but those are just recolors and the mask on/off are the only two major styles of the Guggimon skin.
The three bonus skin styles available are; Silver, Golden and Prismatic. My personal favorite has to be the gold skin for Guggimon as it stands out as the most unique version since Primastic is pretty much just a darker shade of the Silver style. Ever since I unlocked the Golden Guggimon skin, my friends have reminded me that I need to get a life for grinding so many bonus levels of a battle pass in order to unlock just a recolor of a skin. They don't understand; Fortnite IS life.
Fashion Accident Janky Backpack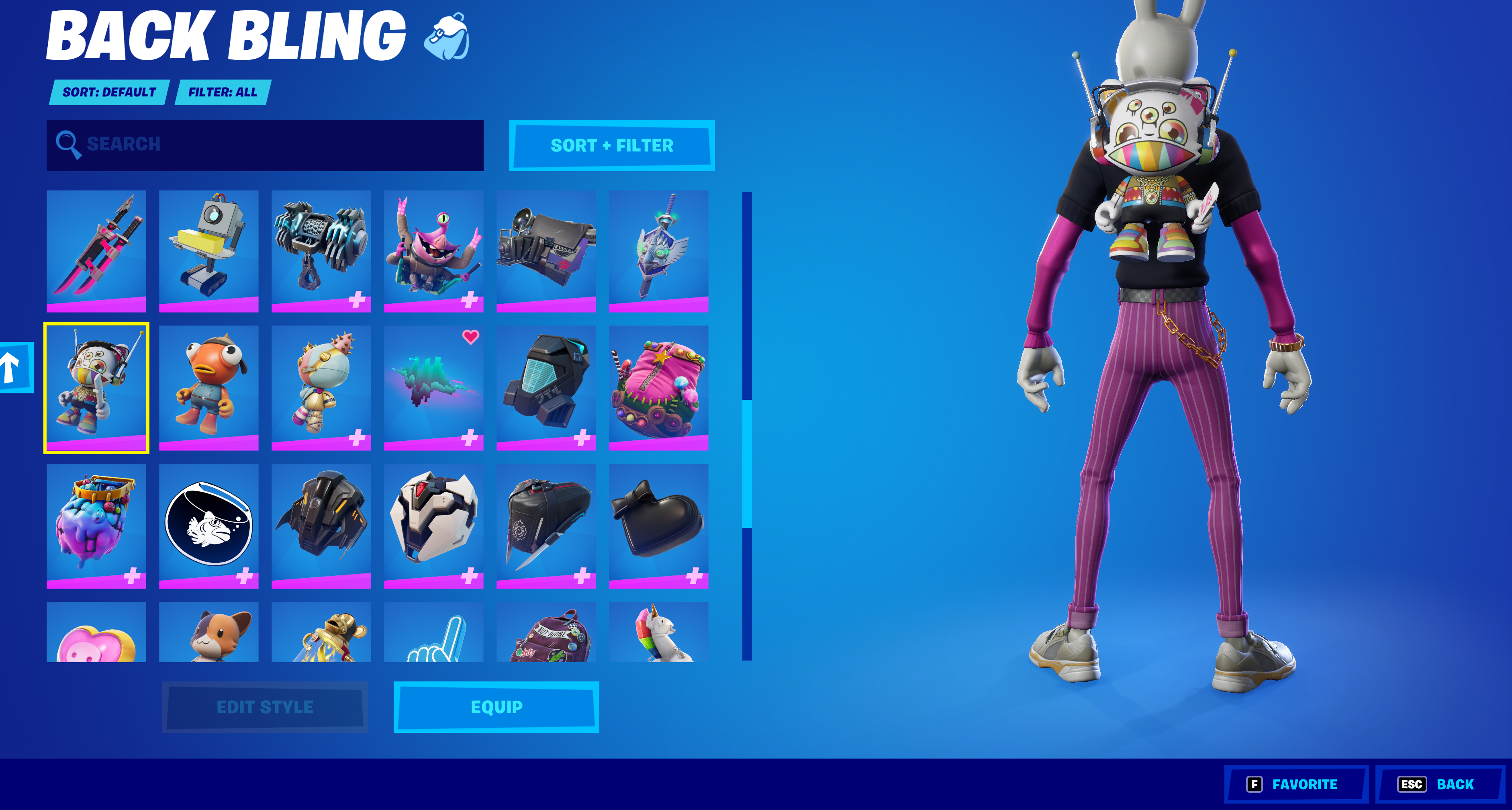 Part of the Guggimon set is the little murderous back bling he wears, which resembles his best friend Janky, dressed in white and rainbow colors, wearing headphones while holding a small toy knife. Guess they are both feeling pretty murderous? The backpack is cute but not really my style as I prefer to use reactive back bling. Janky's cuteness and popularity also prompted a skin bundle of his own during Chapter 2 Season 8.
Axe 2 Grind Theme Music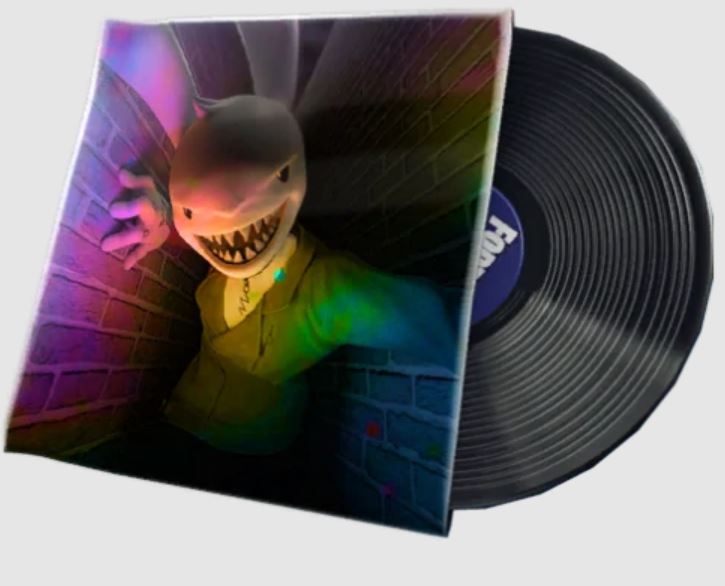 Besides the Guggimon skin, this has got to be my favorite piece of the Guggimon set in Fortnite. As is customary with a lot of bundles and outfit sets in Fortnite, the Guggimon set also has theme music that you can choose to play while waiting for a match. The instant I heard the Axe 2 Grind theme music, I fell in love with it and knew I was going to keep this as my default theme. That is actually what I did, and I had that theme on for 3 seasons until I got fed up and had to switch to others.
What's my name?

Guggimon, Guggimon, Guggimon

You know why? Cause I got an ax 2 grind
The raspy voice of Guggimon singing a murderous lullaby? *chef's kiss* I still switch out to the theme from time to time and wait on the menu to listen to the complete track.
Chop Chop Harvesting Tool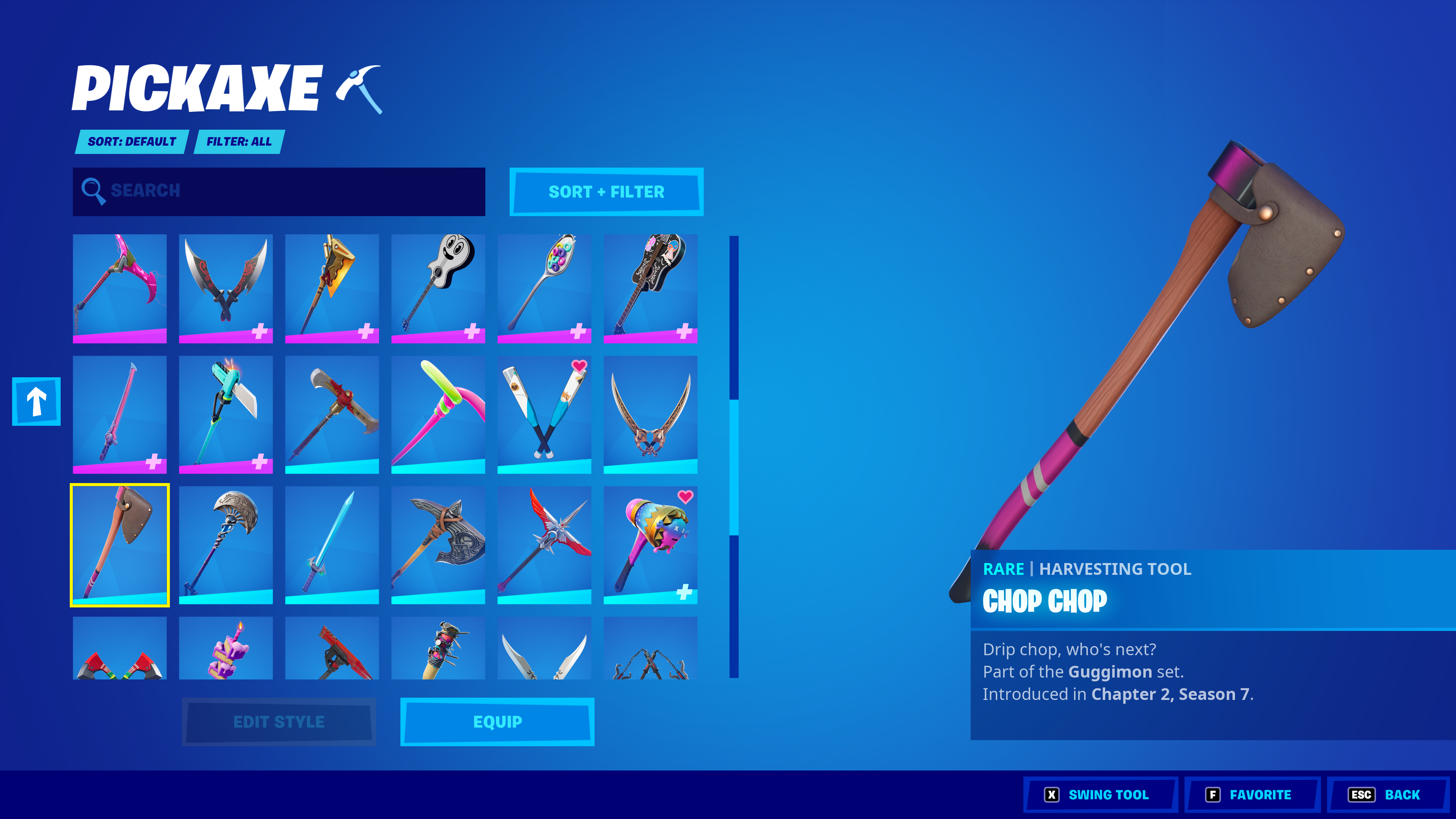 As I mentioned before, the whole theme of the Guggimon set in Fortnite is of an ax-wielding rabbit, so it makes sense that the harvesting tool part of this set would be an actual chopping ax. The Axe head is sheathed; I guess to make sure Guggimon doesn't accidentally start "harvesting" his friends when jamming to his Axe 2 Grind theme song. The Chop Chop harvesting tool is a decent look item but far from my favorite in the game as I usually prefer dual-wield harvesting tools.
Chop Dropper Glider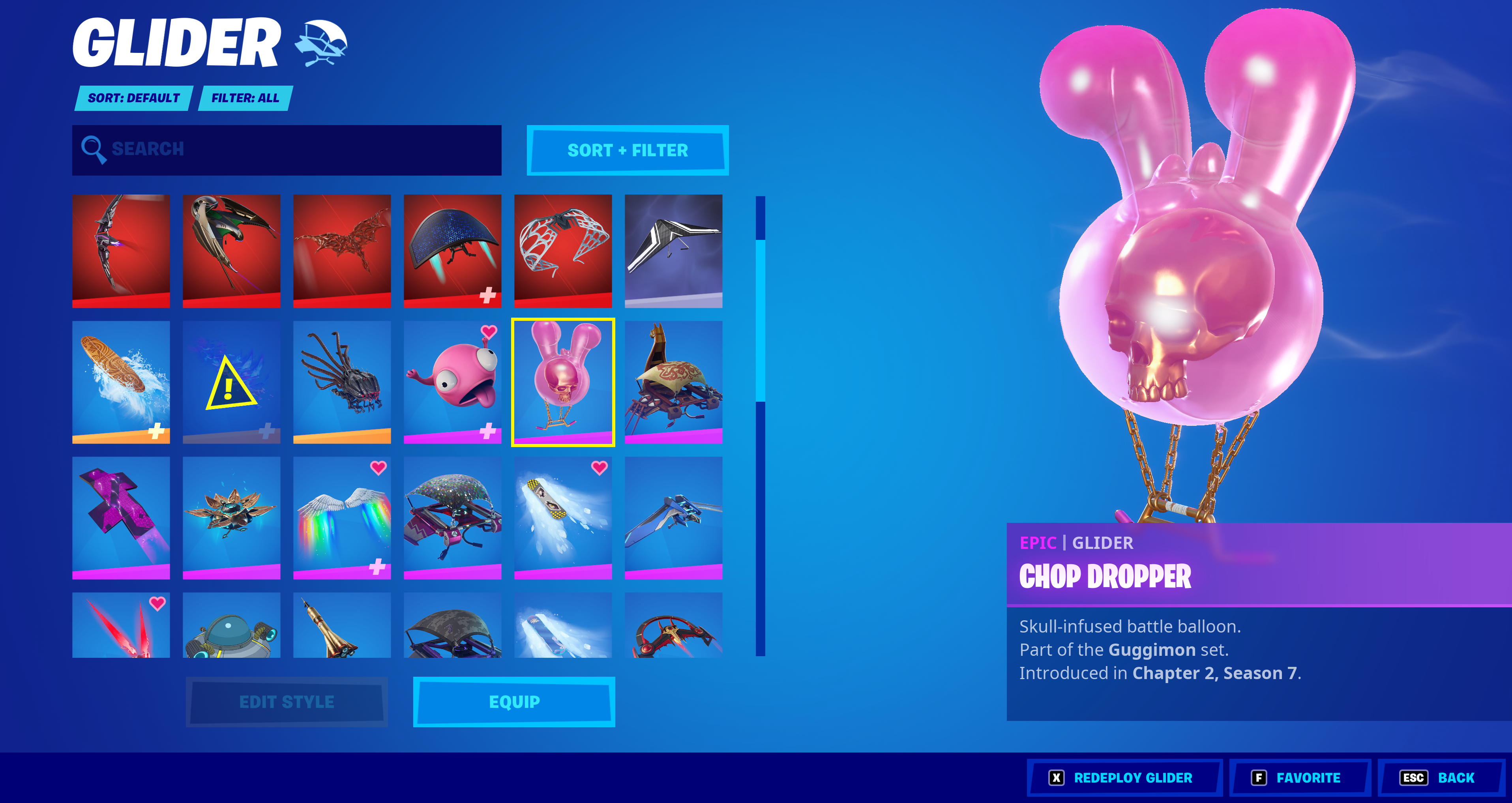 A golden skull covered by a pink bunny balloon, tied to the handrails with Guggimon's signature golden chains. Yeah, you read that right. That's the Chop Dropper glider as part of Guggimon's set. It is a decent-looking glider, and the balloon inflates when you deploy it to reveal the skull inside. All very fancy and befitting the theme of the character.
Guggi Was Here Spray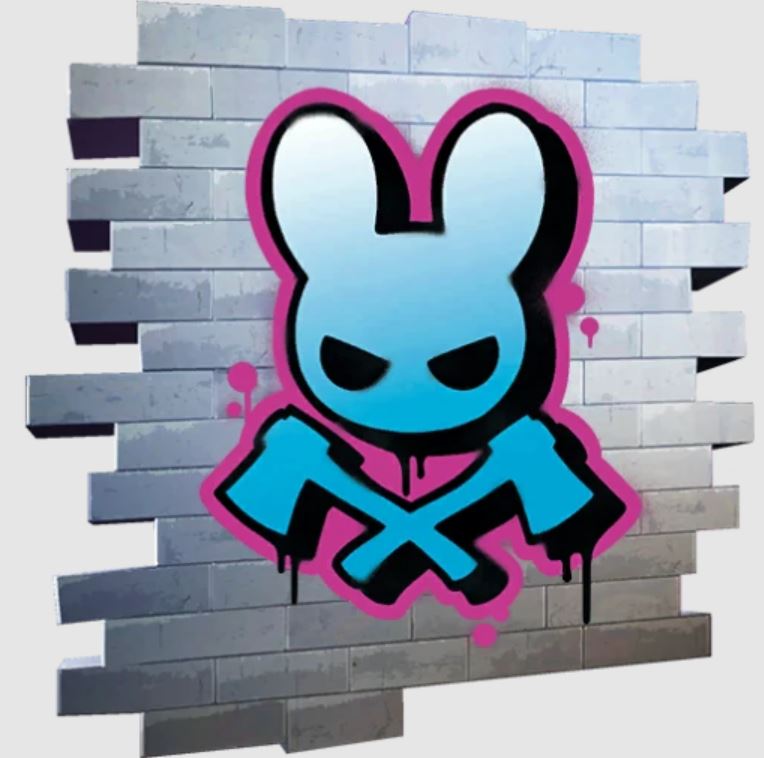 The less we talk about sprays and wall paints in Fortnite, the better. Shaped like pirate crossbones, the Guggimon spray emote is exactly what you would expect. A bunny head with 2 axes making an X underneath them. I have never enjoyed these emotes, so this was just a forced unlock on my part to complete the battle pass, and I never looked back on it.
Guggivision Loading Screen
A trippy loading screen where you are being hypnotized by Guggimon into joining his murder music cult. Bombs, baseball bats, axe, hatchets; basically any weapon goes as long as Guggimon gets to cause some mayhem.
FAQs
Question: Is Guggimon a real character?
Answer: Guggimon is a virtual persona and an animated influencer, similar to League of Legends' K/DA with millions of followers on social media platforms like TikTok and Instagram. Alongside his best friend Janky, he has contributed his presence and influence to many brands and creators over the years on different projects.
Question: What is the Guggimon Skin?
Answer: A murderous rockstar rabbit created by Superplastic Toys introduced during the Fortnite Chapter 2 Season 7 as a collaborative effort, available as an unlock through the season's battle pass.
Question: How much does the Guggimon Bundle Cost?
Answer: Unfortunately, the Guggimon skin and its associated items were only available to unlock through the Chapter 2 Season 7 battle pass. There is no way to purchase them through the in-game store.
Question: Will the Guggimon skin ever make a return in Fortnite?
Answer: On its own? Probably not, as that loses the value of the battle pass unlocks. However, knowing the way Fortnite handles skins and characters, it is possible that a variation of Guggimon might end up in the store one day, wearing a different outfit or slightly different themed. So many other characters such as Peely and Jonesy in the game have gone through such transformations before they became available in the store, so one can hope that maybe one day we will see a new version of Guggimon skin.