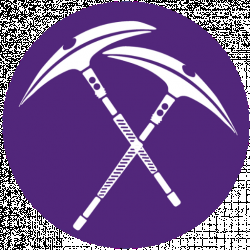 Latest posts by Fort Fanatics Team
(see all)
Fortnite's absolute bread and butter is the "Battle Royale" mode. Released in late 2017 amidst the battle royale genre craze a couple of months after the PvE "Save the World" portion of the game, Fortnite Battle Royale slowly but surely overtook all of its competitors (PUBG being the king at the time) and remains at the pinnacle of the genre today. While other titans have dwindled, Fortnite remains a favorite that engages millions of players and generates huge amounts of revenue.
While Battle Royale is the first thing most players associate with the Fortnite title, it certainly isn't the only option for gameplay nowadays. Not by a longshot.
On December 6th, 2018, Epic Games released Fortnite Creative. Fortnite Creative is a whole new portion of the game that provides players with a completely different avenue to enjoying even more Fortnite content. If you love Fortnite but don't always vibe with the competitive nature of the Battle Royale arena, or if you simply want a place to hone your skills further before taking it online, Creative mode may be the place for you. In this guide, we'll go over what Creative Mode is, what it has to offer, and how you can get the most fun out of it!
Bottom Line Up Front
Fortnite Creative offers a huge variety of content for players to enjoy. This mode allows players to create their own maps and game modes, share that content out with other players, and Creative Mode maps with their friends. The fact that Creative content is player-generated means one thing. The possibilities are ENDLESS. Use Creative to play Fortnite the way you want to play. Whether it's a hardcore 1v1 match, a platforming challenge, a building race, or a fashion contest, you can play it or create it. You'll even earn XP that still counts toward your battle pass! And if your map is chosen, it may even be featured by Epic themselves on the front page.
Where Do I Start?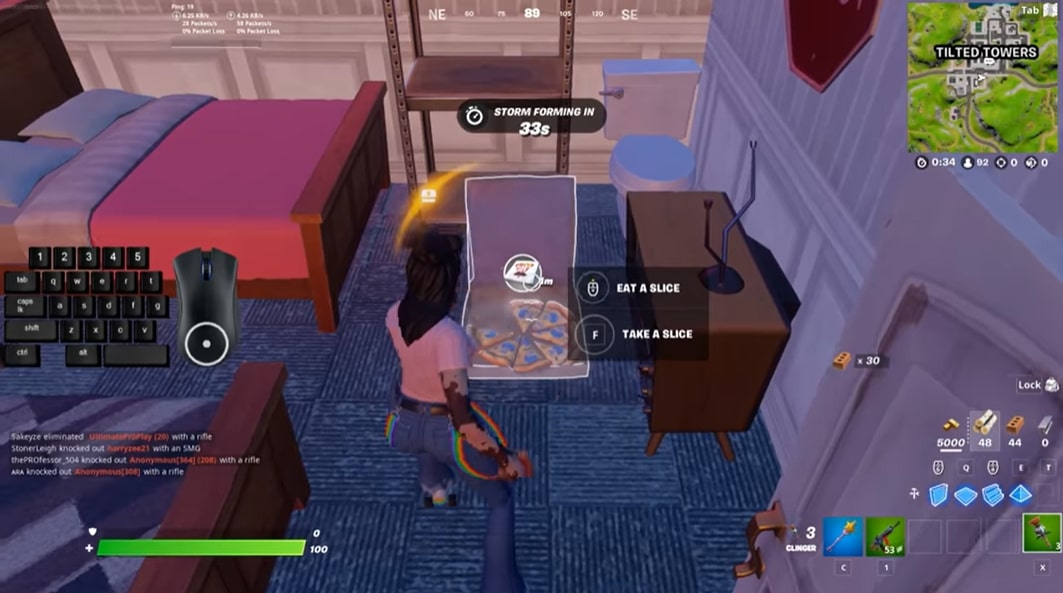 If you are primarily a Battle Royale player, you have most likely already had a glimpse of the content that Creative has to offer. From the Battle Royale lobby, click the box just above your "Play!" button to change your game mode. This screen obviously features the BR staples – Solo, Duos, Trios, and Squads. But you can also scroll down to see a wider variety of modes. Each of these modes is a Creative Mode island that has been created by a member of the Fortnite community. The modes on this screen have been featured by Epic and divided into categories based on which category they fit into. The categories vary widely: maps that are especially fun friends, maps made just for messing around, maps made to pit you against other players and improve your aim, maps for driving and exploring. You name it and the Fortnite community has you covered. A personal favorite of mine is the "Mythic Battles"-style maps. These allow you to fight against other players with the highly revered Mythic-rarity weapons – even ones that have been vaulted in the past!
Try some of the games modes out from this list and see what strikes your fancy. When you find one you like and want to re-visit, be sure to add a "heart" to it to save the game mode to your library. That way, you'll always be able to visit the "My Library" tab to easily find your favorites. You'll notice that you can also enter an "Island Code" to open up a specific. This unique 16-digit identifier is a great way to find specific maps that you may have seen on a YouTube video, an article (like this one), or from your friends. Later on, I'll give you some cool island codes to try out for yourself.
The menu that we've discussed here is a great way to get your feet wet in Creative, as it presents things neatly in categories and helps you narrow down your preferences. But there's something I wish to share with you, dear reader, that will help you to dive in further: the Creative lobby.
The Creative Lobby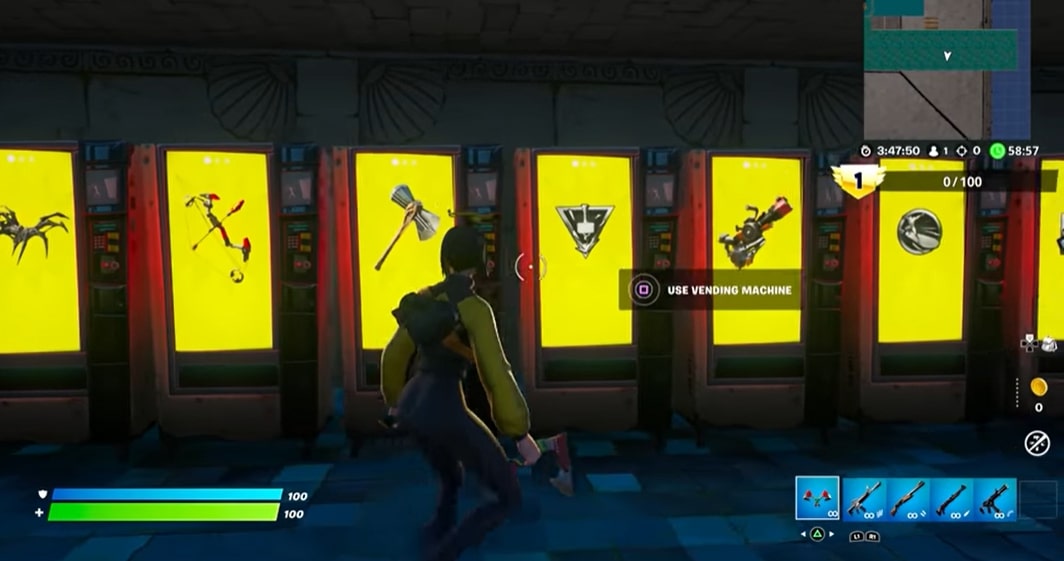 When you open up the game mode menu, click the Create tab at the top to load into the true creative experience: the Creative lobby.
The appearance of this lobby changes weekly like many things in Creative mode so that things stay nice and fresh, but there are a few features that will be consistent. The first thing you'll notice are several "tiles" lining the walls of the lobby. These are the equivalent of the featured game modes when you view the menu from the BR lobby, and they will also be divided up into categories depending on what you're looking for. This is where your map will be featured if your creation is deemed worth by Epic (more about that later).
The next thing you'll notice is a few "portals" with small computer terminals standing in front of them. These portals will be located in a different place in each week's lobby and they do a couple of different things for you. I'll go over these portals now so you know what you're looking at.
The first type of portal will show additional featured game modes when you first load into the lobby. But this portal is different than the featured maps that line the walls, because they are customizable. Stroll up to one of the terminals in front of one of these portals and interact with it. From here you'll see that you can configure the portal to show any of your favorite maps in your library, OR you can enter an island code. This is a super fun way of showing off some cool game modes that you've found to your friends that loaded into the lobby with you or giving your group several choices as to what they want to play.
The second type of portal is one of a kind. This portal and terminal will let you access YOUR island – the space where you can create any map or game mode that your mind can dream up. You can have up to 50 maps so feel free to build and create as much as you'd like! Within this creative space, you'll have access to HUNDREDS of Fortnite assets (including buildings, weapons, vehicles, and more) to do whatever you like with.
With the number of options at your disposal, trying to create the map you envision can be a little overwhelming. But don't worry – I'll run you through the basics so you're prepared.
Creating Your Own Maps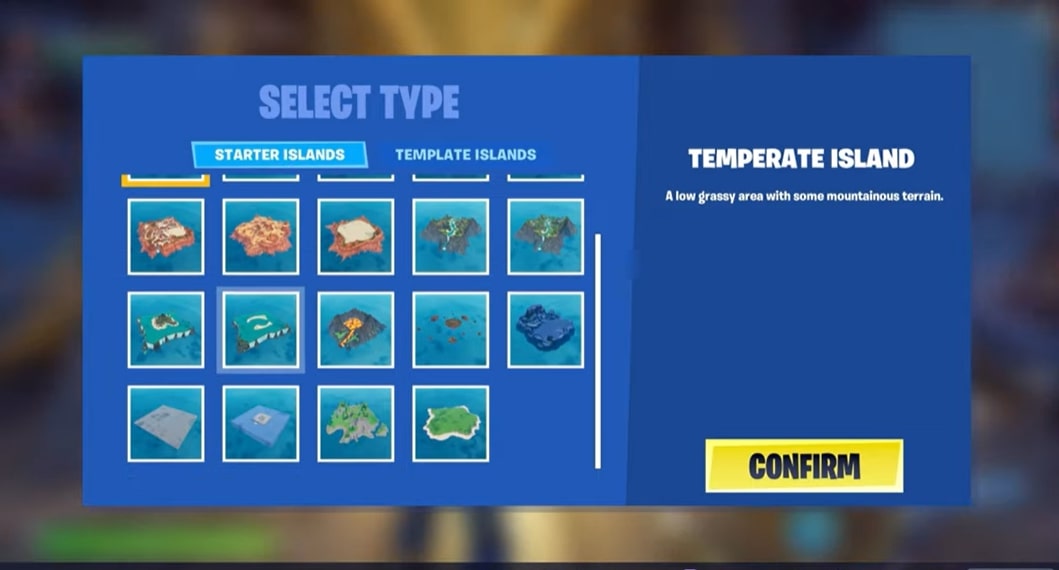 To get started with creating your very first island, interact with the terminal in front of the portal that accesses your island. Upon your first time there may already be a default Creative island, but you're going to want to use the "Create New" button in the top-right of this menu to start fresh. Click this button, and a new menu will open up asking you to select an island type.
There are a couple of options here: starter islands or template islands. Template islands are already pre-loaded with some assets that you can customize to fit whatever game mode you are trying to create. But for now, let's choose a starter island – this will be a truly blank slate that will let you explore your creation options more easily in the beginning. Choose which terrain looks the coolest to you, and Confirm to create the island. Select the island and, once it's loaded up, jump into the portal to drop in.
When you load into the map, one of the first things to note is that you can FLY and phase through walls if you so choose. This is honestly tons of fun to mess around with but also opens up your building abilities. Double-tap the Jump button to toggle this on and off.
On the left side of the screen, you'll see a dedicated button to open up the Inventory. This menu will be your lifeline when creating maps and allows you to access all available assets. Choose from prefabs to add pre-built buildings to your map, or hop over to the Weapons menu to play around with all those Mythic weapons I mentioned earlier.
One of my favorite features is the Chest menu. On this tab of the inventory, you can design custom chests! Toss in what weapons or items you want to have drop from certain chests and place them around your map for players to find. For example, try making a hidden chest that always drops a Mythic or a chest that drops all types of grenades.
The other menu that you'll want to begin playing around with is the "My Island" menu, which you can access by opening the Inventory and going one tab to the left. From here you can customize all the settings within your island. And when I say all the settings… I mean ALL the settings. Anything from team size to time of day to camera filter to maximum player health… it's truly impressive how many options Epic has given to the community when it comes to creating game modes. Play around with these and see what sort of game mode you can dream up! You can even go to the Permissions menu from here and give your group members access to edit the map themselves if you wish to collaborate.
Once you have all your assets placed on your map and your game mode exactly how you want it, save that map and start sharing it with the community. If you're lucky, it will be YOUR map that you see featured in the lobby next.
Fun Maps (with Island Codes)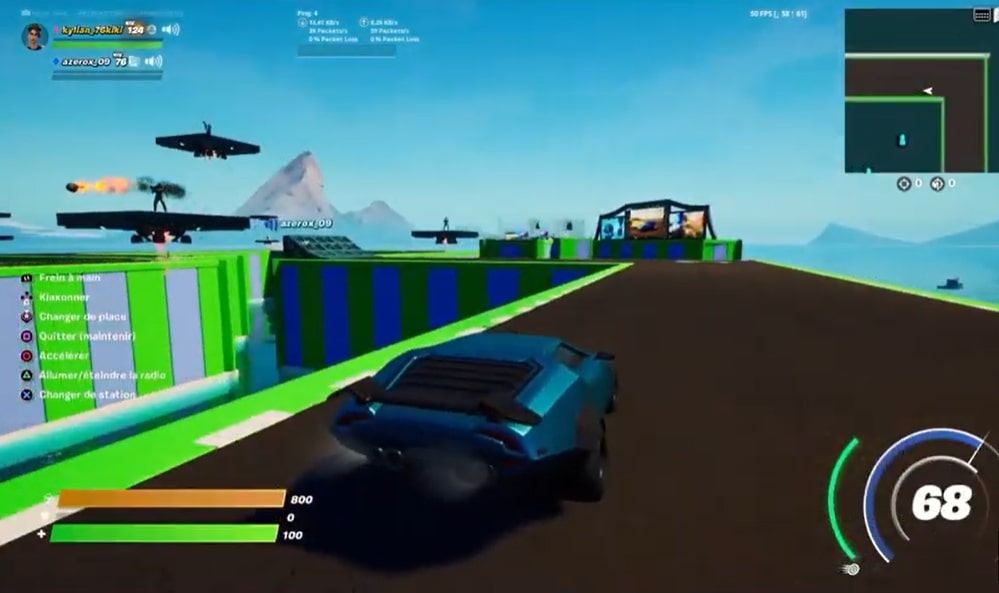 Now that you've got your head wrapped around how to navigate Creative Mode and how to make your own creations, I'll share some of MY favorite maps with you so you can check them out for yourself.
Pro FFA Arena – 3794-8637-4359
This map brings Fortnite back to shooter basics with a straight-up Free For All mode. Eliminate as many enemies as you can and earn Battlepass XP while you do it! This map is great for when you want to enjoy Fortnite's gunplay without all the Battle Royale aspects such as looting, traveling the map, waiting for the circle to close, etc. The repetition that you'll encounter in facing players constantly in this mode will also help improve your aim and reaction time.
Figure 8 Jumps Race – 8551-3819-8153
For those of us that like a little bit of fast-paced racing action, this map is perfect to race with friends. You'll get access to the fastest cars in the game as well as a parkour course to race your friends on. Bust out those drifting skills and bring home 1st place!
Paradise City – 7697-6610-2880
This is an example of a map that is tons of fun to play around on if you're just look to turn off the competitive side of your brain for a while and simply explore. Paradise City is an entire zone that has been carefully crafted by the creator and has fun secrets to find at every turn. Stroll through the streets of the massive city or grab a car and race your friends across the bridge – the choice is yours!
Pro Coin Wars – Mythics! – 6224-5845-2381
This is a battle of all-Mythic weapons with a twist. You can use coins that you earn from eliminating other players to buy things in the item shop. You can even buy power-ups that will make you more deadly with your arsenal of perfect weapons.
Conclusion
The sky is the limit with all the options that Fortnite Creative offers. When you get acquainted with what types of modes you like and what you like to create, it can transform Fortnite from a battle royale game into a game that spans many different genres. I also recommend visiting community forums such as the Fortnite Creative subreddit to search for even more island codes that will lead you to some great adventures. Get out there and have fun!
For more interesting readings check out: