Latest posts by Cody Perez
(see all)
Fortnite Chapter 2, Season 2, is one of my favorite seasons of Fortnite from the previous chapter. This is primarily due to the spy theme that the season had, as you will see in the Brutus Fortnite guide below. Brutus is one of the many spies who were part of battle royale's groundbreaking season, influencing everything. Brutus was instrumental in many current features, like his inclusion as one of the main NPC bosses on the island and the immense customization options.
In this Brutus Fortnite guide, you will find everything you need to know about this character. For instance, his history within the battle royale game and his current status as of Chapter 3. In addition, you can find out all about his skins within Fortnite. If you're wondering how to unlock Brutus in the game and if you even still can these days, you're in the right place.
Bottom Line Up Front
Brutus is one of the main battle pass skins from Fortnite Chapter 2, Season 2. He is from the spy season, one of the spies who worked for the Shadow faction under Midas. He is one of the most famous bosses from Season 2, a significant enemy that players could fight at his home at The Grotto. Unlocking the Brutus required simply reaching level 20 in the battle pass, but there were other skin styles that you could open beyond it. In addition, there is an extra Beach Brutus skin that was released more recently in the item shop. Unfortunately, you cannot unlock either skin at this time.
Who Is Brutus?
Fortnite Chapter 2, Season 2, saw the arrival of the spies and their various factions on the island. The battle royale season was full of spies, right down to the battle pass itself. The entire pass was full of spy characters that were newly introduced during that season.
One such spy was none other than Brutus. Brutus is a hulking giant who is one of the most intimidating of the spy factions. He was also a battle pas character that you could unlock and play within matches. If that was not enough, he played a significant role in the storyline for Season 2 and impacted some of the later ones.
And if even that was still not enough, Brutus was also one of the significant bosses you could find on the Fortnite island during that time. In Season 2, he was a considerable force on the island for players to seek out at his home base in The Grotto.
Still one of the unique locations in Fortnite's history, The Grotto was a fantastic showdown location for the brutal fight against Brutus. While he is not as crazy important to the story as someone like his boss Midas, Brutus has more than earned a place in some Fortnite players' hearts.
Appearancee
No surprises here, but the appearance of Brutus is one that is dependent on several factors. Fortnite came through with some fantastic customization options at the time of Brutus' release, and this is seen in his respective skins. He may only have two skins in total, but one of them is impressively customizable.
Default Skin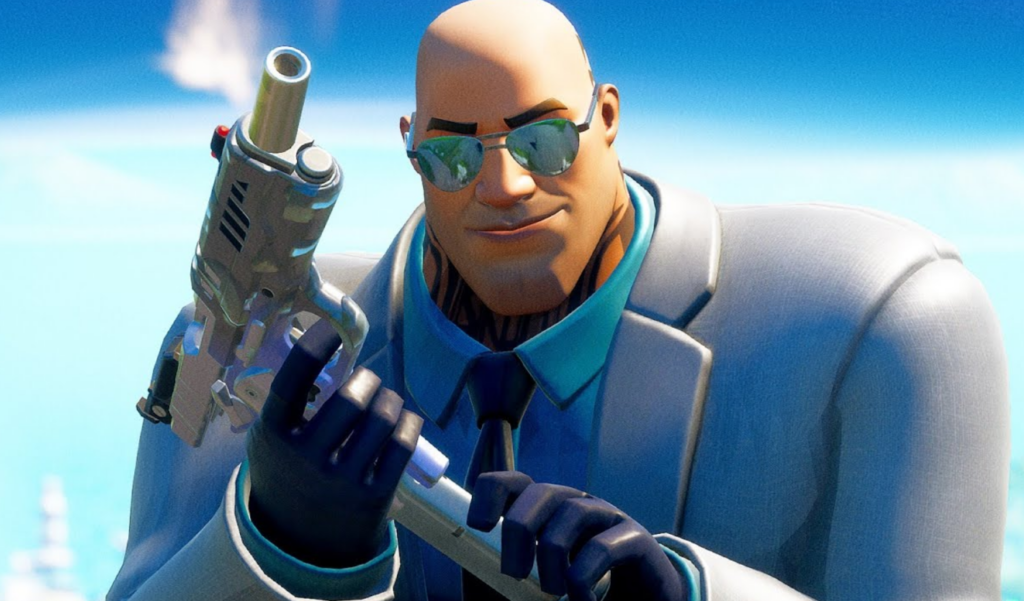 The default skin for Brutus is the original one that was released in Chapter 2, Season 2, as part of its battle pass. In this version, Brutus appears as the lumbering bodyguard type and not necessarily the standard spy guy. Notably, he is bald and wears black sunglasses that give him that classic villainous look.
He wears a full suit that is silverish gray from top to bottom. The lovely silver pants on the bottom match the oversized suit jacket on top. Underneath the jacket, Brutus is wearing a dark gray dress shirt buttoned up and tucked in.
He has a fancy utility belt and a black tie that ties it all together.
Customization Options
The real benefit of the Brutus skin is not the default version but the several customization options that it has alongside it. Players could later unlock and choose some elements of his skin, most notably the choice between the two spy factions for the character.
Players had the unique option of selecting either the Ghost or Shadow faction for all of the spies in Season 2. Starting with the Ghost faction, this version of Brutus looks a lot like the original but with a supervillain-style twist.
With the Ghost outfit, Brutus continues to wear a full suit. This time around, though, the dress pants are white while the suit jacket is white. The dress shirt underneath is now black, while the tie is white. All in all, this part is just a color swap.
However, the main difference is the mask he now covers his face with. It is in the shape of a Star Wars-like skull, giving off some serious Kylo Ren vibes.
If that one is not your style, you could have opted for the Shadow version. In this one, Brutus wears a suit once more, but this time all in black from the very top to the very bottom. The jacket, pants, undershirt, tie, and everything is black. On his face, he wears a black mask to match that has a white skull on it.
Finally, the last option for Brutus was the Gold Agent that turns him and everything into gold. It is the same as the default skin, but his suit and face are golden now.
Beach Brutus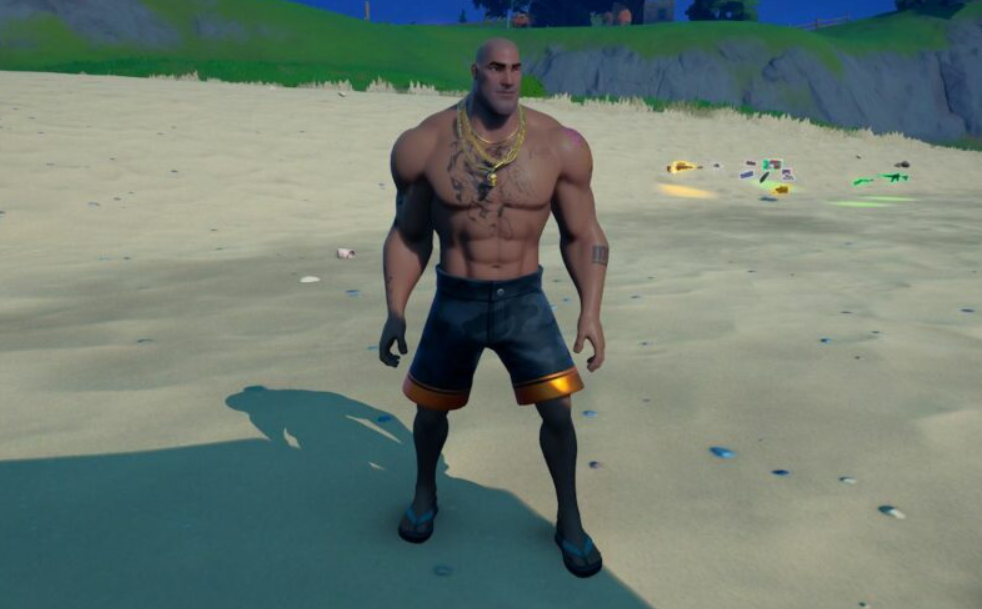 The original Brutus skin in Season 2 was not the only version of the character to release. He received a second skin during the Cosmic Summer event during Chapter 2, Season 7. This rare skin featured a very different take on Brutus as he finally received a hard-earned vacation.
This version of Brutus eschews the three-piece suit and all that in favor of some beach shorts, and that is it. On the bottom, he wears dark camo shorts with a golden lining on the bottom of them. He is wearing some classic beach sandals on his feet, and that is it.
Besides a lovely necklace, there is not much else to this skin. With it, we can see Brutus without glasses or a mask for the first time, and he, surprisingly, has a kind facial expression with this one. We can also see the tattoos that he has on his chest now. Beach Brutus overall gives a more friendly approach to the spy.
Personality
Brutus has a pretty stereotypical personality, for the most part, given how he looks in the game. At a glance, he looks like a brute, and that is mostly what he is. He is a rough guy who takes nothing from no one and will gladly pummel someone at a moment's notice if they get under his skin. This is seen in how he will immediately hunt the player down if he sees you.
On the other hand, though, he is this way due to things being just business most of the time. When he is off the clock, like in the case of his vacation with the Beach Brutus skin, we get to see the non-work version of him. In this way, Brutus has a very chill and different personality. It appears that he is much more of a simple and ordinary guy when he isn't doing his spy work.
Key Relationships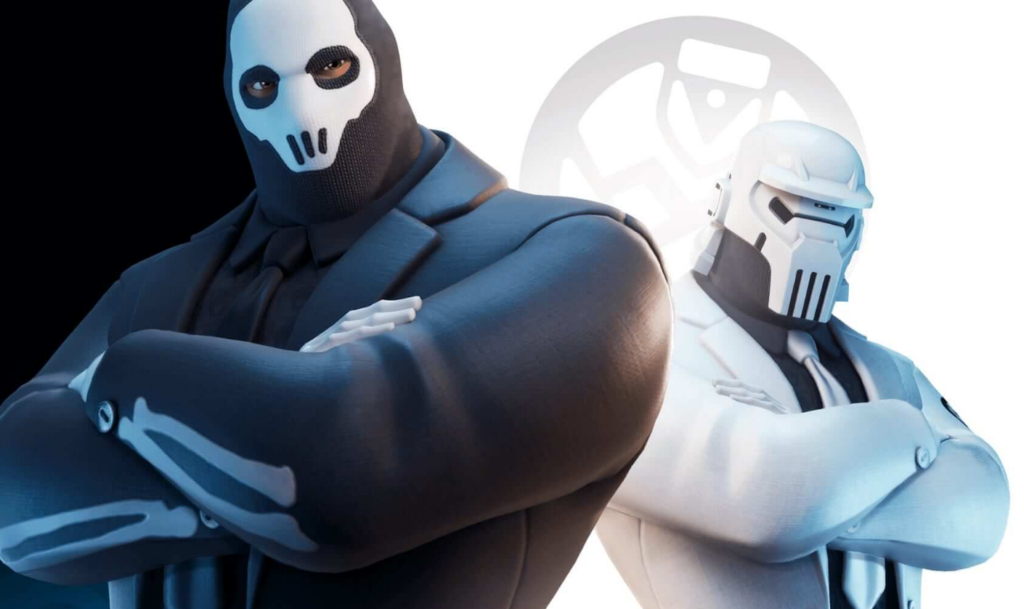 As part of the spy family of Fortnite characters, there are a few key relationships that Brutus has. There is the one with the player, first and foremost, that is mostly a mystery to this day. All we know is that friend or foe; he has no problem fighting the player the moment that he sees them.
When it comes to his fellow spies, he does not get too much love. Seen as a traitor by several of them for switching factions, he is not too liked by people like Jules. However, it seems like he cares about Midas and will follow his leader anywhere and do anything he asks him to do. There is no doubting his immense loyalty, which is likely why he switched factions in the first place.
Voice Actor
The voice actor for Brutus in Fortnite is supposedly Christopher Edgerly. Though this is not officially confirmed at this time, that seems to be the consensus in the community. Edgerly is known for a few roles, including Pathfinder in Apex Legends, Hidan in Naruto, and the Final Fantasy VII Cid in a few projects, including Kingdom Hearts III. It is unknown if he will reprise the role in Final Fantasy VII Remake just yet.
Boss Version Explained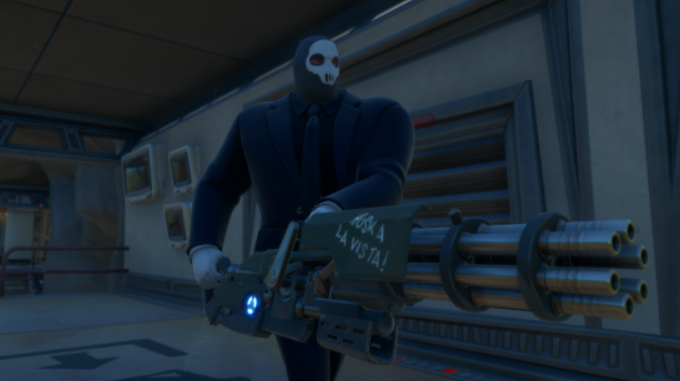 The boss version of Brutus is one of the most infamous NPC enemies that players could fight in Fortnite Chapter 2, Season 2. For one, there is the fact that he was in a pretty remote part of the island map. The home for Brutus was known as The Grotto, a new area introduced in that season.
The Grotto was the home base for Brutus and one of the most unique named locations of all time. It was an underground facility set in a cavernous grotto that players had difficulty reaching because of how far down it was.
If you could reach the cavern, you would find a large open area with a few buildings and lots of henchmen running around. The boss fight with Brutus himself was not exceptionally hard as he only had 400 shield points and 100 health. And his weaponry was mainly easy to avoid while taking him out.
The problem with the boss version of Brutus was the fact that he had so many henchmen roaming the grounds of The Grotto. To even reach him would require taking out the guards, or you would get overwhelmed quite fast.
The best tip was to take out the henchmen without alerting the other characters too much or bringing an entire squad. If you could take out Brutus, you could earn two very significant drops. The first is the mythic Brutus Minigun, that is an absolute powerhouse in battle with its speed. The other is The Grotto keycard, that allowed you to open up the nearby vault and access tons of loot. Too bad he was only a boss in Season 2.
History
The history of Brutus is a relatively short one compared to some of the other Fortnite-original characters. This is because the bulk of his storyline is within the spy-centric Season 2. Furthermore, most of his plot happens behind the scenes, and the player does not necessarily see all of it. There are still some essential parts to his story that you should know about, especially for what it could mean in the future.
The Grotto Boss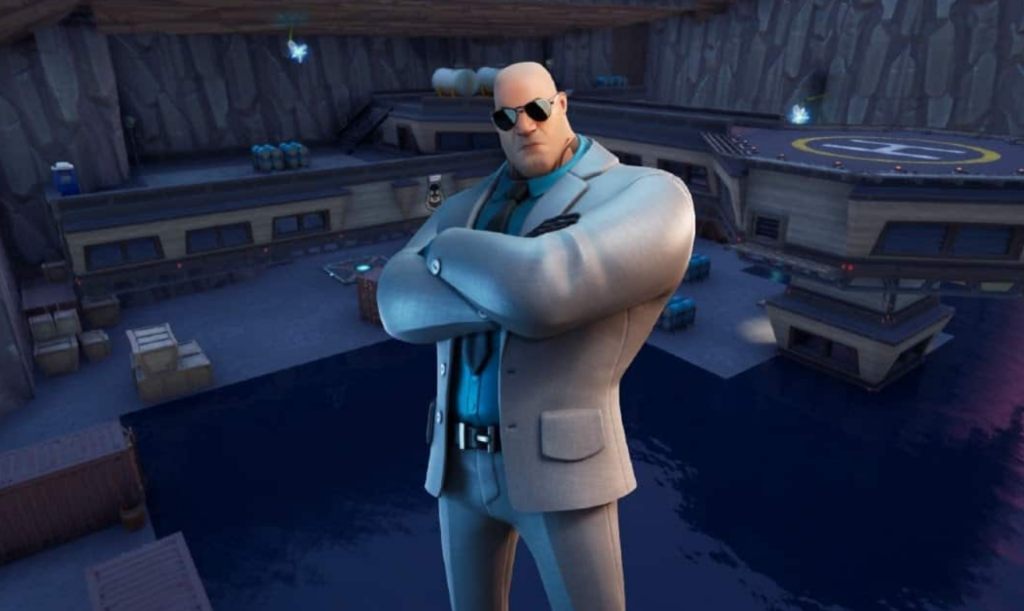 The story of Brutus begins with his introduction in Chapter 2, Season 2 of Fortnite. At the start, it is clear that he is one of the many spies that work under Midas, but there is something different about Brutus. Unlike the others that worked for the Ghost faction, he was already working for Shadow.
It is possible that he was working as a double agent, and this is possible given his expertise. He is one of the most influential spies in the Fortnite universe, knowing how to kill enemies with ease and able to use a multitude of weaponry in the game.
He is the first member of Ghost in Season 2 to join the Shadow faction and start wearing his Shadow outfit at The Grotto, where his base is found. Thus began a war between his Shadow army and that of Ghost and his former comrades.
Leaving Shadow
Oddly enough, Brutus' time with the Ghost faction would not last for too long. It seems that the end of Season 2 also saw the end of Shadow as we know it. With the conclusion of Midas' plan to stop the storm and end the battle royale game, it was a failure.
With this conclusion, many of the spies went their separate ways. In the case of Brutus, it seems that he abandoned the Shadow faction and possibly came back to Ghost. While he does not make too big of a splash in Season 3, he is seen in the cinematics at the start.
We can see that Brutus is training Ocean, one of the new Fortnite characters and battle pass skins, to fight. The last that we see of him this season is his loss in the fight and disappearance. He is no longer a boss at The Grotto since the storm's vengeance flooded it. That said, it is named after him, becoming Brutus' Basin.
Little is known about what Brutus did after this fact, except that he became a weapons seller and was pouring into the background of the battle royale game from here. Most notably, he does appear in the Zero Point crossover comic series with Batman and DC.
In this appearance, he is seen fighting alongside some of the heroes against villains like Harley Quinn. The final appearance from Brutus was in Season 7, where he showed up on summer vacation. He does not seem to get involved much in the alien invasion from the Mothership and has fun.
That said, there is a strong chance that Brutus is now working behind the scenes alongside Midas for an eventual return. There are hints that the spies will make a comeback in the near future, so it is only a matter of time.
How to Unlock the Brutus Fortnite Skin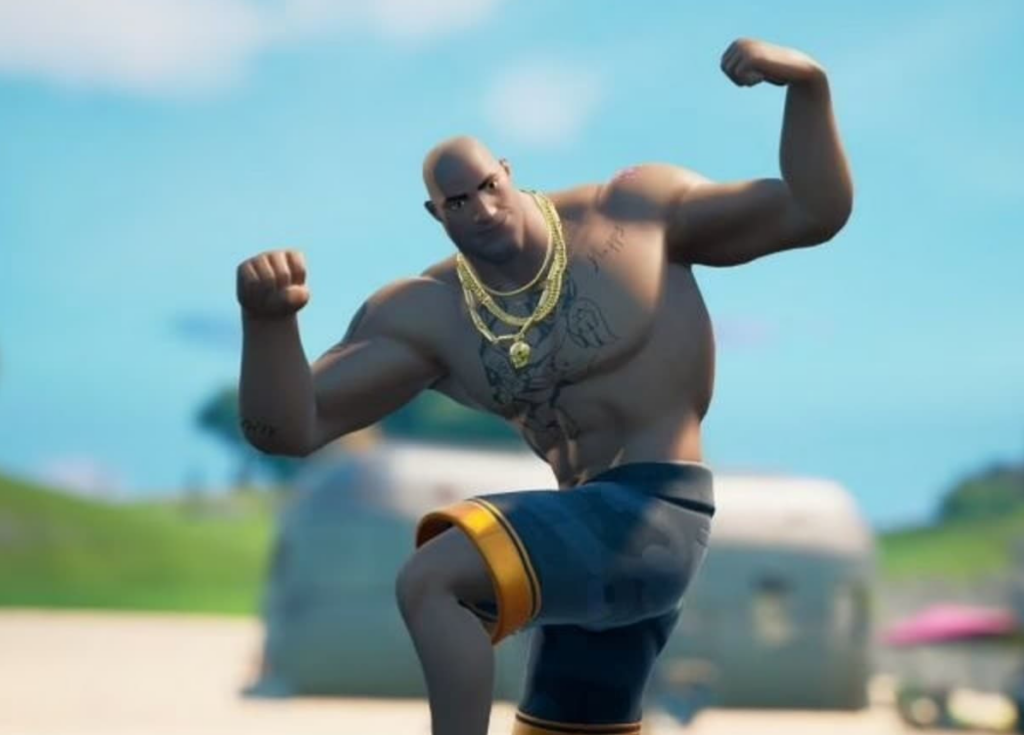 If you are interested in unlocking the Fortnite Brutus skins, here's what you need to know about both of them. For starters, it is worth noting that you cannot unlock either of the Brutus skins at all at this point. They are both gone from the game with only the slightest chance of returning.
When the original Brutus skin came out, there was only one way that players could unlock it. Thankfully, it was relatively simple. All players had to do was reach level 20 in the Season 2 battle pass, and they would automatically unlock the Brutus base skin.
Of course, this required players to have purchased the Season 2 premium battle pass, though, so you could say that it wasn't necessarily free. In this way, it still, technically, costs 950 V-Bucks to get the Brutus skin. This skin was only available for the duration of that season and will likely not ever return unless Epic changes its stance on battle pass outfits.
Brutus's other skin was the Beach Brutus version in Chapter 2, Season 7. This summer vacation Brutus was only available for the summer event in 2021. Players could unlock this skin by purchasing it in the item shop for 1300 V-Bucks. Alternatively, players could have bought the Undercover Summer bundle, and this skin was included in it.
Unfortunately, the last time that the Beach Brutus skin appeared in the game was during that event in the summer of 2021. It has not returned to the item shop since, though there is a chance it still could in the future for players who want it. I will not be surprised at all if the Beach Brutus skin reappears in the shop in a future summer limited-time event.
Fun Facts About Brutus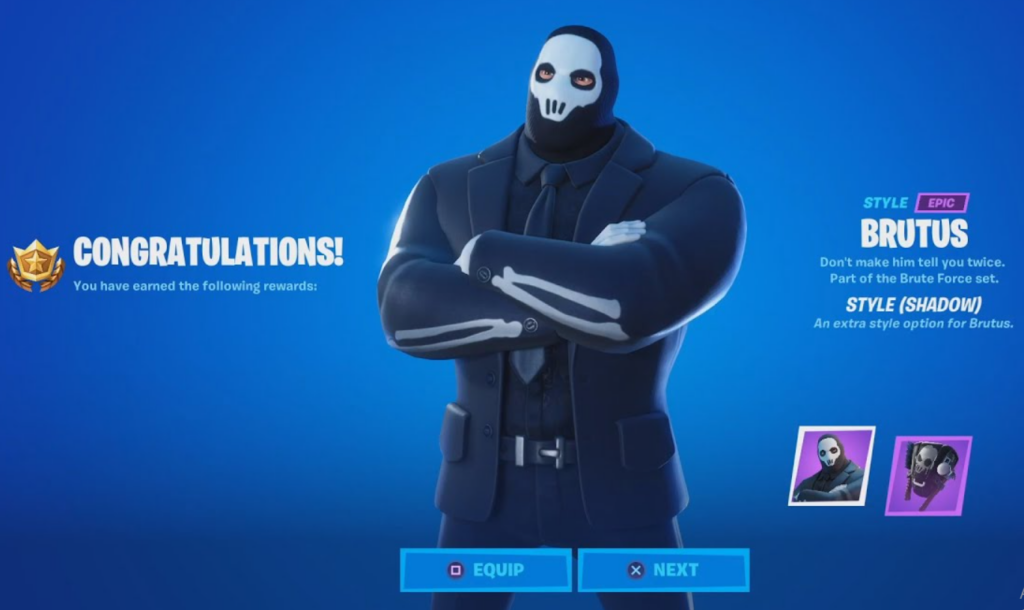 Here are some fun trivia facts about Brutus that you may not have known about before:
Interestingly enough, the Chinese version of Fortnite censored Brutus' Shadow version of his default Season 2 skin only. In this version, the skull insignia has been removed from the mask. What is quite weird about this situation is that a character like Jules has a similar skull mask but hers still remains.
There is another odd but hilarious moment with Jules as well. If the player has a Brutus skin and another has Jules, she will simply yell out that he is a traitor. This is due to him leaving the Shadow organization. However, the funny part is because it is similar to the words spoken by Julius Caesar against his friend, Brutus, who shares the same name.
There is a picture in Brutus' room that shows him in his Shadow skin style along with a woman who fans believe is Ruby. This would be pretty interesting since Ruby was a character in Chapter 1, Season X. Their connection with one another and Ruby's possible involvement in Shadow are still unknown at this point in time.
FAQs
Question: What tier do you get Brutus on?
Answer: You can get Brutus on the tier 20 level, but that was only possible during Chapter 2, Season 2. You cannot get his original skin at all these days.
Question: Is Brutus a legendary skin in Fortnite?
Answer: No, neither of the two Brutus skins that he has had so far are legendary rarity skins. Instead, the original Season 2 one was an epic skin, while the Beach Brutus variant was only a rare skin.
Question: How do I beat Brutus in Fortnite?
Answer: As mentioned above in the main guide, you could only fight the Brutus boss during Season 2 at The Grotto. The gist of defeating him is that he is not a super tough enemy on his own. However, his minions are a problem, so we recommend taking them out first and focusing on Brutus.
Conclusion
Brutus is one of the countless memorable characters within Fortnite's pantheon of battle pass skins. While not as flashy as some of the others, he is noteworthy, at least for his impact on the game. His time as one of the spies with great customization options and being a boss on the island influenced many future seasons.
However, Brutus is but one member of the overall spy community in Fortnite. Perhaps even more critical than him is his boss and the devilishly handsome Midas. You can find out more about Midas, the King of Gold, in our complete guide that is dedicated to his character and all of his many skins.
For more interesting readings check out: