Latest posts by Cody Perez
(see all)
Before there were ever Marvel and DC characters invading Fortnite, one of the most beloved parts of the battle royale game was its events. Even today, the holiday limited-time events in Fortnite are some of the biggest parts of Fortnite's entire calendar year. Such is the case when it comes to Halloween and its beloved event that I will cover in this Fortnitemares challenges guide.
Halloween is one of the busiest times of the year for Fortnite since Epic Games goes all out when it comes to the quests, which you will see in this Fortnitemares challenges guide, and much more. There are new themed skins that arrive in the game for players to check out, some of which are crossovers and plenty of other cool features on the island.
Bottom Line Up Front
Fortnitemares is the limited-time event that happens every Halloween in Fortnite battle royale. The spooky time of year sees a change on the Fortnite island, like the return of the cube monsters or other creepy new locations for players to visit. This is reflected in the challenges that players can take on, which change from year to year. What stays the same is the fact that players can complete these quests for themed rewards, like new pickaxes, loading screens, and more. If that is not enough, there are usually Halloween-themed skins that players can pick up in the item shop during Fortnitemares.
Fortnitemares Event Explained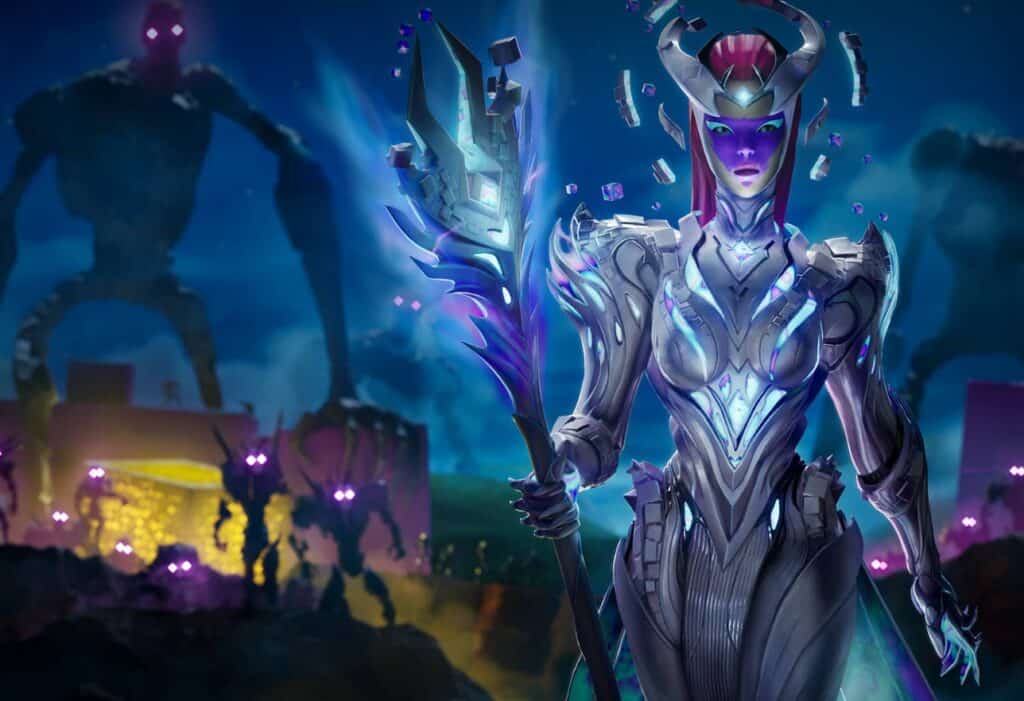 There are several different holiday limited-time events that Epic Games hosts in Fortnite every year. One of the most popular for the entire calendar is Fortnitemares. Not only is it the best-named out of the holiday events in the battle royale game, but it is one of the creepiest and best as well.
As you might expect already, Fortnitemares is a Halloween-themed event in Fortnite. It typically comes out around the time of that spooky season, usually in early October or so. Like other holiday events, it only sticks around for a period before going away until another year has passed.
This is typically one of the busiest times for Fortnite, too, when there are record-breaking numbers of players trying to return to the game to unlock the new items released and check out the various game modes and tweaks that are now in the game for a time.
The Fortnitemares event is full of various activities for players to do each year. There are typically some new game modes or special areas that you can experience in battle royale, for starters. One year, it might be a cube monsters-style featured event where you survive against waves of the enemies.
Another year, it might be pockets of cube monsters around the island that players can fight for special rewards. Still, other times, the Fortnitemares event may convert one of the popular locations on the map into a new destination for players to explore.
Beyond just the battle royale gameplay changes, there are quests and rewards for players to pick up. Special missions will typically release that has to do with the various gimmicks in the season, rewarding players with themed Halloween items and experience upon completion.
Of course, Epic Games is a business, so it needs to make money on events like Fortnitemares, so there are plenty of new and returning Halloween-themed items in the item shop. Some of the best (and honestly worst) skins ever in the history of Fortnite appeared during Fortnitemares events in the past.
Save the World Area
While much of Fortnitemares these days in Chapter 3 is focused on the always popular battle royale side of Fortnite, it wasn't always the case. The origins of Fortnitemares harken back to 2017, the same year that Fortnite was formally released as a game in early access on modern platforms.
Before there ever was battle royale, there was the original Save the World game mode that still exists today, and I checked it out recently for the first time. Battle royale came shortly after that and before Halloween of 2017, but it was too little too late for the soon-to-be trending mode.
Because it came too close to Halloween, Epic Games kept the Halloween shenanigans mainly to Save the World for 2017 before expanding it to battle royale the following year. Because of this, Save the World had a healthy initial Fortnitemares event that it replicates every year.
Save the World fans will find a new region that you can visit during Fortnitemares only, with Hexsylvania having two separate areas there known as Haunted Forest and Haunted Hotel. During Halloween, you can find special story missions, characters, and quests in Save the World.
All Fortnitemares Challenges Guide
The reason that you are mainly here, though, has to do with the Fortnitemares challenges. For many players, there is nothing more important during the Halloween event than completing the new missions that Epic Games releases. This is largely due to the extraordinary rewards only available for a limited time.
Like the event itself, which is typically only around for a couple of weeks at best, these missions stick around for pretty much the same time frame. To make matters worse, some quests will even come out partway through the event, further reducing the time you have to do it.
Given that there are some Fortnitemares rewards that you can get from the offered missions, it can make this an annoying and more challenging experience than it should be. To help with that, I will break down each of the Fortnitemares challenges from all years so far in Fortnite. I will go over the mission, tips on completing it, and the rewards you could get. This could help with future quests that might be quite similar.
Fortnitemares 2018 Event Challenges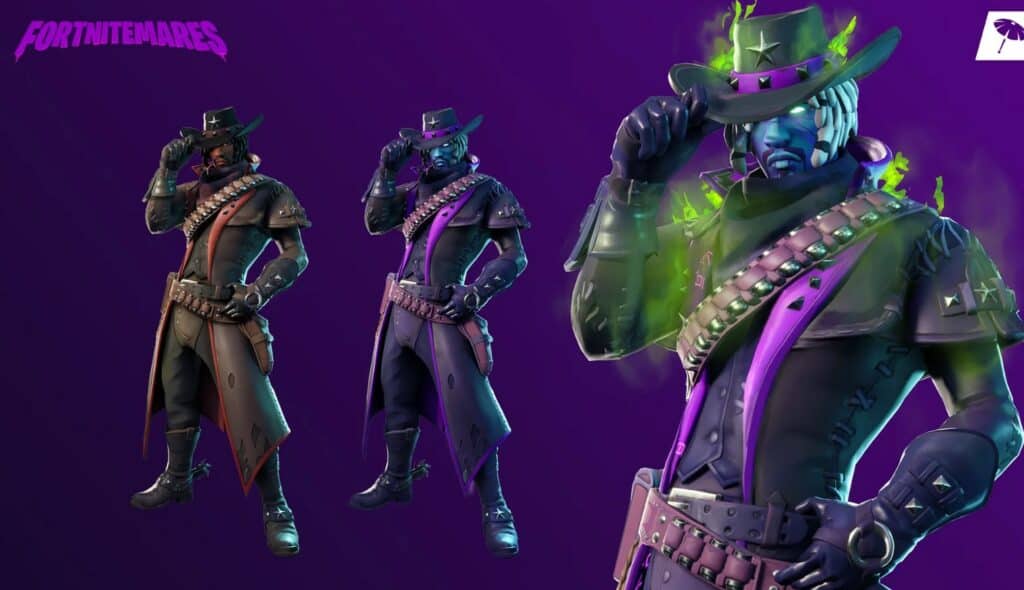 Kicking off this list of Fortnitemares challenges, we have the very first one that was ever done in 2018 for battle royale. There were 18 of them in total that happened throughout the event, divided up and released in four parts throughout the time of Fortnitemares.
Here are all 18 of the missions that were released during Fortnitemares 2018 in battle royale:
Defeat 200 cube monsters
Deal 5000 damage with assault rifles or pistols to cube monsters
Visit a corrupted location in seven different matches in total
Dance in front of five different gargoyles
Defeat 150 cube fiends
Deal 5000 damage with shotguns or SMGs to cube monsters
Eliminate three opponents in total in corrupted areas
Destroy seven ghost decorations in all different named locations
Defeat 25 cube brutes
Deal 2000 damage with explosive weapons to cube monsters
Open seven treasure chests in corrupted areas
Visit Wailing Woods, then Fatal Fields, then Haunted Hills: Three-part mission.
Defeat 10 elite cube monsters
Deal 2500 damage to cube fragments
Deal 1000 damage to cube monsters within a single match
Visit four different corrupted areas in the exact match
Destroy three cube fragments
Complete 14 of the Fortnitemares challenges
Tips for 2018 Quests
Without a doubt, that is an insane number of missions that players could do within just a brief period. Given that cube monsters and other aspects are common themes almost every year in Fortnitemares knowing how to complete the old missions can help with future ones. Here are some tips for how those quests were completed in 2018.
Cube monsters are the name of the game for several of the missions. These zombie-like creatures appeared on the map in the corrupted areas that you could see easily on the island. The point was to head here and defeat as many of them as possible in every match you did. Bringing some friends helped a lot since you could progress towards some insane missions like 200 monsters together.
In the same vein, there were several missions that players could take on that had to do with dealing damage to cube monsters or fragments, and it was typically quite a lot. The key here was to ensure that the player was using the right set of weapons that the particular mission asked for.
If the mission asked for assault rifles or pistols, for example, don't waste your time using a sniper rifle. You do get some choice, though, so I recommend sticking to the weapons you prefer. This is another area where your friends will be a huge help as well. You are dealing with thousands of damage that you need to do, but dividing it up between your team makes each mission into a more manageable few hundred points of damage instead.
The corrupted areas were the primary locations where the cube monsters appeared on the island during Fortnitemares. For the quests where you need to visit multiple of them, the best thing to do was to focus on only doing that for that round. Land at one of them, which counts, and then head to the next immediately. It is faster, too, if you find a vehicle.
The gargoyles were decorations that you could find at specific named locations on the island, like at Tilted Towers. The goal was to visit five different ones on the map and then use an emote in front of them until the notification appeared that you had completed the task.
There was a mission that had you defeat three other players while in corrupted areas. This could be done in conjunction with other assignments like visiting these zones. The best thing to do is bring some friends along with you and keep in mind that it is three in total, not three players in the exact match.
Ghost decorations were placed on various parts of the map, like on Retail Row and other places with homes. All players had to do was visit these spots and destroy seven of them across their matches. Treasure chests are pretty simple as you should be opening these up in every match you do; the location has to be at the corrupted zones.
Visiting Wailing Woods, Fatal Fields, and Haunted Hills is simple enough since you can see them on the map. Just keep in mind that you had to visit Wailing Woods in one match and leave that match before the next stage would appear.
Lastly, cube fragments are where the monsters come from in the corrupted zones. Dealing damage and destroying them is tricky since you have to watch your back for the other enemies, so bring some friends.
Rewards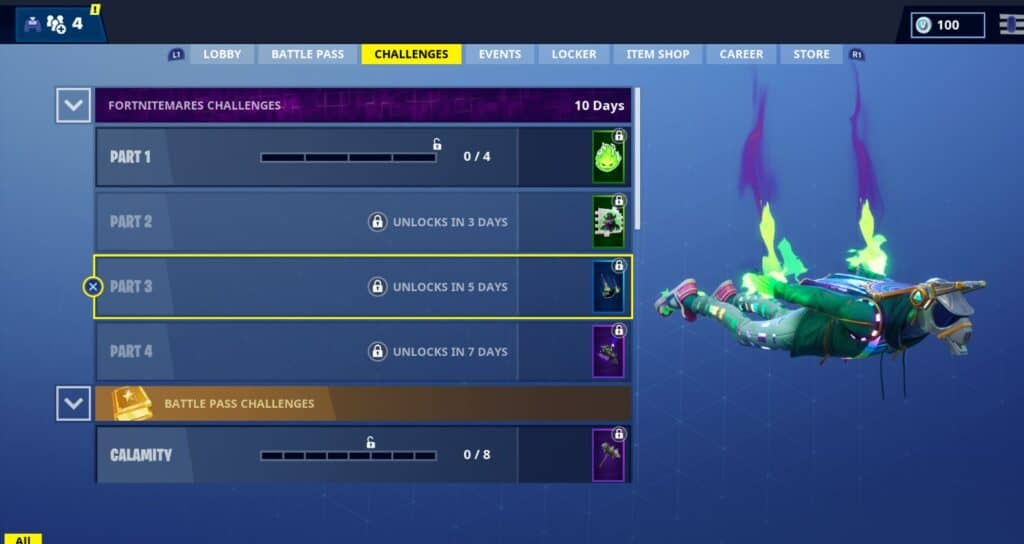 Here are the rewards that players could get from the 2018 missions:
Tons of experience
Fiery emoticon: Complete part one
Deadfire spray: Complete part two
Virulent Flames trail: Complete part three
Dark Engine glider: Complete part four
Fortnitemares 2019 Event Challenges
.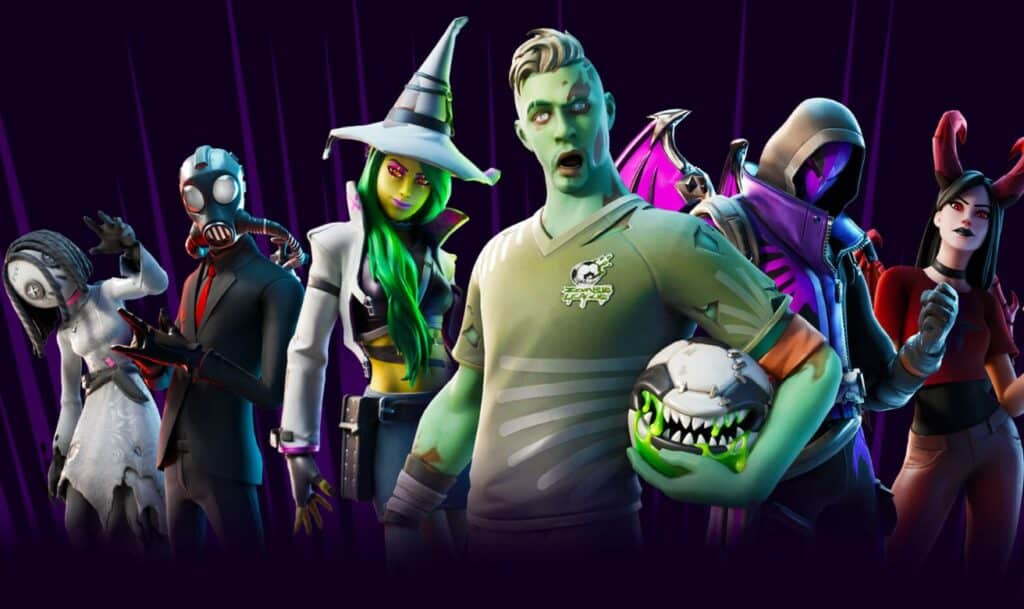 Fortnitemares returned the following year in 2019 for its second event that included significant challenges and features for battle royale fans. Overall, this event in the middle of Chapter 2, Season 1, changed quite a bit from what we saw in the previous year.
I would argue that the event in 2019 was one of the weaker ones due to the fact that it did so little compared to what occurred in 2018 and later years afterward. This is reflected in the fact that it was not a massive deal at the time, coming out much later than other years and not having a ton of content surrounding it.
In the end, Fortnitemares 2019 edition, and the first event of its kind for Chapter 2, somewhat underwhelmed with only seven challenges in total. Here are all seven of the missions that you could do during this event, which began quite later in the month on October 29, 2019:
Destroy five haunted household furniture items
Jump out of a hideout spot when an enemy player is within 20 meters of you
Open up a treasure chest in the haunted forest, ghost town, and spooky farm
Deal 10000 damage to the Storm King's weak points
Revive three teammates while you are battling the Storm King
Defeat the Storm King
Complete all six of the Fortnitemare challenges
Tips
While the event in 2019 was a little bit lackluster in terms of the missions that you had, the short period of time, and the same number of rewards, there was at least the fact that the Storm King now appeared on the island. This brought a lot of intrigues and new gameplay mechanics to this particular event, including making up the bulk of the missions that you could do.
The first one up is the mission to destroy five haunted household items. For 2019, Epic Games once again decorated much of the island for the Halloween season, albeit a little late. In the process of doing so, there was some haunted furniture that began to appear in and around houses.
These haunted furniture items were different from the decorations of the previous year since they were seemingly haunted by ghosts that would make the items float. All players had to do was find five of these haunted and floating items and destroy them. They did not have to be in the same match, either, and some of the best places for this included Retail Row and Pleasant Park.
For the next one, players had to hide in a hideout on the map first. These are the hiding places like garbage dumpsters or bales of hay that you could interact with to hide. Then you needed to wait until an enemy approached very close to you and then jump out to scare them.
For the following challenge, players needed to open up three treasure chests, with the catch being that they had to be one at three specific locations. In the case of the haunted forest, this just means Weeping Woods. For the ghost town, it is a landmark spot known as Pristine Point, which is west of Steamy Stacks. Meanwhile, the spooky farm is, you guessed it, Frenzy Farm.
The next few challenges have to do with the Storm King. First off, the boss enemy that appeared on the map had various weak points that would glow a golden color in the middle of battle. If players shot at the various parts of his body, they would deal extra damage to him. 10,000 damage is quite a lot, though, so we recommend grabbing some friends for this one.
Speaking of friends, that is where the next task comes in as you need to revive three players while fighting the Storm King. They do not have to be in the same match, either. I recommend taking turns, having someone offer to get knocked and then revived, and then switching with that person until everyone has the mission completed.
Finally, you just need to defeat the Storm King, which is easier said than done. Weak points are the go-to while avoiding the insane area-of-effect attacks and phases that the enemy has available to it.
Rewards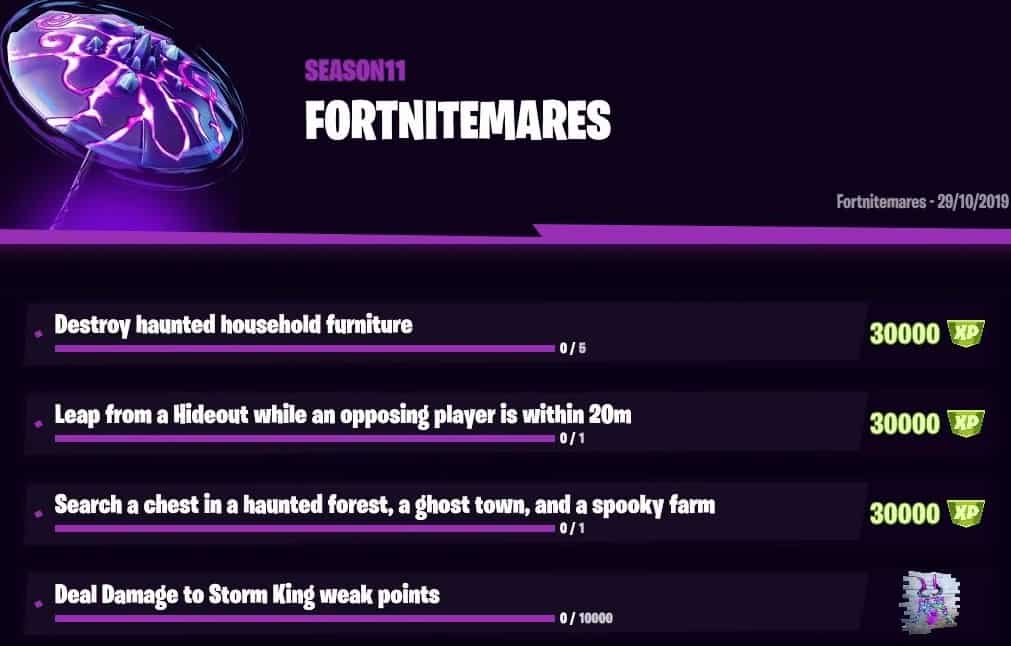 For completing all seven of the Fortnitemares challenges in 2019, there were various rewards that you could get. Here are all of the rewards that you need to know about from that year's event:
Experience as always
King's Wrath spray: Dealing damage to the weak points on the Storm King
Storm King banner: Reviving teammates while fighting the Storm King
Storm Sail umbrella: Defeating the Storm King in battle
The Final Reckoning loading screen: Complete all six of the main Fortnitemares challenges
Fortnitemares 2020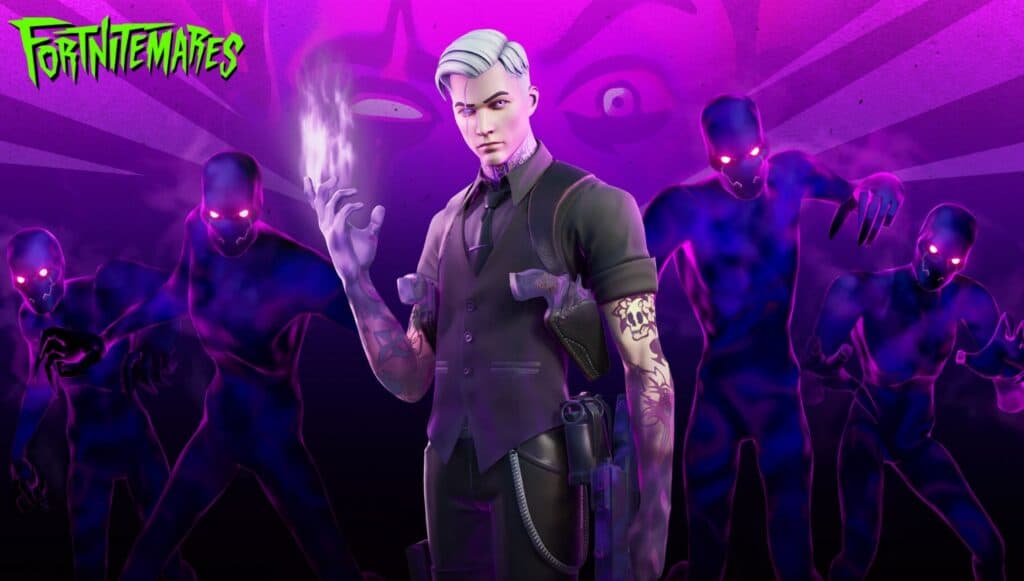 Fortnitemares 2020 arrived on October 21, 2020, and had the subtitle of Midas' Revenge. This was the return of the fan-favorite boss NPC in a new form. Available until November 3, 2020, players had the chance to complete some missions, earn some rewards, and check out the Ghoulish Isles during this Chapter 2 event.
Here are all of the new quests that players could take on during this time:
Become a shadow three different times
Travel 100 meters while on a witch broom
Eat 25 candy pieces
Deal 100 damage while in a possessed vehicle
Detect 10 players while as a shadow
Eliminate Shadow Midas
Eliminate three shadow enemies as a player
Visit three different witch shacks
Consume a piece of legendary loot while as a shadow
As you can see, the challenges in 2020 bumped up quite a bit to be one of the best Fortnitemares years so far. The quests were pretty varied, too, having to do with different new activities around the island like fighting Shadow Midas, eating candy, and engaging in battle as one of the shadows.
Tips
Right off the bat is the new mechanic introduced in the 2020 rendition of Fortnitemares that has a lot to do with shadows. Think of the shadow stones from the past season but ballooned into a more apparent feature. As a shadow, you can zip around the map and there are new mechanics, too, like eating loot for fighting and possessing vehicles.
In the case of the first quest, you simply need to become a shadow three different times. For doing this, you just need to be eliminated in a match during this event. Instead of being kicked, you will just come back as a shadow enemy to fight other players.
The second one is to travel 100 meters on a witch broom, which is a fair amount. These are found at the haunted shacks on the island in the barrels. Pick one up and fly as much as you can. Candy is all around the map inside of the plastic jack-o-lantern buckets. You need to eat 25 pieces of these (not in the same match).
While as a shadow, you need to possess a vehicle and then deal a total of 100 damage with it on other players for the next one. The following challenge after that has to do with detecting 10 players as a shadow. You can do this by using the special scream ability. Just watch out for its lengthy cooldown.
The next one is a tough one as you must take down Shadow Midas. He is at the center of the map at the new The Ruins location. He only shows up once per match, though, but you can beat has a player or a shadow. Grab some friends to help you.
Then you need to eliminate three shadows. These do not have to be in the same match. The penultimate challenge is to visit three different witch shacks. They are all over the map so head wherever you like. They do not have to be in the same match. Finally, you need to eat some legendary loot while a shadow. The only issue here is finding that legendary loot first.
Rewards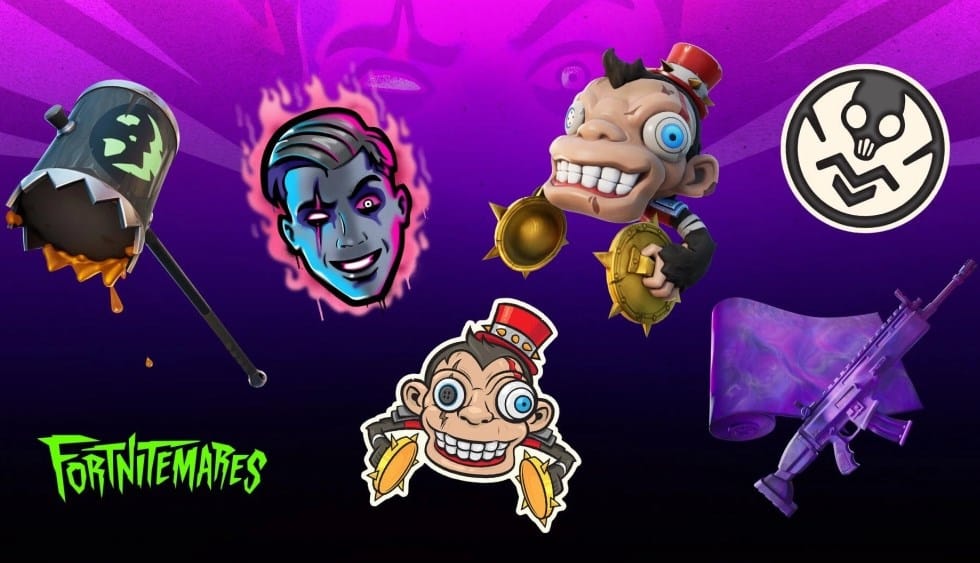 Here are the major rewards you should know about from the Fortnitemares 2020 challenges:
Experience as always
Shadow Midas' weapon wrap: Eating candy
Smash O' Lantern pickaxe: Eliminating Shadow Midas
Bobo back bling item: Consuming legendary loot as a shadow
Fortnitemares 2021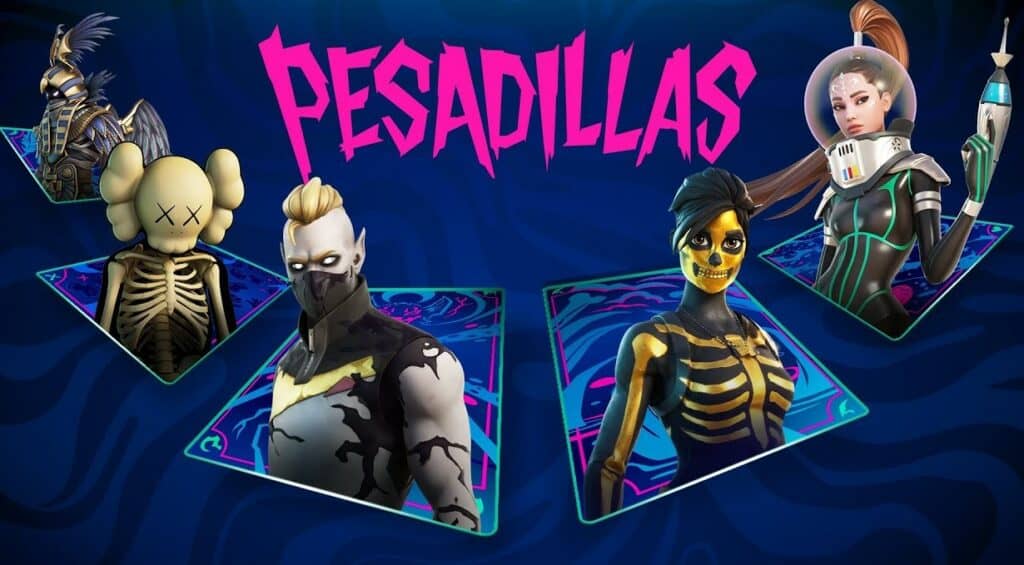 Finally, the most recent version of the Halloween event happened in 2021 with the Fortnitemares extravaganza in Chapter 2. This was also the final one to happen in this chapter. Interestingly enough, the challenges had to do with the punch cards system where you would get them from NPCs around the map. That said, there were a lot of them.
Here are all of the challenges that you could have done last year during this most recent Fortnitemares event:
Collect a record and put it in a turntable twice
Study the caretaker's footprints twice
Collect symbols from five eliminated cube monsters
Reveal the command symbol
Launch three signal flares
Deploy three seismographs in Misty Meadows or Catty Corner
Exterminate three mini-pufts with a pickaxe in Sludgy Swamp, Lazy Lake, or Retail Row
Get five mechanical parts by destroying cars
Place three Ghostbusters signs in Dirty Docks, Holly Hedges, and Pleasant Park
Deploy a ghost trap
Collect scrolls at different IO bases
Use a shadow stone and then recover the spirit vessel
Touch a cube
Destroy the corruption cluster and all of its fragments
Return the spirit vessel to the Oracle and hear his vision
Eliminate 1500 enemies
Get 300 headshots on enemies
Eliminate 25 poison or exploding enemies from at least five meters away
Collect six score multipliers
Eliminate 250 ranged enemies
Destroy six enemy spawners
Open up 50 treasure chests
Earn an x50 combo
Deal 3000 pickaxe damage to enemy spawners
Deal a whopping 100,000 damage to enemies in total
Tips
There were so many you could do so I will focus on the ones that are atypical and more challenging, so excluding the seek the item and deal damage ones that are standard. The Ghostbusters ones were difficult, especially with the mini-pufts enemies that you had to find in Sludgy Swamp, Lazy Lake, or Retail Row. You could defeat the three of them with any weapon of your choosing.
The ghost trap was an item that players had to deploy at any of the major named locations on the island as the final Ghostbusters quest. The only problem with this one was that there were tons of other players trying to do the same quest at the same time, so players had to watch their backs.
The Oracle Speaks quests from Dark Jonesy all had to do with the seasonal theme. You needed to head to IO bases around the island, use shadow stones that you found, and destroy the corruption clusters. These were the ones that caused the shadow stones and cube monsters to appear on the island.
The Horde Rush quests were pretty standard, just dealing with the cube monsters in waves. Score multipliers were the trickiest parts here since you had to deal with getting nonstop damage against the monsters without being hit yourself. In addition, the insane 100,000 damage would take forever on your own. This is where you really need someone else's help, for sure.
Rewards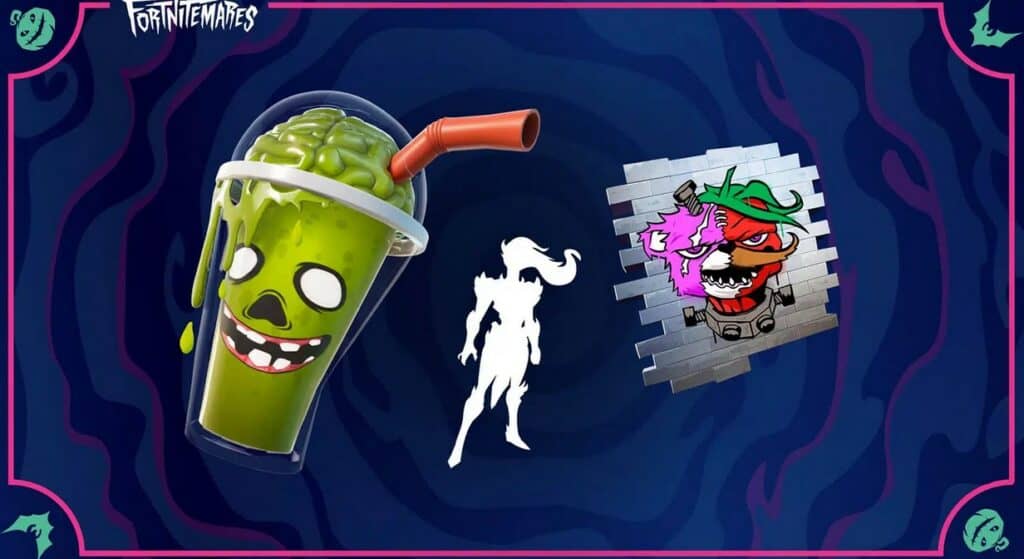 Here are some of the best rewards you could get from this event:
All-Weather Extractor pickaxe: All Ariana Grande quests
Cube Queen banner, Cuddle Scream Leader spray, Thinking Juice back bling: Horde Rush quests
Cube Cruiser glider: The Oracle Speaks quests
Midnight Showdown loading screen, Raven's Curse spray, Wrathful Breakout trail: General Fortnitemares quests
FAQs
Question: How do you get the Fortnitemares pickaxe in 2021?
Answer: During the 2021 iteration of Fortnitemares, Ariana Grande returned as an NPC. Players could obtain a punch card from her that contained several quests that could be done from October 19, 2021, to November 2, 2021. One such quest could unlock the All-Weather pickaxe by doing all of the missions that she gave. These included finding the command signals at various locations, following the caretaker's footprints, defeating cube monsters, and launching three flares.
Question: How long does Fortnitemares last?
Answer: Fortnitemares usually lasts around two weeks. It will start in early to mid-October and last through Halloween itself, usually ending a day or two after the holiday.
Question: Is Fortnitemares coming back in 2022?
Answer: I will preface this by saying that we do not, technically, know that Fortnitemares will be coming back in 2022. That said, it is all but guaranteed at this point. Every single year except 2017 when Fortnite battle royale first came out, Epic Games offered Fortnitemares so it seems all but certain for 2022 as well.
Conclusion
Fortnitemares is one of the best events that you can ever experience in the entire year in Fortnite. It is an outrageously huge and interesting time for battle royale players with so much to see and do in the game. If you want to get the most out of your time in Fortnite, you would be hard-pressed to find a better time to do it than during the Halloween season.
That said, as mentioned early in this Fortnitemares challenges guide, to get the most out of the seasonal event, you might want to check out Save the World. This original game mode for Fortnite is quite unique on its own and offers plenty of fun that is wholly separate from battle royale, not least of which is its excellent Fortnitemares offerings.