Latest posts by Cody Perez
(see all)
Throughout the lifetime of Fortnite, Epic Games has released countless terrific skins for players to collect. At this point, it is pretty much a meme how many outfits there are in this battle royale game. No game will likely ever come close to the skins that Fortnite has, nor should they. In this Fortnite Iso guide, I would like to go over one of these skins: Iso.
The Iso skin is one of the strangest outfits that has ever been released in Fortnite. It injects a bit of that retro sci-fi Tron feel into Fortnite without receiving a nice cease and desist letter from the old House of Mouse.
I think it's a pretty unique and welcome addition to any Fortnite locker out there. This one is undoubtedly for the sci-fi and retro video game fans out there, as I could see it being hit-or-miss with some players. Here's everything you need to know about this skin in our Fortnite Iso guide, including whether or not you can get it right now.
Bottom Line Up Front
Fortnite wouldn't be the game it is today without its skins. One such skin that is indicative of the boundless imagination that Epic Games has is the Fortnite Iso outfit. This particular skin looks like someone ripped a vector-based character from a retro arcade game like Speed Freak and threw them into the modern-day age, lines and polygons all included for better or worse.
There is nothing like Iso in Fortnite, and for a good reason. While I think Iso is quite novel and fascinating, it is one of those one-and-done ideas since it will not appeal to everyone. Players could purchase the Iso skin in the item shop individually or as part of a bundle. It regularly comes back to the game, so there is a chance for its return today.
Fortnite Iso Skin Explained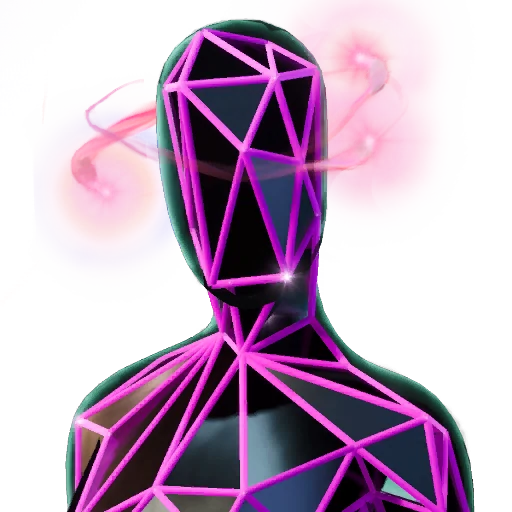 The Fortnite Iso skin is a relic of a bygone era. A time in which video games could not yet handle the colorful and impressive graphics of even the 8-bit and 16-bit systems. In those godforsaken days, all developers had was a black screen and a couple of lines—literally just a bunch of straight lines with little else.
They could string together lines to make a road or a triangular spaceship or even mimic that of more complex polygons and fake 3D. However, it was all an illusion and simplistic vector-based graphics that were used in the early arcade cabinets and even some consoles. As someone who did not (thankfully) grow up in those days, I can admit that there is some charm to it. Epic Games saw this, too, ensuring that it lives on in the modern era with skin like Iso.
It is possibly short for isometric, referencing the dimensional nature of vector graphics and the abundance of triangles that they contain. In the previous chapter of the battle royale game, the Fortnite Iso skin was first released in Fortnite relatively recently, on January 7, 2021. It appeared for the first time during the terrific Fortnite Chapter 2, Season 5.
The Iso skin made a lot of sense during this season since it was centered around my boy Mando and his pal Baby Yoda (I refuse to call him by his official name) from The Mandalorian Star Wars show. After all, Iso gives off its sci-fi feel. In fact, one of the best-looking games in the vector style of this skin was The Empire Strikes Back arcade adaptation.
Appearance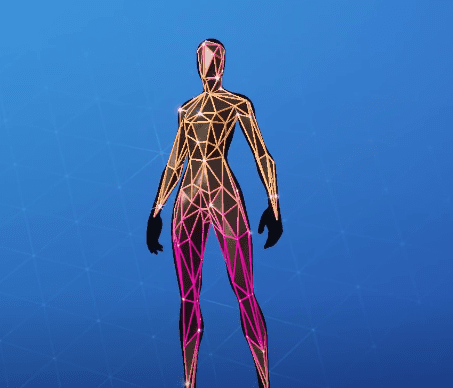 In terms of appearance, I have not held back in noting that it is based on the vector style. There are a lot of lines all over this skin that essentially outline the human body from head to toe. The lines slightly change in color as you move down, going from a hot pink at the top to a darker, more magenta-like color at the bottom.
There are a couple of key points around the joint area, like the knees and elbows, where there are little shining lights that you can see. But, at the end of the day, these lines are just for show as the person in the skin has an average Fortnite-style body.
They are either some strange line-loving alien from another world or simply a human wearing this suit from head to toe. There is a base outfit that is underneath the lines that are dark, mostly black, but with some dark blues and grays sprinkled throughout. It is pretty polygonal, too, with pointy edges and sharp curves. The head is completely blank, devoid of all signs of emotion, eyes, mouth, or anything. It is honestly a little bit disturbing the more that I look at the face, specifically. The only exception is the strange pink swirls that circle around the head, which are fun but odd.
Finally, the outfit has lines everywhere except in one place: the hands. I'm not sure why this is (perhaps the lines are part of this alien creature's literal body), but the hands have no lines. Instead, the lines come to an end right at the hand, where it looks like they are wearing dark gloves.
Iso Accessories

Sadly, there are no customization options in terms of skin styles for Iso. That said, the one saving grace seems to be the accessories that you can add to the character. There are a few themed items that you can add to complete the Iso look, but they do not come with the base version, so you'll, of course, have to shell out some more V-Bucks for them. The first of these is the Exploding Axis back bling. This one is like a polygonal star that has the same color scheme as Iso itself. It looks like it will explode at any moment, and it floats neatly behind the character when equipped.
Alternatively, there is another back bling, this one coming from Iso's partner, Hedron. It is not nearly as good, featuring a few floating cubes of different sizes, and that is it. It's pretty much a waste of some assets as very forgettable back bling. On the other hand, the pickaxe for Iso is fantastic but simple. It is a standard-shaped harvesting tool known cleverly with the 10/10 name of Pick Axis. In the shape of the default pickaxe, it switches the standard metal and wood out for a pink, black, and purple vector-based design.
Lastly, there is the very best part of the entire accessory set for Iso, and that is the Multipoint Edge glider. I wish that this glider was sold on its own as I would certainly pick it up by itself. It looks like you took the X-Wing and TIE Fighter from Star Wars and somehow blend them together.
There is a brilliant Tron-like feel thrown in there as well with the vector graphics that give this spaceship its own unique design. It looks so good, in fact, with its suspended cockpit and four wings that it deserves to be an actual spaceship in its own video game or movie. But it does not stop with the edgy design, either, as it has a pink slipstream that follows behind the ship while you are gliding. There is no contest at all; if I made a best-of glider list, this would be on there, for sure.
Edge Factor Bundle Overview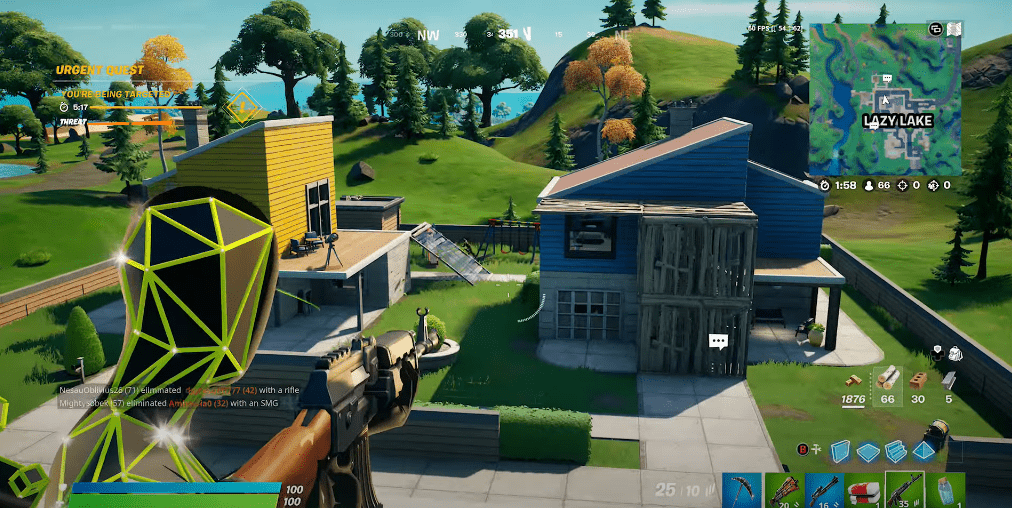 One of the most frustrating and confusing parts about the Iso skin is the fact that it does not come with any accessories besides the Exploding Axis back bling. Despite being an epic skin, there is little value to this skin beyond what the great design that it has. This is rather strange since most epic skins out there have more goodies packed in to make them worth it. This is either in the form of more accessories like a glider or other skin styles that you can unlock. Unfortunately, Iso falls short in both of those areas.
However, Epic tries to make up for this with the Edge Factor bundle. In this bundle, players are able to get all of the accessories that I previously mentioned, along with the Iso skin, for a cheaper price than it would otherwise be. The real draw of this bundle, though, is the extra skin that you get with it. In addition to the lovely star of this guide, Iso, players who purchase the bundle also get the Hedron skin. But this is really Epic Games double-dipping for more V-Bucks than anything else because Hedron is almost the same as Iso.
They have the same color scheme, the same overall design, and the same lines that are going throughout them. The only real difference comes from the body shape of the two, and that is it. Iso has a more petite body shape, while the Hedron one is like the beefier, swol version of Iso.
Even then, these changes are minimal at best. To make matters worse, the Hedron is slightly worse than the Iso, in my opinion. The intriguing swirl of pink that is around the head of the Iso outfit is not present on Hedron for some reason. Not that the little detail added that much to the skin, but it feels even odder to have that feature missing from what is otherwise exactly the same skin. I think a different skin would have worked better if it at least offered something different, like a new color scheme at the very least.
Pros and Cons
Pros
Iso is one-of-a-kind and a beautiful skin
It pays brilliant homage to the far past of video games
The color scheme is exactly what I like to see in a Fortnite skin
The few attachments are welcome and fit the overall theme, especially the glorious spaceship glider
Cons
It barely justifies the epic rarity and price point, only because of its uniqueness.
The lack of customization or skin style options is rather disappointing
The Hedron skin is so close to Iso in almost every single way that they might as well be part of the same skin
Fortnite Iso Mini-Review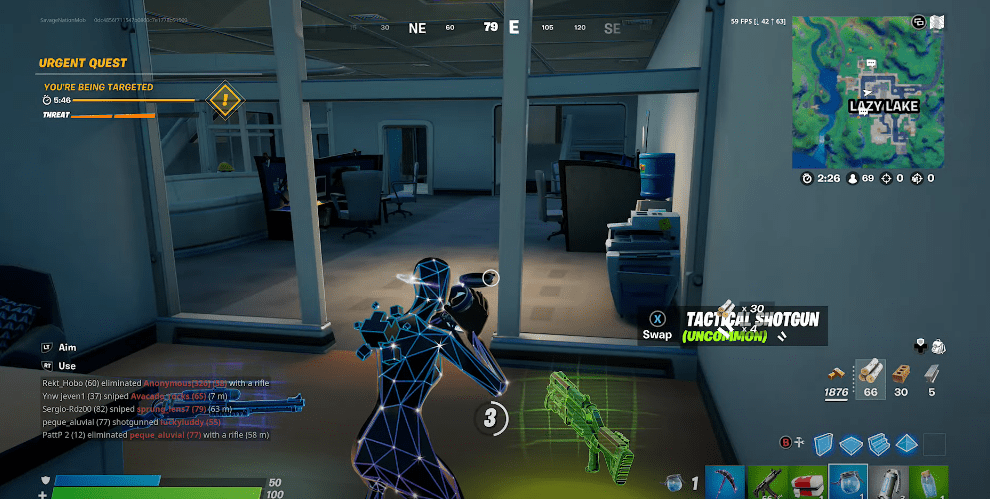 Moving away from the shorter pros and cons that I find about the Fortnite Iso skin, here are my thoughts on it. To start with, I appreciate the notable retro style that the skin gives off. There is something welcome and lovable about the vector-based nature of this skin. Epic Games is excellent at ensuring the preservation of its own history and the history of the industry in Fortnite. We've seen in this past stuff like Pac-Man, Master Chief, and Epic's Gears of War showing up in the battle royale game.
However, what I like about what Iso does is that it is not preserving a specific game or character but paying homage to an entire time period with which I have no experience. And if I don't have experience with this as someone in the older generation of regular Fortnite players, the broader audience certainly does not. But let's be real: the original vector games were not exactly the most attractive or detailed. That is where Epic Games put its twist on Iso, giving us an idea of what a modern, high-quality graphical attempt at that style might look like.
It is honestly tremendous, and unlike anything I've seen in Fortnite before. The best compliment that I could give it is that I would love to see an action game of some kind that is in the style of this particular skin. Moving past the novelty of it all, the actual design is welcome enough. It is simple and doesn't do anything too wild, but I appreciate that. The color scheme is right up my alley, too, offering the black, blue, pink, and purple galaxy aesthetic that I am always here for. What I will note is that negative about Iso is the fact that it and Hedron are separate items.
It seems strange since there is little difference between the two, other than body shape. Hedron doesn't precisely have different colors or anything notable on its own. Worse still is the fact that Iso only has one skin style. While the colors are great for me, it would have been nice to have some sort of customization like offering a green variant or a white and pink one. There is a lot of potential for what Iso could do, and Epic went with the safest option. This does make it unfortunate that it is an epic skin since it only barely earns that rarity, in my opinion, with the lack of customization options.
How to Unlock the Fortnite Iso Skin
There is only one way to unlock the Fortnite Iso skin, and that is through the item shop. Fortunately, this is not a situation like some of the other skins where you have to unlock it deep in the battle pass for a season or as part of some unique event challenges.
On the flip side, there is the issue of V-Bucks. You need a fair amount of V-Bucks, far more than the price of a standard seasonal pass, to unlock this skin. Iso will set you back around 1500 V-Bucks to purchase it in the item shop when it appears. That is a fair amount on its own, but there is a second option that players can consider. Since it is part of the Edge Factor set, players can buy the Edge Factor bundle as well. This one will grant them the battle pass skin but with some extra goodies. You will be able to get the Iso skin plus all of the various accessories that are in the set as well. Finally, you will get the Hedron skin, but that part is pretty disappointing since it is similar to the original skin. But if you would like the bulkier version of Iso, go for it.
You can purchase the Edge Factor bundle for 2300 V-Bucks. Considering that you get all the accessories and what I would consider a skin style, I think it is barely worth the price.But that's only for players who want everything that is included. For instance, if you only wish for the glider, I think an extra 800 V-Bucks might not be worth it, depending on the player. I will admit, though, that I would buy the bundle just for that masterpiece of a glider.
Can You Still Unlock It Today?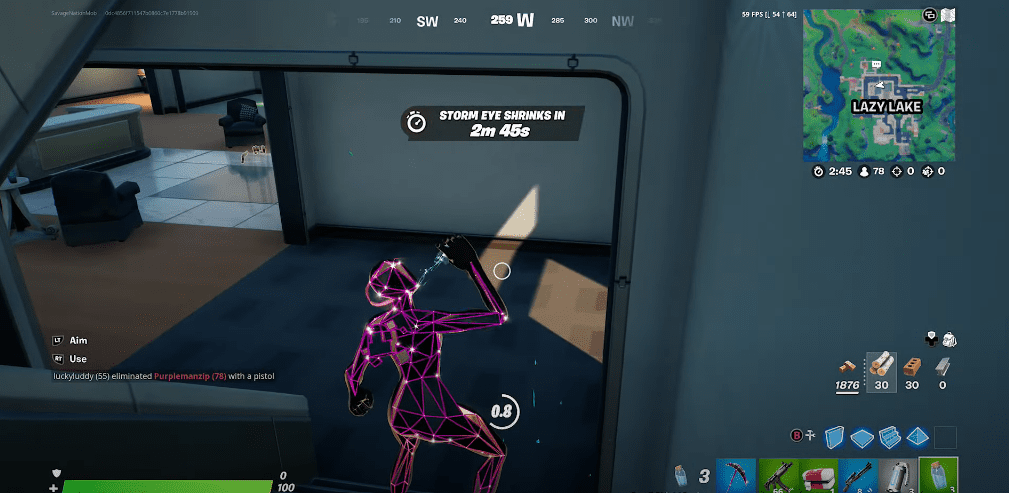 Of course, this begs the question of if you can still unlock the Iso skin today. Since it was introduced in the item shop, this at least means that players have a chance of seeing it return to Fortnite, unlike the battle pass-exclusive skins out there. Iso graced us with its presence on January 7, 2021, in the middle of Chapter 2, Season 5. Since then, it has appeared quite a lot surprisingly in the item shop. Even a month after its release, it was back in the item shop already, which most skins cannot claim.
From there, it regularly returned to the item shop every couple of months throughout the rest of Chapter 2. It has almost been like clockwork, coming back one or two months for a single day in the item shop, and then it is gone again. As such, I would be willing to say that it is for sure going to return at some point in the item shop after you read this guide. In fact, I would even go so far as to say that it should return multiple times after this, so you will have plenty of chances to pick up Iso if you would like.
The next chance that players will have to pick up Iso should be relatively soon. It has been nearly two months since its last appearance at the time of writing this post, so it is only a matter of time until it comes back. With the Star Wars aesthetic that is going on in Fortnite at this time in Chapter 3, I feel like it should return very soon to take full advantage of that.
FAQ's
Question: Does Iso have customizable features or skin styles?
Answer: No, it does not. There are themed accessories that you can attach, but Epic Games played it way too safe this time around. Unless you count Hedron, the other skin in the Edge Factor series, it is its own thing.
Question: How much is the Iso skin Fortnite?
Answer: The Fortnite Iso skin is an epic rarity, so it costs 1500 V-Bucks on its own to purchase. I think that is a fair price for the look of the skin. Alternatively, you can buy it for 2300 V-Bucks in the Edge Factor bundle that comes with other goodies, including the more masculine Hedron version.
Question: Will the Fortnite Iso skin return?
Answer: Yes, it will most definitely return. I'm confident in this statement since Iso has returned multiple times before, and it hasn't even been around for two years. But you might have to wait a while longer.
Conclusion
The Fortnite Iso skin is for the oldies out there who remember the days of arcade machines everywhere. Or Tron fans (if they even exist) or, lastly, those like myself who are not from that era but appreciate the retro nature of Iso. I would not, personally, put this particular skin on a best-of list for battle royale skins, but I think there is something to be said about its uniqueness of it.
I will even admit that I do not have the Iso skin in my locker at this time. However, I absolutely plan on doing so after looking at videos and images of it for this guide. Here's hoping that it returns to the item shop in the near future so that I can pick up the entire Edge Factor bundle of items, as the back bling is especially exciting for me.
For more interesting readings check out: