Latest posts by Cody Perez
(see all)
Five Nights at Freddy's, Chuck E Cheeses, Fortnite's Crustina skin. What do they all have in common? They all have horrifying humanoid versions of animals or items that should not exist.
This Fortnite Crustina skin guide will dive into her, specifically, and why I would like more than anything to erase her terrifying face from the world of Fortnite battle royale. Don't get me wrong, though; I see the charm and originality in Crustina's creation.
As you will see in this Fortnite Crustina skin guide, the problem is just how disturbing she is. There is something about a tomato head that rubs me the wrong way. Yet, she is one of the more popular characters out there in relation to a symbol of Fortnite: Tomatohead.
It is almost like Fortnite is creating its own set of horror villain figures that you should avoid at all costs. But if you dare, for whatever reason, to ride on the wild side, here is, regretfully, all you need to know about Crustina.
Bottom Line Up Front
The Fortnite Crustina skin may look quite familiar to anyone who has played the battle royale game for as long as I have since the beginning of its early access period. She is a person with a rather large tomato head that has a grin that has given me nightmares in the past.
She is an uncommon rarity skin, which is about as low as it gets in the scheme of things. Crustina is the female version of the beloved Tomatohead skin, which is no less disturbing in his own right.
Fortnite Crustina Skin Overview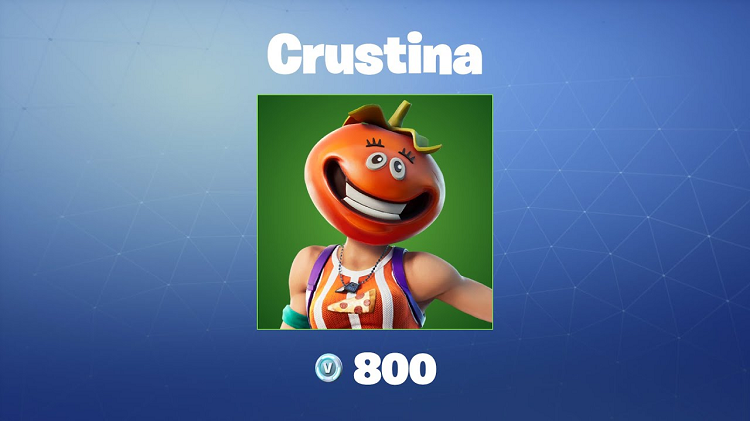 Let's imagine for a moment that Epic Games decided that Fortnite deserves some adaptations outside of video games. We could use a movie or a TV show, something new and less interactive for everyone to enjoy together as a family.
One possible example of what they could do is a Pizza Pit Five Nights at Freddy's-style experience about a horrifying pizza restaurant tormenting families gruesomely. Not exactly the most family-friendly experience, I'll admit, but it would be the perfect role for Miss Crustina.
I mean, the name Crustina alone is horrifying and should never be used for anyone's names in the real world (no offense to the Cristina's out there, which is a great name). It is like you took a Cristina and turned her into a crusty pizza demon who should not be allowed to exist.
Despite the forbidden nature of someone like Crustina, lo and behold, Epic Games made her nonetheless. Yes, she is a skin you can purchase. As much as I would like to, I cannot stop you from buying this skin and tormenting myself and other players as you roam around the island.
Crustina was originally released in Fortnite in Chapter 2, Season 3, thus tainting what could have been a wonderful season with Aquaman and everyone else. Overall, there is not a whole lot that is going on with Crustina, which is a little bit surprising.
She is part of the Pizza Pitfighter group, which only includes her and no one else. Epic decided to give her her own set instead of adding her to the existing collection of a character like Tomatohead. That said, she is very much the female version of the famous and disturbing Tomatohead, so fans of that skin will likely love her, too.
Appearance
I hesitate to even make this particular section of my Crustina skin guide due to the fact that it may very well haunt my dreams tonight. But, alas, I will anyway
Crustina, for all intents and purposes, is a regular human woman. You may not think that when you first see her skin, but that appears to be the case. We can see this from the human arms that she has. Or, at the very least, I hope she is not some human and tomato hybrid.
We can see Crustina's arms due to the fact that she is wearing a sleeveless red and white striped tank top. Her pants are bright green, with not much else going on. She wears a few accessories here and there, like some armbands and leg bands but not much else.
She has some heavy-duty boots on her feet, likely to keep her safe in the kitchen and prevent her from falling — an essential safety measure in the food industry. In the end, though, there are only two genuine notable parts of her tomato-themed outfit.
There is the pizza slice on her tank top and that particular thing she is wearing on her head. As the mascot for the Pizza Pit restaurant, she is wearing a tomato head which is what makes this otherwise unassuming skin a disgrace against both humanity and the glory of pizza alike.
Her helmet is a literal tomato mascot head in the shape of a tomato. You can even see the little green stem on top of the tomato, showing that it is a very ripe one. But the tomato on its own wouldn't be a problem for me. It is the facial expression that it has that's disturbing.
For one, she has some cute eyebrows that I think are interesting, but it is hard to notice when you look at the eyes and mouth. Her eyes are like the plastic kind that kids glue onto their projects for school, while her mouth is another horror story entirely.
Oh my, that mouth and grin is jump scare-worthy. There are no gaps between the teeth, making them all one long and terrifying tooth on the top and bottom of her mouth. And then the huge gaping hole on each side of her teeth, appearing like there is an abyss of tomato hell waiting should Crustina devour you.
How to Unlock Crustina in Fortnite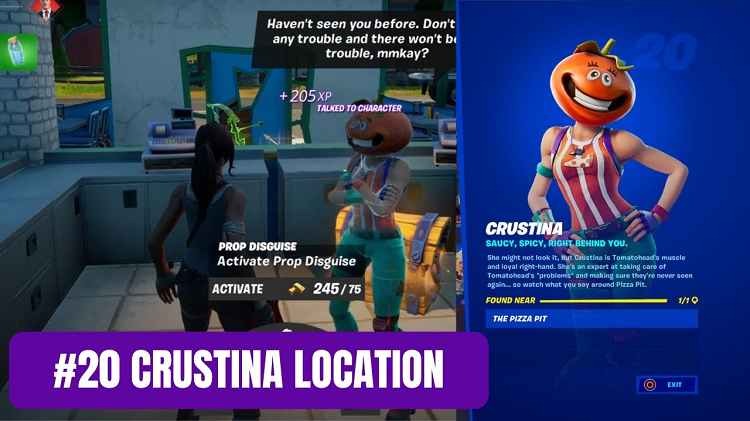 Why would you ever want to unlock Crustina in Fortnite? Oh, well, it is not my job to judge your purchasing habits (but I am this time). As such, I will regretfully inform you about how you could unlock Crustina in Fortnite.
As previously mentioned, she was first released in the battle royale game in Chapter 2, Season 3. During this water world season, Epic Games decided to corrupt it with the release of Crustina. Thankfully, she was not a skin that you could get in the battle pass, which means I am not forced to own her.
Instead, she was a simple item shop skin. Interestingly enough, Crustina is the first uncommon skin I have covered in one of these guides for our site.
As you may know from the rarities in the main battle royale game, this means that she is effectively one of the least rare skins out there.
This is matched by the fact that Crustina is pretty cheap in the item shop. She is one of the most affordable skins in the game, costing only 800 V-Bucks to purchase. So, unfortunately, she is one of the easier skins to unlock due to her cheap cost.
All players have to do to unlock Crustina is to spend the 800 V-Bucks in the item shop, and you will be able to get her. That is, of course, if she is even in the store. The store cycles through items daily, making this part a little bit difficult.
Can You Still Unlock Her Today?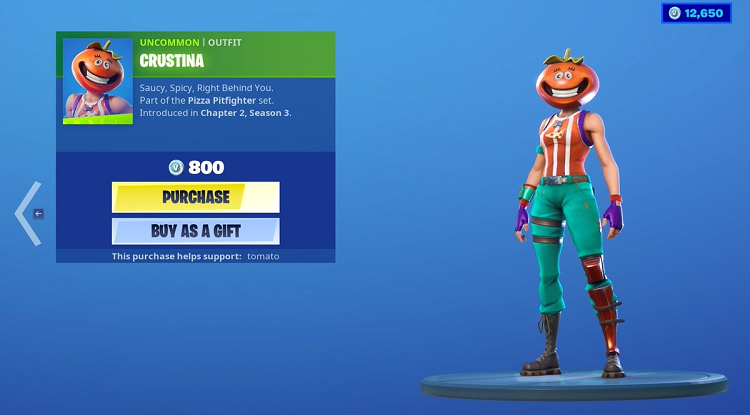 If you indeed insist on wishing to unlock the Crustina skin, I cannot stop you. I, unfortunately, have to help you with this matter. Usually, I would be glad to do so but not in the case of a horrifying skin like this one. The question remains: can you still unlock Crustina today in Fortnite?
Well, the answer to that question is, probably, you will be able to buy her at some point in the future. She has a pretty strange set of appearances in the item shop that are sporadic at best. As you know, most skins will reappear in the item shop at some point in time, usually on a cycle of sorts.
Many of them will be themed around particular holidays or times of the year, so they will reappear at that point. However, it is a little bit different for Crustina in that she has no real ties to the time of year or anything like that. As such, Epic Games has been pretty random when she comes back.
She originally appeared in Chapter 2, Season 3, nearly two years ago at the time of writing this. After her initial appearance, she returned to the item shop roughly every three months or so.
However, it seems like the gap between her appearances is, thankfully, getting larger and larger. In 2021, there was only a month between two of her returns, but then it switched to a whopping six months before she would appear again.
Sadly, her last appearance was a single return in 2022, right around my birthday, as if she did it all on purpose to torment me, specifically. It has been about six months since then, so if that same cycle continues, it stands to reason that she will likely be showing up in Fortnite again very soon.
Of course, Epic could choose to increase the gaps between her returns further if it wanted to. That said, I am confident that she will come back at some point, especially if her pal, Tomatohead, does.
Customizable Options: Accessories Explained
The hardest part about the entire Fortnite Crustina situation is that players who purchase her will find few accessories available. Unfortunately, this tomato girl has little for her in terms of additional items.
As mentioned before, Crustina is part of the Pizza Pitfighter Set. This particular group is unique to her alone, and there is nothing else that exists in the set. Usually, a skin will have a set, and it will be one due to the fact that there is at least one other item of some kind that you can also unlock.
However, that is not the case for Crustina. Could this mean that she will receive additional cosmetic items someday? It's possible but very unlikely at this point. But then, at the same time, it would have just made more sense to make her part of the same set as her male skin version.
However, Epic Games did not do that, either. So, on her own, there are no additional cosmetic items that you will be able to find for Crustina. Thankfully, though, I have a selection of things that I think would go well with this character if you do happen to buy her in the item shop.
For this, we go over to her friend, Tomatohead. He is part of the Pizza Pit Set. In this particular group, there are a ton of different Pizza Pit restaurant-themed items for you to collect. Since the two skins are so similar to one another, it shouldn't be shocking that Tomatohead's accessories work well for her, too.
There are a couple of different pickaxes to choose from, with my favorites including the Axeroni and Night Slicer. The Axeroni is a pickaxe in the shape of a pizza cutter. This is a pretty novel idea on its own, but then you have the Night Slicer, which is a fancier and more interesting version of it.
There is also the Cheesy back bling, a block of cheese in the shape of a pizza slice you can wear around. If you're feeling edgy, there is the Night Cloak, a cape you can wear on Crustina. It is a bit strange, but a nice touch nonetheless.
Crustina Mini-Review: Worth It?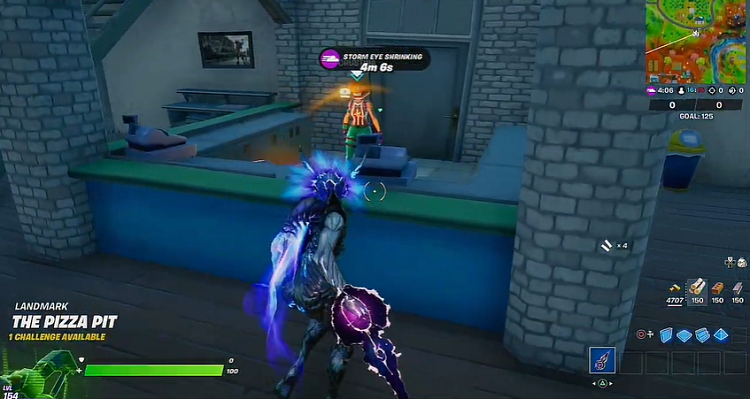 Part of what I like to do in these guides is to ensure that you know if an item is ultimately worth your time or not. I will admit that I have dogged on this skin a lot in this guide. I mean, can you blame me, though? Crustina is the stuff of horrors, and her entire family of Pizza Pit skins is pretty much the same.
However, I would like to address some positive points about the skin. For starters, I admitted at the top that Epic Games is so creative in every little thing it does. I think there are so many talented artists at the studio, and they come up with some fantastic, wholly original skins.
In fact, I even think that Epic is at its best when it is creating top-tier original skins. While Crustina does not fall into the top-tier group, she is an excellent example of Epic's creativity. Someone came up with this idea of a tomato head-wearing woman, and they went for it.
Better yet, they did a fantastic job of capturing this idea perfectly at the same time. There is no denying that the artist who made this was sold on the idea and went all in without a care in the world. This is admirable, and there is no doubting the quality from which this skin comes.
Of course, I do have to wonder who this skin is for. I think there are some kids who think the skin is hilarious who will prefer it but not many other players outside of them. Crustina is like a novelty item that is fun to look at for a moment, and that is about it.
In this way, it is hard to say that the skin is worth a purchase. But I will say that if you like this particular skin, go for it. Go ahead and buy her when you see her in the item shop. She costs only 800 V-Bucks, which is as cheap as it gets in the store.
In this way, she is worth the price as I have seen less detailed and less interesting designs for more expensive prices in the shop.
Best Alternative Skin Recommendations
For the true masochists out there who love Crustina, yes, there are several skins that I would recommend to you. Unfortunately, Epic Games is more than happy to offer even more similar skins to players who somehow like the disturbing nature of Crustina and her friends.
For those of you out there, here are three skins that I think you would enjoy:
Tomatohead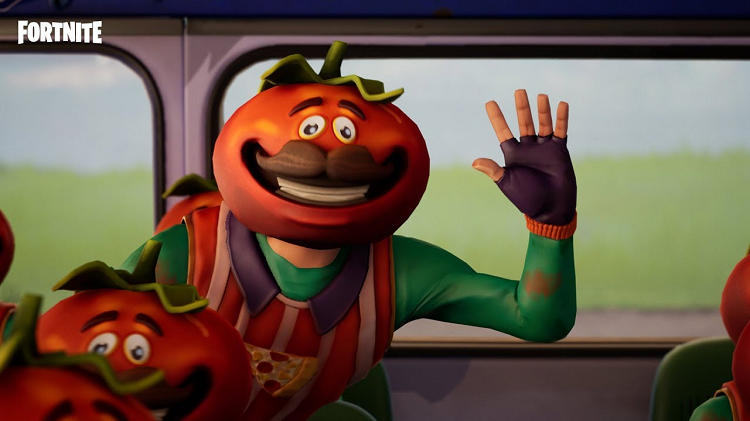 I have mentioned this guy many times in this guide for a good reason. He is by and large the male version of Crustina and one of the most popular Fortnite skins of all time.
He pretty much looks the same as her, but with a male variant. However, the outfit and mustache that he wears are highly detailed and quite interesting, giving him a bump over his female companion. Plus, he has an extra skin style.
PJ Pepperoni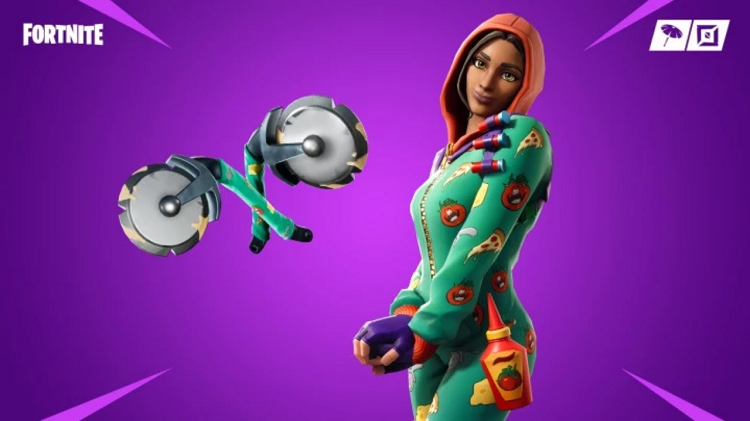 For those who are terrified of Crustina like me but love the idea of a pizza skin, PJ Pepperoni might be for you. This is just a normal girl wearing a Pizza Pit onesie, and that is it. She has the pizza theme without all the horror movie villain baggage as Crustina.
Beef Boss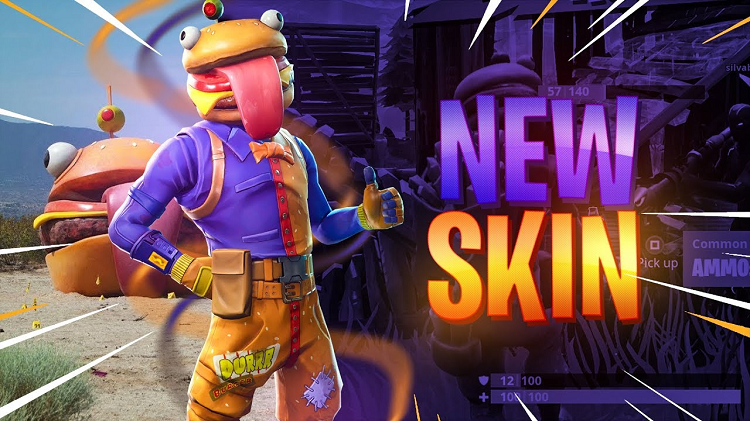 Moving away from the Pizza Pit family for a moment, we have the burger restaurant competitor: Durr Burger. They have their mascot in the form of Beef Boss.
If you like the nature of Crustina, you'll probably love Beef Boss. Wearing a suit and having a burger face helmet is extraordinary, but not necessarily in a good way. The horrifying expression on this burger's face somehow gives Crustina a run for her money.
FAQs
Question: When Was Crustina Last Seen in Fortnite?
Answer: Crustina was last seen in Fortnite around six months ago at the beginning of 2022. This is, of course, at the time of writing this, so it may have changed by the time you are reading this. In fact, I believe that she will be returning to the game in the very near future.
Question: Where to Find Crustina in Fortnite?
Answer: At one point, Crustina was an NPC on the Fortnite Chapter 2 island. When this was the case, you could find her at the Pizza Pit restaurant landmark, unsurprisingly. This only happened, though, during the Fortnite Season 6 Primal period.
Question: Who is Crustina's Brother Fortnite?
Answer: Epic Games never confirmed that they are siblings, but Crustina does have a connected skin character. The infamous Tomatohead is her male version. They could be siblings, but we do not know. Alternatively, they could be husband and wife, for all we know. Or they could be coworkers at the Pizza Pit restaurant.
Conclusion
Some of you do not mind incurring the wrath of the Fortnite gods by letting a creepy skin like Crustina join your locker collection. I admire your boldness and fearlessness; that's for you. As for me, Crustina is one of the most disturbing skins in Fortnite history.
But even I can acknowledge that there is a fantastic level of creativity that is on show here with this uncommon skin.
Crustina is an example of what Epic Games can do when it hunkers down and digs deep into what makes the battle royale game's lore fun, including the Pizza Pit restaurant that she hails from. But she is far from the only skin that represents a restaurant.
There is a fish-themed restaurant that old Fishsticks is part of, another iconic skin from the Fortnite history. If you like the disturbing nature of Crustina, you may also like Fishstick.
For more interesting readings check out: