Latest posts by Cody Perez
(see all)
There was a time when the identity of Fortnite had yet to be formed. At least in terms of cosmetics, that is. Having been with the game since the very beginning of its battle royale early access, I saw that time firsthand. A lot of experimentation happened in Fortnite during Chapter 1, and Aura was one example of what we got. She is who I will focus on in this Aura Fortnite skin guide.
Epic Games was not yet in the driver's seat, so to speak, when it came to the fascinating and uniquely original characters they came up with in Chapter 2. At the same time, crossover characters were starting to become a thing. As such, Aura is far from the grand nature of current skins, but she is still one of the most popular from Chapter 1. This is because of a mix of her design and immense value, which I will explain in this Aura Fortnite skin guide.
Bottom Line Up Front
The Fortnite Aura skin may not be among my favorites, but I distinctly remember the time when she was first released at the very end of Fortnite Chapter 1, Season 8. During Season 9, she was popular in the Fortnite community, and many players wore her outfit in battle. Her design is relatively simple but attractive, just not a whole lot going on. Her skin styles released later are great and expand on the idea. Players who like Aura can unlock her through the item shop when she appears there.
Fortnite Aura Skin Overview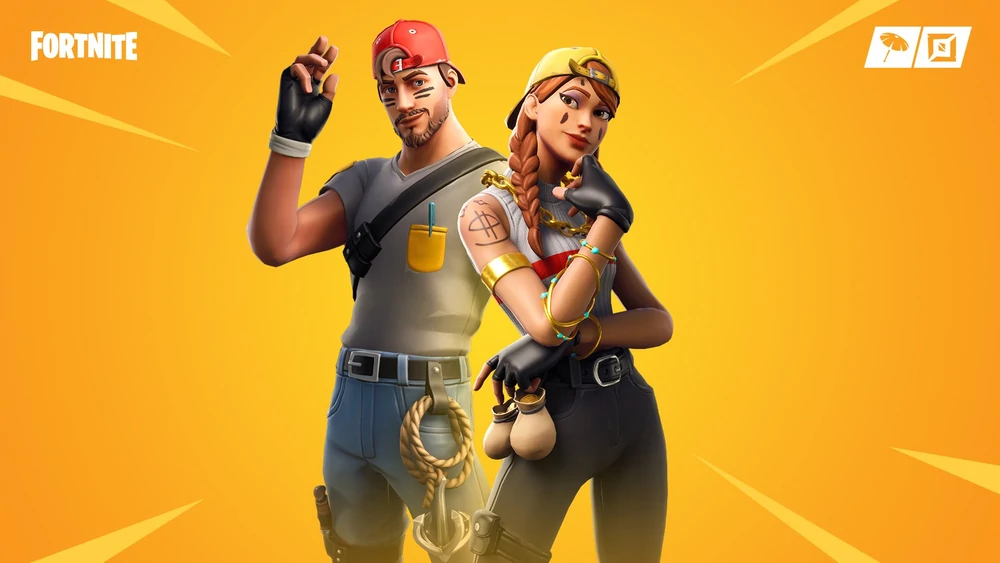 Have you ever felt that connection to someone on a deep level even though you just met them? In many ways, you could say it is like your auras are just vibing with one another. I think that this is partially the idea that Epic Games was going for when the developer created the Aura Fortnite skin.
It is right there in her name: she has a distinct aura that she wishes to share with everyone around her. And if you were there in Chapter 1 when she released, you would know how successful this venture was. Aura was one of the most hyped-up skin releases at the time.
There were a lot of players in the community that was making videos about her and talking about her online. And if I did not see enough of her on Twitter and YouTube, I would go online in Fortnite and see plenty of Auras running around in battle royale matches.
Her popularity likely comes down to her simplistic but fun design. She is, by and large, an average human person with nothing too crazy going on with her. She is down to earth and not like some of the wilder characters that Fortnite was starting to experiment with at the time.
It helps, too, that Aura is a welcome character for stuff like making dance videos in Fortnite. Her outfit and style are made for dance emotes, so they naturally turn out well when she does them.
Even today, I have a few friends who will still use Aura in matches occasionally. I will admit that I don't necessarily get the hype myself, but it existed for a long time. Because of this, there are still players today who wish to unlock the Aura skin.
Appearance Explained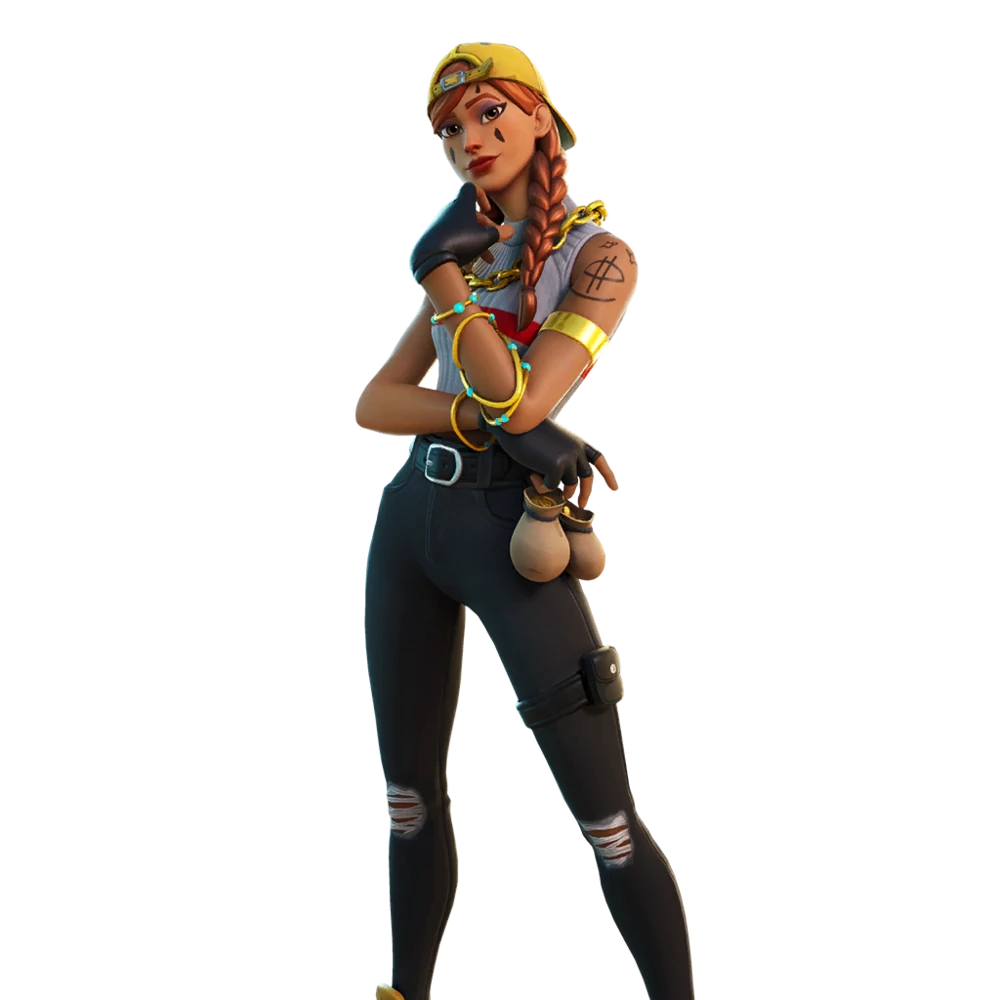 It all begins with the look of Aura. Like I teased earlier, Aura is nothing too special. She is a regular human being who happens to be in this futuristic battle royale fight to the death on an island. She comes from a time in Fortnite where Epic was not yet doing too many crazy things with skins.
She is based around the Headhunter default skin model, one of the better default skins, so that is already a plus. However, she does some exciting things with the default skin that it is hard even to recognize that this is the same base version outside of the eyes.
Aura is wearing clothes that I have seen people wear on a daily basis. She has some black jeans on the bottom with some significant cuts around the knee area. She has some fashionable sneakers that she wears on her feet and a surprisingly detailed belt around her waist.
For her top, she wears a gray tank top that has a red stripe across it. The level of detail in the clothing is the most impressive part of this outfit. You can see the level of texture that is used in the tank top, for instance, which is so unique and exciting. And the holes in the jeans are a nice touch, too.
She has a few accessories around her arms and hands as well, such as some gold jewelry, black gloves, and an armband. What I like is that she was one of the first skins to have a tattoo, which is a fun idea that hadn't been done that much before this point.
It just sucks that the tattoo near her shoulder is pretty lame, in my opinion. She has reddish-brown hair that is in Little Red Riding Hood-style double braids. To top it all off, she is wearing a yellow cap backward. As I mentioned, she is pretty fashionable with a lot of style.
On the streets of Los Angeles most days at the time when this skin came out, I could go out and see someone that looked reasonably similar to this. Maybe minus the backward yellow hat, though. In that way, I can see why it appealed to many players who preferred the aesthetic and vibes that Aura gave off.
How to Unlock the Fortnite Aura Skin

Perhaps you are one of those people who connect with the Aura skin. If that is the case, then you are probably wondering how you can unlock her right now in the battle royale game. Well, it just so happens that it is relatively simple and easy to do so.
There is nothing super crazy or unique that is happening with the Aura skin. She is just another item shop offers, so you only need to head there daily and look for her. Of course, doing so is easier said than done since the item shop changes daily, but you get the idea.
When Aura finally appears in the shop, she is one of the cheapest skins in the game. She is only uncommon, which is not surprising given her surprisingly everyday look. Because of this, though, she costs only 800 V-Bucks in the item shop, which is the cheapest a skin can be.
I think that this contributed a lot to why Aura was so popular back then since she was one of the cheaper skins. However, there is an alternative way that you can buy Aura if you have not already. She is featured in a bundle that costs just a little bit more in the store.
This extra cost might be worth it, though, for the extra goodies you can get in the bundle. The bundle that Aura is featured in is the Reverse2K Locker Bundle. This one costs 1400 V-Bucks and features Aura as the leading skin alongside some other cosmetic items. Yes, it is nearly double her standalone price, but there are some lovely goodies.
Can You Still Unlock Her Today?
Of course, what good is knowing how to unlock Aura if you cannot still unlock her today? After all, it has been over three years and over ten seasons since she was first released. Thankfully, I have some positive news: you can still unlock Aura in the item shop today.
Well, not precisely today when I'm writing this on a hot summer day, but you get the idea that how the item shop works means that different skins are there each day. Epic is great about cycling through many of the old skins frequently, like Aura, so players who missed out get a second chance.
Thankfully, Aura often appears in the item shop on a fairy regular schedule. In general, it looks like she shows up nearly every 30-40 days in the shop. This is much more often than most skins, even uncommon ones, and this could also be due to the fact that she is so loved in the community.
However, there are times when she will go a little bit longer without appearing, like two months or perhaps even three, so do not get alarmed if a month has passed and she is still not there. In fact, that is precisely what happened at the time of writing this.
It has been around two and a half months since she last showed up in the item shop, which is the longest she has been gone since pretty much first appearing in the game. Do not be too concerned, as this is possibly just an indication of how many skins are in Fortnite these days.
I have noticed with a lot of the older skins that the time between appearances is growing over time. Since there are so many skins in the battle royale title in Chapter 3, it takes time for your favorites to appear. That said, I think it is inevitable that Aura will return, so fret not. You need a little bit of patience here.
Customizable Options: Skin Styles Explained
Honestly, the greatest thing about Aura is the fact that she has so much value attached to her. She is an uncommon skin, which is cheap at 800 V-Bucks. Typically with uncommon skins, what you see is what you get. You buy the skin, and that is all.
There are no special back blings or other skin styles that you will get with her. In fact, there are even some more expensive skins in the rare category that has nothing else going for them. But that is not the case for Aura. She was released with nothing extra, but Epic has only added to her worth over time.
At this point, she has not one but two different skin styles available to her. Yes, you get three different versions of Aura for only 800 V-Bucks. Besides the default appearance, there is the Winter Hunter that was released in Chapter 2.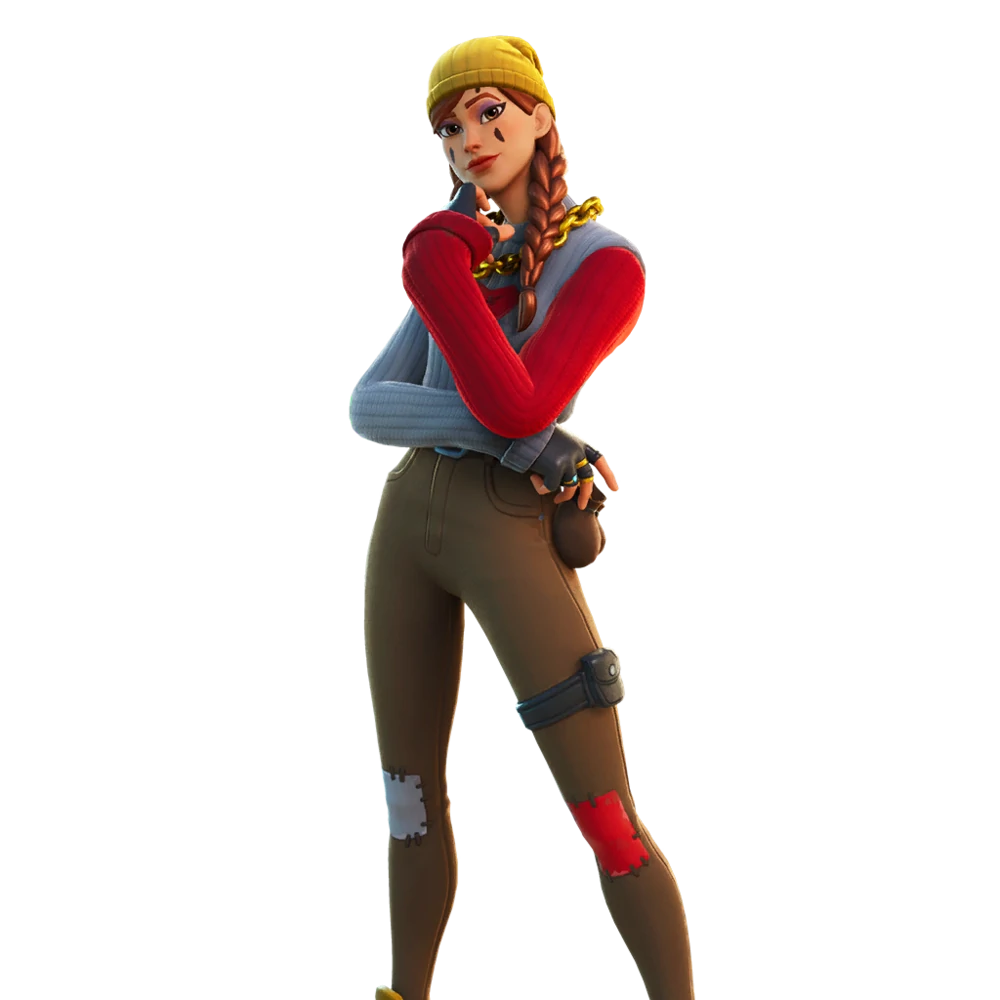 I will admit this one is a little weird, as I am not the biggest fan of this particular version. I realized before that I like the style and clothing Aura wears, and she switches that great outfit out for this mess. She wears a stitched-together mix-mash of some horrible ugly Christmas sweaters and pants.
It is strange and does not give off the goofy vibes I think Epic was aiming for. That said, I love the idea of switching out the yellow hat for a yellow beanie instead. I seriously wish that the beanie was the hat option for the main skin at this point.
The other skin style, though, is where it is at. The Charming Aura skin style is enough on its own to convince me to purchase this skin. Released very recently in Chapter 3, this new style gives Aura the glow-up that she has needed.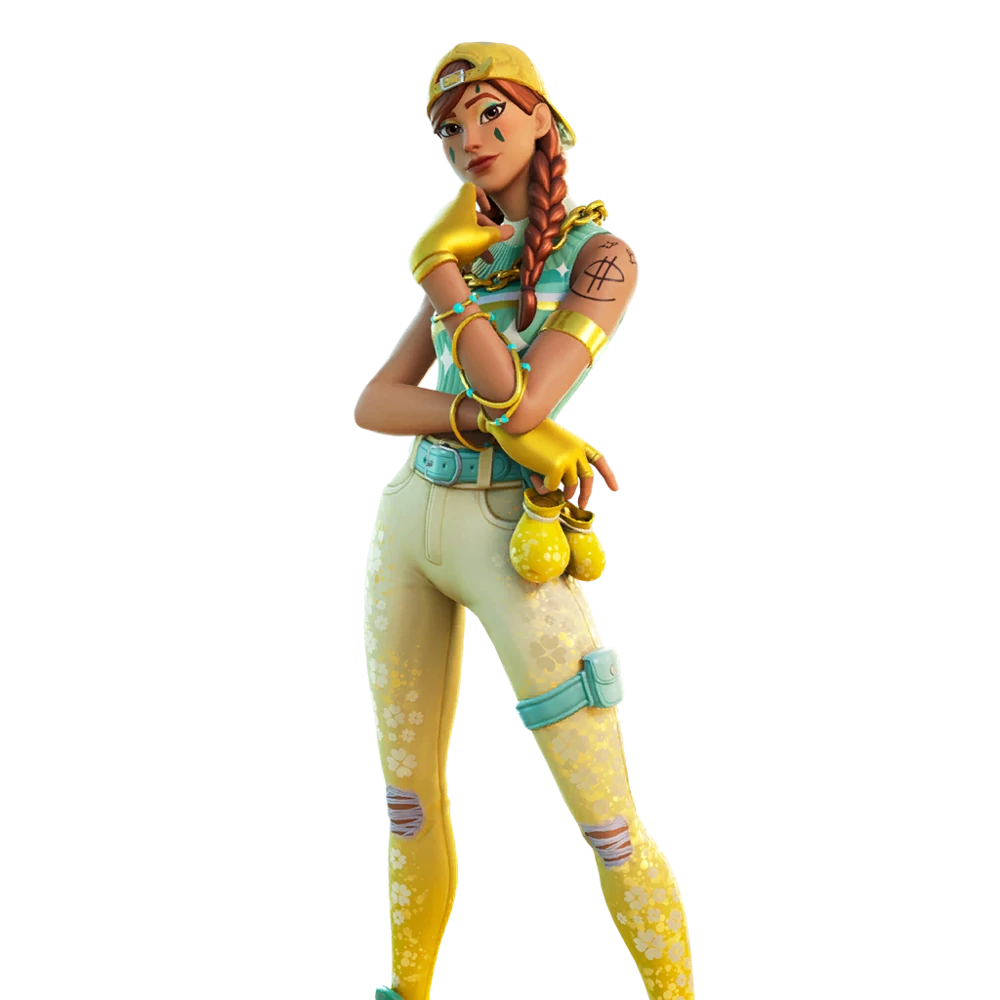 The outfit is completely color swapped to gorgeous bright yellow and baby blue colors. Everything from the tank top's new patterns to the way that the pants sparkle to the shining gloves that she has is tremendous. I wish this were the original skin because it is that good.
Even her eye makeup is on point and popping. I wish the tattoos were changed or covered up in this version, as they remain the boring and detail-lacking mess they were before. The best part is that you do not have to unlock these skin styles, as they are automatically there when you buy the Aura skin in the item shop.
Aura Mini-Review: Worth It?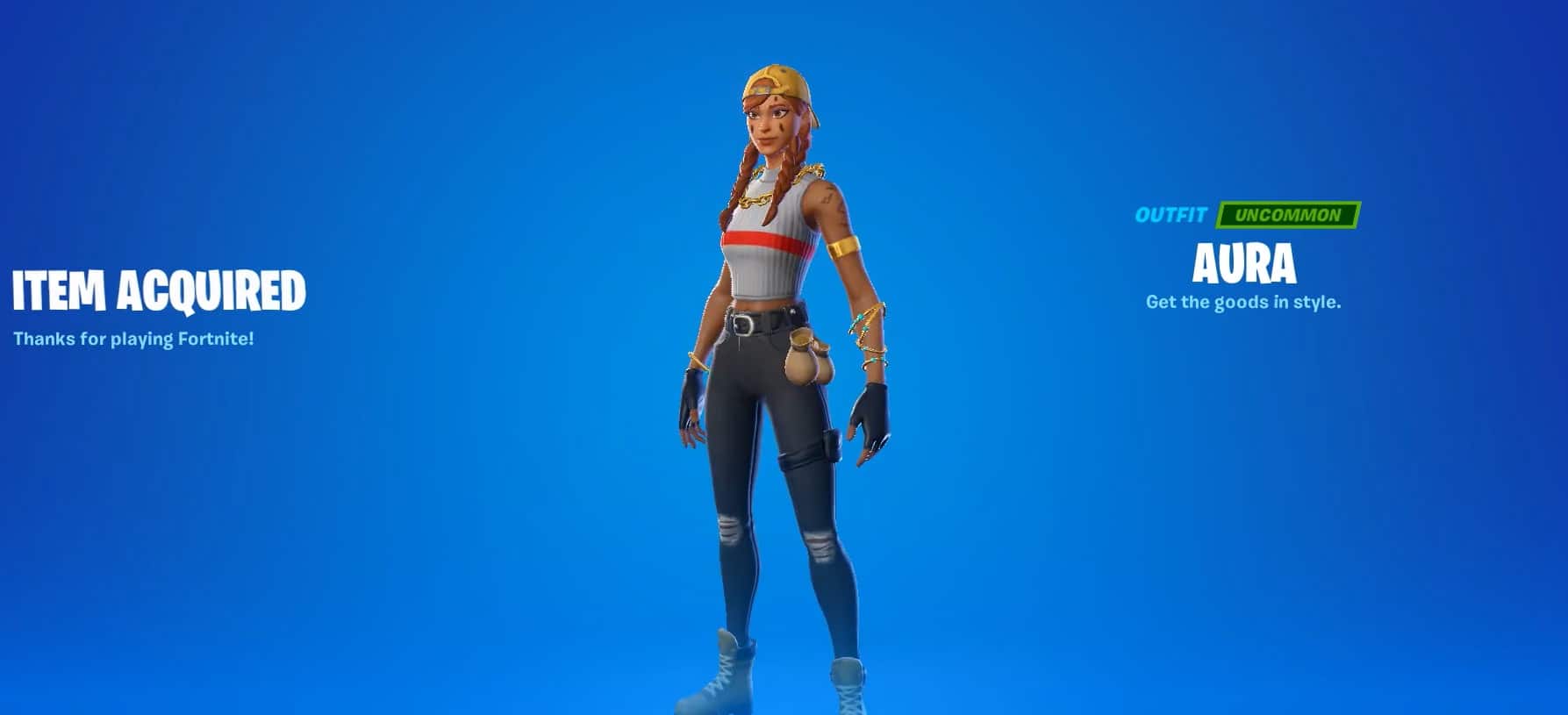 Aura on her own with just the default appearance is good but not great skin in Fortnite. There is a lot that I appreciate about what this skin first did many seasons ago. The notably simple but realistic approach to the skin is valuable on its own as there are players who might see themselves in her.
Maybe they will vibe with her hairstyle, clothing, or (I hope not) horrible tattoos, and that is a solid enough reason. However, in general, her appearance is a little bit too boring because of this realistic approach. I'd look in another game if I wanted a skin like this.
I go to Fortnite for the fantasy, sci-fi, and thrill of it all. There has to be some balance, of course, which I understand, which is why I think that Aura is a good enough skin. Of course, that is when we are just talking about her default look.
When you include the Charming Aura skin style, this is where the fun begins. She is unbelievably amazing skin that does exactly what I ask for. She takes otherwise regular clothing, blows it up fantastically and magically, and gives an aura I can finally vibe with.
This particular skin style is an 8.9/10 (looking at you, goofy and uninteresting tattoos, for dragging it down still) and worth a purchase on its own. If you like the basic Aura and this version, I don't have any more to say to you. Purchase this skin right now.
And if you like Charming Aura on its own, you should still buy this skin. That style has me wanting to buy her the next time she comes around. Nonetheless, I think that Aura is worth a purchase in general.
She is the cheapest around, and she has two extra skin styles? That is some of the best value you will find in Fortnite.
Reverse2K Locker Bundle Explained
Of course, if you are looking for even more value, there is still the Reverse2K Locker Bundle. As you may already know, Reverse2K is a popular content creator, and what Epic likes to do is connect with personalities in the community to create special bundles.
These are not brand new items but a collection of that particular person's favorite items in the battle royale game. In this case, the star of the Reverse2K bundle is Aura. In total, you get four items with this package: Aura, a weapon wrap, emote, and a pickaxe.
Overall, I would personally say that this bundle is a little bit chalked. The weapon wrap is pretty good, but these items are always a waste of V-Bucks, in my opinion. There are just so many good weapons wraps that I have received for "free" through the battle pass.
Then the pickaxe, Lucky, is pretty lame. It uses the basic pickaxe model and adds some spray paint with a smiley face to it. This is about as boring as a pickaxe gets. And then the Slow Clap emote does not fit the character of Aura, being so cheesy and boring. She deserves a solid dance emote, and this isn't it.
Not to dog on Reverse2 K's tastes, but these items are some of the worst I have seen in a locker bundle. That said if you think I am faded, by all means, purchase this bundle for 1400 V-Bucks. If you like all of the items offered here, this is a great deal. If not, though, you are wasting your V-Bucks when you could get Aura on her own.
Best Alternative Skin Recommendations
No matter if you loved Aura or just liked her Charming skin style like me, here are three skin recommendations that I think you should check out:
Jules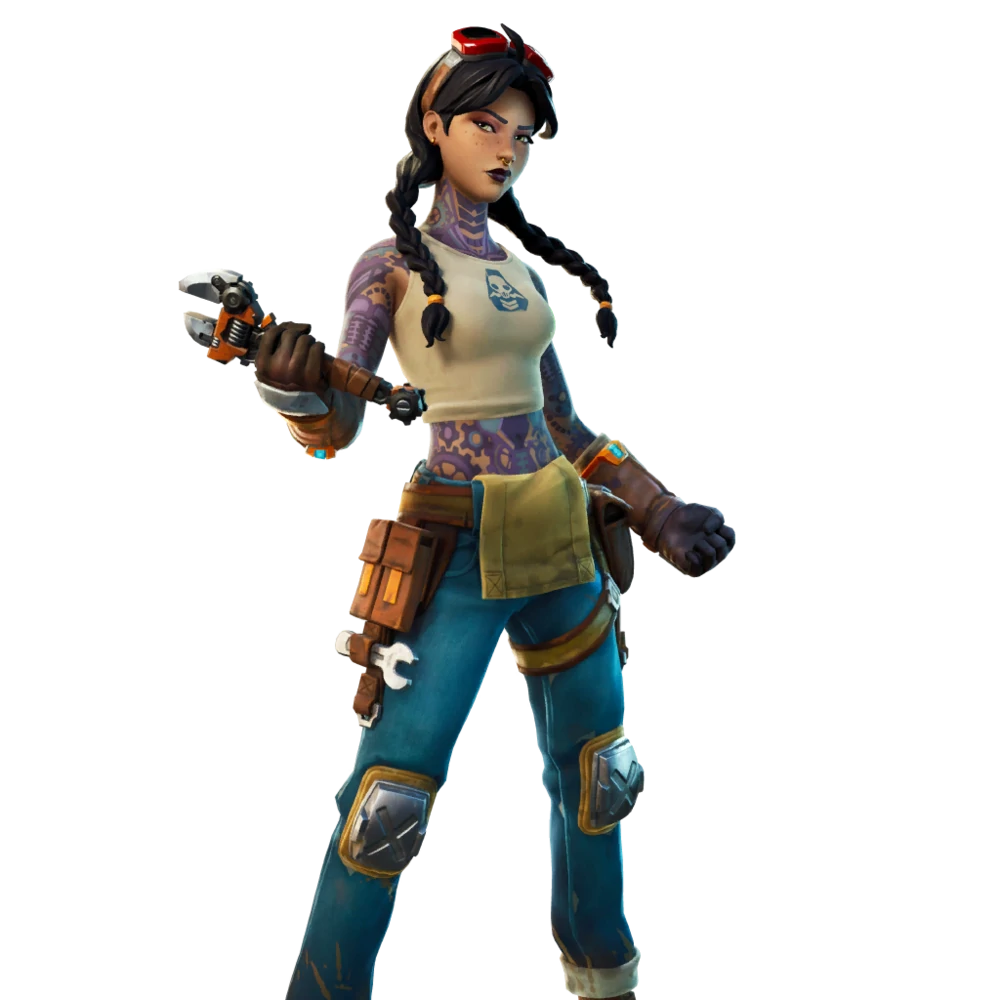 I mention this below, too, but Jules is the ultimate version of Aura. They have the same hairstyle and give off a similar vibe, too. But, in my opinion, minus the Charming Aura variant, Jules is the better skin in every way. Her hair color looks better and more varied, the outfit is more intriguing, and her tattoos are much better. Seriously, I have nothing against tattoos, just bad ones.
Guild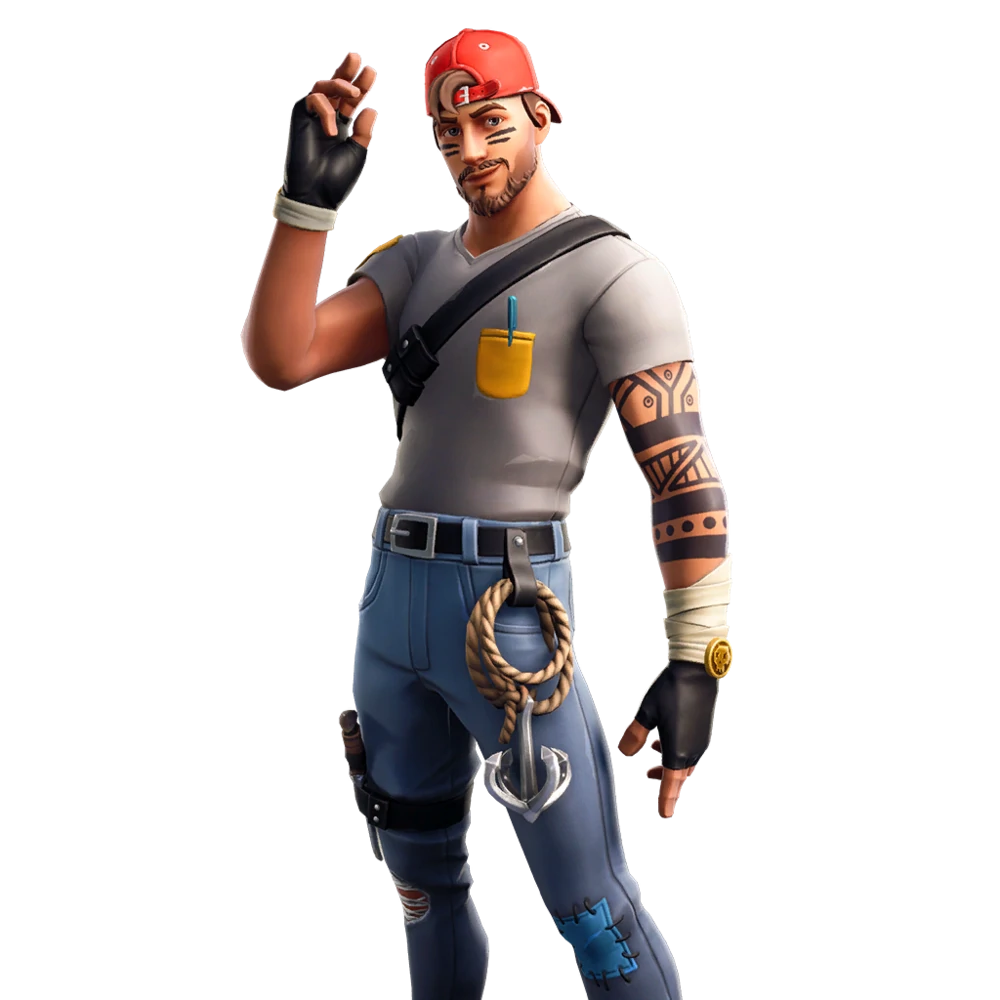 This is the male counterpart to Aura and a must-buy for those who love the default version of Aura. There are a lot of similarities between the two from top to bottom, so anyone who wishes to get what I would consider her brother should do so when he arrives in the shop.
Wildcat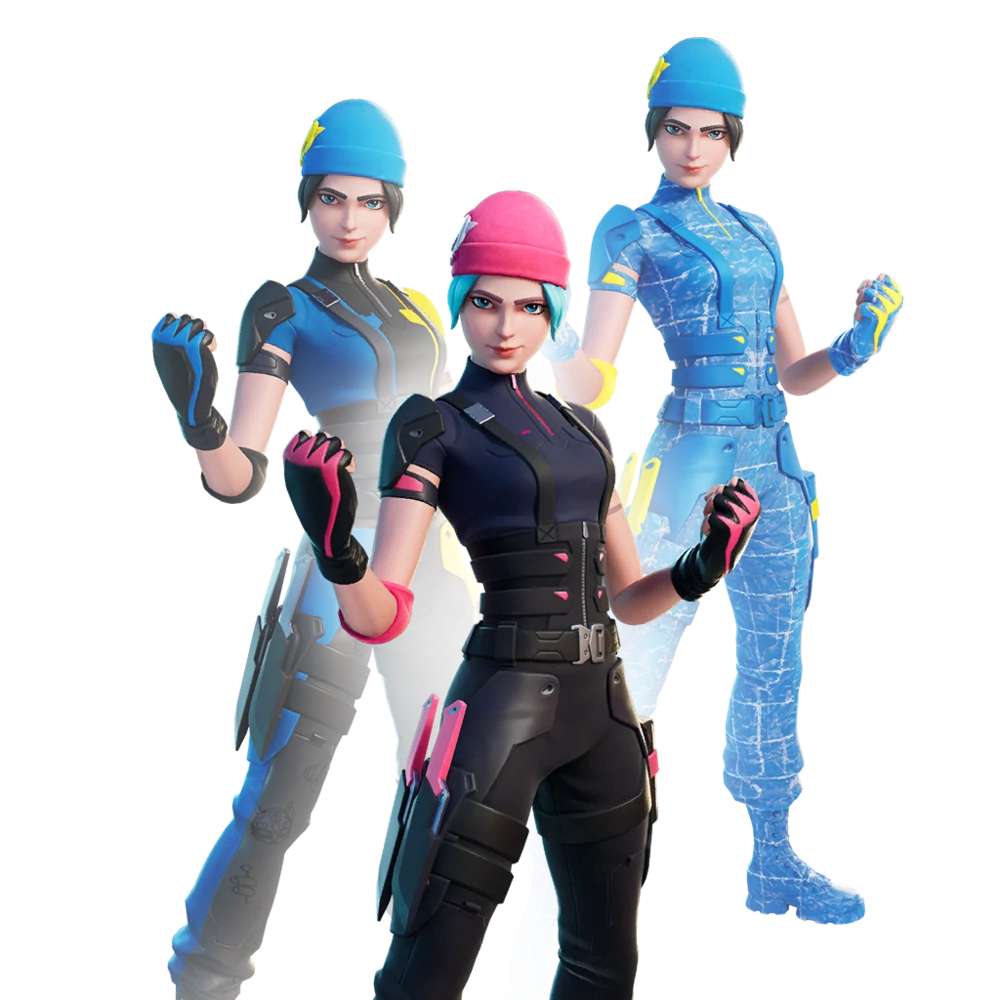 One of the parts of the Winter Hunter Aura skin style is the beanie she wears. If you like beanies as I do, you may be Wildcat fan. This is a highly customizable skin with several beanie and clothing color options to choose from. This is decent skin with some great skin style options.
FAQs
Question: Is Aura good skin in Fortnite?
Answer: Yes, Aura is most definitely a good skin in Fortnite. I think that good nails her perfectly. If I were to rate this skin, I would probably give Aura 7/10. She is good, not great, but not bad or just okay, either—the perfect example of a 7.
Question: How do I get Aura Fortnite skin? 
Answer: As mentioned in the above guide in greater detail, you can get the Aura Fortnite skin by buying her in the item shop for 800 V-Bucks. All you need to do is wait patiently for her return and grab her when she arrives.
Question: What set is the Aura skin from?
Answer: Oddly enough, Aura is not part of any set. She is in the Reverse2K Locker Bundle, but that is a bit different. However, I consider her to be in a set with Guild, her male counterpart, which was released around the same time. But they are not officially in the same set together for some reason.
Conclusion
Aura is one of the most down-to-earth characters in Fortnite. This is ultimately refreshing when you have sentient bananas running around getting snapped out of existence by Thanos. She has a solid vibe going on that many players in the community get down with, leading to her immense popularity. This has persevered throughout the seasons to more than ten seasons since her release.
Few skins give off a look I have seen in real life. I'm pretty sure I have seen Aura in the real world, including in her clothing and hairstyle. But maybe missing the tattoos. In fact, some characters in Fortnite look a lot like Aura, including Jules from Chapter 2, Season 3. In my opinion, Aura walked so Jules could run, a much better version of the same general model and hairstyle.